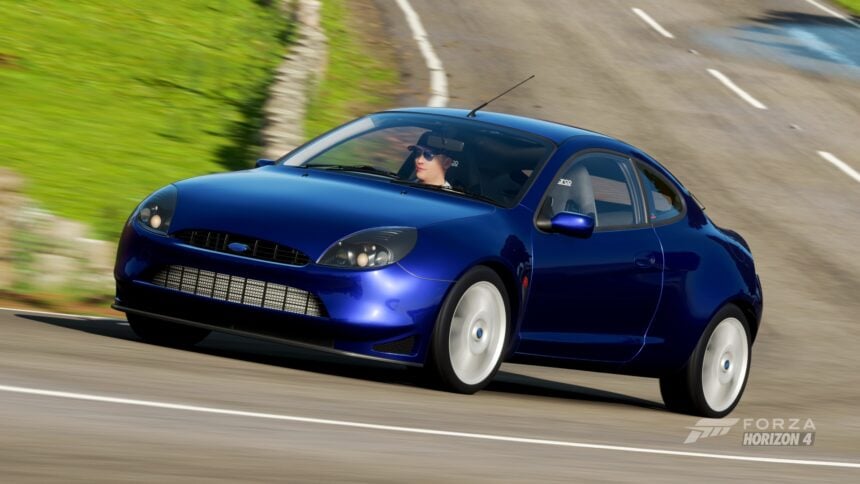 The weather is changing, which means it's once again time for Autumn to settle across the UK in Forza Horizon 4. This month's rally-themed content continues with a new set of events scattered around the festival.
Autumn's Playlist features fresh prizes for 50% and 80% completion, and a cult classic from Ford makes its debut this week. Let's check out what Autumn is serving.
Puma Arrives in The Wild
Returning content and avatar cosmetics are part of the seasonal playlist prizes this week. Topping the bill is a very special Ford RS200.
This version is a Hoonigan-fettled special, meaning that big smoking skids are on the agenda. The 2.1-liter turbocharged engine has a big boost up to 750hp, so you'll need to be wide awake if you want to tame this beast seriously.
If you're looking to make your avatar look more suited to being a racing driver, then the black Modern Race Suit is also up for grabs. Over with the seasonal championships, prizes include the Lancia Delta and the Local Motors Rally Fighter.
However the big prize this week is the introduction of the 1999 Ford Racing Puma. This Puma is rare, as Tickford built just 500 units of the FRP for Ford, all modified from production Pumas. Despite this, the Puma established itself as a cult icon, especially in the UK.
Although the 1.7-liter engine makes just 153hp, the Puma will still prove to be huge fun to drive out on the twisty country roads. In order to get the FRP, you'll need to win the "Cool Cats" championship.
There's also a returning Showcase Remix this week. "Pillar of Autumn" will see you jump back into the boots of Master Chief, before racing against a Halo dropship.
You can find all this week's prizes below.
Too Hot Hatch To Handle
Series: Dirt Racing Series
Cars: Retro Hot Hatch
Restrictions: C Class, 600 PI
Prizes: 15,000 CR, 25,000 CR, 1984 Honda Civic CRX
AWD All Day
Series: Cross Country Series
Cars: Extreme Offroad
Restrictions: A Class, 800 PI
Prizes: 15,000 CR, 25,000 CR, Local Motors Rally Fighter
Cool Cats
Series: Road Racing Series
Cars: Jaguar
Restrictions: A Class, 800 PI
Prizes: 15,000 CR, 25,000 CR, 1999 Ford Racing Puma
The Trial: What's That Coming Over The Hill? (Co-Op Championship)
Series: Cross Country Series
Cars: Rally Monsters
Restrictions: S1 Class, 900 PI
Prizes: Lancia Delta Integrale
Autumn Games – Series 22
Series: Playground Games
Cars: Track Toys
Restrictions: S1 Class, 900 PI
Prizes: Pagani Zonda R
High Street Speed Trap
Season Objective: 228 mph
Open-Cast Cliff Danger Sign
Season Objective: 984.3 ft
Hillside Speed Zone
Forzathon Events
Forzathon this week turns its attention to Mini, but one particular version is the focus: the 2011 MINI Countryman X-Raid. Grab this Dakar winner to get started.
Next up, push the suspension on your MINI to the limit by earning 3 Kangaroo Skills. The extreme modifications mean the X-Raid should easily tackle multiple jumps in succession. After that, get your creative driving skills flowing as you'll need to earn an Ultimate Skill Chain.
To finish things off, prove the X-Raid's Dakar pedigree by winning 4 Cross Country Series events.
Forzathon Shop
It's all about extreme this week in the Forzathon Shop. Taking a very sideways lead is the 2018 Ford Mustang RTR.
Piloted by Vaughn Gitten Jr, this Mustang is one of the most well-known on the drifting circuit. Powered by a 1,000hp Roush V8, this Mustang will quite happily roast its back tires all day long.
The Mustang will set you back a hefty chunk at 600 Forzathon Points. If you're after cars to complete your Formula Drift collection, then this pony car is waiting for you.
If you want extreme with some French flair, there's the 2008 Renault Megane R26.R. One of the most extreme Meganes ever built, the R26.R comes with a stripped-out interior and an array of weight-saving materials. As a result, the R26.R weighs over 270lb less than a standard Megane. Power from the 2.0-liter turbocharged engine is a healthy 227hp.
The Megane will set you back 450 FP, but if you're after one of the most hardcore hot hatches around, the Megane is a worthy choice.
Avatar cosmetics available for this week include the Autumn Mittens and Autumn Beanie.
More Posts On...