Easter celebrations are beginning in Forza Horizon 4 this week, as Summer returns to the UK. Series 21 officially begins with a basket of new Easter themed events and content for players to win.
Accompanying Series 21 is a new Festival Playlist, with new prizes for 50% and 80% completion. This week, a special Corvette makes a very smoking entrance. It's a busy one this time, so let's take a look at Summer's content.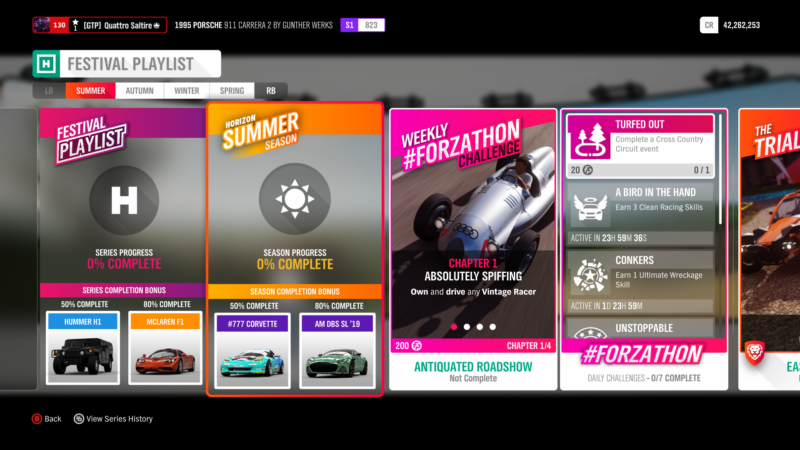 Corvette Creates a Smoke Show
The main act for Summer seasonal prizes is the 2018 Cheverolet Corvette #777 Formula Drift. Run by Matt Field, this Corvette is one of the coolest machines to go sideways. Under the hood lies a 7.0-liter V8 boosted, with nitrous and a supercharger. Power comes out to 1,050hp and enough torque to tenderize the rear tires in seconds.
If you're after more sophistication from big power, there's the Aston Martin DBS Superleggera. Replacing the Vanquish as the brand's flagship series production grand tourer, the DBS packs a 5.2-liter, twin-turbocharged V12, putting 715hp on to the road. That gives this beauty some serious grunt.
Prizes for Playlist completion are the Hummer H1 Alpha and the McLaren F1. Over at the seasonal championships, prizes include the Renault 5 Turbo Forza Edition and the Alfa Romeo TZ2.
One of the standouts this week is the Aston Martin One-77. Aston only made this rare beast available to select customers, with just 77 units built. It also features one of the most powerful naturally aspirated engines ever made. The 7.3-liter V12 engine produces 750hp, and can propel the One-77 to a top speed of 220mph.
If you want the Aston, you'll need to complete this week's Summer Playground Games to get it.
As part of a month of Showcase Remix events, Summer sees the return of "Nine and Three Quarters". Here, you'll be racing to Edinburgh in a humble Ford Anglia against the Flying Scotsman.
This month's Rivals event will put you behind the wheel of the 2018 Mercedes-AMG E63 S around the Princes Street Gardens Circuit.
The full list of prizes is below:
Scrambled Megs
Series: Dirt Racing Series
Cars: Renault Megane
Restrictions: 601-800 PI
Prizes: 15,000 CR, 25,000 CR, Renault 5 Turbo FE
Wood Friday
Series: Road Racing Series
Cars: 1946 Ford Station Wagon, 1953 Morris Mini Traveller, 1958 Morris Minor Traveller
Restrictions: D Class, 500 PI
Prizes: 15,000 CR, 25,000 CR, Alfa Romeo TZ2
Koenigsegg Hunt
Series: Street Scene
Cars: Koenigsegg
Restrictions: S2 Class, 998 PI
Prizes: 15,000 CR, 25,000 CR, Rabbit Ears
The Trial: Easter Buggy (Co-Op Championship)
Series: Cross Country Series
Cars: Offroad Buggies
Restrictions: B Class, 700 PI
Prizes: Rabbit Outfit
Summer Games – Series 21
Series: Playground Games
Cars: GT Cars
Restrictions: A Class, 800 PI
Prizes: Aston Martin One-77
Bamburgh Castle Danger Sign
Season Objective: 705.4 ft
Moorhead Wind Farm Speed Trap
Season Objective: 244 mph
Derwent Water Speed Zone
Forzathon Events
Forzathon goes back in time this week, with Vintage Racers put in to the spotlight. Grab one of these slices of history to get going.
Next, show off your handling of these old timers by performing 2 Showoff Skills during races. Afterwards, demonstrate the frightening power of your Vintage Racer by earning 12 stars from Speed Traps.
Finally, finish up this week by earning 3 podium finishes in Road Racing Series events.
Forzathon Shop
This week's shop lineup features a hardcore Dakar racer and a deranged electric hypercar.
The 2018 Rimac Concept Two completely rips up the traditional rulebook for hypercars. Eschewing a combustion engine for four electric motors, the Rimac develops a ludicrous 1,900hp. It will also accelerate faster than just about any other street car.
If you want to disrupt the hypercar elite, then the Rimac is the best choice, and for a cheap 300 Forzathon Points.
However, if an extreme off-roader is more your deal, then consider the Mini X-Raid John Cooper Works Buggy. Designed to take on the Dakar, this Mini comes with a 3.0-liter, turbocharged, straight-six diesel engine, making 345hp. The insane off-road suspension allows this Mini to go anywhere, over any terrain very quickly.
Of the two, the Mini is the more expensive option at 450 FP, but if you want to get across the UK by any means necessary, then the Mini is more than up to the job.
This week's novelty items include the Haunted House horn and the Clown Dance emote.
More Posts On...