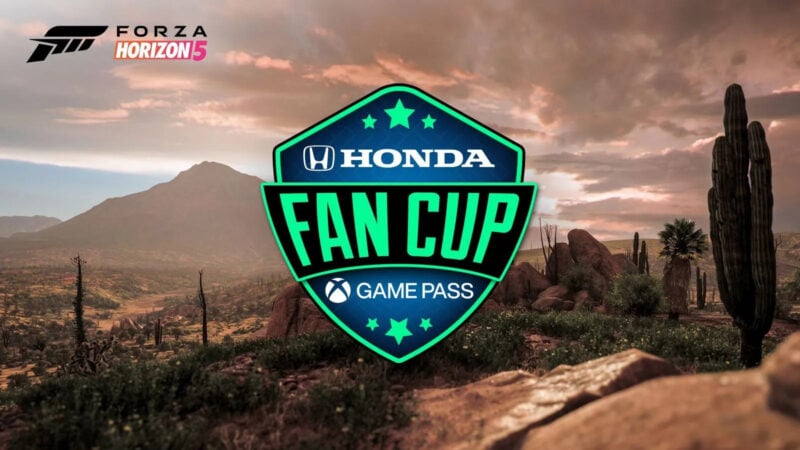 Honda is kicking off its first exclusive esports tournament featuring Forza Horizon 5 for a chance to win such prizes that include $2,500 for the winner.
The Honda Fan Cup is open to FH5 players — and NHL22 players, in a separate event — on Xbox and PC, aged 18 and over in North America, and sign ups for the inaugural event are open now.
There's two competitions, with qualifying events for the first scheduled for August 7, 14, 21, and 28, ahead of the finals on September 3. Second tournament qualifiers are earmarked for October 2, 9, 16, and 23, with the finals taking place on October 29.
As you'd expect from a contest sponsored by the Japanese car manufacturer, all races will feature the Honda Civic Type R. While each stage of the event has its own version of the car, you'll be able to race 1997, 2004, 2007, 2016, and 2018 models during the competition.
The qualifying rounds will feature 12-player, free-for-all race lobbies, each focusing on three tracks per round. The top three players from each round will progress to the finals, earning $250, $150, and $100 in the process.
Like qualifying, the finals will also feature 12-player free-for-all events, however, it will be across six tracks, and the player with the highest score across all tracks will be the victor, taking $2,500 – with cash prizes for all competitors.
Other prizes, including an Xbox Series X replica mini fridge, Game Pass tokens, and custom Xbox controllers, are also available, but for now there's no information on how players can claim these.
Players will need to register on the official site to get started, though each event will be limited to 640 participants so be sure to reserve your spot if this piques your interest. You'll also be required to join the Fan Cup Discord Server. All events will kick off at 1100PT/1400ET with mandatory check-in 2.5 hours before every event.
For those not eligible or who don't secure a spot, there will be a week-long race event on the FH5 Seasonal Playlist where players can get behind the wheel of their favorite Civic and unlock an exclusive hoodie. There's no start date for the event at the moment, so stay tuned for an update on that.