Just over a week after marking the tenth anniversary of the title as a whole, the latest entry in the Forza Horizon series — Forza Horizon 5 — turns one year old today.
Officially launched on November 9 2021, although a little earlier for players with early access granted by special editions, FH5 bucked a few trends right off the bat.
For starters, it was the first game in the Horizon series to come out in an odd-numbered year. The Horizon titles had come every two years like clockwork, but surprisingly FH5 missed the launch of the Xbox Series consoles in November 2020.
Despite the additional year's gap, it was also the first Horizon game that didn't have a Motorsport game between it and its predecessor. Turn10 hasn't produced a Motorsport title since 2017's Forza Motorsport 7, although the next entry — the rebooted Forza Motorsport — is on the slate for spring 2023.
That meant fans were getting on the impatient side for a taste of a new Forza game, and this was reflected in FH5's incredible player counts — assisted by its at-launch appearance on Game Pass — of over 10 million players in the first ten days, setting new records for an Xbox game launch.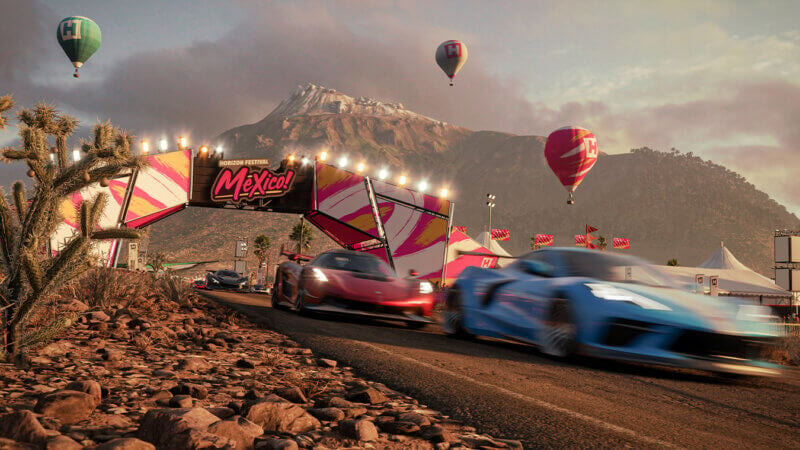 Although all Horizon titles take place in the same game universe, FH5 is arguably the most direct sequel in the series. That's because you control the same character as your avatar in FH4 — though with more options for faces, clothing, and the new option of prosthetics — flown over to the new venue in Mexico after your exploits in becoming a "Horizon Superstar" in the UK.
Also unusually, you now talk. Your character has scripted, spoken lines in a standard masculine voice or feminine voice, alongside those of the various game NPCs you interact with.
The Mexican venue is around 50% larger than that of the UK, coming in at about 40 square miles and spread across a more varied selection of "biomes", from desert to rainforest and the central volcano which is the highest point in any Forza game so far.
That map has been increased since launch with the first of two game expansions which revisited the world of Hot Wheels — although it's now on a floating island in the sky.
Along with the expanding terrain, the car list has steadily increased too. Launching with just shy of 540 cars, the various additions across Hot Wheels, Car Pass, and monthly free DLC now means the list totals 660 vehicles. However many of those are cars that didn't make the transition from FH4 to FH5 originally and have been subsequently re-added.
That's one of two main criticisms leveled at the title, which is sometimes labeled as a "re-skin" of the 2018 title. It's certainly hard to argue that FH5 is all that different from what you'd expect from a unified version of FH4 — with Fortune Island's treasure hunts and trailblazers rolled into the main map, Super7, and the Eliminator — particularly with the familiar car list and FH4's season changes preserved for the new climate.
The other relates to game progression. Whereas in FH4 you'd rank up in a variety of different disciplines and stunts depending on how often you did them, you're already a superstar in FH5. Instead it's all about exploring Mexico on Expeditions, setting up outposts for various race and event types. The purpose is to gain enough Accolades to enter the Hall of Fame, but once you've done that it's essentially a multiplayer leaderboard.
Nonetheless, it's as entertaining as it's ever been and, particularly with the Xbox Series X improvements on console, more beautiful than ever — especially in 4K60 mode. That's also been enhanced further on PC with a recent update to enable Nvidia DLSS/AMD FSR and ray-tracing across all game modes.
Playground Games isn't showing any signs of slowing down either. More updates with more new content has already been teased for the months ahead, and the studio confirmed that the second expansion — which we're expecting to add a new, non-toy-related map area like FH2's Storm Island, FH3's Blizzard Mountain, and FH4's Fortune Island — is coming soon.
With 2023 being the year of Forza Motorsport, we're expecting FH5 to enjoy a second birthday as the current title in the series and run through to at least late 2024 before FH6 appears.
Happy birthday, Forza Horizon 5!