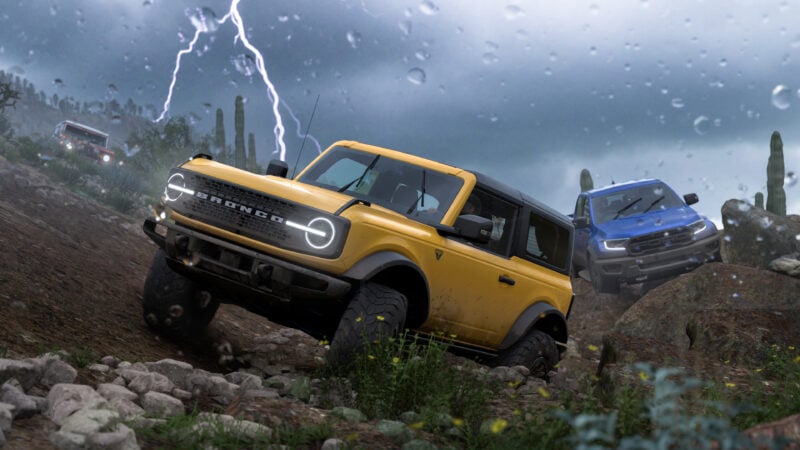 While Forza Horizon 5 might be an Xbox platform exclusive, the compatibility between Microsoft's consoles and its Windows operating system means PC gamers can get in on the act too. With that in mind, Playground Games has now revealed the hardware requirements needed for a PC to run Forza Horizon 5.
Forza Horizon 5 has been the talk of the town as of late, and for good reason. Set to release on November 9, the fifth instalment in the series sees the Horizon Festival setting up camp in Mexico.
With major improvements to the game's vehicle audio, 11 unique biomes, and a map that's roughly 50% larger than the previous game's, FH5 has plenty going for it. It's set to launch on Xbox One and Xbox Series consoles, taking advantage of the new hardware in ninth-gen machines, but PC players were left in the dark — until now.
The minimum hardware specs for FH5 are rather relaxed. You won't need anything more modern than a 2014-model Nvidia GeForce GTX 970, or a 2016 Radeon RX 470 if you're running AMD GPUs. In terms of CPUs, anything snazzier than a Ryzen 3 or Intel i5-4460 will be just fine.
Though this shouldn't come as too much of a surprise considering the game will also run on the Xbox One — itself based on mid-level 2013 tech — so most modern machines should run the title with relative ease. While unable to turn all of the eye candy up to 11, this will get PC players into the game without having to worry about taking out a second mortgage.
Recommended specs see the CPU jump to a 4-core, 8-thread processor for AMD, and a 6-core, 6-thread processor for Intel. Both the GPUs also take a considerable jump over the minimum spec, with both VRAM and system memory doubling.
That'll get you into decent territory for FH5's visuals, though you'll need to bump it up to the ideal spec for the best experience — and that's where things get interesting and a little scary.
Both the Ryzen 7 3800XT and i7-10700K are 8-core, 16-thread CPUs for AMD and Intel, respectively. The video cards take an even larger leap to the current-gen AMD Radeon RX 6800XT and Nvidia GeForce RTX 3080. Both GPUs will allow PC players to play FH5 at 4K with all the bells and whistles turned on.
However, anyone currently in the market for a new video cards knows it's next to impossible to find one at MSRP, thanks to the ongoing silicon shortage. Storage requirements sit at 110GB throughout, with the ideal spec opting for an SSD for quicker load times.
A mere 40 days are all that stand between now and the worldwide release of Forza Horizon 5 on the Xbox One, Xbox Series consoles, and Windows 10 PCs on November 9. Those springing for the Premium Edition will get their hands on the game four days earlier on November 5.