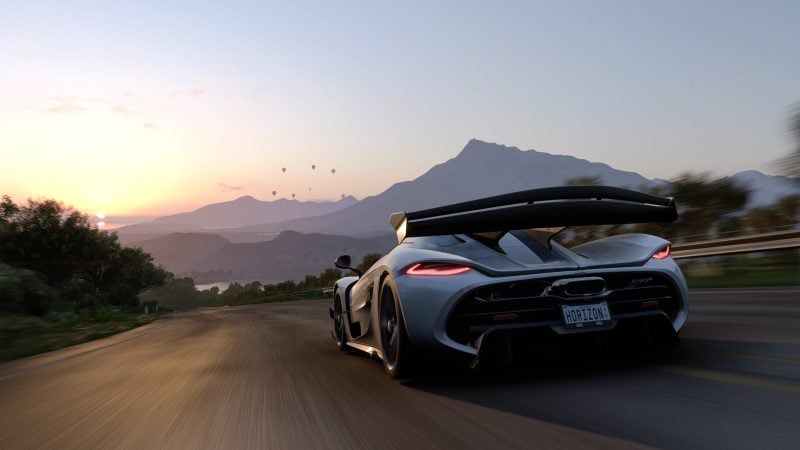 Time certainly flies when you're having fun, and today marks the end of the first half of Forza Horizon 5's Series 1; it's the start of the Winter season, but winter in Mexico means the roads dry out after a stormy autumn.
As usual, a change in season means a whole new set of Festival Playlist challenges for players to tackle, with seven days to complete them all before the spring season.
This is only the third season in FH5 and, even though there's already ten million players, some might not be familiar with a subtle change to the playlist's systems. Rather than percentage completion in FH4, FH5's challenges award points, to allow you to track your goals, and determine what you need to pick up the special prizes more easily.
Series 1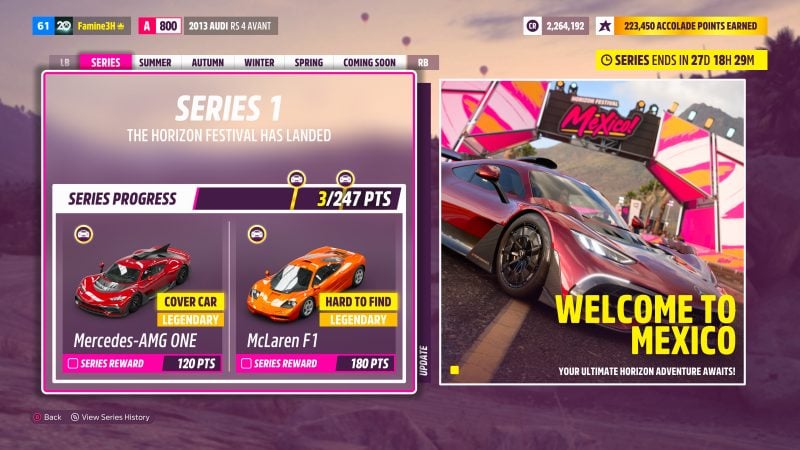 The two main prizes remain the same across the whole month, with the Mercedes-AMG One and the McLaren F1 up for grabs for highly active players.
Many might have already picked up the Mercedes, as it's available for 120pt and the first two seasons have had 132 points available (well, 131, thanks to a bugged Daily Challenge in Autumn).
Not available yet to real-world customers, who have to wait until at least the middle of next year, the Mercedes-AMG ONE is built around the Mercedes 1.6-litre W Power hybrid engine that powered Sir Lewis Hamilton to the 2020 F1 World Championship — and the team to its seventh successive constructor title. It's also one of the cars on the game's cover.
At 180pt, the legendary McLaren F1 might end up in your garage this week if you complete enough of the challenges. This 240mph masterpiece was so fast it almost reset the whole concept of speed, despite not being designed with that goal in mind, and it took a decade for any production road car to beat it.
McLaren only made 106 examples in total — though thankfully you're not so limited in the virtual world.
The challenges below will run through to 1430 UTC on Thursday December 2, when the Spring/Hot season starts. Again there's 61 points available across the week (assuming no glitches this time out), which should see you score the McLaren if you're at or near the maximum score in the Series so far.
Winter/Dry Season
Challenges
It's another small set of challenges this week, with no Treasure Hunt or Collectibles missions. That means six points available, with two for each of the three events.
The Eliminator makes its regular appearance this week, with another two points on offer (and a special Forza LINK message) for finishing 30th or better. You only need to head over to the zone at Valle de las Ranas to take part in the map-wide event.
Interestingly there's a second Eliminator challenge this week, with players able to score two points by eliminating two other players in head-to-head races during any single Eliminator round. That'll require a little bravery and luck, as you'll need to find other players with worse cars than you, challenge them, and beat them to the finish line twice in any one session.
This week's Photo Challenge is pretty simple, as you don't need a specific car or location. The #TwilightSaga challenge simply asks that you photograph any vehicle, anywhere, at night, for your bonus two points and a Clock Tower horn.
Photo Challenge: #TwilightSaga
Cars: Any
Location: Any
Challenge: Photograph any vehicle at night
Reward: 2 points, Clock Tower Horn
Horizon Open: Prepare for Elimination
Cars: Any
Location: The Eliminator
Challenge: Eliminate 2 opponents in a single session
Reward: 2 points, 25,000cr
The Eliminator: Battle Royale
Cars: Any
Location: The Eliminator
Challenge: Finish 30th or better
Reward: 2 points, "Welcome to the Eliminator" LINK
Season Events
The Season Events again make up the bulk of the points on offer, with another appearance from an Event Lab challenge created by the Playground Games staff.
In fact the Event Lab challenge this week is another demonstration of the weird and wonderful ways you can use Event Lab to create events. It's called "Domination Mode" and it turns the regular rules on their head.
You'll drive a three-lap race of the Baja Circuit, but it's not the first across the line that wins (although this will help). Instead you'll need to set the best split time you can in each of the checkpoints around the course.
If you are the fastest driver between two checkpoints, you'll get 100 points. However if someone else beats your time on a subsequent lap, they gain the 100 points and you lose them. Hold the most best splits and you'll win, with your race position only coming in as a tie-breaker. It's a lot of fun, and worth three points and a Referee Whistle horn.
Of course there's also the traditional three PR Stunts in the Playlist, with six points on offer — two apiece. Again, in a change from FH4, you'll need specific machinery to beat the seasonal challenge mark at each.
The Speed Trap will send you to the east end of Guanajuato, with 175mph needed from any Retro Muscle Car in the S1 class at the Calle Principal trap. For the Speed Zone you'll go to the Pyramid of the Moon zone at Teotihuacan, needing to average 128mph in any S2 class Porsche. The last stunt this week is a Trail Blazer, starting at the bottom of Copper Canyon. Any A Class Unlimited offroad vehicle will do the job (keep hold of it for later as well), and the 16 second time buffer should be plenty.
There's 15 points up in the three Seasonal Championship events again, at five points for each. Each consists of three races against the AI Drivatars, with Highly Skilled level AI required as opponents to pick up the main prizes. However, this week's vehicle choices are a little complex.
Midnight Battle is the simplest, with any Super Hot Hatch up to A800 eligible for the Street Race event, and a Super Wheelspin available for winning. No Expense Spared and The Real Deal feature vehicles from opposite ends of the "Horizon Special" curated car lists, with the former taking High Rollers and the latter the Reasonably Priced Cars (you can see exactly what these are if you start to create a race Blueprint).
Once you've found your eligible cars — S1 class for No Expense Spared, and C class for The Real Deal — the racing is pretty simple. The high rollers will tackle three Road Race events, with a Ford GT '05 on offer for the winner, while the more humble machines will take on the Dirt Race series — so pick a cheap car with 4WD — for the chance of a Pagani Huayra BC.
As usual, the final four events are online multiplayer only, so you'll either need to play on PC or have an active Xbox Gold subscription on your console.
Horizon Tour and Horizon Arcade are first up, with both co-op events again offering three points for completion this week. Although a recent patch has addressed some issues with Arcade, a lot of players are still struggling to find groups to work with, so it will be worth trying to organize specific times via the GTPlanet forums.
The Trial is often the hardest to beat, as you'll again need to work co-operatively with other players but you'll be racing agains a team of "Unbeatable" rank Drivatars. It'll be made harder this week by another set of specially curated cars called the Collector's Series, so your team mates might have an even harder challenge staying in control enough to help you and hobble to AI in their X999 class aircraft with wheels.
Playground Games is the final challenge this week, with two teams of up to six players in A800 Unlimited Offroad cars (did you keep hold of your Trail Blazer car?) against each other in a selection of team games, again co-operatively. It's the usual best-of-five rounds of Zombies, King, and Flag Rush. Win or lose, completing the set wins the three points and a Super Wheelspin.
Event Lab: Domination Mode
Car: A-Class, USA
Location: Baha Circuit
Challenge: Win the Championship
Reward: 3 points, Referee Whistle Horn
Horizon Tour: Co-op Championships
Car: Any
Location: Horizon Tour
Challenge: Win the Championship
Reward: 3 points
Speed Trap: Calle Principal
Car: S1 Class, Retro Muscle
Location: Guanajuato
Challenge: 175mph
Reward: 2 points, Wheelspin
Speed Zone: Pyramid of the Moon
Car: S2 Class, Porsche
Location: Teotihuacan
Challenge: 128mph
Reward: 2 points, Wheelspin
Seasonal Championship: Midnight Battle
Car: A Class, Super Hot Hatch
Location: Guanajuato
Challenge: Win the Championship
Reward: 5 points, Super Wheelspin
Seasonal Championship: No Expense Spared
Car: S1 Class, Horizon Special High Rollers
Location: Tierra Prospera
Challenge: Win the Championship
Reward: 5 points, Ford GT '05
Seasonal Championship: The Real Deal
Car: C Class, Horizon Special Reasonably Priced Cars
Location: Cascadas de Pantano
Challenge: Win the Championship
Reward: 5 points, Pagani Huayra BC
Seasonal Playground Games: Black Friday Bonanza
Car: A Class, Unlimited Offroad
Location: El Estadio Horizon
Challenge: Complete the Championship
Reward: 3 points, Thumbs Up Emote
The Trial: A Fine Addition
Car: Horizon Special Collector's Series
Location: Horizon Festival
Challenge: Win the Championship
Reward: 10 points, Ferrari Dino
Trail Blazer: Canyon Run
Car: A Class, Unlimited Offroad
Location: Copper Canyon
Challenge: 16 seconds
Reward: 2 points, Wheelspin
Forzathon Events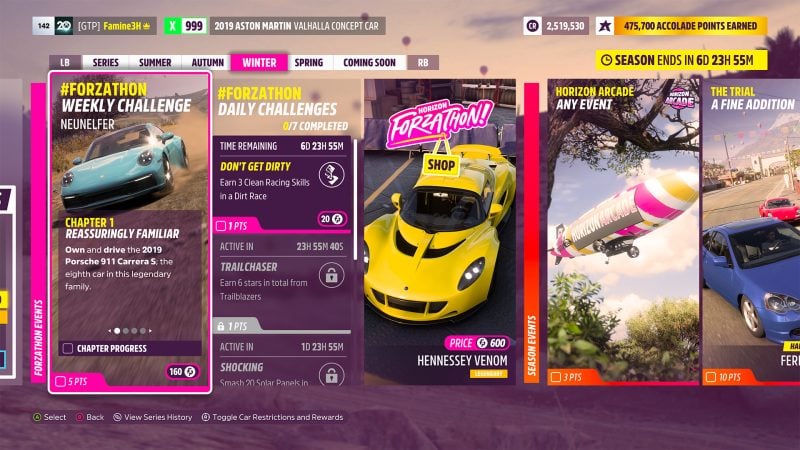 The Forzathon Events this week head to the other end of the scale from last week's Vocho, with the 2019 Porsche 911 Carrera S as the car involved. Buy and drive the car to get the "Neunelfer" event started.
In what should be the easiest next step in a while, take your 911 to any of the game's Speed Traps and pick up enough speed to rack up nine stars in total. You don't need to find new cameras, as the game will take your speed and convert it to an equivalent star rating for any Speed Trap.
Easier still is the third stage: just take a picture of the 911. Any picture, anywhere will do. Once you're done with that, head out on a 15-mile drive to complete the challenge, and score five points along with 160FP to do with as you please.
The Daily Challenges, each worth one point, now have a seven-day window, rather than just three in FH4, but also only appear at the rate of one a day. That means that only the first, Don't Get Dirty, is available right now, requiring three Clean Racing Skills in a Dirt Race (and head to the Event Lab race if you want to be efficient about it).
Later challenges will start with Trailchaser, requiring you to earn six stars across any of the Trailblazers, followed by Shocking which will need you to smash up 20 solar panels in 30 seconds. There's a solar panel farm just south of the main motorway you can use for this, and if you pick up a Mitsubishi Eclipse there's even an Accolade in it for you.
Sunday's Midnight Show challenge will simply need you to win a Street Race in a Modern Supercar, while Monday's challenge — Tour Guide — just needs you to run any Horizon Tour event. Again, this can be paired with the Season Event if you're being efficient.
That will just leave Power Launch, needing you to win a Drag Race in any Muscle Car, and In Three Minds which will see you dig into your funds to buy three cars. There's nothing specified for this challenge, so you should be able to mix up the Auction House and the Auto Show for your purchases.
Should you successfully work your way through all of that, you'll receive the exclusive ItalDesign ZeroUno for 22 points, and the hard-to-find Subaru Impreza 22B for 42 points. You'll also take home another 61 points towards your Series total.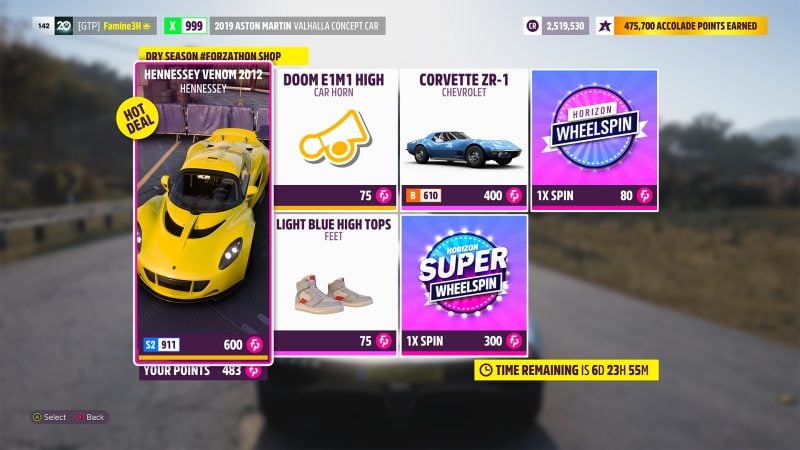 The functioning Forzathon Shop returns with a new set of items too. As usual you can pick up a regular Wheelspin for 80 Forzathon points, and a Super Wheelspin for 300FP, while this week's other items are the Doom E1M1 High Horn and the Light Blue High Tops shoes at 75FP each.
This week's two cars are the Hennessey Venom GT and the 1970 Corvette ZR-1. The Venom is essentially a stretched S2 Elise packing huge power from an LS7 V8. At one time it was the unofficial fastest production car in the world, but as it's available through the Autoshow we'd recommend keeping your hard-earned 600FP rather than splashing out.
The Corvette however is only available through chance — future Festival Playlists, Wheelspins — and may well be worth the 400FP outlay.
Featured image courtesy of turk1993.
See more articles on Forza Horizon 5 Season Change.