The third Series of Forza Horizon 5 gets underway today, with a new set of challenges and prizes for players to grab in their exploits around Mexico.
As usual, the Series starts with a damp spell, as Mexico's Summer corresponds to the Wet Season. That leads to some additional trickiness, as not only do the wet roads lead to low traction, but the rivers and streams swell to slow down your progress through them.
In addition, there's some new Accolades that are only possible this Series. They're in the Evolving World section, and require you to head to Guanajuato to see the New Year lanterns… and smash them up with a truck. You'll also get a big boost for owning all the new Series 3 cars.
We should all be getting used to the FH5's seasons by now, with eight previous iterations behind us, but for those new to the game the challenges offer points rather than percent. From the 10-point Trial down to the one-point Daily Challenges, each task has a points reward, and you'll need to pick up enough to grab the two rewards each week — and the two Series rewards in each lunar month.
This first week of Series 3 has 68 points on offer in total — the same as in S1 and S2 — with a grand total of 266 points for the entire Series. Of course this assumes that there are no glitches this time out, with 100% being impossible to achieve in both previous Series.
Series 3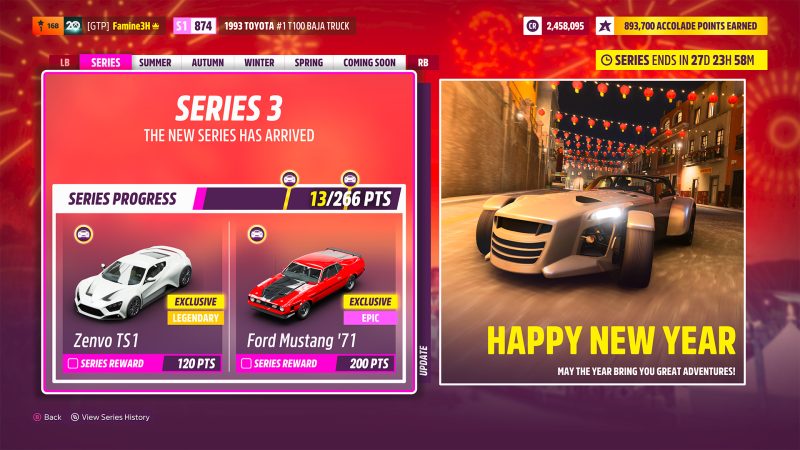 A new Series means brand new prizes, and for this month it's two exclusive cars.
If you reach 120 points across the four seasons, you'll pick up the rare Zenvo TS1, a supercharged supercar from Denmark.
Oddly, the car seems to be a misnamed version of the model, as it looks identical to the ST1 which appeared in previous Forza titles, rather than the updated car known as the TS1 GT in the real world. Whichever model it actually is though, you can look forward to 1100hp — so it's a good job you won't be able to win it in the Wet season.
The second car is the Ford Mustang Mach 1, which is set as the 200 point prize. This facelifted first-gen Mustang packs a seven-liter V8 with the Mach 1 performance pack, which included that highly recognizable ram-air hood.
Neither car is available anywhere else but the Festival Playlist — with possible future appearances in the Forzathon Shop in the far distant future — so you'll need to pick up as many points as you can to grab both.
Series 3 will run through to 1430 UTC on Thursday, February 3, when it'll be replaced by Series 4. The Summer/Wet season itself will run until 1430 UTC on Thursday, January 13 before the Autumn/Storm season rolls in.
Challenges
This week's Challenges bring in the usual trio of events and a new Collectibles mission for the week.
Lights Out will require you to go hunting for solar panels, though seasoned players won't need to look too hard: there's a small solar farm just north-east of Mulege, near the main highway. Smash up 25 panels to claim the three points and the 25,000cr reward.
The Photo Challenge requires you to head across to Playa Azul on the east coast and find one of the game's murals. This time round it's the Lion Mural, designed by Farid Rueda, which you'll find right on the main road down the sea front.
Photograph any Jaguar vehicle in front of the mural to complete the #HeardingCats challenge for two points and a Car Meow horn.
As usual there's a challenge for The Eliminator. Finish 30th or better in any round — usually a matter of just surviving for a couple of minutes — to win two points and a special Spaik Sundress clothing item.
That leaves Horizon Open, which this week requires you to head into Playground Games: hit the pause menu, go to the Online tab, select Horizon Open, and then Playground Games.
In any round of Infected (co-op) or Survival (solo) you simply need to infect one other player, to gain the two points and the Mexican Traffic Light horn reward.
A new Series means a new Monthly Rivals challenge too. This again takes you to Guanajuato, but this time the Plaza Circuit on the west side of the town. Set a clean lap in the event with the provided Ferrari 488 GTB and you'll win four points added to every Season in the Series, or 16 points in total.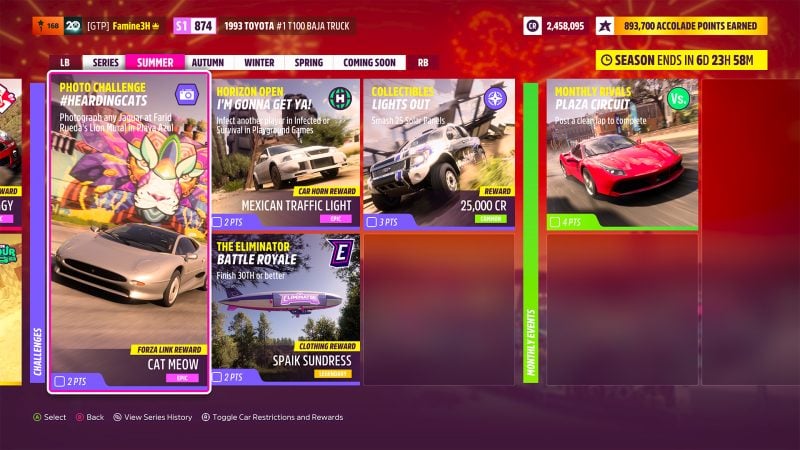 Photo Challenge: #HeardingCats
Cars: Jaguar
Location: Playa Azul
Challenge: Photograph any Jaguar at the lion mural in Playa Azul
Reward: 2 points, Cat Meow Horn
Horizon Open: I'm Gonna Get Ya!
Cars: Any
Location: Horizon Open Playground Games
Challenge: Infect a player in Infected or Survival
Reward: 2 points, Mexican Traffic Light Horn
The Eliminator: Battle Royale
Cars: Any
Location: The Eliminator
Challenge: Finish 30th or better
Reward: 2 points, Spaik Sundress
Collectibles: Lights Out
Cars: Any
Location: Any
Challenge: Smash 25 solar panels
Reward: 3 points, 25,000cr
Monthly Rivals: Plaza Circuit
Cars: Ferrari 458 Italia
Location: Plaza Circuit, Guanajuato
Challenge: Post a Clean Lap
Reward: 16 points (4 added to each season)
Season Events
It's a busy one this week, with the regular events — three Seasonal Championships, three PR stunts, Seasonal Playground Games, Horizon Tour, Horizon Open, and the Trial — joined by another EventLab challenge.
For EventLab this week you'll be racing around a custom course near the hotels at Palacio Azul del Oceano. We say "near", but you'll actually be driving over them.
The circuit loops around and above the hotels and beaches before jumping off to the east; there's nothing complex about it this week — just drive the course to its finish.
For the three PR Stunts this week, there's actually an entirely new spot on the map. That's the "Desert Descent" Trail Blazer, which sees you run down the Gran Caldera from halfway up the south side.
You'll need an A Class example of the Ford Bronco #25 Brocky to complete the challenge — which you can win from the Come Rain or Shine Seasonal this week — and set a gold time of 25s or more to get the two points and, unusually, a Super Wheelspin.
The other two events have the regular two points and Wheelspin reward. For Ring Road you'll need to keep up an average of 86mph in the Speed Zone just north of the stadium in a B Class Toyota Supra 1998, while the Colina Danger Sign is a leisurely 178m jump in any C Class Rods & Customs machine.
You'll be running Dirt, Cross Country, and Street Race events for the Seasonal Championships this week, against the usual Highly Skilled Drivatars. Each is worth five points for your Season total as usual.
As already mentioned, Come Rain or Shine will see you compete in three races against A Class Unlimited Offroad cars, starting off right at the top of Gran Caldera. You'll win the Brocky Bronco needed for the Trail Blazer PR Stunt if you take the overall win.
The Dirt challenge is a three-race affair involving B Class Mini-brand cars. It's another one that starts at the top of the volcano, and if you emerge on top you'll win the Mini John Cooper Works Buggy.
Finally there's Grand Gesture, a three-race Street Racing series for S1 Class GT Cars, starting over at Dunas Blancas. The overall prize for this one is a Maserati Gran Turismo S.
It's multiplayer only beyond that point, with four events that team you up with other players. That means you'll need to either play on PC or have an active Xbox Gold subscription to take part.
As usual that starts with the two Horizon Tour and Horizon Arcade events, where you'll work with a team to either beat the AI in three races (Tour) or beat score targets in some mini-challenges in a specific map zone (Arcade). Each is worth three points, with no additional prizes — and the Tour might be showing as already complete for some players.
Playground Games takes place at the Baja Circuit this week. The team-vs-team event will put you with up to five other players against a rival team of up to six in a best-of-five set of Zombies, King, and Flag Rush games. You only need to finish the event, not win, to take the three points and an "I'm The Best At Games" Forza LINK message.
Lastly there's the Trial, this week involving Rare Classics set to B Class (601-700 PI). You'll be racing with up to five team-mates against a squad of "Unbeatable" AI Drivatars, with the challenge being to outscore the bots across three races.
This can be an awkward event to complete, as players need to work with each other to promote drivers into the best possible positions while hindering the AI — though commonly you'll find try-hard blue players smashing through everyone regardless. With the skinny tires of the classics, braking zones might be mayhem this week.
However, should you achieve the task between you, you'll win ten points and the Jaguar E-Type as a reward.
Danger Sign: Colina
Car: C Class, Rods & Customs
Location: Colina, Guanajuato
Challenge: 178m
Reward: 2 points, Wheelspin
Speed Zone: Ringroad
Car: B Class, Toyota Supra 1998
Location: Ringroad, El Estadio Horizon
Challenge: 86mph
Reward: 2 points, Wheelspin
Trail Blazer: Desert Descent
Car: A Class, Ford Bronco #25
Location: Desert Descent, La Gran Caldera
Challenge: 25s
Reward: 2 points, Super Wheelspin
Seasonal Championship: A Mini Adventure
Car: B Class, Mini
Location: La Gran Caldera
Challenge: Win the Championship
Reward: 5 points, MINI John Cooper Works Buggy 2018
Seasonal Championship: Come Rain or Shine
Car: A Class, Unlimited Offroad
Location: La Gran Caldera
Challenge: Win the Championship
Reward: 5 points, Ford Bronco #25 "Brocky" Ultra4 2017
Seasonal Championship: Grand Gesture
Car: S1 Class, GT Cars
Location: Dunas Blancas
Challenge: Win the Championship
Reward: 5 points, Maserati Gran Turismo S 2010
EventLab: Stunters Paradise
Car: A Class, Unlimited Offroad
Location: Palacio Azul del Oceano
Challenge: Complete the Event
Reward: 3 points, Wheelspin
Horizon Arcade: Mini Games
Car: Any
Location: Horizon Arcade (any)
Challenge: Complete the Event
Reward: 3 points
Horizon Tour: Co-op Championships
Car: Any
Location: Horizon Tour
Challenge: Win the Championship
Reward: 3 points
Seasonal Playground Games: Soaked
Car: A Class, UTVs
Location: Baja Circuit
Challenge: Complete the Championship
Reward: 3 points, I'm the Best at Games LINK
The Trial: Winner Winner
Car: B Class, Rare Classics
Location: Bahia de Plano
Challenge: Win the Championship
Reward: 10 points, Jaguar E-Type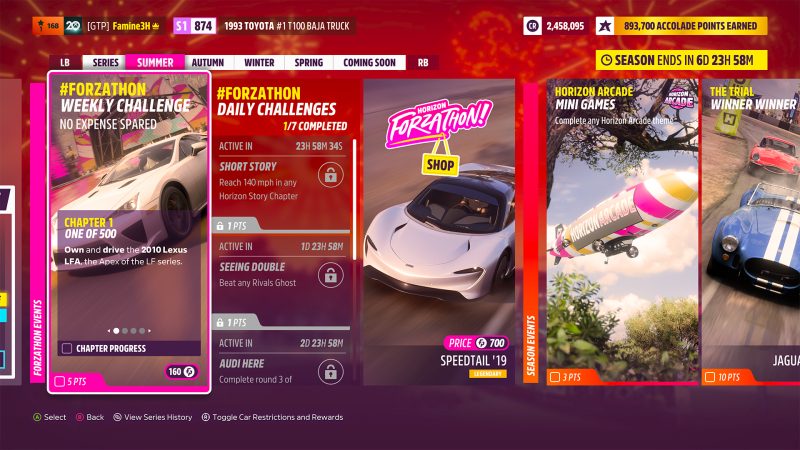 Forzathon Events
No Expense Spared will see you driving the rare and expensive Lexus LFA this week. Pick up the car to get things started.
Your first challenge should be a breeze, as you only need to take the car to 200mph to move onto the next stage.
After that, you'll need to show off the LFA's racing credentials by winning two Road Racing Circuit events. Only circuit-based races will do — any point-to-point wins won't count.
Finally you just need to take the Lexus on a 20-mile cruise around Mexico. That'll give you the five Season points and 80 Forzathon Points too.
There's the usual seven Daily Challenges to get through too — with one each day, seven days to complete each, and worth one point and 10FP — though you might find the first of those is already completed for you.
Check This Out! starts off the challenges, requiring you to create and publish an Event Blueprint in EventLab. If you've already done this previously, the challenge will complete automatically.
Friday's challenge is Short Story, with a goal of hitting 140mph in any Horizon Story Chapter. There's plenty of choice here, but we reckon Coast to Coast in Horizon Apex will be the easiest and quickest, as it's a straight run from Los Jardines in a Koenigsegg Jesko.
Seeing Double starts off your weekend, and only requires you to bear any Rivals ghost. In principle you could pair this up with the Monthly Rivals challenge, though we'll need to check to make sure. Otherwise just head to any event, enter and select Rivals, and beat the first ghost.
On Sunday you can start on Audi Here. This will see you entering and completing a Horizon Arcade event, with the crucial component being that you must complete the final round in an Audi.
Next Level starts next week off, and you only need to unlock a Car Mastery to pass the test. Even a single-skill-point mastery will do, but then it will also unlock if you have already done this — an easy point for most players!
Off to the Races follows on Tuesday. Win any Dirt Scramble (that's a circuit race) in any S1 Class car to complete it.
That leaves you with Open Road on Wednesday, requiring you to smash five traffic cones anywhere on the map.
Should you complete enough of those challenges, you'll pick up the rare Ferrari 488 GTB for 25 points, and the exclusive Toyota Celica SS-I for 45 points. You'll not be able to get the Celica anywhere else for a good long while, so it's an important one for you completionists.
That only leaves the Forzathon Shop, which this week stocks one of the fastest cars in the world.
McLaren's Speedtail is an all-out hypercar with a 250mph top speed and a central driving position meant to pay homage to the famous McLaren F1. It's pretty expensive at 700FP, but considering it's also 2.25m credits in the Autoshow it might well be worth the money.
At 400FP the Alumi Craft Class 10 is a little cheaper, but probably also a car you already own by now. If not, at 300,00cr in the Autoshow it's worth spending the coin rather than the rarer Forzathon Points.
The Jump On It emote and a special Star27-design facemask come in at 75FP apiece, though the emote is one that you'll likely have won in a Wheelspin by now.
As usual there's two spots for the Wheelspin (80FP) and Super Wheelspin (300FP) all week.
See more articles on Forza Horizon 5 Season Change.