Summer has once again arrived in Forza Horizon 5's Mexico, bringing with it an entirely new set of Playlist events as Series 7 gets underway.
The theme for this series is Cinco de Mayo, a major celebration in Mexico held on May 5 each year. That will be reflected in FH5 with a "world makeover", including new decorations around the map, new clothing items, and new props to place in EventLab.
There's also something of a Ferrari takeover too, with all four of the Series' first tier Season completion prizes coming from the Italian brand, as well as the 80-point Series reward car. One new Evolving World Accolade appears this month, for collecting all five.
A healthy Playlist means there's 225 points available across the four weeks. The lower prize point requirements remain, and the Playlist-exclusive cars still occupy that first reward slot, making collecting unique cars an easier task.
Series 7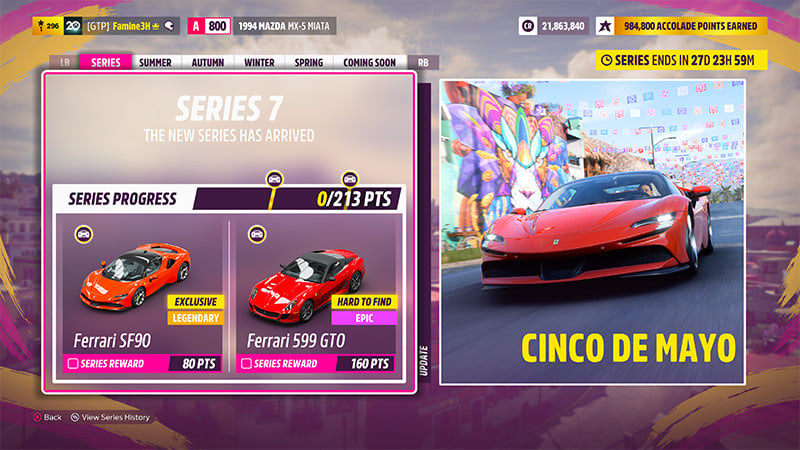 The Ferrari takeover is no more evident anywhere than the Series rewards. You'll be taking on the Playlist challenges this month in order to pick up two cars from the marque.
That starts with the exclusive car, the Ferrari SF90. This is the brand's first ever full production electrified vehicle, pairing a four-liter V8 petrol engine with a trio of electric motors, good for close to 1,000hp combined.
Interestingly, the SF90 is also technically the first front-wheel drive Ferrari. In normal driving it's rear- or four-wheel drive, but in electric-only mode and at speeds up to 84mph, it can deliver torque only to the front wheels via the individual motors.
It's yours for just 80 points across the Series, so it's one to pencil in for the Autumn list.
The higher-tier reward remains at 160 points, and for Series 7 it's the Ferrari 599 GTO. It's a car you cannot buy normally, as it's only available as a Playlist reward, Forzathon Shop item, or on Wheelspins (or the Auction House, of course), so probably worth aiming for.
"GTO" means "Gran Turismo Omologato", or a car that meets the requirements of a certain racing series; homologation is the process of meeting approval of race governing bodies. However the 599 GTO was never designed as a racing car.
It was actually the roadgoing version of the 599XX track-day toy, making it a very odd choice of name considering the brand had previously reserved it for just two models in the previous 70 years — both roadgoing race cars.
That said, the 599GTO is plenty fast enough. It retains much of the powertrain improvements of the XX, albeit a little detuned, while also doing away with the fussy aerodynamic add-ons required for the track toy but not so much for road driving.
The Summer season will run through to 1430 UTC on Thursday, May 5, while Series 7 itself continues until the same time on Thursday, May 26.
Summer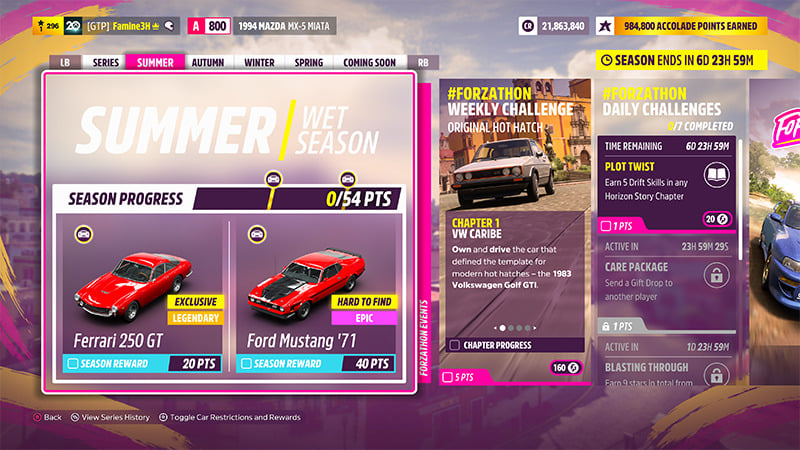 For Summer you'll be driving for two rather different classic cars from opposite ends of the Atlantic Ocean.
Score 20 points across the season and you'll win the Ferrari 250 GT Lusso, which makes its return to the Forza series this week as a Playlist exclusive.
Developed from the 250 GT Berlinetta, the Lusso was the last of the 250 GT line before it was replaced by the 275 GT. Intended as a sports luxury two-seater, the Lusso combined the famous Ferrari V12 with a new Pininfarina-designed body that's often regarded as the most beautiful Ferrari ever made.
For 40 points you'll win the Ford Mustang Mach 1. Previously the 200-point car from Series 3, you'll have a better opportunity to win the V8-powered pony car this week, as you won't require an online subscription to rack up the points necessary.
A facelifted first-gen Mustang, the Mach 1 adds a special performance pack which includes suspension and steering upgrades to a recipe that also includes a monster, seven-liter V8.
It's a car that's easy to spot from a mile away, with the characteristic ram-air hood and the chin spoiler — and it had a star turn as James Bond's laterally confused ride in Diamonds are Forever…
The Mustang isn't a Playlist exclusive, but it also cannot be purchased via regular means — aside from the Auction House, there's perhaps an appearance in the Forzathon Shop in future — so it's well worth going for the 40 this week.
Forzathon Events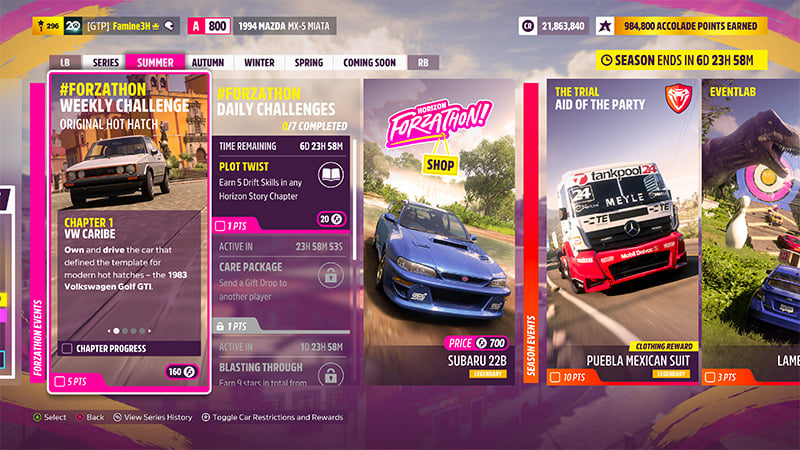 The Weekly Challenge this week focuses on one of the most significant cars of the 20th Century, the Volkswagen Golf. Pick up the 1983 hot hatch archetype to get Original Hot Hatch underway.
Next up, take the Golf GTI to win any Street Racing Series event. Follow that up by earning five stars from Speed Zones in the hot hatch.
Your final task is to earn an Ultimate Skill Chain in the Golf. This requires that you link together as many skills — drifting, speed, wreckage, air, and so on — as you can to earn 20,000 skill score before any multiplier is take into account. Succeed and you will earn five points and 80FP (doubled to 160FP if you own the La Casa Solariega player house).
The Daily Challenges are all worth their usual one point and 20FP (again doubled to 40FP with the same player house). One new challenge pops up each day and you'll have seven days to complete it.
Plot Twist starts the week's action off. Score five Drift skills in any Horizon Story chapter to pass the test. Your best bet for this is almost certainly Drift Club, since that's the entire point of it…
You can send a Care Package on Friday. Simply donate a car to any player with the Gift Drop feature (either at Barn Find locations or from within the pause menu) to earn the points.
Trailblazers are the theme for Blasting Through. Pick up nine stars from these cross-country blasts to pass the challenge.
On Sunday you'll need to Hold Fast, by driving above 150mph (242km/h) for 15 seconds or more in any car.
Monday's challenge is a Sparkling Clean way to start the working week, by posting a clean lap on any Rivals Event. Simply start any race, select Rivals, choose a preferred class and drive a clean lap.
You'll be wrecking things in Sandwich. Find and destroy three picnic tables anywhere on the map. These are most commonly found in roadside rest stops — there's a gaggle of them down the road south of Hotel Mirador Balderrama.
Finally you'll need to win a Drag Race in any Modern Sports Car. Just head to one of the three drag strips — Horizon Festival, Aerodromo en la Selva, or Teotihuacan — and win a race to pass Fast Lane.
Season Events
There's a more familiar look to the Playlist offerings this week after a few different combinations over the last couple of months. Seasonal Championships return with a vengeance, with three series in different disciplines alongside three PR Stunts.
As has been the norm recently, each of the PR Stunts offers two points and a Super Wheelspin for completion.
For the Danger Sign at La Mesa you'll need an A Class (701-800 PI) 2008 BMW M3 — which you can also win from the Chihuahua Express Seasonal Championship this week. You might need to tune it up a little to make the 185m distance, which is pretty close to the three-star target.
The Camino de Montana Drift Zone actually requires that you beat the three-star score this week. You'll need to rack up 140,000 points, but since you'll be using an S1 Class (801-900 PI) Drift Car it should be relatively easy — going east to west will likely yield better results.
While the 120mph target doesn't seem like much for the San de Las Minas Speed Trap, the fact you'll need a B Class (601-700 PI) Subaru makes it a little tricky. We'd recommend straightlining it down the mountain, starting mid-Esquisto Drift Zone.
Chihuahua Express is the first of the three Seasonal Championships, starting up at the Copper Canyon Sprint. You'll need to beat the Highly Skilled AI across three Road Racing Series races, and you have free choice of any vehicle at all so long as it's in the S1 Class (801-900 PI). The prizes are the aforementioned BMW M3 and three points.
For the Street Racing Series event, La Fiesta, you'll need any A Class (701-800 PI) Ford. Come out on top in the three-race championship to take three points and the rally Ford Fiesta #14 Rahal Letterman.
That leaves the Cross Country Racing Series, VW Caribe Legends. You can use any Volkswagen Golf of any type, so long as it's in the B Class (601-700 PI) performance bracket. The rewards are three points and a Mexican Traffic Light horn.
There's also an EventLab race to tackle, called Horizon Jungle Cruise. The race turns the beautiful, blue rivers at the south of the map into a race track, which you'll be wading through for two very long laps.
It's open to B Class (601-700 PI) vehicles from the Pickups & 4x4s category. We'll also suggest carrying plenty of speed in the downhill sections to avoid flips when your rear axle catches on the rocks. Survive and win and you'll take three points and a Lamborghini LM002.
EventLab: Horizon Jungle Cruise
Car: B Class, Pickups & 4x4s
Location: Horizon Wilds Outpost, Gran Pantano Sprint
Challenge: Win the Race
Reward: 3 points, Lamborghini LM002
Danger Sign: La Mesa
Car: A Class, BMW M3 '08
Location: Pantano de la Selva, La Mesa Danger Sign
Challenge: 185m
Reward: 2 points, Super Wheelspin
Drift Zone: Camino de Montana
Car: S1 Class, Drift Cars
Location: Ek'Balam, Camino de Montana Drift Zone
Challenge: 140,000pt
Reward: 2 points, Super Wheelspin
Speed Trap: San de Las Minas
Car: B Class, Subaru (any)
Location: Descansar Dorado, San de Las Minas Speed Trap
Challenge: 120mph
Reward: 2 points, Super Wheelspin
Seasonal Championship: Chihuahua Express
Car: S1 Class (any)
Location: Guanajuato, Copper Canyon Sprint
Challenge: Win the Championship
Reward: 5 points, BMW M3 '08
Seasonal Championship: La Fiesta
Car: A Class, Ford (any)
Location: Cordillera, Highland Climb
Challenge: Win the Championship
Reward: 5 points, Ford Fiesta #14 Rahal Letterman
Seasonal Championship: VW Caribe Legends
Car: B Class, Volkswagen Golf (any)
Location: Mulege, Mulege Town Scramble
Challenge: Win the Championship
Reward: 5 points, Mexican Traffic Light Horn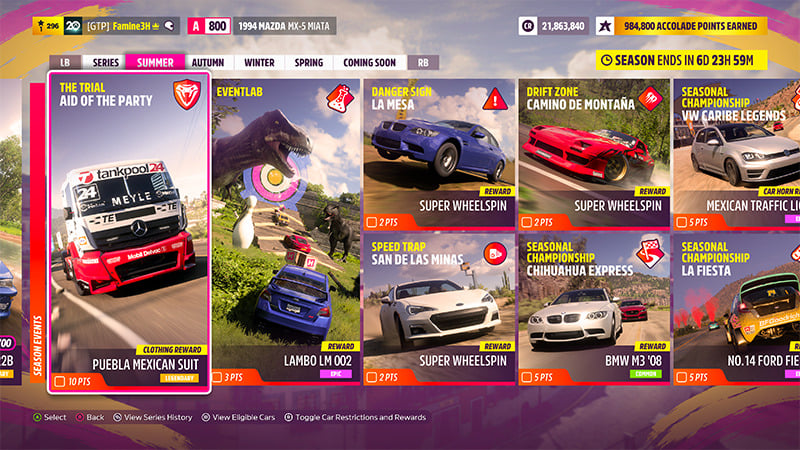 For the online offerings this week there's just The Trial. As usual you will need Xbox Live Gold, or to play on PC, in order to access online multiplayer for this event.
It's often the hardest event on the Playlist, as players are required to work together to defeat a team of "Unbeatable" AI drivers.
Each driver gains 100 points for each of the other team's opposing drivers they beat, with a 50-point bonus for the driver who wins. That means you will score 650 points in total if you win the race, but it's not about who wins the race; it's about your total score as a team.
The goal is to help your team-mates, and this is often best done by hindering the AI. Blocking an AI to let two or three team-mates pass it is more valuable to the team's points tally than trying to pass an AI that's ahead of you.
Although this week's races don't feature the fastest machinery, at A Class (701-800 PI), chances are it'll be a tricky event due to the vehicle type. You'll be racing in trucks, and there's not a lot of room for them on some of these roads.
Come out on top across the three Road Racing Series events though and you'll win ten points and a Puebla Mexican Suit for your avatar.
The Trial: Aid of the Party
Car: A Class, Trucks
Location: Horizon Festival, Reservorio Sprint
Challenge: Win the Championship
Reward: 10 points, Puebla Mexican Suit
Challenges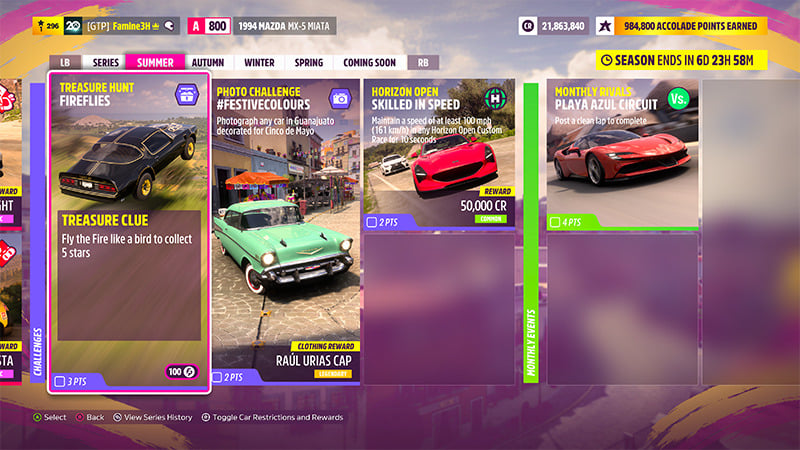 Three Challenges are available this week, consisting of a Photo Challenge, a Treasure Hunt, and a Horizon Open event — keeping players aware of the new levelling system and Custom Race options for Open. That last event will also require an active Xbox Live Gold subscription, or playing on PC, to access.
To pass Skilled in Speed you'll need to enter Horizon Open Custom Race (Online, Horizon Open, Custom Racing in the pause menu) and select any race type in any car performance class that you choose. Keep up a speed of 100mph (161km/h) or more for more than ten seconds at any point in the race to win two season points and 50,000cr.
For the Photo Challenge, #FestiveColours, you only need to head into the redecorated city of Guanajuato. Take a photo of any car among the Cinco de Mayo decorations to win two points and a Raul Urias Cap clothing item for your avatar.
Finally there's the Treasure Hunt. You'll need to solve the description, "Fly the Fire like a bird to collect 5 stars", in order to get a "Clue" as to where the Treasure Chest is.
That all points to the fact you'll need to score five stars at Danger Signs using the Pontiac Firebird Trans-Am. Any Trans-Am will do, even the Forza Edition of the later model. Complete that to get the treasure clue on the map — a red circle showing the area in which you'll find the chest.
This week that's located at Riviera Maya, and you'll find the chest itself in the boardwalk section, just northeast of the eponymous Danger Sign.
We return to a single Monthly Event this month, with Monthly Rivals sitting in its usual spot.
The challenge this month is a lap at the Playa Azul Circuit, on the east coast. You'll need to run a clean lap in the Ferrari SF90 provided to you for the task in order to pass. It doesn't need to be fast, just clean — which is a little tricky after the opening section.
Completing this at any time in the four-week Series is enough to pass. It will award one point in each of the four seasons (4 in total), backdating it to previous seasons if you leave it until later.
Horizon Open: Skilled in Speed
Cars: Any
Location: Horizon Open Custom Race (any)
Challenge: Maintain a speed of at least 100mph (161km/h) in any Horizon Open Custom Race for ten seconds
Reward: 2 points, 50,000cr
Photo Challenge: #FestiveColours
Cars: Any
Location: Guanajuato
Challenge: Photograph any car in Guanajuato decorated for Cinco de Mayo
Reward: 2 points, Raul Urias Cap
Treasure Hunt: Fireflies
Cars: Pontiac Firebird Trans-Am (any)
Location: Any Danger Signs
Challenge: Score five stars at any Danger Signs in the Pontiac Firebird Trans-Am; Locate the Treasure Chest
Reward: 3 points, 100FP
Monthly Rivals: Emerald Circuit
Cars: Ferrari SF90 (Provided)
Location: Playa Azul, Playa Azul Circuit
Challenge: Post a Clean Lap
Reward: 4 points (1 added to each season)
Forzathon Shop
The first Forzathon Shop of Series 7 adds an unusual pair of vehicles that are rather unlikely to be spoken about in the same breath in normal circumstances.
Subaru's 22B is the featured car. Based on the first-generation Impreza, the 22B was almost a World Rally Championship car but for the road.
It used a widebody version of the coupe body, along with upgraded suspension and a larger, 2.2-liter engine. That's partly where the name "22B" comes from, although it's also a hexadecimal representation of the number "555", the tobacco brand that sponsored the Subaru WRC team.
Subaru only built 424 cars in total — 400 for Japan and 24 for other markets — making it one of the rarest versions of the Impreza as well as the most powerful at the time. At 700FP it's a little expensive for a B Class car, but as it's only available through the Shop, the Playlist, and Wheelspins, perhaps worth it.
We'd probably swerve the other option though. While the DeBerti Chevrolet Silverado Drift Truck is a pretty potent machine, the fact it can be bought for 300,000cr makes even the 200FP it costs in the Forzathon Shop look a little dear.
Store items this week are the Macarena Emote and the Bass Drop Horn, at 75FP each. The Wheelspin (80FP) and Super Wheelspin (300FP) are in their usual spots too.
See more articles on Forza Horizon 5 Season Change.