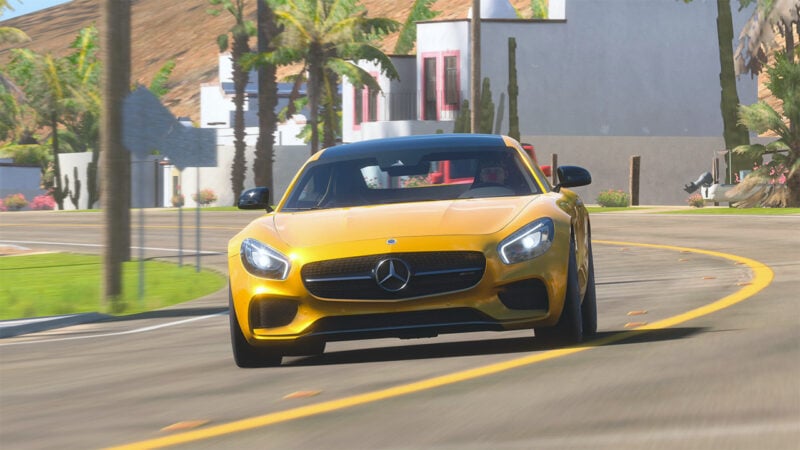 It's winter again in Forza Horizon 5's Mexico, with the wave of dry weather than brings changing some aspects of the map — along with a whole new Playlist for the week.
As we've seen for the last couple of weeks, the four seasons of Series 8 are all about German cars. Every Playlist is stuffed full of events just for, and giving prizes of, German automobiles.
This week's events are no exception, with another raft of events for the likes of Audi, BMW, Mercedes, Porsche, and Volkswagen.
Alongside that, there's three new cars this series that you can win from the Playlist, all of German origin. You should already have the first of those, from the Autumn list, but this week there's a chance to take the second. There's also a new Evolving World Accolade available for owning all three.
Series 8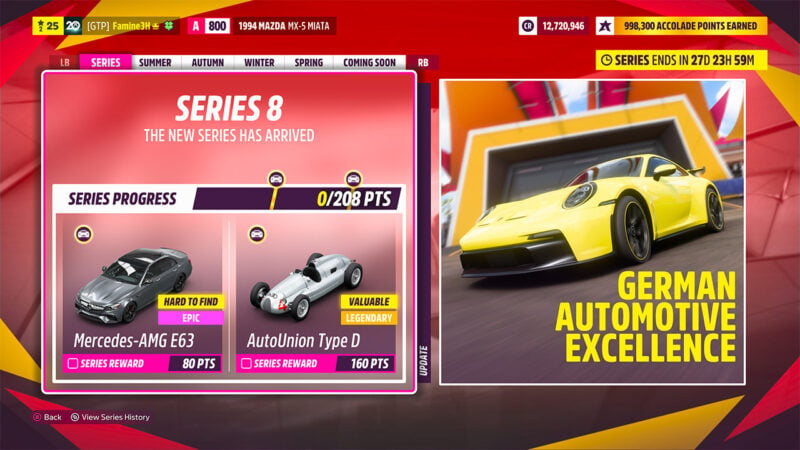 Alongside the individual Playlist rewards, the two series rewards this Series are also German. Neither is a Playlist exclusive, but they will save you some coin if you can pick up both for simply playing the game.
For a mere 80 points across the Series you'll win the Mercedes-AMG E63. Despite the "63" name, the AMG sports a four-liter twin-turbo V8 — the same one you'll find across the range and even in Aston Martins too.
It's good for 600hp, so it means that this big sedan is no slouch, even if it isn't strictly a sports car. You also can't buy the E63 in the Autoshow in FH5, so it's a good time-saver to win it here rather than waiting for the luck of the Wheelspin.
The higher-tier reward, which you'll need to wait until next week to pick up, is the Auto Union Type D.
It's available for 160 points across the Series, and there's good reason to aim for it too. The pre-war Grand Prix special comes in at 15 million credits in the Autoshow.
That's a lot of money, even for a supercharged, V12, race-winning machine, so rack up those points while you can.
The Winter season runs through to 1430UTC on Thursday June 16, with Series 8 continuing for one more week until the same time on Thursday June 23.
Winter
There's another S8 exclusive car available this season, with the Mercedes-AMG GT S appearing as the lower-tier reward.
For just 20 points this season you can take the first generation of the newly rebranded Mercedes-AMG's sports cars. It sports the same four-liter V8 as the E63, but in a slightly more modest 500hp form.
It's the little brother of the more ferocious GT R, but also sports some softer lines. That means it won't tear up the streets quite as effectively, but it's also not quite so fussy to look at.
Rack up 40 points and you'll win the Porsche 959 in Dakar-winning livery.
While the 959 was technically built for Group B racing, it came along just a fraction too late. As development prototypes ran in the then Paris-Dakar rally, Porsche entered the final product into the event and took a 1-2 — a remarkable outcome for what was really a 200mph supercar.
It never got to race in Group B, as the category was infamously cancelled, but it's certainly at home in FH5's Mexico.
Should you miss out this week — and those without Xbox Live Gold or a way to play on PC cannot score the points — it's not a Playlist exclusive and only comes in at 1.5 million credits in the Autoshow.
Forzathon Events
It's another highly German Playlist this week, and that starts with the Weekly Challenge which now focuses on BMW. Pick up the BMW Z4 M Coupe '08 to get M for Motorsport started.
You'll only need to take a photo of the car to pass the next stage, and then you'll be straight into some Road Racing challenges. Win three events in that series — marked by the blue map icons — to advance.
Finally you'll need to earn 20 Drift or E-Drift (drifts initiated with the handbrake) to complete the challenge, earning five points and 80FP (doubled to 160FP if you own the La Casa Solariega player house).
There's more German cars required for the Daily Challenges. One new challenge on the list will appear each day during the season, and completing each within its seven-day window gives one point and 20FP (again doubled to 40FP with the same player house).
The Ring gets things underway. You'll need to drive 13 miles, roughly the length of a lap of the Nurburgring Nordschliefe, in any German vehicle; it might be worth doubling this up with the Weekly Challenge for efficiency.
Grab the Opel Manta 400 and win a Dirt Racing Event of any kind to complete Friday's Rally Round challenge.
For Super Hero you'll need to earn 20 Wreckage Skills in any Sports Utility Hero category vehicle from Germany.
Built for Racing then sets you a challenge of completing any Horizon Open Custom Race (you'll need Xbox Live Gold or to play on PC, for access to multiplayer) in any BMW — which unfortunately does not count towards the simialr Weekly Challenge objective. Boo.
Hit up the Speed Zones in any Porsche to start the working week off. Rising Star requires a cumulative nine-star score.
You'll need to hit the post for Own Goal!, smashing any goal post in any German vehicle.
Finally there's Hammer Down. Take the Mercedes-Benz AMG Hammer (which you can win in the Road Show Seasonal Championship) and make it jump 305m or more to score.
Season Events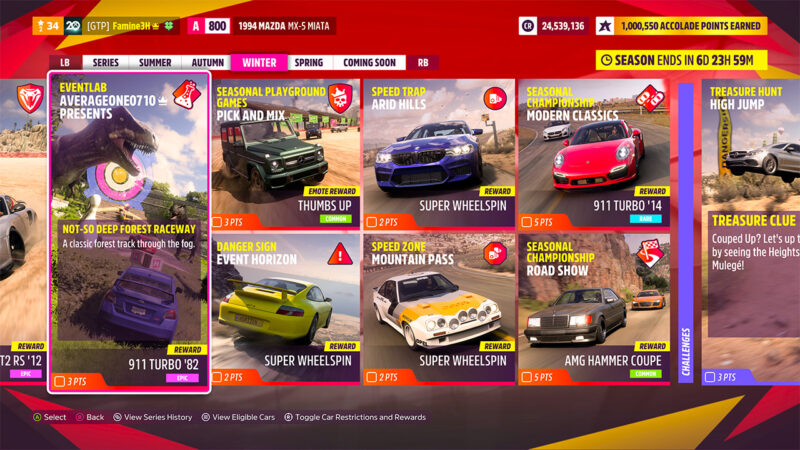 There's the usual mix of events this week, with two Seasonal Championships, three PR Stunts, two online multiplayer events, and an EventLab challenge.
That, unexpectedly, channels Gran Turismo this week. Not-So Deep Forest Raceway is a recreation of the classic GT circuit using elevated platforms in and around the Gran Puente.
It's a two-lap race for any German car at all, so long as it's in the S1 Class (801-900) performance bracket. Win to take the three points and a 1982 Porsche 911 Turbo.
The Super Wheelspin prizes continue for PR Stunts, with all three offering it as a reward, along with the two points.
You'll be heading to the top of the world for the Danger Sign, Event Horizon. This ramp launches you westward down the slopes of the volcano from right by the radio telescope.
While the target distance of 310m is a pretty long jump — beyond the three-star distance — you can use any S1 Class (801-900 PI) Porsche 911 GT3 '04; we'd recommend an AWD conversion to help get up the dirt track.
The Speed Zone is in broadly the same area, running across the north of the mountain (hence the name, Mountain Pass) on a pretty fast section of road.
You'll need a B Class (601-700 PI) Opel Manta 400, which you can win in the Treasure Hunt this week. Keep an average of 100mph — not even a two-star speed — to complete it.
Finally there's the Arid Hills Speed Trap. You'll find this on the south-east slopes of the volcano on another pretty fast section of road.
It's a considerably faster test too. There's a 200mph target speed, although you'll be using a BMW M5 '18 tuned into S1 Class (801-900 PI), so it should be a breeze if you stick to the road.
You'll also be sticking to the blacktop for the Seasonal Championships this week, with Road and Street Racing events on the menu.
Road Show is the Road Racing Series event, for S1 Class (801-900 PI) Modern Supercars, from Germany of course. Win the three-race series to score five points and a Mercedes-Benz AMG Hammer — good for the final Daily Challenge this week.
Street racers will prefer Modern Classics. This is a three-race series for German Modern Sports Cars, in the A Class (701-800 PI) bracket. Take overall victory and you'll score another five points and a 2014 Porsche 911 Turbo.
EventLab: Not-So Deep Forest Raceway
Car: S1 Class, Germany
Location: Gran Puente, Jungle Descent
Challenge: Win the Race
Reward: 3 points, Porsche 911 Turbo '82
Danger Sign: Event Horizon
Car: S1 Class, Porsche 911 GT3 '04
Location: Gran Caldera, Event Horizon Danger Sign
Challenge: 310m
Reward: 2 points, Super Wheelspin
Speed Trap: Arid Hills
Car: S1 Class, BMW M5 '18
Location: Colinas Aridas, Arid Hills Speed Trap
Challenge: 200mph
Reward: 2 points, Super Wheelspin
Speed Zone: Mountain Pass
Car: B Class, Opel Manta 400
Location: Gran Caldera, Montain Pass Speed Zone
Challenge: 100mph
Reward: 2 points, Super Wheelspin
Seasonal Championship: Modern Classics
Car: A Class, Modern Sports Cars, Germany
Location: Tierra Prospera, Horizon Callejera
Challenge: Win the Championship
Reward: 5 points, Porsche 911 Turbo '14
Seasonal Championship: Road Show
Car: S1 Class, Modern Super Cars, Germany
Location: Guanajuato, Copper Canyon Sprint
Challenge: Win the Championship
Reward: 5 points, Mercedes-Benz AMG Hammer
The two multiplayer events both need Xbox Live Gold, or for you to play on PC, in order to access. The Trial's "Stock Showdown" format continues, along with a Seasonal Playground Games event.
Seasonal Playground Games is a best-of-three set of games in a compact space, with two teams of six players against each other.
You don't need to win, only get to the end of the three rounds — of Flag Rush, Infected, and King — to take the three points and a Thumbs Up emote.
It's the third week of the new format for The Trial. "Stock Showdown" pits a team of six human players against six "Unbeatable" AI in entirely standard cars.
This week that's the Porsche 911 Desert Flyer — which you can pick up in the Forzathon Shop or the Autoshow if you don't already have one. In stock form it comes in at 694PI, just in case you need to check your own.
The goal is to have as many of your team ahead of as many of the AI team as possible, as you'll score 100 points for each opponent you finish ahead of (and vice versa). Winning the races aren't necessary, but some of your fellow players might not see it that way — and can cause issues by trying too hard.
Luckily the relatively low speeds this week should mean more controlled driving and less accidental obliteration of team-mates, even on the loose dirt surfaces used this week.
Come on top as a team and you'll score ten points and a Porsche 911 GT2 RS.
Seasonal Playground Games: Pick and Mix
Car: B Class, Pickups & 4x4s, Germany
Location: Baja Circuit
Challenge: Complete the championship
Reward: 3 points, Thumbs Up Emote
The Trial: Stock Showdown – Porsche 911 Desert Flyer
Car: Porsche 911 Desert Flyer, No Upgrades
Location: Baja Circuit, Horizon Baja Scramble
Challenge: Win the Championship
Reward: 10 points, Porsche 911 GT2 RS '12
Challenges
There's a wider spread of challenges this week, with three events alongside the Series-long Monthly Rivals.
The Photo Challenge, #PitchPerfect, will take you to El Estadio Horizon. Simply photograph the 2015 Audi TTS anywhere around the stadium to score two points and the Red Suit clothing item.
Treasure Hunt returns this week, so you'll need to solve a riddle and chase a clue to score the three points and a 100FP bonus reward.
The riddle for the event is "Couped Up? Let's up the ante by seeing the Heights of Mulege", with a handy picture thumbnail showing the Mercedes-AMG C63 Coupe.
Naturally then, you should grab this car and head to the Heights of Mulege Danger Sign. Score a single star to receive the clue — a red zone on your map showing roughly where the chest is.
That's nearby at the Sierra Verde Dam, and you'll find the chest on a mound just south of the usually submerged church. Smash it to pick up the rewards.
The Eliminator returns this week too. As usual you'll need to enter the event and finish 30th or better — usually a matter of surviving a couple of minutes — to win two points and an Opel Manta 400, which will come in useful in the Daily Challenges this week.
That leaves Monthly Rivals event, which runs across all four seasons. You can complete it at any time during the Series, and it's worth one point in each of the four weeks — backdated to completed seasons if you leave it until later in the Series.
The challenge this month is a time trial at Mulege's Arch of Mulege Circuit, using a new Porsche 911 GT3 as provided to you for the event.
You'll need to complete a clean lap at the event, which you can enter directly from the Playlist screen. It doesn't need to be fast, just clean — so watch out for the close walls — to take the four points.
Photo Challenge: #PitchPerfect
Cars: Audi TTS Coupe '15
Location: El Estadio Horizon
Challenge: Photograph the Audi TTS Coupe 2015 at El Estadio Horizon
Reward: 2 points, Red Suit clothing item
Treasure Hunt: High Jump
Cars: Mercedes-Benz C63 S Coupe
Location: Mulege, Heights of Mulege
Challenge: Score one star at the Heights of Mulege in the Mercedes-Benz C63 S Coupe, locate the Treasure Chest
Reward: 3 points, 100FP
The Eliminator: Battle Royale
Cars: Any (provided)
Location: Valle de las Ranas, The Eliminator
Challenge: Finish 30th or better
Reward: 2 points, Opel Manta 400
Monthly Rivals: Arch of Mulege Circuit
Cars: Porsche 911 GT3 '21 (Provided)
Location: Mulege, Arch of Mulege Circuit
Challenge: Post a Clean Lap
Reward: 4 points (1 added to each season)
Forzathon Shop
There's more German performance in the Forzathon Shop this week, with two cars that are lightning fast over entirely different types of terrain.
The headline car is the CLK-GTR. This roadgoing version of the Mercedes GT1 racer retained almost everything from the championship-winning machine, including the 600hp V12. In fact the only major difference is an integrated spoiler rather than the gigantic tacked-on rear wing.
It comes in at 600FP, which is a decent chunk of points for a car that ordinarily costs 2,000,000 credits but if you're rich in points and poor in cash it's a decent deal.
Also on offer is the Porsche Desert Flyer, which you'll need for this week's Trial event.
This class-winning Baja racer is based on a classic 964-generation 911, and ideal for bounding across various bits of the fictional Mexico.
Again, it's a little pricey at 300FP, compared to its 500,000cr Autoshow price. We'd spend the cash.
Store items this week are the Germany Race Helmet and the Doom E1M1 High Horn at 75FP each. The Wheelspin (60FP) and Super Wheelspin (150FP) are in their usual spots too.
See more articles on Forza Horizon 5 Season Change.