Spring arrives once again in Forza Horizon 5's Mexico, marking the end of yet another Series of special events.
Series 8 comes to a close over the next seven days, with the theme — German Automotive Excellence — in its final throes. That means the German-centric Playlist last for just one more week before being replaced with Series 9 and Hot Wheels.
The "hot" season means a small change to the map from the "dry" season, largely by way of snow disappearing from the volcano, as well as that new Playlist.
As we've seen over the Series, there's German reward cars, including a Playlist exclusive, and an Evolving World Accolade for collecting them. You'll almost exclusively be racing German vehicles too.
Series 8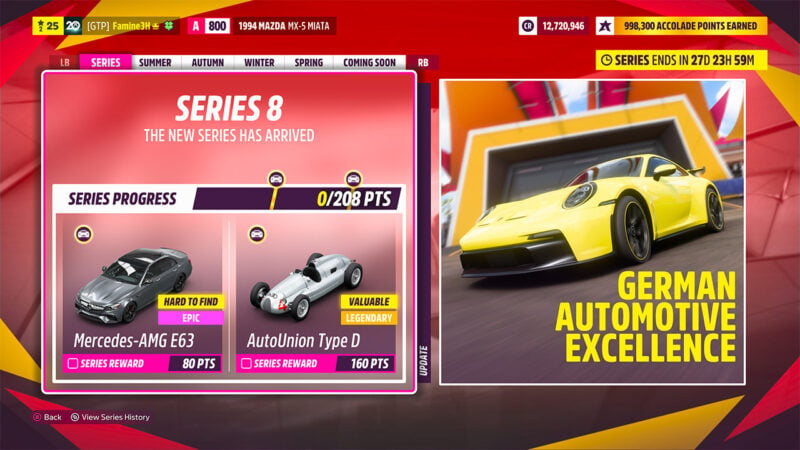 Naturally the two main Series rewards are German, and while neither is a Playlist exclusive they'll save you a lot of time and money if you can win them.
You should of course already have the Mercedes-AMG E63, as it's available for a mere 80 points in total. It's not a car you can buy through regular means (except the Auction House), as it's a Playlist, Wheelspin, or Forzathon Shop prize only.
The big sedan features the traditional AMG know-how and a lot of power. You might be expecting a 6.3-liter engine from the name, but it's a four-liter, biturbo V8.
That's the same engine used in a lot of current AMG models and Aston Martins, and with 600hp on tap it's plenty to get moving across the landscape.
Your only chance to get the top reward, the Auto Union Type D, comes this season, as you'll need 160 points.
It's a pre-war Grand Prix special, from the company that would eventually become the modern Audi. In fact Audi, along with its predecessor brand Horch, DKW, and Wanderer were the four companies symbolized by the four-ringed logo of Auto Union, prior to the Audi name being resurrected.
The car sports a supercharged V12 — replacing the six-liter V16 of the Type C before it — and claimed victories at Monza and Reims before… other events of 1939 put paid to racing.
If you don't win it in the Playlist you can just buy it at the Autoshow. However it comes in at 15 million credits, so you might want to go for the points instead.
The Spring season runs through to 1430UTC on Thursday June 23, bringing Series 8 to an end at the same time. Series 9 and Summer will then replace it.
Spring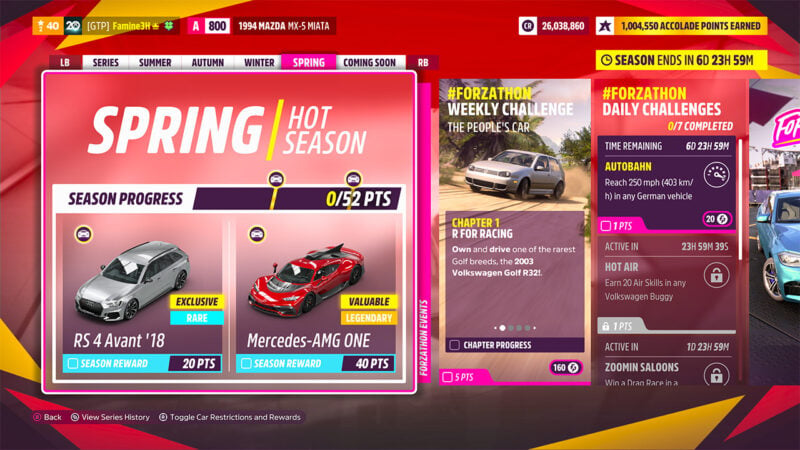 You'll have two different ways of going alarmingly fast as rewards this week, with another S8 exclusive car available for 20 points and one of the game's cover cars for 40.
The Audi RS4 Avant appears as that lower-tier prize, and if you've also picked up the 911 GT3 and Mercedes-AMG GT from other seasonal Playlists this Series you'll earn the Evolving World Accolade for collecting all three.
This "B9" generation car returns the RS4 to V6 power, following the V8s of the previous two generations. It brings exactly the same amount of power — 444hp — to the table as its predecessor, but significantly more torque.
Hit the 40-point target and you'll win the Mercedes-AMG One. This F1-derived hypercar graces FH5's cover, despite being still in the prototype phase when the title launched last November. That also means some slight spec differences compared to the recently revealed final product.
In both cases though, the car uses the 1.6-liter hybrid V6 petrol engine from the Mercedes-AMG W07 F1 car, with a few tweaks for general comfort (including its idle speed) and longevity.
Thanks to a combination of that and a reworked hybrid system — including front axle motors — the One will produce close to 1,100hp, a little up on the 877hp version in the game.
Nonetheless, its F1-derived power and aero means it's lightning fast across terrain. You can even reconfigure it for track or highway driving, using the B button while stopped.
It's not super-expensive to buy at 2.7 million credits, so if you miss out this week — those without Xbox Live Gold or a way to play on PC cannot score the required 40 points — you can simply spend the coin.
Forzathon Events
One more German Playlist awaits this week, starting with the Weekly Challenge. It's now Volkswagen at the fore with a special event for the Golf R32. Pick up the original 2003 car to get The People's Car started.
After that, head to the Road Racing Series and take two wins to advance to the next stage. You'll then need to earn six stars at any Danger Signs.
That leaves you with the final step to earn 10 Speed Skills — just driving up the main autopista at max chat should rack them up — to complete the challenge and earn five points and 80FP (doubled to 160FP if you own the La Casa Solariega player house).
It's another fully German list in the Daily Challenges this week. You'll get a new challenge each day, with seven days to complete, and one point and 20FP (again doubled to 40FP with the same player house) for doing so.
You'll start with Autobahn. Simply take any German vehicle to a speed of 250mph; tuning may well be required!
For Friday you'll need to get jumpy, with the Hot Air challenge requiring you to earn 20 Air Skills in any Volkswagen buggy. The best bet here is to drive over the dunes at Dunas Blancas, as you'll pick up one Air Skill each time all four wheels leave the floor.
Zoomin Saloons follows on Saturday. Win a Drag Race (at the Festival, the Aerodromo, or Teotihuacan) in any Super Saloon class car from, you guessed it, Germany.
It's a spot of environmental damage on Sunday, with Cacti Kaput! requiring you to use a German car to topple 20 cactuses.
Audi Time will send you off into the wilds on Monday. Attack Trailblazers in Audi machinery to earn five stars in total to pass.
For Cheeeese! you'll need to take a photo of any Mercedes-AMG. Any will do, but why not make it the cover car if you've already picked up the 40 points.
The final Daily of the Series is AWD Takeover. Win any Dirt Racing Series event in any German car with AWD.
Season Events
The week's events are a little different than usual, but you'll still face three Seasonal Championships, three PR Stunts, two online multiplayer events, and an EventLab challenge.
It's a bit of a strange EventLab this week, with a course that actually resembles what the Hot Wheels expansion could bring. Rainbow Road starts up at the volcano, but quickly heads out into the sky with some gravity-defying platforms.
The AI don't like the elevated loop, so it should be an easy race — especially if you watch out for the shortcut where the track path curves left but the track itself continues on a wide, right-hand curve in the sky.
You'll be using any UTVs, tuned into A Class (701-800 PI) for the race. Beat the AI (which should be easy as they fall off the track) to earn three points and a Porsche 718 GTS.
Super Wheelspins continue to be the prizes for PR Stunts, with all three offering one along with the two points for completion.
The Speed Trap this week is Oceano Azul, which is located on an extremely fast piece of road in the south-west. Approaching it from the east is the best course, and the S1 Class (801-900 PI) Audi R8 V10 Plus required — which you can win from The Trial this week — shoud find the 205mph target a cinch if tweaked.
Nearby Otro Mundo hosts an eponymous Drift Zone. You'll need a B Class (601-700 PI) BMW for the challenge, and if you're no drifting fan the 116,000pt target — well about three stars — might be tricky. Speed, angle, and line are all needed to score big.
Finally there's a Trailblazer. Head up to the top of the dunes at Dunas Blancas to the start point and reach the finish with four seconds or more to spare to pass. You'll need a D Class (≤500 PI) Volkswagen Class 5 Bug for the challenge. We'd recommend staying to the right of the objective to avoid the bigger jumps for most of the run.
This week's three Seasonal Championships, against Highly Skilled AI, start with Heat Wave. It's a Street Racing Series event, so watch out for traffic, but win the three races with your B Class (601-700 PI) German Hot Hatch category car to take five points and an Ice Cream Van Horn.
Power Couple remains on the road, but in the Road Racing Series. You'll be racing anything from Mercedes, either Benz or AMG, with A Class (701-800 PI) vehicles permitted. Win and you'll earn five points and a Mercedes-AMG SLS.
Finally there's some offroad racing, with Hot on the Trail. This takes in the Dirt Racing Series, and you'll be using Rally Monsters from Germany, within B Class (601-700 PI) limits. Take the overall victory and you'll take five points and an Audi Sport Quattro — good for The Trial this week.
EventLab: Rainbow Road
Car: A Class, UTVs
Location: La Gran Caldera, Montana Trail
Challenge: Win the Race
Reward: 3 points, Porsche 718 GTS
Drift Zone: Otro Mundo
Car: B Class, BMW
Location: De Otro Mundo, Otro Mundo Drift Zone
Challenge: 116,000pt
Reward: 2 points, Super Wheelspin
Speed Trap: Oceano Azul
Car: S1 Class, Audi R8 V10 Plus
Location: Club de Opalo de Fuego, Oceano Azul Speed Trap
Challenge: 205mph
Reward: 2 points, Super Wheelspin
Trailblazer: Sand and Deliver
Car: D Class, Volkswagen Class 5 Buggy
Location: Dunas Blancas, Sand and Deliver Trailblazer
Challenge: 4s
Reward: 2 points, Super Wheelspin
Seasonal Championship: Heat Wave
Car: B Class, Hot Hatch, Germany
Location: Gran Caldera, Festival Gatecrash
Challenge: Win the Championship
Reward: 5 points, Ice Cream Van Horn
Seasonal Championship: Hot on the Trail
Car: B Class, Rally Monsters, Germany
Location: Copper Canyon, Barranca Trail
Challenge: Win the Championship
Reward: 5 points, Audi Quattro '82
Seasonal Championship: Power Couple
Car: A Class, Mercedes-Benz & Mercedes-AMG
Location: Horizon Festival, Horizon Mexico Circuit
Challenge: Win the Championship
Reward: 5 points, Mercedes-Benz SLS AMG
The two multiplayer events both need Xbox Live Gold, or for you to play on PC, in order to access. This week it's a Horizon Tour event, along with the new "Stock Showdown" format for The Trial.
Horizon Tour has been a bit glitchy in the past, and may in fact auto-complete without you doing a thing. However, assuming it doesn't, you'll need to join and complete a Horizon Tour event — either at the Tour hub near the main Festival, or from the Playlist menu itself.
For the Tour you'll not only race as a six-player squad in a three-race event against Highly Skilled AI Drivatars, but drive between the races across the landscape. There's nothing riding on this convoy, just bragging rights for getting there first. Complete a Tour and you'll earn three points, with no additional prizes.
It's the final week of the "Stock Showdown" format for The Trial — unless PG makes it a permanent switch.
For this event you'll need a bone-stock, untuned example of the required car (although you can change the livery), which is the Audi Sport Quattro '83 this week.
If you don't already have one, it's 175,000cr in the Autoshow, and comes in at 638 PI unmodified. You can also win one in the Hot on the Trail Seasonal Championship this week. Or just rent one.
You'll be racing with up to five other players against six "Unbeatable" AI. The goal is to have as many drivers on your team ahead of as many of the AI cars as possible, as everyone scores 100pt for every opponent they beat.
Often the challenge comes from try-harding team-mates who thing second place is the first loser, but winning the race isn't necessary. Indeed it's often better to block the AI so players on your own team can get past them; there's a 200-point swing every time rivals overtake.
It's set to be a Dirt Racing Series event this week, but thankfully the low speeds and AWD should mean relatively easy driving conditions. Win the three-race series as a team and you'll score ten points and an Audi R8 V10 Plus.
Horizon Tour: Co-op Championships
Car: Any
Location: Horizon Tour
Challenge: Complete the championship
Reward: 3 points
The Trial: Stock Showdown – Audi Quattro
Car: Audi Quattro '83, No Upgrades
Location: Atlantes de Tula, La Selva Scramble
Challenge: Win the Championship
Reward: 10 points, Audi R8 V10 Plus
Challenges
It's a very brief brief this week in Challenges, with only a Photo Challenge joining the Series-long Monthly Rivals.
For #GoingPlaces you'll be photographing a modern classic, the E39 generation BMW M5. You only need to take a photograph of the car with the Gran Puente suspension bridge in shot to earn two points and a Beautiful Morning car horn.
It's the final chance to complete the Monthly Rivals event, which has been running across all four seasons. You can tick it off at any time during the Series to earn one point in each of the four seasons, even backdating to finished seasons.
To earn the points you'll need to complete a clean lap at the event, so speed isn't at all relevant. Just keep the car off the walls and you'll be fine.
This month's challenge is a time trial at Mulege's Arch of Mulege Circuit, using the new Porsche 911 GT3. It's provided to you for the event, so you don't need to own the car, and you can enter the event directly from the Playlist screen.
Photo Challenge: #GoingPlaces
Cars: BMW M5 2003
Location: La Gran Puente
Challenge: Photograph the BMW M5 2003 at La Gran Puente
Reward: 2 points, Beautiful Morning Horn
Monthly Rivals: Arch of Mulege Circuit
Cars: Porsche 911 GT3 '21 (Provided)
Location: Mulege, Arch of Mulege Circuit
Challenge: Post a Clean Lap
Reward: 4 points (1 added to each season)
Forzathon Shop
The Forzathon Shop has a distinct lack of beauty this week, with the contents being big and brutal.
Sitting in pride of place, for some reason, is the BMW X6 M. Nobody's quite sure who asked for the X6, a coupe version of the X5 SUV, but BMW made it anyway.
BMW then went one step further on the niche within a niche and gave it (and the X5) over to its M division — which should have just said no, but instead put in a 4.4-liter V8 good for 547hp and fitted a gaudy body kit. The two cars were, incidentally, the first AWD and full auto M cars ever made.
If you want the X6M, you'll need to either wait for it to come up on a Wheelspin or as a Playlist prize (which it already has), or spend the 700FP, as you cannot buy it through the Autoshow.
Somehow making the X6M look tasteful, the other option this week is the Mercedes G63AMG 6×6.
Already a pretty big and very agricultural car, the "Gelandewagen" (literally "off-road vehicle") is a truck built for military purposes and converted into a road car. It's been in production longer than any other Mercedes aside from the Unimog, and almost entirely unchanged in 43 years.
However the 6×6 is a little different than your ordinary G Class. As well as sporting an even bigger, four-door pickup body — a ludicrous 19 feet long — it has an extra driven axle. That makes it a six-wheel drive behemoth.
As well as being enormous and heavy (at four tons), it sports a 536hp, 5.5-liter V8, so it's also pretty slow and also very thirsty too. If that all sounds like a winner, it's 300FP in the Shop, but you can also part with 525,000cr in the Autoshow.
Store items this week are the Germany Race Gloves and the Clock Tower Horn at 75FP each. The Wheelspin (60FP) and Super Wheelspin (150FP) are in their usual spots too.
See more articles on Forza Horizon 5 Season Change.