A brand new series starts today in Forza Horizon 5, with a new theme, new events, and new cars for players to win over the next four weeks.
This lunar month's theme is "Rami's Racing History", and the Playlist centers on cars and events that are relevant and important to the history of motoring and motorsport in Mexico.
It's fronted by in-game NPC Rami — Ramiro Luiz Miron — who's part of the Horizon Mexico crew. If you've been playing the game for a while now, you'll have bumped into him on several occasions, especially during Horizon Street Scene.
Each of the four weeks in the officially unnumbered series, though we'll refer to it as Series 11, centers on a different era of vehicle. That means you'll be both racing cars of certain eras and receiving them as prizes — and there's a new Horizon Story too.
Naturally there's also new "Expanding World" Accolades for vehicle collection, covering the new vehicles that came to the game with the update for S11. There's seven new cars in total to pick up.
In addition, the Playlist looks a little different thanks to a bit of shuffling. The monthly events, including the new "Made in Mexico" story now sit at the front, with the Hot Wheels events — added by the Hot Wheels DLC expansion pack — at the far end.
Series 11: Rami's Racing History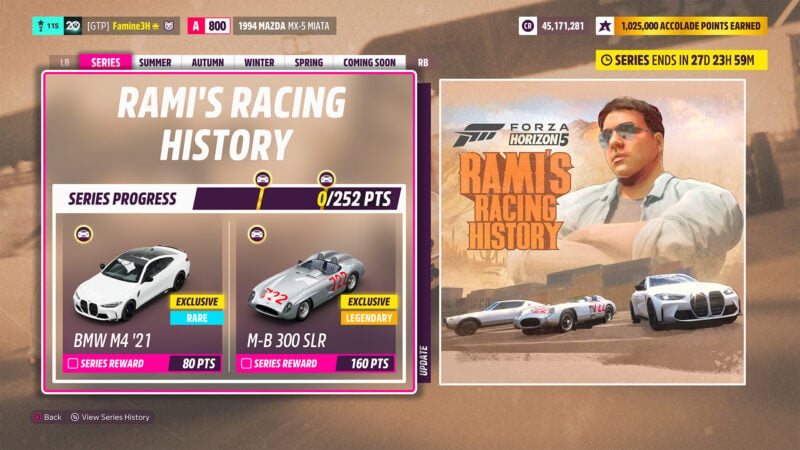 With history aforethought, the reward cars for this Series come from rather different eras on the automotive continuum — although both vehicles hail from the nation that invented the car in the first place: Germany.
For 80 points across the Series, you'll win the new BMW M4. It's certainly a challenging looker, but in Competition spec it produces some 504hp. That's 50hp more than the previous M4 Competition, which wasn't exactly a slow car to begin with.
Although BMW limits the car to 155mph — or 180mph if you opt for the higher limiter — you won't be restricted in FH5 and can explore just how fast it will go.
You'll definitely want to pick up the M4 as not only is it a Playlist Exclusive, it's a stepping stone to something far more prestigious and expensive.
If you hit 160 points, you'll win the Mercedes-Benz 300SLR. This classic endurance racer is already rare enough, as Mercedes only made nine and one was destroyed in the most infamous crash in motorsport history, but the example here is one of one.
Sir Stirling Moss drove the #722 car to victory in the Mille Miglia in 1955, beating famed world champion team-mate Juan Manuel Fangio by over half an hour while setting a course record of only just over ten hours.
Should you miss out this month, you can still pick up the W196 in the Autoshow, but it will set you back 143 million credits — the most expensive Forza car ever. That's in homage to the recent world-record $143m fee paid for one of two 300SLRs converted to Uhlenhaut Coupe specification.
Series 11 Summer/Wet Season
Things get underway with the pre-1970s era of Rami's Racing History this month, and of course that means that both of the Season Playlist reward cars are from the pre-beige era.
That starts with the Playlist Exclusive and new-to-game vehicle, the Porsche 550 Spyder. Made somewhat infamous by James Dean's example — the "Little Bastard" car he drove in his fatal accident — the 550 was also an excellent endurance racer.
Along with winning its class at Le Mans, the 550 was a class-winner at the Carrera Panamericana. This road-race event ran from the northern border of Mexico to its southern end on public highways — much like the Mille Miglia — and Porsche adopted the "Carrera" branding as a result of the 550's successes.
You'll need 20 points to get hold of the Porsche, with 40 points required to take the higher-tier prize of the Maserati 8CTF.
This pre-war grand prix car boasted a twin-supercharged straight-eight engine — each supercharger supplying four of the cylinders with appropriately compressed air.
Technically the only Italian car to win the Indianapolis 500, which it did in 1939 and 1940, the 8CTF had a very short but successful racing career. It's also not available through the Autoshow, so it's well worth aiming for the 40 points this week.
Summer will run through to 1430UTC on Thursday August 25, while Series 11 will continue for three more weeks until the same time on Thursday September 15.
Forzathon Events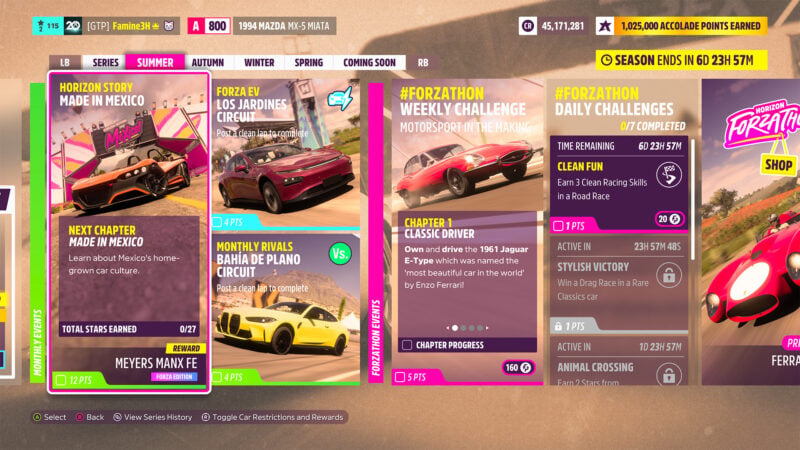 Your Playlist for Summer centers on cars made in 1970 or earlier, and that naturally starts with one of the great cars of all time. You'll need to pick up the Jaguar E-Type — it's available in this week's EventLab if you don't have one — and drive it to start the Motorsport in the Making event.
After that, you'll need to do what the E-Type does best and win a Road Race event with it. You'll need to enter another race of any kind and earn ten Clean Racing Skills — which you'll pick up for driving roughly two checkpoints without hitting something solid or a hard car-to-car collision — in the E-Type.
Finally show off the car's alleged 150mph top speed by earning nine stars at any Speed Zones. Complete that to earn five points and 160FP, doubled to 320FP if you own the La Casa Solariega player house.
Weekly Challenge: Motorsport in the Making
Car: Jaguar E-Type 1961

Chapter 1: Own and drive the Jaguar E-Type
Chapter 2: Win a Road Racing Series event in the Jaguar E-Type
Chapter 3: Earn 10 Clean Racing Skill in the Jaguar E-Type
Chapter 4: Earn nine stars at Speed Zones in the Jaguar E-Type

Reward: 5 points, 160FP
You'll need to dig deep into your stable of classics this week, as the Daily Challenges also dip into the pre-70s era. There's one new challenge at 1430UTC every day, and you'll have seven days to complete each for a one point (plus 20FP) reward.
That starts with some good, Clean Fun. Simply earn three Clean Racing Skills — don't hit non-breakable stuff — in any Road Racing Series event. You should be able to earn this from the Golden Age seasonal for efficiency.
Friday's event requires you to win a Drag Race — at Horizon Festival, Aerodromo en la Selva, or Teotihuacan — in a Race Classics category car, to earn a Stylish Victory.
Grab any Ford Mustang you like and score a total of two stars at any Trailblazer to pass the Animal Crossing challenge. Oddly, the Mustang Mach-E doesn't qualify, but any other Mustang — new or old — will do that job.
It could barely be easier to pass My Precious. Just take a photograph of any vehicle at all.
For Ideal Make on Monday you'll need to win a Street Racing Series event in any car from the Rods & Customs category.
Take out your Cult Classics for the Perfection challenge. Rack up a total of 300mph through any Speed Traps to pass; this could be three 100mph runs or one improbable 300mph pass, or anything else adding up to 300mph.
Finally Winning Streak requires access to online multiplayer. You'll need to eliminate three opponents in head-to-head races in The Eliminator; it's possible to do this in three separate Eliminators rather than all in one go.
Daily Challenges
August 18 – Clean Fun: Earn three Clean Racing Skills in any Road Race
August 19 – Stylish Victory: Win a Drag Race in a Rare Classics Car
August 20 – Animal Crossing: Earn two stars from Trailblazers in any Mustang
August 21 – My Precious: Take a picture of any vehicle
August 22 – Ideal Make: Win a Street Racing Series event in any Rods & Customs
August 23 – Perfection: Earn a total of 300mph across Speed Traps in any Cult Classic
August 24 – Winning Streak: Eliminate three opponents in The Eliminator
Season Events
It's a compact list of events this week, with three Seasonal Championships, two PR Stunts, and an EventLab to take up your time.
That EventLab challenge, Motorsport Mexico, will award you the Jaguar E-Type needed for the Forzathon Weekly Challenge this week, so it's well worth ticking off early.
It consists of a race track laid out atop the landscape at Bahia de Plano, and you only need finish the two-lap run for the car and three points. You'll need a B Class (601-700PI) car from before 1970 to take part.
A brand new PR Stunt hits the event list this week, as one of two added for the duration of S11. That's River Run, a Speed Zone set near the stadium.
You'll need a C Class (501-600PI) vehicle from before 1970, and keep up an average of 82mph on the dirt road. Two points and a Chevrolet 150 Sedan are on offer for hitting the target.
Another two points and a Super Wheelspin are available for reaching the Danger Sign distance target. The Mountain Top leap sends you south down the volcano, into a gully that runs for hundreds of meters.
It's another event for C Class (501-600PI), pre-1970s car, and the 250m target should be a breeze. Stay roughly central to hit maximum air time.
All three Seasonal Championships offer up five points and a pre-1970 car as a reward. These are three-race championship against Highly Skilled AI drivatars, in which you'll need to top the overall points table to win.
Back to the Streets takes you to Guanajuato for a Street Racing Series events — watch out for civilian traffic! You'll need a B Class (601-700PI) car from before 1960 for the championship, and there's five points and a Ford Coupe 1932 available for winning. The car will come in useful for the Treasure Hunt…
For Desert Racing you'll need a D Class (≤500PI) Volkswagen Class 5 Bug. It's a Cross Country Series event, so tweaking the car for hard landings would be a good idea. Win the championship to score five points and a 1969 Ford Mustang.
Finally there's the Golden Age. For this you'll need a C Class (501-600PI) car from the Classic Muscle category and made in the 1960s. Take the win in the Road Racing Series event and you'll earn five points and a Chevrolet Impala.
Danger Sign: Mountain Top
Car: C Class, Pre-1970
Location: Gran Caldera, Mountain Top Danger Sign
Challenge: 250m
Reward: 2 points, Super Wheelspin
Speed Zone: River Run
Car: C Class, Pre-1970
Location: El Estadio Horizon, River Run Speed Zone
Challenge: 82mph
Reward: 2 points, Chevrolet 150 Sedan
EventLab: Motorsport Mexico
Car: B Class, Pre-1970
Location: Bahia de Plano, Bahia de Plano Circuit
Challenge: Finish the Race
Reward: 3 points, Jaguar E-Type '61
Seasonal Championship: Back to the Streets
Car: B Class, Pre-1960
Location: Guanajuato, Guanajuato Sur
Challenge: Win the Championship
Reward: 5 points, Ford Coupe 1932
Seasonal Championship: Desert Racing
Car: D Class, Volkswagen Class 5 Bug
Location: Hotel Mirador Balderrama, Las Ranas Cross Country
Challenge: Win the Championship
Reward: 5 points, Ford Mustang '69
Seasonal Championship: Golden Age
Car: C Class, Classic Muscle, 1960s
Location: El Estadio Horizon, Estadio Circuit
Challenge: Win the Championship
Reward: 5 points, Chevrolet Impala
Hot Wheels DLC owners have two further events for picking up points. These events aren't required — you can still score the Playlist rewards and 100% on the Series without them — but give another seven points if you're having issues with other events.
This week's PR Stunt is a Speed Trap. You'll need a B Class, pre-1970s car for the Trap, which is located in the inter-biome space between Giant's Canyon and Forest Falls. Hit the target 142mph target — which is above the three-star score — and you'll earn a Super Wheelspin.
For the Seasonal Championship, Speed Racers, you'll be in the fastest cars this week. You'll need any S1 Class (801-900PI) Classic Racer for the three-race event against Highly Skilled AI — and you'll want plenty of top end to take advantage of the boost pads and aero track. There's five points and a Pontiac GTO '65 for victory.
Hot Wheels Speed Trap: Nexus View
Car: B Class, Pre-1970
Location: Hot Wheels Park, Nexus View Speed Trap
Challenge: 142mph
Reward: 2 points, Super Wheelspin
Hot Wheels Seasonal Championship: Speed Racers
Car: S1, Classic Racers
Location: Hot Wheels Park Forest Falls, Nexus Speed Sprint
Challenge: Win the Championship
Reward: 5 points, Pontiac GTO '65
Once again there's only one multiplayer event this week, and you'll need an Xbox Live Gold subscription on console or to switch over to a PC to take part.
As usual that's The Trial, which returns to its "Stock Showdown" format: only completely stock vehicles with no upgrades are permitted.
Hopefully you like things slow this week, as the car in question is the 1965 Mini Cooper, at 281PI (D Class). You can paint it and add decals, but in terms of mechanical upgrades it must be the bonest of bone stock.
You'll be racing a three-round team championship, with up to six humans racing six "Unbeatable" AI drivatars on two teams. Each player on each team gains 100 points for every opponent they finish ahead of, so you'll need to help each other out and hinder the AI where necessary.
The mixed-surface racing will make it a challenge, but if you win as a team you'll all take ten points and a Ferrari 330 P4.
The Trial: Stock Showdown
Car: D Class, Mini Cooper 1965
Location: Tierra Prospera, Tapalpa Trail
Challenge: Win the Championship
Reward: 10 points, Ferrari 330 P4 #24
Challenges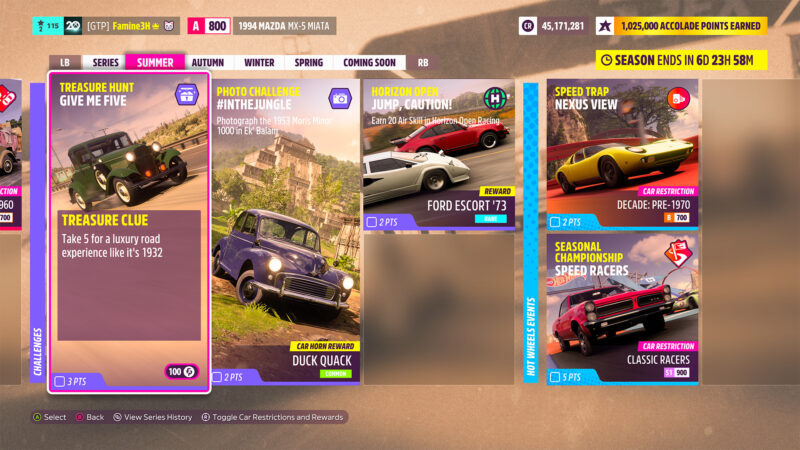 Three more Challenges await this week, with Photo Challenge and Treasure Hunt returning again and a Horizon Open event. You will also need access to online multiplayer for Horizon Open, with either Xbox Live Gold or access to the game on PC.
For the Horizon Open challenge, Jump, Caution! you'll need to head into Horizon Open Racing and earn 20 Air Skills in any races.
Your best bet for this is to select Cross Country races, which are usually full of lumps and bumps, and you'll earn one Air Skill each time you get four wheels off the floor and land again. That'll earn you two points and a 1973 Ford Escort.
This week's Photo Challenge will send you deep #InTheJungle. Grab a Morris Minor 1000 and go to Ek'Balam. Take a photo of the car anywhere there and you'll win two points and a Duck Quack horn.
Finally there's the Treasure Hunt. This week's clue is "Take 5 for a luxury road experience like it's 1932", and — along with the thumbnail — that should hint that you'll need the 1932 Ford De-Luxe Five Window Coupe.
The task itself is less clear, but if your first guess is to simply drive five miles in the car you'd be right. Complete that and you'll earn the treasure hint which sends you up to the research station near the radio telescope at the Gran Caldera volcano.
Find the chest between the buildings and smash it to take three points and 100FP.
Photo Challenge: #InTheJungle
Cars: Morris Minor 1000 1953
Location: Ek'Balam
Challenge: Photograph the Morris Minor 1000 in Ek'Balam
Reward: 2 points, Duck Quack Horn
Horizon Open: Jump, Caution!
Cars: Any
Location: Horizon Open Racing
Challenge: Earn 20 Air Skills in Horizon Open Racing
Reward: 2 points, Ford Escort 1973
Treasure Hunt: Give Me Five
Cars: Ford De-Luxe Five Window Coupe 1932
Location: Any
Challenge: Drive five miles in the Ford De-Luxe Coupe, find and smash the Treasure Chest
Reward: 3 points, 100FP
There's three events running across the entire month, with the original Monthly Rivals still accompanied by the newer Forza EV and, for S11, the new Horizon Story.
Made in Mexico is the Story that underpins this month's Playlist, covering Mexico's automotive history. You'll need to complete all nine chapters of the story with three stars each to earn the reward — 12 points, with three added to each season — and you can do that at any point in the four weeks.
Both of the other events are Rivals laps, with a clean time required in both. Outright pace isn't important, but getting to the finish line unscathed is.
Naturally Forza EV focuses on electric vehicles, and this month's challenge puts you in the new Xpeng P7, an electric sedan from China. You'll need a clean lap of the Los Jardines circuit to complete the event.
For Monthly Rivals you'll be doing the same thing at the Bahia de Plano Circuit, using the new BMW M4. Again, it's just a clean lap that matters.
In both cases you'll earn four points, with one added to each season.
Horizon Story: Made in Mexico
Cars: Provided
Location: Cordillera
Challenge: Earn 27 Stars in the Horizon Story
Reward: 12 points (3 added to each season), Meyers Manx Forza Edition
Forza EV: Los Jardines Circuit
Cars: Xpeng P7 (provided)
Location: Los Jardines, Los Jardines Circuit
Challenge: Post a Clean Lap
Reward: 4 points (1 added to each season)
Monthly Rivals: Bahia de Plano Circuit
Cars: BMW M4 '21 (Provided)
Location: Bahia de Plano, Bahia de Plano Circuit
Challenge: Post a Clean Lap
Reward: 4 points (1 added to each season)
Forzathon Shop
There's an Italian theme to the Forzathon Shop this month, with two classic performance cars leading the way.
Heading up the store is the 1957 Ferrari 250 Testa Rossa. This legendary Italian racer was the first to bear the name — Italian for "red head" and referring to the red-painted cam covers — to which Ferrari later paid homage with the Testarossa road car.
The 250 TR racked up multiple wins at Le Mans, along with other endurance races including Pescara, Sebring, and the Targa Florio. It's also a pretty expensive car in FH5, at 16.4 million credits, so although the 800FP price is steep it's a bargain.
Lamborghini's Miura fills the other spot. Arguably the first true supercar, the Miura had a 3.9-liter V12 mounted behind the driver and was capable of more than 170mph — although reputedly the car experienced front-end lift much above 140mph.
At 300FP it's a good deal cheaper than the Ferrari, but as it's a mere million credits in the Autoshow you might want to save the points for now.
Store items this week are the Doodle Summer Skirt and the Italy Race Gloves at 75FP each. The Wheelspin (60FP) and Super Wheelspin (150FP) are in their usual spots too.
See more articles on Forza Horizon 5 Season Change.