The second season in the latest Forza Horizon 5 starts today, with more events and challenges for players to race through over the next four weeks and some new cars to win.
As with every FH5 series, this series has a special theme. "Rami's Racing History" focuses on the history of motoring and motorsport in Mexico, and you'll deal with a different era each week.
The Rami in question is in-game NPC Ramiro Luiz Miron, who you'll have bumped into repeatedly during your time in Mexico if you've been playing a while. He even has a mysterious alter-ego…
Alongside experiencing different eras, there's a new Horizon Story to play through this month (although it will remain even after Series 11 ends) called "Made in Mexico". This looks at cars and races that are important to the history of the automobile in the country.
Of course there's also new "Expanding World" Accolades available to match the Series. Collect the seven new cars available this month, and the Story, to collect them all.
Series 11: Rami's Racing History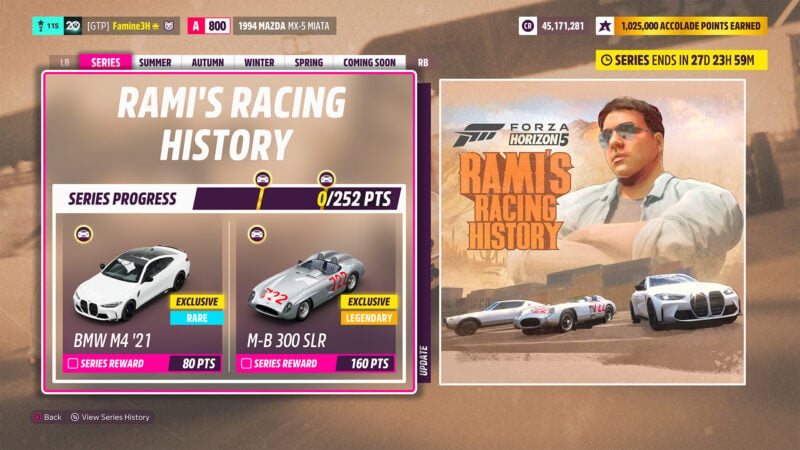 There's four eras in Rami's Racing History — corresponding to the four weeks of the Series — and the monthly Playlist reward cars reflect both ends of this timeline.
Score 80 points across the Series and you'll win the divisive new BMW M4. It's the fastest M4 ever, with 504hp in Competition specification, but definitely a car you'll want to drive more than look at.
It's also a Playlist exclusive, which means that unless it shows up again in a future Series or in the Forzathon Shop, this is your only chance to pick it up without paying over the odds in the Auction House.
That should be ticked off this week, but you'll have to wait until the Winter season change to score the higher-tier car — and you will very much want to.
The Mercedes-Benz W196 300SLR is one of the most significant racing cars ever made, both for fame and for infamy. Mercedes only made nine, and one was destroyed in the Le Mans tragedy in 1955.
However this car is the #722 driven by Sir Stirling Moss in his Mille Miglia win, when he beat his legendary team-mate Juan Manuel Fangio by more than half an hour.
Two of the remaining chassis were converted to "Uhlenhaut Coupe" specification, and one was recently sold for $143m to set a record for any car. That's reflected in the price in FH5 where the regular SLR is 143m credits, becoming the most expensive car in Forza history.
Series 11 Autumn/Storm Season
Each week of this Series sees a different era of Rami's Racing History as the subject of celebration, and this week that's the 1970s and 1980s.
Both prize cars are from the better half of that period: the 1980s. It was a time of peak car, music, and television, and the prizes reflect that.
Hailing from Australia is the HDT Commodore VK, a homologation special — something else very popular during the 1980s — allowing Holden to take the big saloon into Group A touring car racing.
Holden Dealer Team modified the car over a standard Commodore with a new body kit and a 4.9-liter V8 good for over 260hp. In total they produced 502 cars — two more than the minimum required — and you'll be able to pick one up for 20 points this week.
For 40 points you have another chance to win the Toyota Sprinter Trueno. Previously available as a Season 1 reward car in Spring, the Trueno is a favorite of drifters everywhere. In fact it's the car you'll drive first in the Drift Club Mexico Story.
The little Trueno only sports 128hp from a 1.6-liter four-cylinder, but thanks to being pretty lightweight and simple to slide about, it rapidly became a drift icon. And that's before you start to modify it.
Autumn will run through to 1430UTC on Thursday September 1, while Series 11 will continue for two more weeks until the same time on Thursday September 15.
Forzathon Events
As the Autumn Playlist focuses on cars made in the 1970s and 1980s, the hero car for the Weekly Challenge is a rallying icon of the 1970s. You'll need to pick up the Ford Escort Mk2 RS1800 — there's one available for this week's Seasonal Playground Games — to get the Rally Legend event started.
Next, do what the Escort was made for and win any Dirt Racing Series event in the car. Then you'll need to go jumping, first to earn three Ultimate Air Skills — for getting all four wheels off the floor for a good long while and landing safely — and then picking up five stars distances at any Danger Signs.
Complete all four challenges to earn five points and 160FP, doubled to 320FP if you own the La Casa Solariega player house.
Weekly Challenge: Rally Legend
Car: Ford Escort Mk2 RS1800

Chapter 1: Own and drive the Ford Escort Mk2 RS1800
Chapter 2: Win a Dirt Racing Series event in the Ford Escort Mk2 RS1800
Chapter 3: Earn 3 Ultimate Air Skills in the Ford Escort Mk2 RS1800
Chapter 4: Earn 5 stars at Danger Signs in the Ford Escort Mk2 RS1800

Reward: 5 points, 160FP
It's a more chaotic selection of events this week in the Daily Challenges. Each day brings one new challenge at 1430UTC, with seven days to complete it for a one point (plus 20FP) reward.
You'll need to Rally Round for the first one, winning a Dirt Racing event of any kind using the 1984 Opel Manta rally car.
The American Eagle challenge is a little trickier than it looks. You'll need to paint the wing of any American vehicle, and surprisingly few have paintable wings as standard — not even the obvious ones. Apply an aftermarket wing though and you'll be good to go.
Starting on Saturday you'll need to win any two Road Racing events in a Jaguar to complete Rawrsome.
There's No Wings Required on Sunday, as you're required to jump a total of 1,829m (6,000ft) in any cars at Danger Signs; you could combine this with the final Weekly Challenge task above if you want to be all efficient.
Monday asks you to Rise to the Challenge, by completing any Challenge Card; this could be within Super7 or just one you encounter on the map somewhere.
There's another user-created challenge after that. For Dodgeball you'll need to play any Blueprint — an event set up at existing courses by another player — in any Dodge. That means you'll have to find one where a Dodge meets the restrictions set, of course.
Last of all, head Off Track and earn six stars at any Trailblazers.
Daily Challenges
August 25 – Rally Round: Win a Dirt Racing event in the 1984 Opel Manta
August 26 – American Eagle: Paint the wing of any American vehicle
August 27 – Rawrsome: Win two Road Racing events in any Jaguar
August 28 – No Wings Required: Jump a total of 6,000ft (1829m) at Danger Signs
August 29 – Rise to the Challenge: Complete a Challenge Card
August 30 – Dodgeball: Play an event Blueprint in any Dodge vehicle
August 31 – Off Track: Earn six stars at Trailblazers
Season Events
There's plenty to get your teeth into this week on the Season Events, with three Championships and three PR Stunts — including the new Green Hills location — among the single-player offering.
All three PR Stunts can be completed in the same car if you wish. You'll need any B Class (601-700PI) vehicle from the 1970s or 1980s for all three, which makes finding appropriate cars easier.
The Runway Danger Sign is the easiest. Anything that can hit 140mph by the time you smack the ramp will make the 255m target distance and earn you the two points and a Jeep CJ5 as a reward.
You've got to go fast to hit the 122mph average for the new Green Hills Speed Zone. Running east-to-west is probably your best bet, and there's two points and a Volvo 242 Turbo up as prizes.
Finally there's Mudflows, a Speed Trap on the western rim of the volcano. North-to-south is the better option here, with a 122mph target speed through the trap. There's two points and a Super Wheelspin for completion.
The three Seasonal Championships all offer up five points and an era appropriate car as a reward. Each is a three-race championship against Highly Skilled AI drivatars, and you'll need to top the overall points table to win.
Drag Racing Masters is a truly odd, but brief affair. All three races run on the game's three drag strips. You'll need a C Class (501-600PI) Classic Muscle category car from the 1970s, with the Lotus Elan as a prize.
For Totally Tubular things return to more usual fare. It's a Cross Country event only open to D Class (≤500PI) Pickups and 4x4s category vehicles from the 1970s — so break out your Range Rover Classic — and offers a Reliant Supervan for victory.
That leaves the Dirt Racing Series event Long Time No See. This is open to any B Class (601-700PI) Classic Rally vehicle from the 1970s, and earns you a Ford RS200 Evolution for victory, which you can then use in The Trial if you don't already own one.
Finally there's Horizon Arcade. Simply start any Horizon Arcade of any type — Air, Chaos, Drift, Speed, and Wreckage — and complete all three rounds either on your own or in a group (the points targets scale with number of participants) to earn three points.
Danger Sign: Runway
Car: B Class, 1970s/1980s
Location: Aerodromo en la Selva, Runway Danger Sign
Challenge: 255m
Reward: 2 points, Jeep CJ5
Speed Trap: Mudflows
Car: B Class, 1970s/1980s
Location: La Gran Caldera, Mudflows Speed Trap
Challenge: 122mph
Reward: 2 points, Super Wheelspin
Speed Zone: Green Hills
Car: B Class, 1970s/1980s
Location: Cordillera, Green Hills Speed Zone
Challenge: 122mph
Reward: 2 points, Volvo 242 Turbo
Seasonal Championship: Drag Racing Masters
Car: C Class, 1970s, Classic Muscle
Location: Horizon Festival, Festival Drag Strip
Challenge: Win the Championship
Reward: 5 points, Lotus Elan
Seasonal Championship: Long Time No See
Car: B Class, 1970s, Classic Rally
Location: La Gran Caldera, Fuera del Camino Trail
Challenge: Win the Championship
Reward: 5 points, Ford RS200
Seasonal Championship: Totally Tubular
Car: D Class, 1970s, Pickups & 4x4s
Location: Cordillera, Las Granjas Cross Country
Challenge: Win the Championship
Reward: 5 points, Reliant Supervan
Horizon Arcade: Mini Games
Car: Any
Location: Horizon Arcade (any)
Challenge: Complete three rounds of any Horizon Arcade theme
Reward: 3 points
If you have the Hot Wheels DLC there's two further events that give you a chance to pick up points. They're not required to score the Playlist rewards or even 100% on the Series, but offer another seven points if you're having issues with other events — like not having Xbox Live or a PC to play on for multiplayer.
For this week the Hot Wheels PR Stunt is a Speed Trap. It's one of the quicker ones too, located right at the Horizon Nexus. You'll need a B Class (601-700PI), 1970s or 1980s car capable of hitting the trap at 160mph — which should be fine as the long run south towards it contains aero track for maximum speed. There's a Super Wheelspin and two points for completion.
The Seasonal Championship, Ice, Ice, Maybe, takes you to the Ice Cauldron for what looks like a rather difficult series. You'll need any A Class (701-800PI) Retro Supercar from the 1980s for the three-race event, against Highly Skilled AI, and it seems like hazards are the name of the game so four-wheel drive will be useful. Top the points table and you'll win five points and a 1988 BMW M5 for victory.
Hot Wheels Speed Trap: Horizon Nexus
Car: B Class, 1970s/1980s
Location: Hot Wheels Park Nexus, Horizon Nexus Speed Trap
Challenge: 160mph
Reward: 2 points, Super Wheelspin
Hot Wheels Seasonal Championship: Ice, Ice, Maybe
Car: A Class, 1980s, Retro Supercar
Location: Hot Wheels Park Ice Cauldron, Ice Loop Hazard Sprint
Challenge: Win the Championship
Reward: 5 points, BMW M5 '88
There's two multiplayer events on the schedule this week, requiring an Xbox Live Gold subscription on console or to switch over to a PC to take part.
The Trial retains its popular "Stock Showdown" format, which only allows completely stock vehicles with no upgrades — aside from paint — to take part.
There's a bit of a pace change though this week, as you're racing S1 Class (801-900PI) machinery, in the shape of the hopped-up Ford RS200 Evolution homologation special. You can win one in the Seasonal Championships if you don't already have it.
That and the fact it's loose surface, Dirt Racing Series tracks, means it may be chaos this week, as power is nothing without control and there's likely to be precious little control from your five human team-mates.
It's a three-round team championship against six "Unbeatable" AI drivatars. Each player on each team gains 100 points for every opponent they finish ahead of, so you'll need to help each other out and hinder the AI where necessary. Some people though just want to win at all costs, which doesn't help at all.
Nonetheless, beat the AI and you'll pick up 10 points and a 1981 Ford Fiesta for your trouble.
There's also the return of the "one-make" Seasonal Playground Games. This week that's a best-of-three rounds of nothing but Team Flag Rush — get your flags to the scoring zone when you're attacking, tag the opponents to steal their flag when you're defending — at the Aerodromo en la Selva.
You'll need any B Class (601-700PI) Retro Saloon category car from the 1980s to take part. Complete the event to win the Ford Escort Mk2 RS1800 you need for the Weekly Challenge and three points. You don't need to win it, so just stick with it!
Seasonal Playground Games: Team Flag Rush
Car: B Class, 1980s, Retro Saloon
Location: Aerodromo en la Selva
Challenge: Complete the event
Reward: 3 points, Ford Escort Mk2 RS1800
The Trial: Stock Showdown Ford RS200 Evolution
Car: S1 Class, Ford RS200
Location: Pantano en la Selva, Tulum Trail
Challenge: Win the Championship
Reward: 10 points, Ford Fiesta '81
Challenges
There's a solitary Challenge this week, with just the Photo Challenge available.
You'll need to get hold of a 1979 Chevrolet Camaro Z28 and take it to Valle de las Ranas — roughly where The Eliminator takes place — for your photoshoot. Just snap the car anywhere in this area to take the two points and the Leaf Pattern Leather Boots clothing item.
Photo Challenge: #ReadyToRock
Cars: Chevrolet Camaro Z28 '79
Location: Valle de las Ranas
Challenge: Photograph the Chevrolet Camaro Z28 '79 in Valle de las Ranas
Reward: 2 points, Leaf Pattern Leather Boots
The three monthly events remain in place, with the original Monthly Rivals still joined by the more recent monthly Forza EV addition and, just for S11, the new Horizon Story Made in Mexico.
You'll need to complete all nine chapters of the story, which looks at events in Mexico's automotive and motorsport history, with three stars each to earn the reward. As with the other monthly events, you can do this whenever you like in the Series, and you'll receive 12 points — three added to each season, even retroactively — when you do.
The other events are both Rivals laps, each requiring you to register a clean time. It doesn't matter how fast that time is, just that it doesn't involve any collisions with solid things.
Forza EV puts the focus on electric vehicles as you'd expect, with this month's challenge using the new Xpeng P7. You'll need a clean lap of the Los Jardines circuit in the car provided to complete the event.
Monthly Rivals sends you all the way west, to the Bahia de Plano Circuit. There you'll need to use the new BMW M4, as provided, for a clean lap. In both cases you'll earn four points, with one added to each season.
Horizon Story: Made in Mexico
Cars: Provided
Location: Cordillera
Challenge: Earn 27 Stars in the Horizon Story
Reward: 12 points (3 added to each season), Meyers Manx Forza Edition
Forza EV: Los Jardines Circuit
Cars: Xpeng P7 (provided)
Location: Los Jardines, Los Jardines Circuit
Challenge: Post a Clean Lap
Reward: 4 points (1 added to each season)
Monthly Rivals: Bahia de Plano Circuit
Cars: BMW M4 '21 (Provided)
Location: Bahia de Plano, Bahia de Plano Circuit
Challenge: Post a Clean Lap
Reward: 4 points (1 added to each season)
Forzathon Shop
It's supercars all the way in the Forzathon Shop this month, with two rare, mid-engined, 80s monsters up for grabs.
The headline offering is the 1984 Ferrari GTO. Often retconned to "288 GTO" (due to the 2.8-liter, eight-cylinder engine), the GTO was the second Ferrari to bear the legendary "gran turismo omologato" name.
Unusually it wasn't primarily built as a homologation special, but it so happened that it was perfect for Group B track regulations — and Ferrari made 272 of them, more than the 200-car minimum required.
It's a car often overlooked in the Ferrari pantheon, as it was quickly replaced by a considerably more famous vehicle that was developed using some of the lessons learned in the GTO's creation.
You can pick it up for 500FP, but it's readily available in the Autoshow for 3.5 million credits so you might like to keep hold of your points.
That also applies to the second car, available for 200FP but a mere 585,000cr in the Autoshow. Nonetheless, the BMW M1 is a significant car in automotive history, as the first car developed by BMW's M division and the first ever mid-engined BMW.
Designed to take on Porsche in Group 5 racing, the M1 eventually found its niche in its own, one-make "Procar" championship. It ran as a support series for F1, and many F1 drivers raced in it too.
Store items this week are the Farid Rueda Lion Motorcross Helmet and the Japan Race Gloves at 75FP each. The Wheelspin (60FP) and Super Wheelspin (150FP) are in their usual spots too.
These items will only remain in place for six days, as Wednesday will see the Forzathon Shop filled with as-yet unknown classic cars at knockdown prices in the latest "Tommy Bargains" event.
See more articles on Forza Horizon 5 Season Change.