The final week of the current Series in Forza Horizon 5 is now live, with the last set of themed events, challenges, and reward cars now available.
This month's special theme, "Rami's Racing History", looks at Mexico's automotive history — from popular cars and vehicles made in the country to the role Mexico has played in motorsport. Naturally the events and rewards on the Playlist feed into that theme.
Each of the four weeks of the Series looks at a different era in that history, from the pre-1960s, the 1970s-1980s, 1990s-2000s, and finally 2010 and on.
There's also a new Horizon Story to play through, called "Made in Mexico", that more directly covers the theme. In-game NPC Ramiro Luiz Miron — or "Rami" — will guide you through all the action. The story will persist once the Series ends, but you'll get Playlist points for racing through it this month.
Of course there are also new "Expanding World" Accolades available, covering your story progress and the new vehicles available during the Series.
Series 11: Rami's Racing History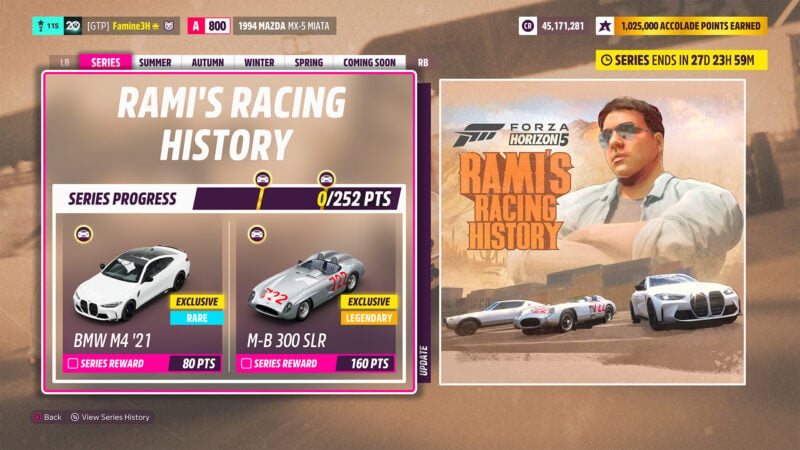 The final week of a Series means one more chance to earn the prize vehicles, and it's something you'll want to do this month more than most others — not least because both cars are exclusive to the Playlist.
For 80 points across the Series you'll take home the new BMW M4, a new-to-Forza machine which thankfully drives better than it looks.
While the first-gen M4 — technically the fifth-gen M3 Coupe but with a different name — had pretty much everything, the second-generation model boosts performance at the expense of looks.
Thankfully you won't need to look at the ungainly nostrils while driving the 504hp M4 Competition, which is (along with its M3 Competition sibling) the most powerful 3 Series platform car ever made.
Of course you should have blasted through that 80-point marker two weeks ago and if not already over 160 points for the second car, close enough to it to make it a priority.
That's because the second car is the most expensive to ever appear in a Forza title, coming in at 143 million credits in the Autoshow. It's a price that pays homage to a recent sale for a variant of the car, at $143m.
Even though it was one of two Uhlenhaut Coupe models and not the specific car in FH5, if this Mille Miglia-winning Mercedes-Benz W196 300SLR ever comes up for sale it will likely smash that valuation.
Arguably the most special of the nine W196 chassis, this car set the all-time course record for the 1000-mile endurance race at just over ten hours, with Sir Stirling Moss beating his F1 world champion team-mate by some half an hour.
Series 11 Spring/Hot Season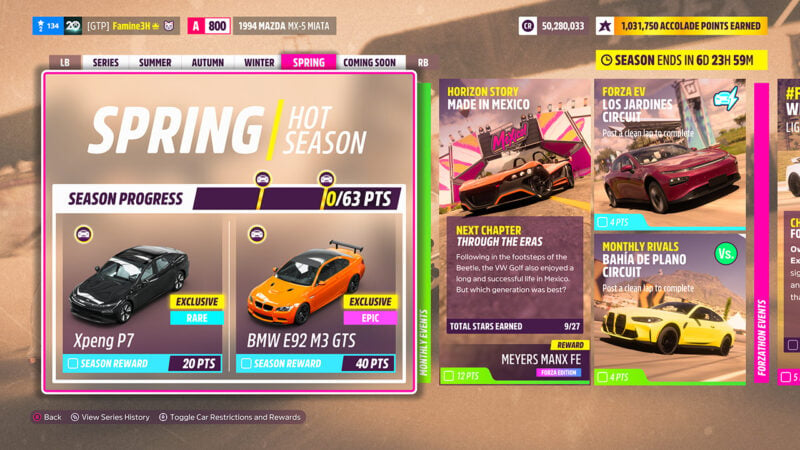 With the final era visited in Rami's Racing History being the present day — or at least 2010 and on — there's two modern cars on offer for Playlist completion this week.
First up and for 40 points is the new-to-series Xpeng P7. This fully electric Chinese sedan packs a mean 424hp from its electric motors — one on each axle — but it's more well-known for its driver assist systems.
The P7 is one of very few cars produced for public sale that has level three driver assist functions. That means it can handle operations of multiple inputs — steering, brake, accelerator — at once and do so without the driver needing to monitor the system, unlike more common "hands-on" level two systems which require the driver to remain ready to override it.
It's not a feature that will be of particular relevance in FH5, but the Xpeng — pronounced "shau-pong", as a contraction of Xiaopeng, the company founder's name — is also a high-performance sedan.
Rolling up to 40 points will earn you a more traditional performance car from the 2010s, in the shape of the BMW M3 Coupe GTS.
A staple in Forza Horizon 4, this car picks up the baton from the previous generation M3 CSL, with a bored out version of the S56 V8 coming in at 4.4 liters and 444hp.
M Division also gave the suspension and brakes a good going over, alongside stripping the GTS of any unnecessary weight — like the rear seats, sound deadening, and glass windows — and adding more aerodynamic aids.
In real-life there were only 135 examples made, and this rarity is reflected in the fact it's a Playlist exclusive.
Spring will last until 1430UTC on Thursday September 15, with Series 11 coming to its close at the same time.
Forzathon Events
Lotus is the focus for the 2010s and 2020s Weekly Challenge, with the Exige S the subject. Pick one up — you can win one in the Trebol Speed Zone PR Stunt — to get Lightweight Experts started.
You'll need to take victory in any Road Racing Series event in the Exige to pass the second stage, doing what Lotus does best, before heading onto PR Stunts for the final two rounds.
First earn 15 Speed Skills in the car. Simply driving fast will earn you a Speed Skill, which you can rack up to Great, Awesome, and Ultimate by passing through higher speed thresholds. Keep the pace going as long as you can — the main highway is ideal — and you'll soon rattle through them.
After that, earn the equivalent of six stars at Speed Traps by passing through at target speeds. This could be one star six times, three stars twice, or anything in the middle. Finish that to earn five points and 160FP, doubled to 320FP if you own the La Casa Solariega player house.
Weekly Challenge: Lightweight Experts
Car: Lotus Exige S 2012

Chapter 1: Own and drive the Lotus Exige S 2012
Chapter 2: Win a Road Racing Series event in the Lotus Exige S 2012
Chapter 3: Earn 15 Speed Skills in the Lotus Exige S 2012
Chapter 4: Earn 6 stars at Speed Traps in the Lotus Exige S 2012

Reward: 5 points, 160FP
There's seven more Daily Challenges for the week, with one new challenge coming each day, with seven days to complete, for one point (and 20FP) apiece.
Muscle Power gets things started, with the target of earning six-star scores at any Speed Traps in any Modern Muscle category car.
You'll need access to multiplayer for Friday's challenge, Tour Guide, which requires you to complete any Horizon Tour event. You'll need to head to the hub either at the main Festival site or in Hot Wheels Park to take part.
There's plenty of Collateral Damage next, as you'll need to earn five Wreckage Skills in 20 seconds. You can pick up one of these Skills for smashing anything that comes to pieces when you hit it. Catch fencing and crash barriers are ideal, but smashing too many at once won't register; drift a little to create gaps between smashing.
On Sunday you'll be heading To Infinity! Hit a three-star distance on any Danger Sign in an Infiniti vehicle. Or, since there's only the Q60 Concept in the game… that.
You'll be Off To The Races on Monday, as you'll need to win any Dirt Scramble Race in any S1 Class (801-900PI) car. Scramble races are circuits rather than point-to-point courses, so find an orange sign with a loop and win it.
Speed Run follows, requiring you to earn ten Speed Skills in the Deberti F-150 Prerunner. You'll need to wind this up to high speeds and watch the Skills come in as with the Exige challenge above.
The Series closes out with The Very Best. You'll need to beat any time set in Rivals in the S2 Class (901-998PI) to earn the point.
Daily Challenges
September 8 – Muscle Power: Earn 6 Stars at Speed Traps in any Modern Muscle car
September 9 – Tour Guide: Complete a Horizon Tour
September 10 – Collateral Damage: Earn 5 Wreckage Skills in 20 seconds
September 11 – To Infinity!: Earn 3 Stars on any Danger Sign in an Infiniti vehicle
September 12 – Off To The Races: Win a Dirt Scramble Race in any S1 Class car
September 13 – Speed Run: Earn 10 Speed Skills in the 2018 Deberti F-150 Prerunner
September 14 – The Very Best: Beat an S2 Class Rival
Season Events
This week's Season Events come in threes, with three Seasonal Championships and three PR Stunts for the single-player offering.
The PR Stunts remain in their one-for-all format, as you can complete all using the same car if you wish — although you might need a little tune swap as there's a Drift Zone and two speed events. You'll need an S1 Class (801-900PI) car of any type, from the 2010s or 2020s to take part, and all award two points.
Both of the speed-themed stunts — one Trap, one Zone — require a lot of pace, so you'll need to focus on top end, and handling is very much not required.
The Gran Puente Speed Trap is atop the large bridge at the south of the map, and simply requires you blast through at 210mph — which isn't tricky in either direction — with the Land Rover Defender 2020 as a reward.
For the Trebol Speed Zone you'll need to hold an average of 228mph down (or up) the main highway for the points and the Lotus Exige S for the Forzathon Weekly Challenge.
The Drift Zone this week is Polytunnels, between Gran Pantano and Teotihuacan. Score 150,000pt — just above three stars — to earn a Super Wheelspin.
Each of the three Seasonal Championships offers five points and an era-appropriate prize car. In each case it's a three-race championship against Highly Skilled AI drivatars, which you'll need finish atop the overall points table in order to win.
You'll be heading into the wilds in Off The Road Again, a Cross Country event for A Class (701-800PI) cars from the Unlimited Offroad category and only from the 2010-2019 decade. There's a Maserati Levante for victory.
It's onto the hardtop for the Paving The Way Road Racing Series event. You'll need any S2 Class (901-998PI) Hypercar category vehicle from the 2010-2019 decade, with a Porsche Cayman as the overall prize.
Finally there's the Newcomers Street Racing Series. Any A Class (701-800PI) car from 2010 and on is eligible, but watch out for NPC traffic. Take the title to win a 2018 BMW M5.
Drift Zone: Polytunnels
Car: S1 Class, 2010 or Newer
Location: Gran Pantano, Polytunnels Drift Zone
Challenge: 150,000pt
Reward: 2 points, Super Wheelspin
Speed Trap: Gran Puente
Car: S1 Class, 2010 or Newer
Location: Gran Puente, Gran Puente Speed Trap
Challenge: 210mph
Reward: 2 points, Land Rover Defender 2020
Speed Zone: Trebol
Car: S1 Class, 2010 or Newer
Location: Tierra Prospera, Trebol Speed Zone
Challenge: 228mph
Reward: 2 points, Lotus Exige S 2012
Seasonal Championship: Newcomers
Car: A Class, 2010 or Newer
Location: Cordillera, Highland Climb
Challenge: Win the Championship
Reward: 5 points, BMW M5 2018
Seasonal Championship: Off The Road Again
Car: A Class, 2010s, Unlimited Offroad
Location: Teotihuacan, Restos Cross Country
Challenge: Win the Championship
Reward: 5 points, Maserati Levante
Seasonal Championship: Paving The Way
Car: S2 Class, 2010s, Hypercar
Location: La Selva, Sierra Verde Sprint
Challenge: Win the Championship
Reward: 5 points, Porsche Cayman
The Hot Wheels DLC offers another two events to earn some points. If you're a 100% completionist but don't have the DLC, don't worry as it isn't required to complete the Playlist, it's just an extra.
You'll need to fly a fair old distance in the Canyon Fire Danger Sign in Giant's Canyon — that's the one with the ring of fire to leap through, rather than the other one nearby. Take any S1 Class (801-900PI) car from 2010 or later and hurl it well past the three-star distance to 415m to get the two points and a Super Wheelspin.
Giant's Canyon also hosts the Seasonal Championship, Warp Speed. It's a three-race event against Highly Skilled AI, and you'll need to top the points table to win, just like the main seasonals. You'll need an S2 Class (901-998PI) car of any type to take part, with five points and a 2013 Renault Clio for the overall win.
Hot Wheels Danger Sign: Canyon Fire
Car: S1 Class, 2010 or Newer
Location: Hot Wheels Park Giant's Canyon, Canyon Fire Danger Sign
Challenge: 415m
Reward: 2 points, Super Wheelspin
Hot Wheels Seasonal Championship: Warp Speed
Car: S2 Class, 2010 or Newer
Location: Hot Wheels Park Giant's Canyon, Canyon Racer Speed Sprint
Challenge: Win the Championship
Reward: 5 points, Renault Clio 2013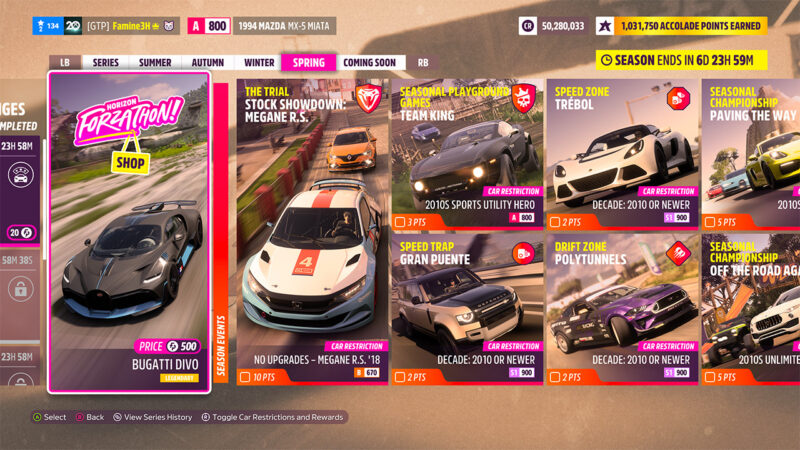 There's two multiplayer events list this week, each of which requires an Xbox Live Gold subscription on console or to switch over to a PC to take part.
Seasonal Playground Games makes a return, with the one-event-type format we've seen recently. This week it's a Team King event, which requires players on each team to "tag" (smash into at high speed) players who hold a crown on the other team.
You earn time for each second you have a crown, and the more crowns your team has the faster that accumulates. Hold onto a crown too long and you'll be slowed down, so you'll need to pass the crown onto a team-mate before you become a sitting duck.
Complete three rounds of this — winning isn't necessary — to take three points and a Local Motors Rally Fighter.
The Trial is another "Stock Showdown" event, this week only permitting mechanically standard models of the Renault Sport Megane RS 2018. Any vehicle with tuning upgrades will be excluded, but you can paint your car if you like — anything but red, given the AI exclusively drives red vehicles this week.
For the event itself, you'll be racing a three-round team championship against six "Unbeatable" AI drivatars with up to five fellow humans. Each driver on each team gains 100 points for every opponent they beat to the finish, so you'll all need to finish ahead of as many opponents as possible — and help your team-mates to do the same.
While it's another Road Racing Series event and in low-powered cars, the tight tracks this week make it a challenge — especially if you have particularly dense team-mates who don't understand that winning the race isn't everything. The Megane, despite having rear-wheel steering, is a bit of a pig in the tight corners and the tunnels of the second race will make it a chore.
However, with the right team, winning isn't too tricky and you'll pick up 10 points and a Honda Civic Coupe for doing so.
Seasonal Playground Games: Team King
Car: A Class, 2010s, Sports Utility Heroes
Location: Ek'Balam
Challenge: Finish the Event
Reward: 3 points, Local Motors Rally Fighter 2014
The Trial: Stock Showdown Megane RS
Car: B Class, No Upgrades, Renault Megane RS 2018
Location: Guanajuato, Plaza Circuit
Challenge: Win the Championship
Reward: 10 points, Honda Civic Coupe 2016
Challenges
There's just two Challenges this week, with the long-awaited return of the Collectibles event alongside the regular Photo Challenge.
All you'll need to do for #NewCarSmell is head to the Horizon Festival and snap the Toyota GR Supra. It's one of the three starter cars, so there's a solid chance everyone will have one. Take the picture for two points and Watermelon Crew Socks for your avatar.
The Collectibles event, Strike Gold, adds a new golden trophy prop. You'll find these comically oversized cups dotted around the roads near Club de Opala de Fuego and Palacio Azul del Oceano, on the south-west coast. Smash 20 to earn three points and a Formula D Ferrari 599.
Collectibles: Strike Gold!
Cars: Any
Location: Club de Opala de Fuego
Challenge: Smash 20 Golden Trophies at Club de Opala de Fuego
Reward: 3 points, Formula D Ferrari 599
Photo Challenge: #NewCarSmell
Cars: Toyota GR Supra 2020
Location: Horizon Festival
Challenge: Photograph the Toyota GR Supra at the Horizon Festival
Reward: 2 points, Watermelon Crew Socks
It's your last chance to clean up the points for the three monthly events, with the traditional Monthly Rivals, the recently added Forza EV monthly and the Series-exclusive Horizon Story Made in Mexico.
The Story contributes 12 points in total, with three in each season, for completing the various chapters within. You'll actually take one point per season with every nine stars you earn, but you'll need to complete all nine chapters — 27 stars — for the maximum points haul.
Forza EV and Monthly Rivals both require a clean lap in a relevant rivals event in a car provided to you for a total of four points. Speed isn't necessary, only cleanliness, so keep the cars away from solid objects.
Monthly Rivals uses the new BMW M4 for a lap of the Bahia de Plano Circuit on the west coast, while Forza EV employs the new Xpeng P7 at the Los Jardines Circuit.
In all three cases the points are distributed evenly across all four seasons, filling in past seasons retroactively if you've left it this late in the Series.
Horizon Story: Made in Mexico
Cars: Provided
Location: Cordillera
Challenge: Earn 27 Stars in the Horizon Story
Reward: 12 points (3 added to each season), Meyers Manx Forza Edition
Forza EV: Los Jardines Circuit
Cars: Xpeng P7 (provided)
Location: Los Jardines, Los Jardines Circuit
Challenge: Post a Clean Lap
Reward: 4 points (1 added to each season)
Monthly Rivals: Bahia de Plano Circuit
Cars: BMW M4 '21 (Provided)
Location: Bahia de Plano, Bahia de Plano Circuit
Challenge: Post a Clean Lap
Reward: 4 points (1 added to each season)
Forzathon Shop
It's extreme speed in the Forzathon Shop this week, as two bleeding edge hypercars are up for offer.
Taking the headline spot is the Bugatti Divo. This coachbuilt special is a variant of the one-time fastest car in the world, the Bugatti Chiron. However Bugatti made the Divo for a very different purpose.
Instead of all-out speed and pure, dripping luxury, the Divo is made to go quickly around the bends. Bugatti reworked the suspension and aerodynamics — along with a rather cursory weight reduction — to make the Divo eight seconds quicker around the Nardo handling circuit than its high-speed sibling.
Of course it also packs the same 1,479hp W16 engine, so although it's the slowest modern Bugatti at 236mph it's hardly a slouch.
At 500FP it's not exactly a steal, but it's touch and go whether that's better value than the 3,000,000cr list price in the Autoshow.
The Aston Martin Valhalla is cheaper in both respects — 300FP or 1,150,000cr — but considerably quicker around a race track.
That's due to being a lightweight supercar, derived from the technology used to develop the brand's Valkyrie. In concept form, as you see here, it uses an in-house developed, three-liter V6 turbo paired to an electric motor to develop over a thousand horsepower — although the production car will switch to a Mercedes-AMG V8.
Store items this week are the Bird Pattern Sundress and the France Race Gloves at 75FP each. The Wheelspin (60FP) and Super Wheelspin (150FP) remain in their usual spots.
Once again, these items will be replaced on the final day of the season as, for 24 hours, the Forzathon Shop will become home to cheap classic cars in the "Tommy Bargains" event.
See more articles on Forza Horizon 5 Season Change.