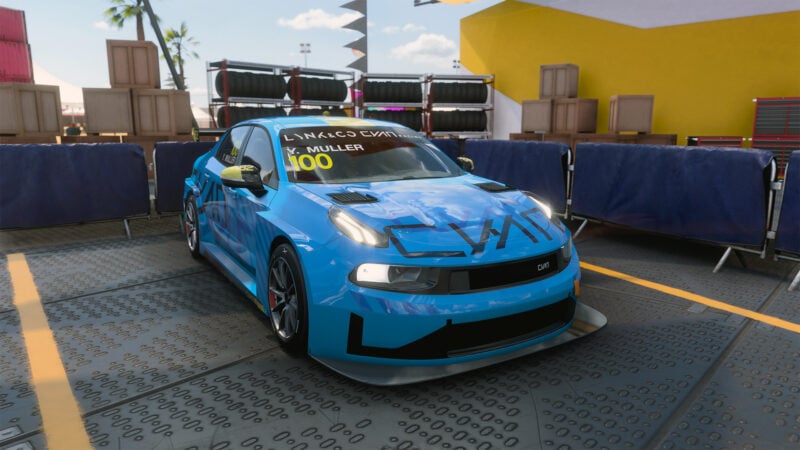 The latest new Series in Forza Horizon 5 begins today, with attentions turning to the new Donut Media collaboration.
This tie-in brings a new story, with new characters from the real world (or at least the YouTube world, which is close enough), as well as a whole host of challenges and events broadly themed to Donut Media.
If you're not familiar with the brand, it's a car enthusiast channel which focuses on car shenanigans. The hosts make an appearance in the game as of today as part of the "Donut Media @ Horizon" story event.
This five-chapter story will be available as a permanent fixture, along with themed rewards and new Accolades, but you'll earn Playlist progress points for taking part in it during the four-week Series.
Series 14: Donut Media Rewards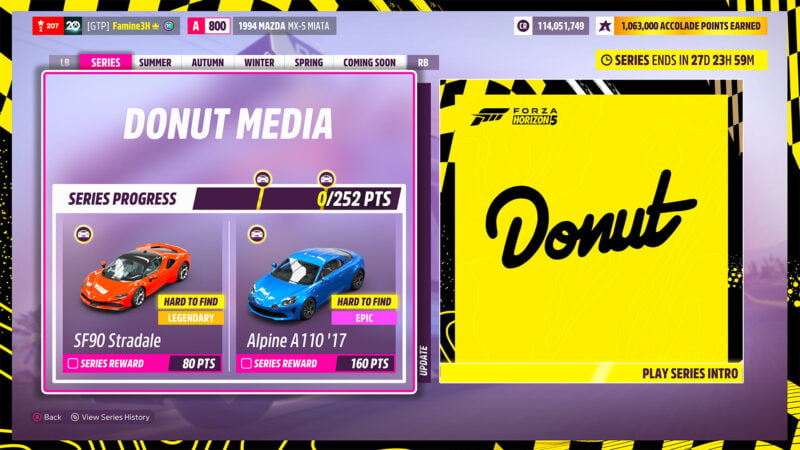 With it being the first week of a new Series, it's very much a case of look but don't touch on the new rewards; you won't be able to pick up enough points during the first Season to win even the first reward.
It starts, at 80 points across the Series, with the Ferrari SF90 Stradale which was previously available in the same slot across Series 7.
Ferrari's first ever plug-in hybrid is named for the brand's 2019 F1 car, and combines the classic Ferrari V8 with three electric motors for a total of almost 1,000hp. Two of those motors power the front wheels, meaning it's the first mid-engined, all-wheel drive model from the brand — and as it only has a reverse gear through these electric motors running backwards, also the first capable of only front-wheel drive.
You can't buy the SF90 Stradale, and it fetches a pricey sum in the Auction House, so it's worth gunning for it this month.
In the second slot is the more humble Alpine A110. This too is unavailable outside of the Playlist, Forzathon Shop, or Wheelspins, and is one of the finest drivers' cars on the planet. Gordon Murray owns one, and he knows a thing or two about good cars.
The A110 is an homage to the original car which was the first ever World Rally Championship winner back in 1973. Although the engine is now mid-mounted rather than rear-mounted, it's very close in spirit to the original — and comes in a similar Bleu Alpine shade.
It uses a 1.8-liter four cylinder turbo similar to that found in the Renaultsport Megane, developing close to 300hp depending on specification, but that's plenty in a lightweight, rear-wheel drive chassis.
Series 14 Summer/Wet Season Rewards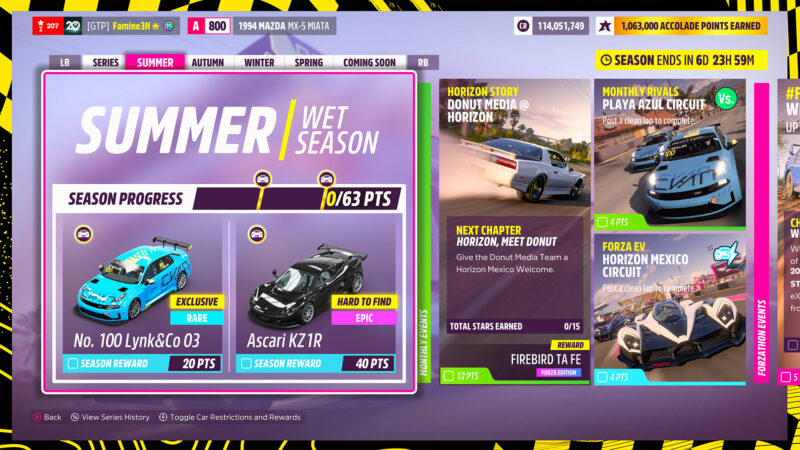 You'll be earning racing cars on this week's Playlist, with a new-to-series touring car and a money-can't-buy converted GT3 racer.
The former comes in at 20 points across the season, with the TCR version of the Lynk&Co 03 being added to the game. This 340hp version of the also-recent Lynk&Co 03 was designed to conquer the WTCR championship — which it dutifully did.
For all three seasons in which it has raced — 2019, 2020, and 2021 — the car came out as the overall champion, and scored two drivers' titles too including a 1-2 for Yann Ehrlacher and Yvan Muller in 2020. The team won't repeat that this year, as numerous tire failures — in part blamed on the extreme success ballast on the Lynk&Co — has seen it withdraw on safety grounds for the final three rounds.
At 40 points there's the Ascari KZ1R. This was a road car based on a race car which was itself based on a road car and named for an earlier concept car — the Kirk Lazarus of cars.
Built in the same facility which now houses Haas F1's European base in Banbury, Oxfordshire, the original KZ1 featured a BMW M5 V8 stuffed into a spaceframe chassis. Ascari converted that to a stripped-out GT3 racer — the KZ1-R — before redeveloping that, power and aero improvements included, into the KZ1R road car you can win this week.
Neither car is available in the Autoshow, so it's a good week to be picking up Playlist points.
Summer will run through to 1430UT on Thursday November 17, with Series 14 continuing for three more weeks until the same time on Thursday December 8.
Series 14 Summer Playlist: Forzathon Events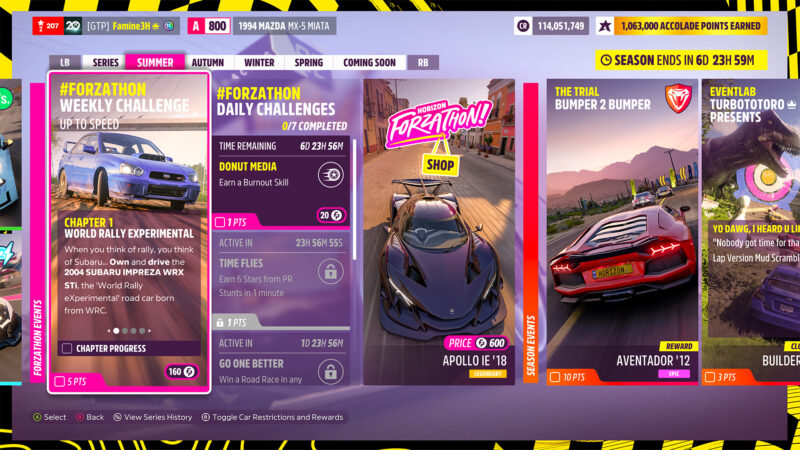 Naturally the Donut Media theme kicks off with a related Forzathon, putting players into the Subaru Impreza WRX — the subject of the next series of "HiLow". Pick up the 2004 model to get Up to Speed started.
Use the car for its intended purpose by winning any Dirt Racing series race in the WRX, before taking a photo of it — clean or dirtied! Finally earn a total of three stars at any Trailblazers in the WRX to complete the challenge.
It's worth five points and 80FP, which is doubled if you own the La Casa Solariega player house near Teotihuacan.
Weekly Challenge: Up to Speed
Car: Subaru Impreza WRX 2004

Chapter 1: Own and drive the Subaru Impreza WRX 2004
Chapter 2: Win a Dirt race in the Subaru Impreza WRX 2004
Chapter 3: Take a photo of the Subaru Impreza WRX 2004
Chapter 4: Earn three stars at Trailblazers in the Subaru Impreza WRX 2004

Reward: 5 points, 80FP
Your first seven Daily Challenges of the Series pop up at their usual 1430UTC each day. You have seven days to complete each, with one point and 10FP awarded per completed challenge.
We get right into the Donut theme straight away, with a challenge that's just called Donut Media. Earn a Burnout Skill — from peeling out your tires from a stand still — to complete.
Time Flies on Friday, as you'll be tasked with earning six stars from PR Stunts in one minute. Your best bet here is probably a sprint up the main highway towards the north-east corner, hitting a Speed Zone, Speed Trap, and Danger Sign in quick succession.
You'll need to Go One Better after that, by winning a Road Racing Series event in any vehicle in the top X Class (999PI) performance bracket.
Get a Lick of Paint on Sunday, by painting the body of any of your vehicles.
Zoomin' Saloons are up next. Win a Drag Race — at Horizon Festival, Aerodromo en la Selva, or Teotihuacan — in any Super Saloon category vehicle from Germany.
It's Challenge Accepted on Tuesday, as you'll need to complete any Challenge Card in free-roam. Just find the Super7 Challenge Card icons on your map, head to one and complete the challenge therein.
Finally prove You Rock! by taking a photo of the Copper Canyon, in the north-east area of the map.
Daily Challenges
November 10 – Donut Media: Earn a Burnout Skill
November 11 – Time Flies: Earn six stars from PR Stunts in one minute
November 12 – Go One Better: Win a Road Racing Series event in any X Class vehicle
November 13 – Lick of Paint: Paint your vehicle's body
November 14 – Zoomin Saloons: Win a Drag Race in a German Super Saloon
November 15 – Challenge Accepted: Complete a Challenge Card in free-roam
November 16 – You Rock!: Take a picture of the Copper Canyon
Series 14 Summer Playlist: Season Events
There's six single-player events up on this week's Playlist, with three Seasonal Championships joined by two PR Stunts and an EventLab.
Both PR Stunts require an S2 Class (901-998PI) car of any kind, and reward you with two Playlist points and a Super Wheelspin, much like events across Series 1. That means you can use the same car for both, although you'll need something with a little off-road ability.
The Danger Sign, Eagle's Perch, sees you leaping into Ek'Balam from the west, with a target of 430m; you'll need to watch your landing zone though, as it's packed with trees and ancient buildings that will mean you fail the jump if you hit them. Aim for the lake, right of center, if you can.
For the Paso Inferior Speed Trap, north of Mulege, your best bet is to race across country and aim at the trap to hit the 160mph target, rather than sticking to the marked dirt roads.
The Seasonal Championships are three-race series against Highly Skilled AI, which you'll need to top the final points table to win five points to your season total for each.
Buff Horses is a Road Racing series event for S1 Class (801-900PI) Ford Mustang models, so pick any Mustang you like for the event. You'll get a different kind of horse as a series bonus prize, with the Ferrari 488 GTB on offer.
You'll remain on the road but shift to Street Racing for Boost Creeps. This series is for B Class (601-700PI) Retro Sports Cars, and there's a Dodge Challenger SRT Demon for the win.
Wheelhouse takes you into the wilds for a Cross Country event for C Class (501-600PI) Vans & Utility vehicles. Come out on top to win a Mercedes-Benz C63 AMG.
Finally this week there's EventLab. This is a single-lap run around a custom course laid out across and around the river at the south end of the map. You'll need an A Class (701-800PI) Sports Utility Heroes car, and you'll win a Builder's Outfit clothing set for your avatar.
Danger Sign: Eagle's Perch
Car: S2 Class
Location: Ek'Balam, Eagle's Perch Danger Sign
Challenge: 430m
Reward: 2 points, Super Wheelspin
Speed Trap: Paso Inferior
Car: S2 Class
Location: Mulege, Paso Inferior Speed Trap
Challenge: 160mph
Reward: 2 points, Super Wheelspin
EventLab: Yo Dawg I Heard U Like Dirt
Car: A Class, Sports Utility Heroes
Location: Atlantes de Tula, La Selva Scramble
Challenge: Complete the race
Reward: 3 points, Builder's Outfit
Seasonal Championship: Boost Creeps
Car: B Class, Retro Sports Cars
Location: Rio de la Selva, Wetland Charge
Challenge: Win the Championship
Reward: 5 points, Dodge Challenger SRT Demon
Seasonal Championship: Buff Horses
Car: S1 Class, Ford Mustang
Location: Hotel Mirador Balderrama, Chihuahua Circuit
Challenge: Win the Championship
Reward: 5 points, Ferrari 488 GTB
Seasonal Championship: Wheelhouse
Car: C Class, Vans & Utility
Location: Teotihuacan, Herencia Cross Country Circuit
Challenge: Win the Championship
Reward: 5 points, Mercedes-Benz C63 AMG
"Skydrivers Park" hosts another pair of bonus events for those with the Hot Wheels DLC. They're not required for 100% completion of the Playlist, but give DLC owners a chance to earn points they might not be able to pick up elsewhere.
The PR Stunt this week is a Speed Zone in Forest Falls. Like the main map events, you'll need any S2 Class (901-998PI) car for the event, and your target speed is 190mph with two points and another Super Wheelspin for completion.
Keep hold of your steed for the Joy of Cars Seasonal Championship. This is a three-race Road Racing series against Highly Skilled AI for any S2 Class (901-998PI) cars, with five points and a BMW Isetta for claiming the win.
Hot Wheels Speed Zone: Forest Flume
Car: S2 Class
Location: Hot Wheels Park Forest Falls, Forest Flume Speed Zone
Challenge: 190mph
Reward: 2 points, Super Wheelspin
Hot Wheels Seasonal Championship: Joy of Cars
Car: S2 Class
Location: Hot Wheels Park Giant's Canyon, Twin Loop Speed Circuit
Challenge: Win the Championship
Reward: 5 points, BMW Isetta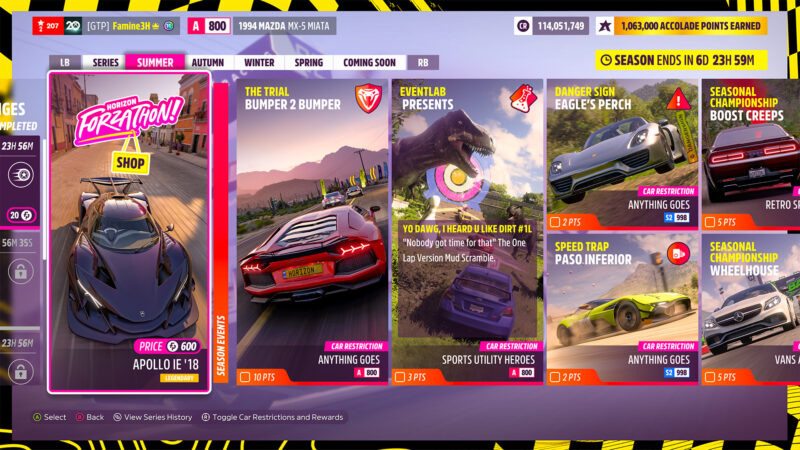 There's just the one multiplayer event this week, with Xbox Live Gold required — unless you play on PC — to access them, as usual.
That's the seemingly permanent The Trial, which returns to a more open format this week. It's a Road Racing series event, and you can enter withany A Class (701-800PI) vehicle of any kind.
It's a team-based, best-of-three race series, featuring up to six human players again six "Unbeatable" class AI Drivatars. Each driver on each team earns 100 points for every opponent they beat, but you don't score anything for beating a team-mate (aside from a 50pt bonus for the overall win), so you'll need to work together to help maximize your team points while preventing the AI from scoring well.
The relatively low-speed cars and consistent surface grip of the Road Racing Series should make it a quick event this week — over in two rounds — and the whole team will earn ten points and a Lamborghini Aventador LP700-4 for the win.
The Trial: Bumper to Bumper
Car: A Class
Location: Horizon Festival, Reservorio Sprint
Challenge: Win the Championship
Reward: 10 points, Lamborghini Aventador LP700-4
Series 14 Summer Playlist: Challenges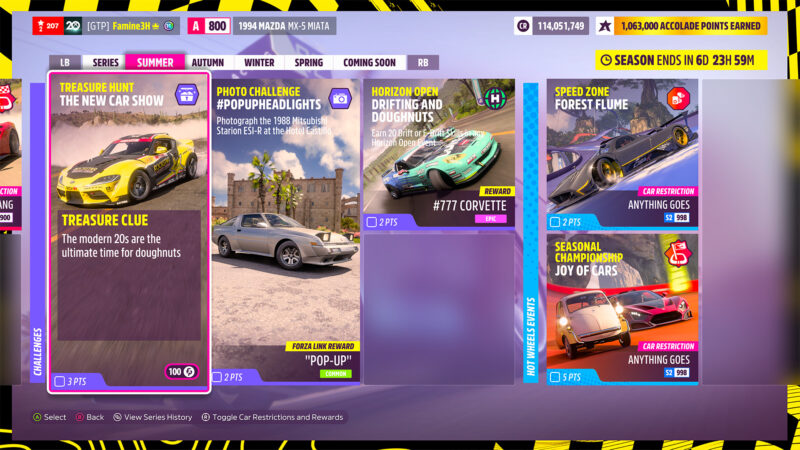 We're back to a trio of Challenges this week, and again you will need multiplayer access — Xbox Live Gold, or playing on a PC — to complete them all.
That covers the Horizon Open challenge for the week, Drifting and Doughnuts. You'll simply need to pick up 20 Drift or E-Drift Skills — for drifting with or without the use of the handbrake — during any Horizon Open event for that. Naturally Horizon Open Drifting makes the most sense, but however you do it you'll score two points and the Formula Drift #777 Corvette.
The Photo Challenge this week, #PopUpHeadlights, requires you to photograph the Mitsubishi Starion ESI-R. Take the boxy coupe to the Hotel Castillo player house — it doesn't matter whether you own it or not — and grab a picture to earn two points and a "Pop-Up" Forza LINK message.
Finally there's a Treasure Hunt, and it's a little more mysterious than usual. The clue for The New Car Show is "The modern 20s are the ultimate time for doughnuts", which leaves a little doubt on the table.
You'll need a car from the 2020s decade, and obviously you'll need to perform an "Ultimate" level Skill in it, but there's no doughnut Skill in FH5. However, performing a doughnut will earn you Burnout Skills, so keep spinning on the spot until it ranks up to Ultimate.
That will earn you the hint, which is a red circle on your map showing roughly where the Treasure Chest is. This week that's located near the cloverleaf junction north of Teotihuacan — in plain sight at the south edge of the junction. Just smash the chest to win three points and 100FP.
Photo Challenge: #PopUpHeadlights
Cars: Mitsubishi Starion ESI-R
Location: Hotel Castillo Santa Cecilia
Challenge: Photograph the Mitsubishi Starion ESI-R at the Hotel Castillo Santa Cecilia
Reward: 2 points, "Pop-Up" Forza LINK
Treasure Hunt: The New Car Show
Cars: 2020s
Location: Any
Challenge: Perform an Ultimate Burnout in any 2020s car; find and smash the Treasure Chest
Reward: 3 points, 100FP
Horizon Open: Drifting and Doughnuts
Cars: Any
Location: Horizon Open
Challenge: Earn 20 Drift or E-Drift Skills in any Horizon Open event
Reward: 2 points, Formula Drift #777 Corvette
With the new Horizon Story occupying a spot on the Monthly Events list, there's another three challenges to get through across the whole of the next four weeks. Complete them at any time during the Series to earn the rewards and Playlist points — which are evenly distributed across all four seasons, regardless of when you complete them.
Donut Media @ Horizon is that new Story, taking players through five chapters that see you modifying and racing cars in the Donut Media style. Although it's a Playlist item, the Story is a permanent addition to the game — but you'll only be able to earn the points for it during the four-week series.
It's worth 12 points in total, but you'll need three stars in all five chapters to earn this — along with a bunch of clothing item rewards, Accolades, and a Pontiac Firebird Trans-Am Forza Edition.
For the Forza EV and Monthly Rivals events you'll need to post clean lap times using the vehicles provided to you at the circuits required — access these directly through the playlist menu — for a total of four points. Your pace doesn't matter, only your cleanliness, so keep the cars off the barriers or anything else immovable…
Again that might be a challenge this Series. The Monthly event puts you into the new Lynk&Co 03 TCR at the Playa Azul Circuit and you might find some of the barriers to be almost magnetic. That also goes for the Horizon Mexico Circuit — particularly in the two stadium sections — and the very high speed of the RAESR Tachyon will make avoiding them a full-time job.
Horizon Story: Donut Media @ Horizon
Cars: Provided
Location: Horizon Festival
Challenge: Earn 15 Stars in the Horizon Story
Reward: 12 points (3 added to each season), Pontiac Firebird Trans-Am Forza Edition
Forza EV: Horizon Mexico Circuit
Cars: RAESR Tachyon Speed (provided)
Location: Horizon Festival, Horizon Mexico Circuit
Challenge: Post a Clean Lap
Reward: 4 points (1 added to each season)
Monthly Rivals: Playa Azul Circuit
Cars: Lynk&Co 03 #100 Cyan Racing (Provided)
Location: Playa Azul, Playa Azul Circuit
Challenge: Post a Clean Lap
Reward: 4 points (1 added to each season)
Series 14 Summer Forzathon Shop
Leading the way in this week's Forzathon Shop is the Apollo Intensa Emozione.
This Ferrari V12-engined machine is the first car from the newly renamed Apollo, named for the Gumpert Apollo manufactured by the brand before it ran into financial difficulties and was bought out by the same Hong Kong-based interests which also now own De Tomaso.
Designed to look like a pure racing car, the Intensa Emozione (or "IE") makes extensive use of exotic materials to tip the scales at 1,250kg. Combined with nearly 800hp from the V12 and enough aero add-ons to produce more than the car's own weight in downforce at 186mph, it drives just like one too.
At 600FP it's a little on the steep side considering you can pick it up for just 1.5m credits in the Autoshow, but if those Forzathon Points are burning a virtual hole in your pocket you could do worse.
That would be the role filled by the Mercedes-Benz AMG G63 6×6, which straps an extra rear axle onto what's already one of the most ungainly looked behemoths around. It weighs more than three Apollos, so even though it has a 540hp V8, the 6×6 is not particularly quick — and is more than a tad thirsty.
If you absolutely must drive around in the most hideous vehicle at Horizon, it comes in at 400FP. Since it's also 525,000cr in the Autoshow, spending the money is probably the least worst option.
Store items this week are the Donut Media Black Jumper and So Cut Emote, at 75FP each. The Wheelspin (60FP) and Super Wheelspin (150FP) remain in their usual spots.
See more articles on Forza Horizon 5 Season Change.