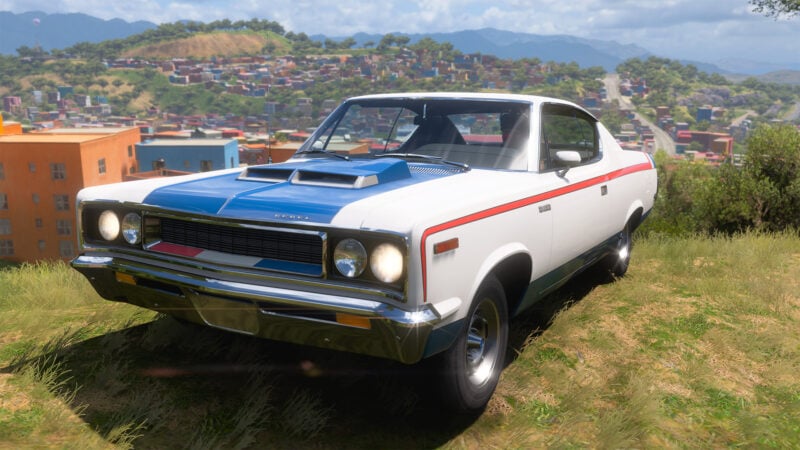 The final, Spring season of the festive Forza Horizon 5 Series 15 starts today, with the last set of events and challenges to ring in the New Year.
If you've not taken part in the events up until now, the series celebrates the holiday season with the Horizon Holidays theme. There's a host of world changes to reflect the time of year, which you might recognize if you were playing back in the same period of 2021.
Along with two special map areas — the Stadium ice rink and the Horizon Wonderland in Mulege — there's new decor all over the map, from candy canes and Christmas trees to bows and ribbons.
The Horizon Wonderland area allows you to buy cars from the Forzathon Shop and send them to other players as gifts. That's part of the Horizon Secret Santa challenge which was completed over the weekend and has seen the Holiday Tree Outfit and the "mystery" Lamborghini Sian Roadster delivered to all players.
It doesn't mean you should stop gifting, in the spirit of Horizon (or because you're hitting the 1,000-car garage limit), and of course there's more new cars to win — for Evolving World accolades — over the final seven days too.
Series 15: Horizon Holidays Rewards
It's your final chance to earn the Series rewards this week, if you haven't already — and you should have. Neither is new to the game, but both aren't ordinarily available to players so it's a good opportunity to pick them up if you don't already own them.
For 80 points you'll secure the #22 Jenson Button JBXE Extreme E race car, one of the ten Extreme E cars added back in Series 10 and one of the nine you can't buy.
Although it's classed under the Extreme E brand in the game, the buggy is actually made by French electric car specialist Spark, and called the Odyssey 21.
It consists of niobium-steel alloy spaceframe chassis packing a 400kW (536hp) electric drivetrain and a sustainable, flax-based composite SUV-style body. That allows it to race across some pretty dreadful surfaces but in an environmentally friendly fashion, with the Extreme E series intended to highlight green causes in some of the planet's most unusual locations.
Hit the 160-point target and you'll grab a car that's a lot less eco-friendly — though it does also mark a rare moment of downsizing in one of the world's best known performance car brands.
The Ferrari California T is a development of the original Ferrari California, and the "T" is a pretty important piece of the puzzle. It stands for "turbo", with the California becoming the first turbocharged Ferrari since the F40.
That turbo is strapped to a smaller, 3.9 liter version of the famous Ferrari V8, which helps it produce 100hp more than the original car.
Series 15 Spring/Hot Season Rewards
The final new car of the series is on offer this week, with the AMC Rebel coming up for 20 points this season.
Originally introduced as a sub-model of the more humble AMC Rambler, the Rebel was a codename for a V8-powered special model. However AMC went one further in 1970 with "The Machine".
Finished in a striking red, white, and blue livery, The Machine was a drag strip-ready road car. It packed a 340hp, 6.4-liter V8, powering the rear wheels through a four-speed manual Borg-Warner box and the AMC Twin-Grip differential.
Along with specially styled, 15-inch steel wheels (covering power disc brakes), nine-inch wide Goodyear fiberglass-belted Polyglas tires, and a high-rake look due to sporting higher-rate wagon springs in the back, The Machine was one of the most distinctive-looking cars on the road — and drag strip.
Score 40 points and you'll pick up the Guntherwerks Porsche 911C2, last available in Series 10.
Officially known as the 400R, the car is essentially a GT3 RS version for a 911 generation which never had one from the factory.
Guntherwerks has just about taken the 993 model apart and put it back together with considerably higher specification components. That's most obvious from the outside, with the bulging widebody made entirely out of carbon fiber.
Sitting out back is a custom-made flat six, with four liters of swept volume producing some 400hp without the help of forced induction and all going to the back wheels.
Spring and Series 15 will conclude at 1430UTC on Thursday January 5, with the as-yet unrevealed "Fordzathon" Series 16 replacing it.
Series 15 Spring Playlist: Forzathon Events
The Dodge Challenger Demon is the focus of this week's Forzathon Weekly Challenge. Own and drive the Demon to get Rise to the Challenge underway.
It's all about the drag strip this week as you'll need to live your life some subunit of a mile at a time. Head to any of the three strips — the shortest one at Teotihuacan, the mid-length Horizon Festival, or the long drag at the Aerodromo — for the challenges.
Firstly you'll need to keep the car entirely stock — it comes in at 786PI if you're not sure — and win an A-Class (701-800PI) race; with the car spinning its power away at launch, we'd go to the Aerodromo for this. Next, tune it up to S1 Class (801-900PI) and win another race. Finally… no, you just need to take a photo of the car.
Complete the tasks to earn five points and 80FP, with the Forzathon Points doubled if you own the La Casa Solariega player house near Teotihuacan.
Weekly Challenge: Rise to the Challenge
Car: Dodge Challenger SRT Demon

Chapter 1: Own and drive the Dodge Challenger SRT Demon
Chapter 2: Win an A Class (701-800PI) Drag Race in a stock Dodge Challenger SRT Demon
Chapter 3: Win an S1 Class (800-901PI) Drag Race in a Dodge Challenger SRT Demon
Chapter 4: Take a photo of the Dodge Challenger SRT Demon

Reward: 5 points, 80FP
The final set of seven new Daily Challenges, coming along at their usual rate of one a day, with seven days to complete for one point and 10FP per challenge completed.
Prove you have Energy to Burn first of all, by earning a Burnout Skill while in the Dunas Blancas (White Dunes) region on the west of the map. Just spin the wheels at a standstill, or do a donut.
Get ready for Take Off on Friday, and take a photograph of the plane that sits at the end of the Horizon Festival Mexico runway — the one with the Danger Sign ramp on it.
You'll need something Crafted for Greatness next. Pick up the Alumi Craft Class 10 and earn five stars at any Trailblazers; if you can, double it up with this week's PR Stunt at the Sand and Deliver Trailblazer.
Say Happy New Year! on Sunday, by sending a Gift Drop to any player.
Break New Ground next, and win a Dirt Race in any A Class (701-800PI) car in the Retro Rally category.
Hit some Lightning Speeds on Tuesday by reaching 100mph in any of the five Expeditions. The easiest is almost certainly the Guanajuato Expedition, but it's a readily achieveable mark in all five.
Finally, wrap up the Series by Throwing Shade. Just change the color of the window tint of any car.
Daily Challenges
December 29 – Energy to Burn: Earn a Burnout Skill in Dunas Blancas
December 30 – Take Off: Take a picture of the plane at Horizon Festival Mexico
December 31 – Crafted for Greatness: Earn five stars at Trailblazers in an Alumi Craft
January 1 – Happy New Year!: Send a Gift Drop to any player
January 2 – New Ground: Win a Dirt Race in any A Class (701-800PI) Retro Rally car
January 3 – Lightning Speeds: Reach 100mph in any Expedition
January 4 – Throwing Shade: Change the color of your car's window tint
Series 15 Spring Playlist: Season Events
A pair of trios awaits this week, with three Seasonal Championships and three PR Stunts, in the usual fashion.
As we've seen in recent weeks, the PR Stunts are an open-category event for S2 Class (901-998PI) cars, each with two points and a Super Wheelspin available.
It's another set of challenging stunts this week too, with targets in excess of the three-star scores; you may even need to beat some personal bests.
Likely the easiest will be the Heights of Mulege Danger Sign. A good run-up will see you clear the 330m target, but make sure you're aiming to land on clear ground or the road south out of the town as hitting buildings will fail you.
The 35-second target for the Sand and Deliver Trailblazer is tricky. You'll need to aim for the road south from your initial launch, then pick a path that's as straight as possible while avoiding too many jumps. The La Subida Speed Zone should simply be a case of persistence and gravity.
There's a good mix in the three Seasonal Championships this week. Each is a three-race series against Highly Skilled AI, which you'll need to top the final points table to win five points to your season total for each.
New Beginnings is a Road Racing Series for A Class (701-800PI) Modern Sports Cars, awarding a Cadillac ATS-V for victory. Feliz Navidad heads to the Dirt Racing Series, with any B Class (601-700PI) cars from the 2010s eligible and a 2002 Corvette as a prize. Finally Down for the Countdown is a Cross Country event for C Class (501-600PI) Pickups & 4x4s, and a Jaguar F-Pace for the winner.
Danger Sign: Heights of Mulege
Car: S2 Class
Location: Mulege, Heights of Mulege Danger Sign
Challenge: 330m
Reward: 2 points, Super Wheelspin
Speed Zone: La Subida
Car: S2 Class
Location: Gran Caldera, La Subida Speed Zone
Challenge: 130mph
Reward: 2 points, Super Wheelspin
Trailblazer: Sand and Deliver
Car: S2 Class
Location: Dunas Blancas, Sand and Deliver Trailblazer
Challenge: 35s
Reward: 2 points, Super Wheelspin
Seasonal Championship: Down for the Countdown
Car: C Class, Pickups & 4x4s
Location: Gran Caldera, Las Dunas Cross Country
Challenge: Win the Championship
Reward: 5 points, Jaguar F-Pace
Seasonal Championship: Feliz Navidad
Car: B Class, 2010s
Location: Guanajuato, Fuera del Camino Trail
Challenge: Win the Championship
Reward: 5 points, Chevrolet Corvette '02
Seasonal Championship: New Beginnings
Car: A Class, Modern Sports Cars
Location: Tierra Prospera, Tierra Prospera Circuit
Challenge: Win the Championship
Reward: 5 points, Cadillac ATS-V
Two bonus events are available for Hot Wheels DLC owners again. Although not required for 100% completion of the Playlist, they're an extra option for seven more points and useful if your Xbox Live Gold has expired with all the multiplayer activities this week.
This week's PR Stunt is the Ice Crash Danger Sign, and while the 600m target looks enormous you only really need to ensure you're landing cleanly as the S2 Class car (901-998PI) you're using will easily carry the distance. Two points and another Super Wheelspin are the reward.
Giant's Canyon hosts the start point for the By The Fire Seasonal Championship. It's a three-race event against Highly Skilled AI for any A Class (701-800PI) Sports Utility Heroes. There's five points and a Mercedes-Benz X-Class for victory.
Hot Wheels Danger Sign: Ice Crash
Car: S2 Class
Location: Hot Wheels Horizon Ice Cauldron, Ice Crash Danger Sign
Challenge: 600m
Reward: 2 points, Super Wheelspin
Hot Wheels Seasonal Championship: By The Fire
Car: A Class, Sports Utility Heroes
Location: Hot Wheels Giant's Canyon, Canyon's Drop Hazard Sprint
Challenge: Win the Championship
Reward: 5 points, Mercedes-Benz X-Class
It's multiplayer madness this week, with Xbox Live Gold required — unless you play on PC — to access the three challenges available.
The Trial sits in its usual spot. In case you're not familiar with it, after 59 events so far, it's a team game pitting you and up to five fellow humans against a squad of six "Unbeatable" level AI Drivatars.
Each player on each team earns 100 points for each opponent they beat, but there's no reward for beating team-mates. That means you should aim to help out your team-mates and hinder your rivals, rather than battering your way to the front through everyone without a care.
Relatively low speeds should help this week, as it's a Road Racing Series event this week for C Class (501-600PI) Hot Hatch category cars. However some of the tracks are on the tight side, so there'll be plenty of opportunity to end up in a wall.
It's another even that's easily doable in two races, even if you have two idiots on your team, and you'll earn ten points and an Audi TTS for the win.
Horizon Tour is similar in scope, but with two notable differences. Firstly the AI are only at a Highly Skilled level, so should be easier to beat, and you'll also have to drive between events over the Mexican terrain.
You can enter the Tour via the Playlist or by visiting the Tour locations at the Horizon Festival or Hot Wheels Park, and join any event with any of the available vehicle type/PI ratings. Winning against the AI offers three points.
Finally there's Seasonal Playground Games, in its one-game format. You'll be taking part in three rounds of "King" as a team against human rivals, and only have to complete them to earn three points and a BMW Z4.
In "King" there'll be players on each team carrying a crown, which players can steal from opponents by tagging them. You'll score points as a team based on how long your players are carrying a crown — more players equals more time. After carrying a crown for a short while, your car's performance will be turned down and you'll need to pass it to a team-mate before your opponents steal it.
Horizon Tour: Co-op Championships
Car: Any
Location: Horizon Festival, Horizon Tour
Challenge: Win the Championship
Reward: 3 points
Seasonal Playground Games: We 3 Kings
Car: S1 Class
Location: Estadio Horizon
Challenge: Complete the event
Reward: 3 points, BMW Z4 '08
The Trial: Holiday Rush
Car: C Class, Hot Hatch
Location: Guanajuato, Cathedral Circuit
Challenge: Win the Championship
Reward: 10 points, Audi TTS
Series 15 Spring Playlist: Challenges
We're back down to a single challenge this week, with the ever-present Photo Challenge as the only one on the list.
It retains its series-long format, requiring you to go and photograph a snowperson to complete #HideandSeek. Once again, it's a specific and slightly hidden one though.
As with the previous three weeks, he's hiding in a player house — this time the Buena Esperanza house which overlooks Ek'Balam to the south-west. The snowman is hiding on the veranda on the upper level; just get him in shot to pass the challenge (combine it with a Dodge Challenger Demon to kill two photo tasks with one snap) and earn a Sad Snowman Head.
Photo Challenge: #HideAndSeek
Cars: Any
Location: Ek'Balam, Buena Esperanza Player House
Challenge: Photograph the snowman at the Buena Esperanza Player House near Ek'Balam
Reward: 2 points, Sad Snowman Head
It's your final chance to complete the two series-long Rivals challenges, which require you to set a clean laptime at each of two events. Although billed as a Rivals event, beating laptimes set by people on your friends list, you don't need speed, only cleanliness.
That might be a challenge in both cases. Forza EV puts you into the Cupra UrbanRebel EV at the compact Arch of Mulege Circuit. It's a quick car and there's some very close, solid barriers here, so you'll need to keep a lid on the car.
For Monthly Rivals it's even more of a challenge because not only is the Estadio Circuit at the stadium similarly enclosed, the enormous Cadillac XTS Limousive doesn't entirely fit or handle very well.
Completing each gives four points, with one point awarded to each of the four seasons — including completed weeks where necessary.
Forza EV: Arch of Mulege Circuit
Cars: Cupra UrbanRebel (provided)
Location: Mulege, Arch of Mulege Circuit
Challenge: Post a Clean Lap
Reward: 4 points (1 added to each season)
Monthly Rivals: Estadio Circuit
Cars: Cadillac XTS Limousine (Provided)
Location: Estadio Horizon, Estadio Circuit
Challenge: Post a Clean Lap
Reward: 4 points (1 added to each season)
Series 15 Spring Forzathon Shop
There's plenty of Mercedes power in this week's Forzathon Shop, but in really rather different applications.
Pagani's Zonda Cinque Roadster, one of myriad different definitely final ever Zonda models, occupies the main slot, for 700FP.
Effectively the road-legal version of the insane Zonda R, the Cinque takes all of the parts that make the R unroadworthy and just turns them down a little bit — from 11 to 10.
That means you still get a 650hp+ downforce monster capable of near 1.5G in the bends, but on road tires. Pagani only made five of them, as the name might suggest, but then it made another five with the roof cut off to make the Roadster.
It's 2.1m credits in the Autoshow, so it's much of a muchness whether you spend the coin or the points.
Backing that up is the Mercedes Tankpool racing truck, which is one of the most powerful and heaviest cars in Forza history.
The 12.8-liter straight six puts out over 1000hp, but that's somewhat tempered by the 5500kg curb weight. Still, it isn't exactly slow, with racing trucks like this purpose-built for their own race series. You can pick it up in the Autoshow for 500,000cr, or spend the 400FP here.
Store items this week are the Yellow Spaik Sundress, Green Suit Outfit, and Clock Tower Horn, at 75FP each. The Wheelspin (60FP) and Super Wheelspin (150FP) remain in their usual spots.
See more articles on Forza Horizon 5 Season Change.