The Horizon Festival's focus on oriental machinery continues this week as the weather turns stormy in the Mexican setting of Forza Horizon 5.
It's the second week of Series 17, officially called "Japanese Automotive", and as the name suggests you'll be almost exclusively driving and winning cars from Japan.
That includes some new cars — two new to the game and two new to the series itself — which you'll win for task completion within each season. There's also a new Evolving World Accolade on offer for collecting all four.
Along with the new cars, there's a selection of new wheel rims from Japanese brands available for customizing your vehicles — no matter where they're from.
There's some new Japan-inspired props and items decorating the world too, some of which form the basis for new events this Series, as well as some brand-new EventLab pieces which allow you to create your own multi-level car parks. For, you know, reasons…
Series 17: Japanese Automotive Rewards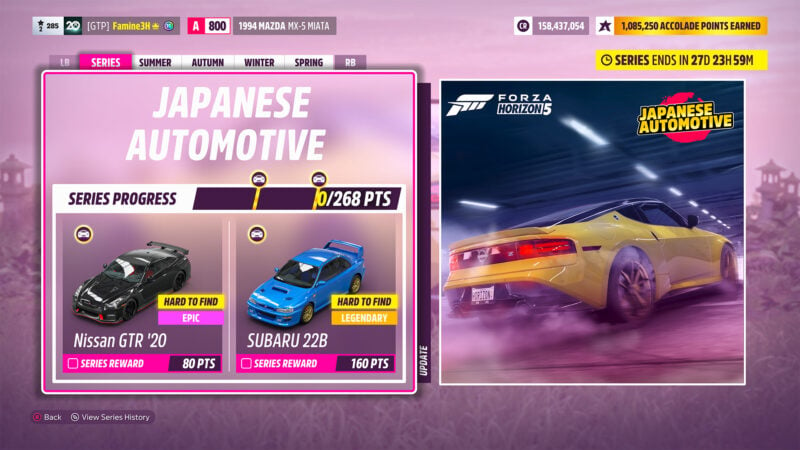 Two high-performance, all-wheel drive Japanese cars are the rewards this Series, and though neither is new they're not readily obtainable either.
Pick up 80 points in the Series and you'll win the 2020 Nissan GT-R NISMO, Nissan's definitive interpretation of the 15-year old GT-R platform.
With tech from the GT3 race car — including the turbochargers — as well as refinements in the suspension, brakes, aerodynamics, and even lighter wheels, the GT-R NISMO is scalpel compared to the regular GT-R's croquet mallet.
The 3.8-liter V6 now produces 600hp, so it's even quicker than the original, but it's how the NISMO drives that makes it a cut above.
Score 160 points and you'll pick up a 20-year older car that is in many ways a spiritual predecessor.
The Impreza 22B is a homologation special for Subaru's rallying ambitions, produced in a limited run of 424 cars — 400 for Japan and 24 across all other markets (mainly the UK).
Built into a special widebody version of the two-door coupe, the 22B is "peak Impreza" for many enthusiasts. Just about everything is upgraded, making for a much wilder ride, with the model-specific 2.2-liter version of the boxer-four turbo providing 276hp — at least officially…
In case you're wondering about the name, 22B happens to be how you'd represent the decimal number 555 — also the name of the tobacco brand sponsoring Subaru's WRC team — in base-16.
Series 17 Autumn/Storm Season Rewards
It's a very 90s look to this week's Playlist rewards, with two sporting cars from distinctly different disciplines.
Score 20 points and you'll pick up the first of those with the new-to-FH5, second-generation Toyota MR2.
The W20 model is something of an odd-one out in the MR2 range. Both the W10 and W30 were small, lightweight, relatively low-powered sports cars, but the W20 that split them was considerably bigger, heavier, and much more powerful.
In fact in its most powerful form, the W20 was developing 241hp, 100hp more than the cars either side of it — though the Japanese-market Rev3 cars with the ceramic turbo were reputedly closer to 265hp.
Pick up 40 points and you'll win the Subaru Legacy RS, the Impreza 22B's grandfather.
Prodrive, which ran Subaru's World Rally team, first entered the championship with the Legacy sedan. The RS mode here is the homologation car for the Group A regulations.
While not immediately successful — in fact only scoring one win in the hands of Colin McRae at the 1993 Rally New Zealand, along with a handful of other podium finishes — campaigning the Legacy allowed Subaru to develop the Impreza, which became one of the most successful rally cars ever made.
Autumn will run through to 1430UTC on Thursday February 16, with Series 17 running on for another two weeks until Thursday March 2.
Series 17 Autumn Playlist: Forzathon Events
While the second-generation MR2 might be the headline prize this week, it's the first-gen car that's the focus of the Weekly Challenge. Own and drive the MR2 SC '89 to get Runabout Racer underway.
It's a similar theme to last week's Skyline event. Firstly you'll need to earn a total of six stars in any Speed Traps in the MR2 (some upgrades might be necessary), before winning a Street Race in the car.
Finally you'll need to bank a total of 100,000 Skill Score in the car. The easiest way to do this in one hit is to slide, speed, and smash your way up the aerodrome's runway to hit 20,000 x 5.0 and then sit still until you bank the points.
You'll earn five points and 80FP, with the Forzathon Points doubled if you own the La Casa Solariega player house near Teotihuacan.
Weekly Challenge: Runabout Racer
Car: Toyota MR2 SC 1989

Chapter 1: Own and drive the Toyota MR2 SC '89
Chapter 2: Earn six stars in Speed Traps in the Toyota MR2 SC '89
Chapter 3: Win a Street Racing event in the Toyota MR2 SC '89
Chapter 4: Bank 100,000 Skill Score in the Toyota MR2 SC '89

Reward: 5 points, 80FP
Seven more Daily Challenges will be available, coming along at their usual rate of one per day at 1430UTC, with seven days to complete each and one point and 10FP apiece.
You'll be going to extremes with Kiwami first of all. Grab any Extreme Track Toy category vehicle and earn ten Ultimate Wreckage Skills; you'll need to smash as many breakable things as you can to rank up your Wreckage skill from Great, through Awesome, to Ultimate, ten times.
It's a Boss Battle next. Just win any Midnight Battle in any Japanese car; it's worth noting that two of the four events are themed around Japanese cars and there's an Accolade for completing them in the right one if you want to double-up.
Pick up a total of 200,000 Drift Points in any vehicle from the 1990s to complete Running in the 90's (sic); just slide your way through Drift Zones in an appropriate vehicle until you've racked up the 200k.
Sunday's Wheely Nice as you paint your vehicle's rims for an easy point.
Take a photograph of any Japanese vehicle to complete Kawaii! — the more adorable the better (although you'll still only get one point).
Be a Super Speeder next and earn ten Speed Skills in the 1997 Mazda RX-7. A straight run up the main highway will complete this, and the more heavily tuned your RX-7 the faster it'll finish the challenge.
Finally just beep the horn of an Honda vehicle to complete Honkda.
Daily Challenges
February 9 – Kiwami: Earn ten Ultimate Wreckage Skills in any Extreme Track Toy
February 10 – Boss Battle: Win a Midnight Battle in any Japanese vehicle
February 11 – Running in the 90's: Earn a total of 200,000 points at Drift Zones in any vehicle from the 1990s
February 12 – Wheely Nice: Paint your vehicle's rims
February 13 – Kawaii!: Take a picture of any Japanese vehicle
February 14 – Super Speeder: Earn ten Speed Skills in the 1997 Mazda RX-7
February 15 – Honkda: Beep your horn in any Honda vehicle
Series 17 Autumn Playlist: Season Events
It's another bumper single-player offering this week, as we still have two EventLabs as well as the two Seasonal Championships and three PR Stunts.
All three of the PR Stunts are back in the open-class, S2 (901-998PI) format, and offering two points and a Super Wheelspin for completing each. That means you can, in principle, use the same overpowered car for all three, but you're going to need three different abilities this week.
You'll need something with neutral aero to carry the flight time needed for the 500m target at the Launch Control Danger Sign, a car not fazed by water for the 95mph Watersplash Speed Zone, and a drift machine for 130,000 points in the Trailbreaker Drift Zone.
As usual the Seasonal Championships are a three-race series against Highly Skilled AI. In both cases you'll need to top the final points table to win five points to your season total.
Both take place on the terra firma of the asphalt this week. Niss'an Easy is, as you'd expect, a series for Nissan machinery, requiring a B Class (601-700PI) Nissan for a Road Racing series which, confusingly, awards a 1997 Mazda RX-7 as a bonus prize.
Spoiler Sport takes you to the night-time Street Racing series, with any B Class (601-700PI) Retro Sports Car required, and a Toyota 86 as a reward.
Your two EventLab challenges for the week are rather different in scope and execution, though both grant three points towards your season and Series completion stats.
Zhen Inaka is a tiny circuit which evokes rural Japan, and was recently a finalist in the Golden Tank awards as a photo location. Don't expect high speeds in your B Class (601-700PI) Japanese car, but complete the laps to earn a Super Wheelspin.
Project Bayside is a more expansive loop in Playa Azul, with an elevated second half of the lap. Again it's a challenge for B Class (601-700PI) Japanese cars, and watch out for the very, very many sharp edges which are layered the wrong way and will bring you to a pretty terminal halt. A "Don't Talk About Street Scene" Forza LINK greeting is your hard-earned prize.
Finally we have a Horizon Arcade event. Just choose any Horizon Arcade theme — Air, Chaos, Drift, Speed, or Wreckage — in the pink zones on your map and complete three rounds either solo or co-op (the requirements scale by the number of participants) to earn three points. Make it a Wreckage event and you can double-up the first Daily Challenge too!
Danger Sign: Launch Control
Car: S2 Class
Location: Horizon Festival, Launch Control Danger Sign
Challenge: 500m
Reward: 2 points, Super Wheelspin
Drift Zone: Trailbreaker
Car: S2 Class
Location: Gran Pantano, Trailbreaker Drift Zone
Challenge: 130,000pt
Reward: 2 points, Super Wheelspin
Speed Zone: Watersplash
Car: S2 Class
Location: Gran Pantano, Watersplash Speed Zone
Challenge: 95mph
Reward: 2 points, Super Wheelspin
Seasonal Championship: Niss'an Easy
Car: B Class, Nissan
Location: Ek'Balam, Gran Pantano Sprint
Challenge: Win the Championship
Reward: 5 points, Mazda RX-7 '97
Seasonal Championship: Spoiler Sport
Car: B Class, Japan, Retro Sports Car
Location: Copper Canyon, Canyon Run
Challenge: Win the Championship
Reward: 5 points, Toyota 86
Horizon Arcade: Mini Games
Car: Any
Location: Horizon Arcade (any)
Challenge: Complete Horizon Arcade
Reward: 3 points
EventLab: Project Bayside
Car: B Class, Japan
Location: Playa Azul, Playa Azul Circuit
Challenge: Finish the race
Reward: 3 points, "Don't Talk About Street Scene" Forza LINK
EventLab: Zhen Inaka
Car: B Class, Japan
Location: La Selva, Sierra Verde Sprint
Challenge: Finish the race
Reward: 3 points, Super Wheelspin
In addition to all of that, there's two bonus events for Hot Wheels DLC owners. These aren't required for 100% completion of the Playlist, but offer up seven extra points.
It's the Water's Edge Drift Zone in Forest Falls as the PR Stunt this week, again requiring an S2 Class (901-998PI) car of any kind. The 150,000pt target should be a relative breeze, with this particular zone being quite flat compared to other HW courses.
Flaming Hot is an open event for S1 Class (801-900PI) cars. Win the three-race series and you'll take five points and a Hot Wheels Tee.
Hot Wheels Drift Zone: Water's Edge
Car: S2 Class
Location: Hot Wheels Forest Falls, Water's Edge Drift Zone
Challenge: 150,000pt
Reward: 2 points, Super Wheelspin
Hot Wheels Seasonal Championship: Flaming Hot
Car: S1 Class
Location: Hot Wheels Ice Cauldron, Dragon's Fall Speed Circuit
Challenge: Win the Championship
Reward: 5 points, Hot Wheels Tee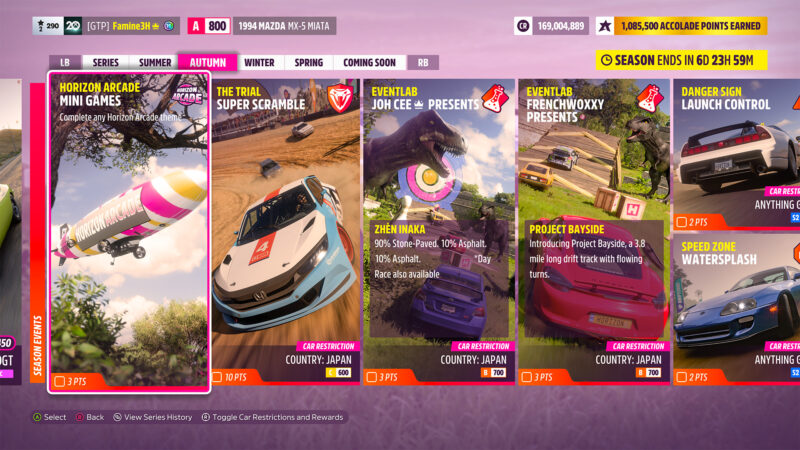 It's another lonely multiplayer list this week, and you'll need an Xbox Live Gold subscription — unless you play on PC — to access it.
Naturally that's The Trial still, a three-race team event for up to six humans against a squad of "Unbeatable" level AI.
Each player on each team earns 100 points for each opponent they beat, but there's no reward for beating team-mates. That means you should aim to help out your team-mates and hinder your rivals for best results, rather than battering your way to the front through everyone. Block the reds, help the blues.
That might be challenging this week, as the event heads to the rough stuff for a Dirt Racing series event. However speeds should be low enough, with C Class (501-600PI) cars from Japan required, to keep everything under control.
It should be pretty simple to win inside two races, for ten points and a Honda Civic Coupe.
The Trial: Super Scramble
Car: C Class, Japan
Location: Baja Circuit, Horizon Baja Scramble
Challenge: Win the Championship
Reward: 10 points, Honda Civic Coupe '16
Series 17 Autumn Playlist: Challenges
It's another two-challenge week, with another Treasure Hunt alongside the regular Photo Challenge.
The Photo Challenges this series all revolve around a new object: the ishi-doro, or Japanese stone lantern. Each week a group of these pedestal lanterns will appear at a different location, and you'll need to find them and photograph the required vehicle next to them.
For #InfinitiPool this week you'll need to take a picture of any Infiniti or Nissan vehicle with the doro in Cascadas de Agua Azul. Like last week, they're hidden but a nearby maneki-neko cat gives you a clue; look to the river bank directly south of the main waterfall. Take the photo to earn two points and a "Beautiful!" Forza LINK greeting.
The Treasure Hunt this week, 370ception, is all about the number 370. Your clue is "Speed through the Zones for 370 in a 370", and that should be relatively obvious as clues go.
Grab a Nissan 370Z — not the NISMO as it doesn't count for some reason — and rack up a total score of 370mph through any Speed Zones; you'll probably need to go back a couple of times, unless there's an X999 build we don't know about. We used the Mountain Pass zone as it's short and relatively quick.
Once that's completed the treasure hint will appear, directing you to the Sierra Verde Dam. Find and smash the chest, in plain sight on the south edge of the bridge over the overspill gates, to earn three points and 100FP.
Treasure Hunt: 370Ception
Cars: Nissan 370Z
Location: Any Speed Zone
Challenge: Reach a total of 370mph in the Nissan 370Z '10 in Speed Zones, find and smash the Treasure Chest
Reward: 3 points, 100FP
Photo Challenge: #InfinitiPool
Cars: Infiniti/Nissan
Location: Cascadas de Agua Azul
Challenge: Photograph any Nissan or Infiniti next to the stone lanterns in Cascadas de Agua Azul
Reward: 2 points, "Beautiful!" Forza LINK
The two new Rivals challenges remain in place, with three weeks left to run. In each case you'll earn four points for completion, with one point distributed to each of the four seasons in the series regardless of when you complete them — even to past weeks.
As ever, you'll need a clean laptime at the tracks indicated, using the vehicles provided to you; they're classed as Rivals events, but there's no need to beat any laptimes like a regular Rivals challenge. Just get round the lap and keep it clean by avoiding any contact with solid objects.
For the Monthly Rivals event, you'll be doing a lap of the Plaza Circuit in Guanajuato in the new Nissan Z; barriers and buildings will threaten your cleanliness, so keep it well clear. Tierra Prospera Circuit hosts Forza EV and the distinctly non-Japanese Rimac Concept Two — as there's no Japanese EVs in the game. It should be easier, but that first big braking zone from the Rimac's massive speeds will be key.
Forza EV: Tierra Prospera Circuit
Cars: Rimac Concept Two (Provided)
Location: Tierra Prospera, Tierra Prospera Circuit
Challenge: Post a Clean Lap
Reward: 4 points (1 added to each season)
Monthly Rivals: Plaza Circuit
Cars: Nissan Z '23 (Provided)
Location: Guanajuato, Plaza Circuit
Challenge: Post a Clean Lap
Reward: 4 points (1 added to each season)
Series 17 Autumn Forzathon Shop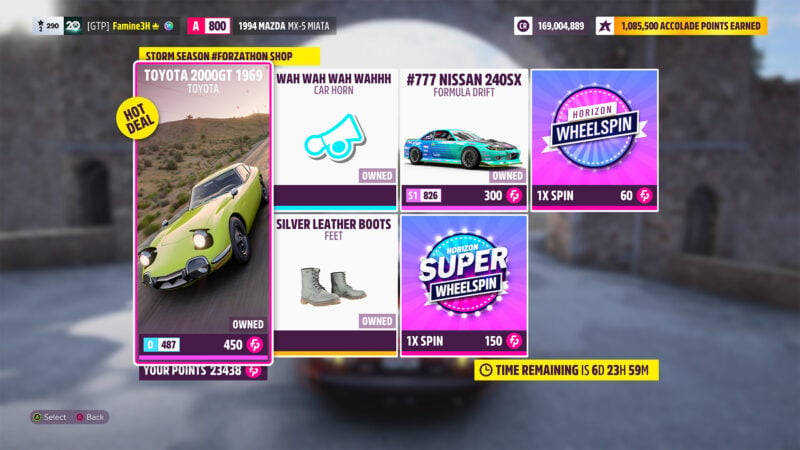 It's another Japanese lineup in the Forzathon Shop this week, to nobody's surprise.
Toyota's significant 2000GT is the headlining car, and it's hard to overstate how important it is to the country's automotive history.
Up until the 2000GT, Japanese cars had been somewhat "earnest" in design, but the 2000GT — previewed at least domestically by the Sports 800 you can win later in the Series — proved that the country could do beautiful sports cars too.
Although it only boasts a modest 150hp from a two-liter straight six, the 2000GT could reach 135mph, keeping up with the Europeans of the day. A starring role in the James Bond film You Only Live Twice only helped cement its reputation, and the 300+ examples today command $1m bids at auction.
It's yours for just 450FP, though the 750,000cr purchase price in the Autoshow is no less tempting.
For 300FP you can pick up the #777 Formula Drift Nissan 240SX. This drift machine packs one of the maddest engines fitted into the S14 chassis, with a seven-liter V8 from a Corvette supercharged up to over 1,250hp.
There's nothing quite like it for racking up the points in Drift Zones, although sadly it won't count for the relevant Daily Challenge this week as it's classed as an American car. At 300,000cr in the Autoshow, it's probably less expensive to buy it too.
Store items this week are the Silver Leather Boots and Wah Wah Wah Wahhh Horn, at 75FP each. The Wheelspin (60FP) and Super Wheelspin (150FP) remain in their usual spots.
See more articles on Forza Horizon 5 Season Change.