Horizon Festival continues its trip through the culture of Japanese cars in the third week of the season, which brings the dry winter to Mexico.
Forza Horizon 5's Series 17 is officially called "Japanese Automotive", and if you didn't already suspect from that name and the description above, you'll be driving and winning cars from Japan almost exclusively this Series.
There's some new cars — some new to the game and some new to the series as a whole — offered up for completing the seasonal challenges, as well as an Evolving World Accolade on offer for collecting all four.
You'll also find new wheel rims from Japanese brands added to the game, although these are purely decorative items and available directly from the car design area of the Festival.
EventLab gets a boost this Series, with new pieces that allow you to create the perfect car park (or the most evil one imaginable), along with new props inspired by Japan that also form the basis for some new events.
Series 17: Japanese Automotive Rewards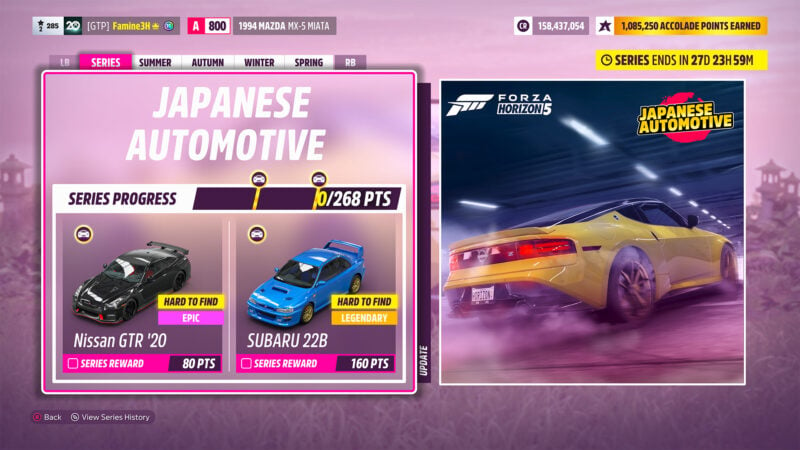 As it's now week three of the Series, you should already have one of the Series reward cars in your garage — and the other is available for the first time this week. Neither is new to the game, but nor are they cars you can just buy, so it's worth aiming for both.
For 80 points in the Series you'll receive the 2020 Nissan GT-R NISMO. It might be based on a 15-year old platform — and yes, the GT-R really is that old now — but it has been honed in every department to make for an almost entirely different car.
A good chunk of that comes from GT3 racing know-how. Nissan has brought a lot of tech back from its international racing program and stuffed it into the GT-R NISMO, including the turbochargers which now help the 3.8-liter V6 up to 600hp.
However it's the less headlining components that really do the trick, with changes to the suspension, brakes, wheels, aerodynamics, and the various electronics within — including the gearbox programming and the AWD system — that make it a very different car to drive.
At 160 points you'll receive a much older car but one which isn't that far removed in terms of concept.
Subaru's Impreza WRX was already an impressive performance car in STI guise, and well on its way to rally stardom. However Subaru sought to improve both, and created the 22B as a roadgoing homologation model for an even better rally car.
It's based on the two-door coupe model, but in a custom widebody variant. Also model-specific is the 2.2-liter boxer-four turbo — up from two liters of the regular car — which still produces an official "gentleman's agreement" 276hp but with a wider, flatter, higher torque curve.
Subaru only produced 424 cars, with 400 for Japan and 24 across all other markets — largely the UK, which eats up cars of this type — but it represents the pinnacle of the Impreza for most enthusiasts, even if you can get more powerful and faster modern models.
Series 17 Winter/Dry Season Rewards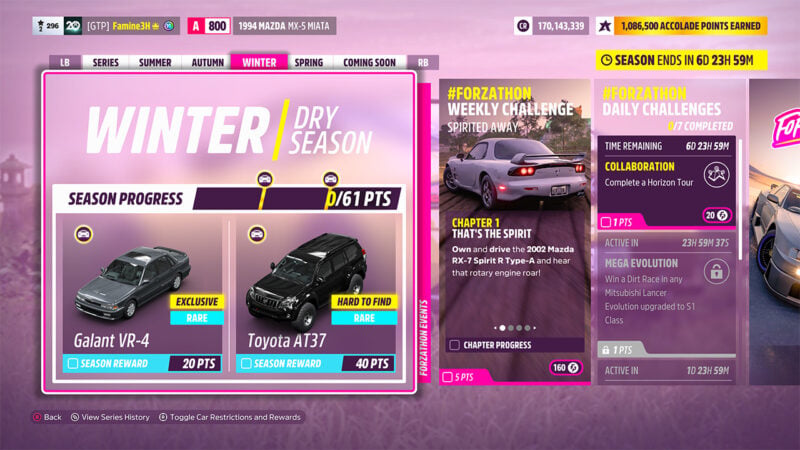 This week sees an unusual playlist prize, with a car that's returning to Forza Horizon 5 but at the same time also isn't. That's the Mitsubishi Galant VR-4, which is available for 20 points this week.
Like the Subaru Legacy RS that was available last week, the Galant VR-4 was the basis of a Group A rally car in the World Rally Championship, campaigned by the European arm of the brand — under Ralliart.
It sported a two-liter turbo engine, good for around 200hp in street trim, mated to a four-wheel drive system with a viscous center differential (VR-4 literally means "viscous real-time four-wheel drive") — as well as four-wheel steering, four-wheel independent suspension, and four-wheel ABS brakes.
As the trend for Group A cars shifted towards smaller models, Ralliart looked to the Lancer to replace the Galant and, much as Subaru did with the change from Legacy to Impreza, created a rally legend in the process.
Oddly, the Galant has been in FH5 since launch, but only as an NPC traffic car. This will be the first time players can use the vehicle though.
At 40 points you'll have another chance to pick up one of the most landscape-appropriate cars in the game in the shape of the Toyota Land Cruiser AT37.
The ordinary Land Cruiser is already a pretty robust off-roader, but Arctic Trucks specializes in making cars capable of so much more. AT upgrades just about every component on the vehicle, including the frame itself, to create an "extreme mobility vehicle".
It may not be the quickest car out there (at least as standard), but there's nothing else quite as comfortable at cruising up the slopes of an active volcano…
Winter will run through to 1430UTC on Thursday February 23, with Series 17 running on for another week until Thursday March 2.
Series 17 Winter Playlist: Forzathon Events
It's Mazda's turn to be the center of the Weekly Challenge this week; own and drive the 2002 RX-7 Spirit R to get Spirited Away started.
From there it's a relatively familiar set of challenges, following the theme of the Skyline and MR2 events. Firsly score six stars at Danger Signs in the car, then win any Street Racing event to complete the third chapter.
Your final challenge is to earn six stars in Drift Zones, which will earn you the five points and 80FP, with the Forzathon Points doubled if you own the La Casa Solariega player house near Teotihuacan.
Weekly Challenge: Spirited Away
Car: Mazda RX-7 Spirit R Type A 2002

Chapter 1: Own and drive the Mazda RX-7 '02
Chapter 2: Earn six stars at Danger Signs in the Mazda RX-7 '02
Chapter 3: Win a Street Racing event in the Mazda RX-7 '02
Chapter 4: Earn six stars at Drift Zones in the Mazda RX-7 '02

Reward: 5 points, 80FP
Your seven Daily Challenges drop at 1430UTC each day. Each gives you seven days to complete (overlapping into next season for later ones), with one point and 10FP for each one you check off.
It's a Collaboration first, as you'll team up with other players to complete a Horizon Tour. This is also part of the Season Events this week, so whenever you complete it you'll get four points for the effort of one.
Mega Evolution occurs next. Just win a Dirt Racing Series event in any Mitsubishi Lancer Evo that has been upgraded to the S1 Class (801-900PI).
Complete any Challenge Card in free roam next, to prove it's Challenge Accepted.
You'll need to get your high slide on for North Crater. Earn five Drift Skills (e-Drift Skills also count) while at the area atop La Gran Caldera to complete.
Oddly FH5 marks Dia Del Amor Y La Amistad (more or less St. Valentine's Day) on February 20. Take a photo of any other vehicle than your own.
It's Race Day next, so win a Road Racing Series event in the 2017 Acura NSX. Although when isn't it race day in a racing game?
Finally dodge 10,000 Needles by smashing up ten cactuses while driving any Japanese vehicle. You'll earn a Smactus skill each time you trigger the action, so this may require a few more than ten.
Daily Challenges
February 16 – Collaboration: Complete a Horizon Tour
February 17 – Mega Evolution: Win a Dirt Race in any Mitsubishi Lancer Evo upgraded to S1 Class
February 18 – Challenge Accepted: Complete a Challenge Card in free roam
February 19 – North Crater: Earn five Drift Skills at the top of La Gran Caldera
February 20 – Dia Del Amor Y La Amistad: Take a photo of another vehicle
February 21 – Race Day: Win a Road Race in the 2017 Acura NSX
February 22 – 10,000 Needles: Smash 10 Cactuses in any Japanese vehicle
Series 17 Winter Playlist: Season Events
Everything arrives in pairs this week, with two PR Stunts, two Seasonal Championships, two EventLabs, and two Multiplayer events.
The PR Stunts remain open-class, with any S2 Class (901-998PI) vehicle eligible for two points and a Super Wheelspin for each. It may be easier to have two different cars this week though, as the challenges require off-road traction and drift ability.
Naturally that latter item is a Drift Zone, specifically the Costera zone on the outskirts of Playa Azul. Just hit 100,000pt to pass (and since a leaderboard reset, it might be a new personal best for you). The Speed Trap meanwhile is on the dirt road east of the Baja Circuit; the 165mph target isn't tricky, but you might need a good, direct cross-country run.
The Seasonal Championships are their usual three-race series against Highly Skilled AI. In both cases you'll need to top the final points table to win five points to your season total.
Honda Pressure is a Street Racing Series event, so watch out for NPC traffic (if any actually loads). You'll need a B Class (601-700PI) Honda to take part, and there's an Acura Integra for victory.
It's off to the Dirt Racing Series for Rally Heroes. This is a slightly slower challenge for C Class (501-600PI) Retro Rally category cars from Japan, and there's a Subaru BRZ for winning.
Each of the EventLab challenges offers three points towards your season and Series completion stats, and again they're a little different.
Unsurprisingly, Puanke Hill Touge is a compact, point-to-point course with serious switchbacks. Even in the B Class (601-700PI) Japanese cars required, it won't take long to complete — but watch out for the digger… A Tuning Hoodie clothing item is your prize.
The VuKKuu Imperial Circuit is a relatively simple loop through a temple-dominated landscape. You might spot some rather florid requirements in the description, but you only need to complete your laps in a B Class (601-700PI) Japanese car to earn the points and a Super Wheelspin. Also turn right at the roundabout instead of following the course left.
Drift Zone: Costera
Car: S2 Class
Location: Playa Azul, Costera Drift Zone
Challenge: 100,000pt
Reward: 2 points, Super Wheelspin
Speed Trap: Baja California
Car: S2 Class
Location: Dunas Blancas, Baja California Speed Zone
Challenge: 165mph
Reward: 2 points, Super Wheelspin
Seasonal Championship: Honda Pressure
Car: B Class, Honda
Location: Guanajuato, Tunnel Run
Challenge: Win the Championship
Reward: 5 points, Acura Integra
Seasonal Championship: Rally Heroes
Car: C Class, Japan, Retro Rally
Location: Pantano de la Selva, Mangrove Scramble
Challenge: Win the Championship
Reward: 5 points, Subaru BRZ
EventLab: Puanke Hill Touge
Car: B Class, Japan
Location: Gran Caldera, Festival Gatecrash
Challenge: Finish the race
Reward: 3 points, Tuning Hoodie
EventLab: VuKKuu Imperial Circuit
Car: B Class, Japan
Location: Los Jardines, Bajio Trail
Challenge: Finish the race
Reward: 3 points, Super Wheelspin
There's the usual pair of bonus events for Hot Wheels DLC owners too. You can score 100% on the Playlist without them, so they're there as an alternative source of points — seven of them — if you have the DLC.
This week's PR Stunt is the Forest Escape Danger Sign. It's another open event, requiring an S2 Class (901-998PI) car, and the 350m distance isn't too tricky if you can land in clear space in Cloud Forest below. There's two points and a Super Wheelspin on offer.
Wheely Cool brings back the Japanese restrictions after a week off. You'll need a B Class (601-700PI) Japanese car for the event, with five points and a Mitsubishi GTO for winning the three-race series.
Hot Wheels Danger Sign: Forest Escape
Car: S2 Class
Location: Hot Wheels Forest Falls, Forest Escape Danger Sign
Challenge: 350m
Reward: 2 points, Super Wheelspin
Hot Wheels Seasonal Championship: Wheely Cool
Car: B Class, Japan
Location: Hot Wheels Forest Falls, Forest Falls Hazard Sprint
Challenge: Win the Championship
Reward: 5 points, Mitsubishi GTO
A pair of multiplayer events awaits, and you'll need an Xbox Live Gold subscription — unless you play on PC — to access them.
This week the Horizon Tour joins the events list. It's a three-race championship for a team of up to six humans against six "Highly Skilled" AI. Each player on each team earns 100 points for each opponent they beat, but there's no reward for beating team-mates.
That means you'll need to help each other out as much as possible while hindering the 'bots. Car choice is free, but it depends on which event "hopper" you drop into as to what the restrictions are — and these vary greatly.
However there's also a twist: you'll need to drive from the finish of one race to the start of the next. There's no actual reward for doing this, but you get bragging rights. Win the Tour and you'll score three points — or technically four, since it's also the first Daily Challenge this week.
The Trial remains in place and it's in much the same format but without the requirement to traverse the landscape between races and with the AI turned up to "Unbeatable".
This week it's a Road Racing Series event for B Class (601-700PI) Japanese vehicles, so that should keep everything nice and under control for everyone — as rogue humans tend to be the biggest challenge here. Win as a team to earn ten points and a 1990 Mazda RX-7.
Horizon Tour: Co-op Championships
Car: Any
Location: Horizon Festival, Horizon Tour
Challenge: Win the Championship
Reward: 3 points
The Trial: Circuit Control
Car: B Class, Japan
Location: Estadio Horizon, Estadio Circuit
Challenge: Win the Championship
Reward: 10 points, Mazda RX-7 1990
Series 17 Winter Playlist: Challenges
Three challenges are available this week, but Treasure Hunt takes a back seat. Instead the regular Photo Challenge is joined by The Eliminator and a new Collectibles challenge.
The Eliminator requires Xbox Live Gold subscription — unless you play on PC — to access, but it is in its usual format. Just finish 30th or better in any round of The Eliminator, which is usually a matter or surviving two minutes, to win two points and a Nissan Titan.
It's another ishi-doro Photo Challenge this week, with #RedVsBlue sending you to Aerodromo en la Selva to find the Japanese stone lantern.
You'll need to take a photo of any Mitsubishi or Subaru by the lanterns, which are located at the air traffic control tower on the south side of the runway, to earn two points and the Halo Shield Recharge Horn.
The Collectibles challenge, Purfect!, is one you can pair with that as you'll also need to be at the Aerodromo for this, hunting down maneki-neko — or "Lucky Cat" — statues. One will be right by the lanterns, so smash it and seven others (dotted around the hangars) to complete the challenge and earn three points and a Super Wheelspin.
Collectibles: Purfect!
Cars: Any
Location: Aerodromo en la Selva
Challenge: Collect 8 Lucky Cats in Aerodromo en la Selva
Reward: 3 points, Super Wheelspin
Photo Challenge: #RedVsBlue
Cars: Mitsubishi/Subaru
Location: Aerodromo en la Selva
Challenge: Photograph any Mitsubishi or Subaru next to the stone lanterns in Aerodromo en la Selva
Reward: 2 points, Halo Shield Recharge Horn
The Eliminator: Battle Royale
Cars: Any (provided)
Location: Valle de las Ranas
Challenge: Finish 30th or better in the Eliminator
Reward: 2 points, Nissan Titan
There's two weeks remaining on the two Rivals challenges. In each case you'll need a clean laptime at the tracks indicated, using the vehicles provided to you. There's no need to beat any laptimes like a regular Rivals challenge, just keeping it clean is enough.
For each you'll earn four points for completion, with one point distributed to each of the four seasons in the series regardless of when you complete them — even to past weeks.
Monthly Rivals sends you to the Plaza Circuit in Guanajuato in the new Nissan Z. There's lots of objects to invalidate your lap here, but keep it off the barriers and buildings to set your time. Meanwhile Tierra Prospera Circuit hosts Forza EV. As there's no Japanese EVs in the game, you're using the Rimac Concept Two, and you will need to watch out for that first big braking zone given the Rimac's enormous pace and weight.
Forza EV: Tierra Prospera Circuit
Cars: Rimac Concept Two (Provided)
Location: Tierra Prospera, Tierra Prospera Circuit
Challenge: Post a Clean Lap
Reward: 4 points (1 added to each season)
Monthly Rivals: Plaza Circuit
Cars: Nissan Z '23 (Provided)
Location: Guanajuato, Plaza Circuit
Challenge: Post a Clean Lap
Reward: 4 points (1 added to each season)
Series 17 Winter Forzathon Shop
Nissan takes the spotlight in this week's Forzathon Shop, with two vehicles built for very different endurance events.
It's the GT-R LM NISMO taking center stage, with the R33 Skyline-based Le Mans racer available for 500FP.
This one-off homologation model was built specifically for Nissan to enter the GT1 class at Le Mans after its Group C program came to an end. With a more powerful N1 engine, all the weight stripped out, and unique high downforce bodywork, the GT-R LM looked pretty mean.
However it was up against the McLaren F1 GTR, and was pummelled by 27 laps. In fact it even finished behind the GT2-class NSX, but the one homologation car built is still a significant piece of history. At 1.1m credits in the Autoshow, it might be worth spending the points this week if you don't already have it.
The second endurance Nissan is an off-roader. Built for Dakar exploits and loosely based on the Nissan Navara, the Pickup Rally Raid is just what you need for the sand dunes of Mexico. However, at 300FP we'd be tempted to spend the 500,000cr in the Autoshow instead.
Store items this week are the Nature Horn and The Robot Emoji, at 75FP each. The Wheelspin (60FP) and Super Wheelspin (150FP) remain in their usual spots.
See more articles on Forza Horizon 5 Season Change.