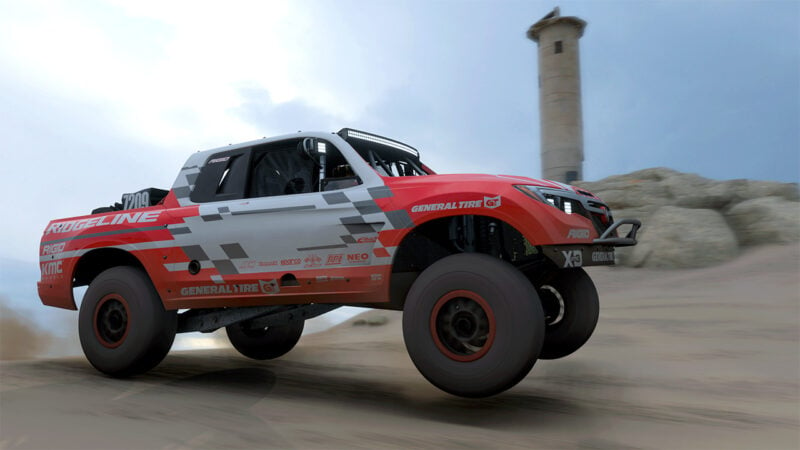 You'll be heading into the wilds of Mexico once again this week, as the second season of Forza Horizon 5's Series 18 has arrived.
Called "Horizon Wilds Takeover", Series 18 is all about driving in the rough stuff. It's named for the game's dirt racing hub, Horizon Wilds, which gets a makeover this month too.
As well as driving on dirt courses, the bulk of the vehicles offered as rewards this Series are meant for the rally stages. You'll receive prizes suited to all kinds of off-road racing, from Extreme E cars to dirt buggies.
Among them are seven new vehicles, two of which are new to the entire Forza franchise, and you'll also pick up some Accolades for owning all of them.
That's not the only Evolving World Accolade either, as there's a special set connected to Hoonigan vehicle to mark the life of Ken Block. There's also the return of the Horizon Stunt Park within the Horizon Stadium, with reworked colors compared to the first iteration.
It all serves as an amuse bouche for the game's second expansion, Rally Adventure, which arrives just as the Series comes to a close at the end of the month.
Series 18: Horizon Wilds Takeover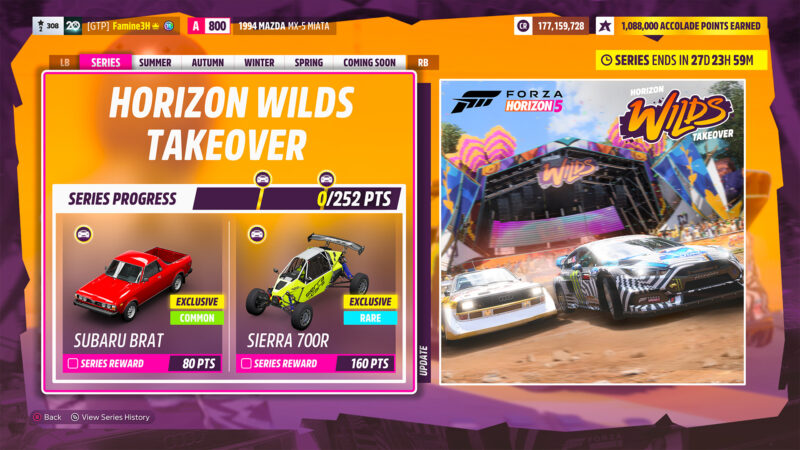 There's a pair of new vehicles on offer this month, consisting of one that returns to Horizon and one that's an all-new vehicle — albeit a variant of a car already in the game.
Score 80 points across the Series, which you should be aiming to do this week, and you'll win the returnee: Subaru's BRAT.
A small pickup, the BRAT was actually classed as a car. That's because it featured a pair of rear-facing plastic seats in the load bay area, allowing Subaru to skirt round punitive import duties for light trucks.
It's based on the two-door Subaru Leone, with the back end of the roof lopped off and replaced with a pickup bed. The BRAT features standard all-wheel drive and Subaru's boxer four engine — in 1.6- or later 1.8-liter forms.
Oddly, the new-to-franchise car sits at the higher 160-point bracket, with the Sierra Cars 700R available from next week's Winter season.
Sibling to the game's existing RX3, the 700R adds a budget offering to the Utah company's range. It's developed from the RX3, but features a significantly less potent power source.
Rather than the 200hp, 1.3-liter Suzuki Hayabusa bike engine of the RX3, the 700R uses a single-cylinder, 45hp engine sourced from the Yamaha Raptor 700 quad bike. That makes the 700R lighter and more manageable than the pretty wild RX3.
Series 18 Autumn/Storm Season Rewards
There's another new vehicle, in the lower 20-point slot, available this week, in the shape of Honda's Ridgeline Trophy Truck.
While it looks like a version of the Ridgeline pickup, you'll probably be unsurprised to learn that the Baja 1000 competitor is in fact not directly related but a composite shell over a tubular spaceframe chassis.
Developed by Honda's motorsports arm HPD, the Trophy Truck features a twin-turbo version of the Ridgeline's 3.5-liter V6, good for 550hp.
Despite being made of very little and designed for one of the world's maddest off-road races, the Ridgeline is over two tons in weight and rear-wheel drive. It's also a multiple class winner — including at the Baja 1000 itself.
For 40 points you'll win a car that's very much not suited to off-road racing, with the Hyundai Veloster N hot hatch.
This is ultimate interpretation of Hyundai's asymmetrical hatchback — it has one door on the offside, and two on the nearside — with the "N" performance sub-brand giving the Veloster a thorough going-over.
That brings in the running gear from the i30N, making for a 265hp turbo four powering the front wheels only.
Autumn will run through to 1430UTC on Thursday March 16, with Series 18 continuing for another two weeks until the same time on Thursday March 30.
Series 18 Autumn Playlist: Forzathon Events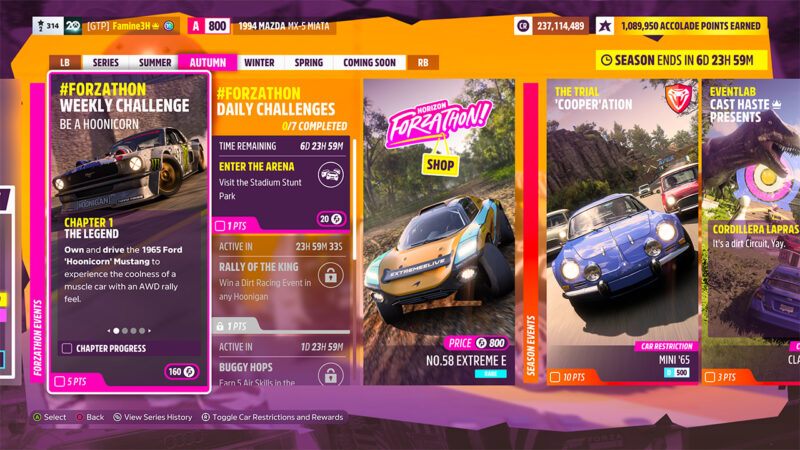 The Hoonigan-themed Weekly Challenges continue, this time putting you into the Mustang-based Hoonicorn for a set of events. Own and drive the car — not the Gymkhana 10 variant — to get Be a Hoonicorn underway.
Take the Hoonicorn to victory in any Street Racing Series event to complete the next stage, then get your vandalism out to smash a taco cart. There's plenty in any of the major towns; just look for the stripy sun shade.
Finally earn seven Drift or E-Drift Skills — either get the car sliding and power through it, or yank the handbrake and do the same — to finish the event. You'll earn five points and 80FP, with the Forzathon Points doubled if you own the La Casa Solariega player house near Teotihuacan.
Weekly Challenge: Ready to Hoon
Car: Hoonigan Ford "Hoonicorn" Mustang 1965

Chapter 1: Own and drive the Hoonigan Mustang '65
Chapter 2: Win a Street Racing event in the Hoonigan Mustang '65
Chapter 3: Smash a Taco Cart in the Hoonigan Mustang '65
Chapter 4: Earn seven Drift/E-Drift Skills in the Hoonigan Mustang '65

Reward: 5 points, 80FP
There's seven more Daily Challenges this week, coming at 1430UTC each day. You'll get seven days to complete each (which runs into next season for the later ones), with one point and 10FP for passing each one.
Just visit the Stadium Stunt Park to complete the first challenge, Enter the Arena. You'll be heading back later in the week, so it's not worth making a special effort for this.
Win any Dirt Racing Event using a Hoonigan vehicle next, to complete Rally of the King.
Starting on Saturday, complete five Air Skills — that's all four wheels off the floor and a safe landing — using any Buggy category vehicle in the Stadium Stunt Park for Buggy Hops.
Next up grab some Hang Time by jumping a total of 610m (2000ft) at any Danger Signs. There's a few places you can do this in one go, but you can also repeat jumps or even use Rewind to complete it.
Be a Bird Watcher on Monday, and take a photo of the 2018 Jeep Trackhawk. You can win this car from the Hot Wheels Seasonal Championship this week, if you have access to it.
Paint your vehicle's body — at any Festival site or player Home — to complete a Lick of Paint next.
Round out the week with Cactus Makes Perfect, and smashing up 12 cactuses in any all-wheel drive (and presumably four-wheel drive too) vehicle.
Daily Challenges
March 9 – Enter the Arena: Visit the Stadium Stunt Park
March 10 – Rally of the King: Win a Dirt Racing Event in any Hoonigan
March 11 – Buggy Hops: Earn five Air Skills in the Stadium Stunt Park in any Buggy
March 12 – Hang Time: Jump a total of 610m/2000ft at Danger Signs
March 13 – Bird Watcher: Take a photo of the 2018 Jeep Trackhawk
March 14 – Lick of Paint: Paint your vehicle's body
March 15 – Cactus Makes Perfect: Smash 12 Cactuses in any AWD vehicle
Series 18 Autumn Playlist: Season Events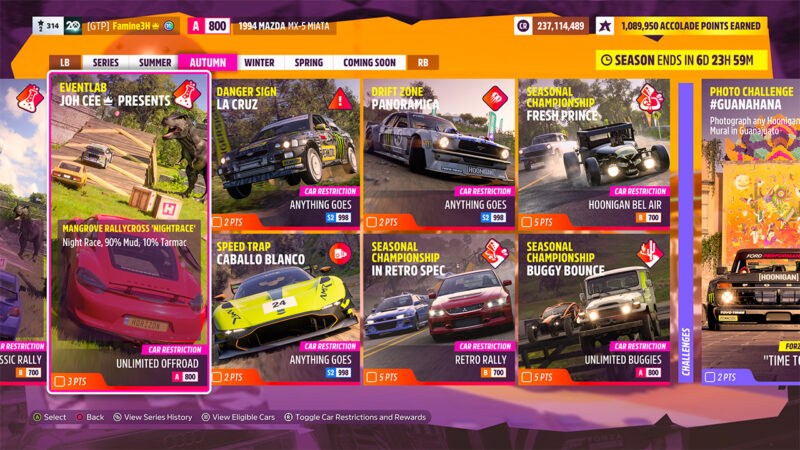 It's another suite of dirt-based events this week, with all of the single-player events taking place on dirt tracks or mixed surfaces. There's three PR Stunts and three Seasonal Championships, along with two EventLabs to stick to a recent trend.
Once more, the PR Stunts are open-class events, with S2 Class (901-998PI) limits — though you can also use lower category vehicles — and each gives two points and a Super Wheelspin.
As with last week, they appear as a cluster, all around the outskirts of Guanajuato. There's the La Cruz Danger Sign, the Panoramica Drift Zone, and the Caballo Blanco Speed Trap.
The targets are, in each case, beyond three-stars for the relevant stunts, but for the most part they're easily achieveable if on the challenging side. You'll need a relatively straight run to hit 160mph in the Speed Trap, but the 77,000pt target for the Drift Zone is just a matter of familiarity. Watch out with the La Cruz Danger Sign as the ramp can glitch and show you hitting a jump of mere inches — and be sure to land on the road…
Two of the three Seasonal Championships — each a three-race series against Highly Skilled AI — are Dirt Racing events, with Cross Country oddly occupying the third slot. In all cases you'll need to top the final points table to win five points to your season total.
Buggy Bounce is the Cross Country event, for A Class (701-800PI) Unlimited Buggies. There's a Toyota FJ40 available for victory.
You'll need B Class (601-700PI) cars for the Dirt Racing events, with In Retro Spec open to Retro Rally cars and awarding a 2006 Mitsubishi Lancer Evo MR, and Fresh Prince restricted to just the Hoonigan Bel Air and gifting a Hot Wheels Bone Shaker for the win.
Both EventLab races run on mixed-surface tracks and give three points each. You'll need a B Class (601-700PI) Classic Rally car for Cordillera Lapras, which is a neat little rally stage in Cordillera — watch out for the hairpin right after the water splash — and awards a Horizon Mexico Intro Horn for completing the one lap allotted.
Mangrove Rallycross Nightrace is set in the swamp near Riviera Maya, and consists of a three-lap run of a custom track. It's open to A Class (701-800PI) Unlimited Offroad cars, but watch out for carrying too much speed on the jumps. There's a Super Wheelspin upon completion.
EventLab: Cordillera Lapras
Car: B Class, Classic Rally
Location: Cordillera, Cordillera Trail
Challenge: Finish the race
Reward: 3 points, Horizon Mexico Intro Horn
EventLab: Mangrove Rallycross Nightrace
Car: A Class, Unlimited Offroad
Location: Riviera Maya, Mangrove Scramble
Challenge: Finish the race
Reward: 3 points, Super Wheelspin
Danger Sign: La Cruz
Car: S2 Class
Location: Guanajuato, La Cruz Danger Sign
Challenge: 230m
Reward: 2 points, Super Wheelspin
Drift Zone: Panoramica
Car: S2 Class
Location: Guanajuato, Panoramica Drift Zone
Challenge: 77,000pt
Reward: 2 points, Super Wheelspin
Speed Trap: Caballo Blanco
Car: S2 Class
Location: Hotel Castillo, Caballo Blanco Speed Trap
Challenge: 160mph
Reward: 2 points, Super Wheelspin
Seasonal Championship: Buggy Bounce
Car: A Class, Unlimited Buggies
Location: Gran Caldera, El Descenso Cross Country
Challenge: Win the Championship
Reward: 5 points, Toyota FJ40
Seasonal Championship: Fresh Prince
Car: B Class, Hoonigan Bel Air
Location: Atlantes de Tula, La Selva Scramble
Challenge: Win the Championship
Reward: 5 points, Hot Wheels Bone Shaker
Seasonal Championship: In Retro Spec
Car: B Class, Retro Rally
Location: Copper Canyon, Barranca Trail
Challenge: Win the Championship
Reward: 5 points, Mitsubishi Lancer MR '06
There's the usual additional points for Hot Wheels DLC owners; they're not required for 100% completion of the Playlist, but are a bonus — or a helping hand if necessary.
The PR Stunt this week is Canyon Jump in Giant's Canyon. Its 400m target this week is barely an inconvenience, and you will be able to walk it in any of the S2 Class (901-998PI) cars allowed — for two points and a Super Wheelspin.
You'll need an S2 Class car (901-998PI) for the Seasonal Championship, All American, too. However only cars from the USA are allowed into this three-race championship against the Highly Skilled AI. There's five points and a Jeep Trackhawk for winning.
Hot Wheels Danger Sign: Canyon Jump
Car: S2 Class
Location: Hot Wheels Giant's Canyon, Canyon Jump Danger Sign
Challenge: 400m
Reward: 2 points, Super Wheelspin
Hot Wheels Seasonal Championship: All American
Car: S2 Class, USA
Location: Hot Wheels Nexus, Nexus Speed Sprint
Challenge: Win the Championship
Reward: 5 points, Jeep Trackhawk
There's just one multiplayer event this week, for which you'll need an Xbox Live Gold subscription — unless you play on PC — in order to access.
Of course that's The Trial, which has never been absent from the weekly Playlist. This event consists of a three-race championship for a team of up to six humans against six "Unbeatable" AI.
Each player on each team earns 100 points for each opponent they beat, but there's no reward for beating team-mates. That means you'll need to help each other out as much as possible while hindering the 'bots.
Flying in the face of the Dirt Racing theme, it's a Road Racing Series event this week, for D Class (≤500PI) Mini Coopers from 1965. That should mean speeds are low, grip is high, and crashing into each other should only happen in the dumbest of cases.
It'll be an easy two-race win this week (if your team-mates remember to tune their cars…), with ten points for your Playlist and an original 1973 Alpine A110 as a bonus.
The Trial: 'Cooper'ation
Car: D Class, Mini Cooper 1965
Location: Horizon Rush Outpost, Lookout Circuit
Challenge: Win the Championship
Reward: 10 points, Alpine A110 '73
Series 18 Autumn Playlist: Challenges
It's just two Challenges this week, with a new Collectibles event joining the Photo Challenge.
The Photo Challenge, #Guanahana, is another Hoonigan-themed task. You'll need to take any Hoonigan vehicle to Spaik's Mural in Guanajuato and take a picture. To save you hunting, that's close to the Panoramica Sprint map marker, just where one of the city's tunnels exits. The reward is two points and a "Time to Hoon?" Forza LINK greeting.
A new Collectible awaits you in the Horizon Stadium Stunt Park this week, with a dinosaur-shaped pinata the object of your destruction.
Using any car, smash up 20 of these tiny dinos to earn three points and a natty Dinosaur Outfit for your avatar.
Collectibles: Pinatasaurus
Cars: Any
Location: Horizon Stadium Stunt Park
Challenge: Smash 20 dinosaur pinatas around the Stadium
Reward: 3 points, Dinosaur Outfit
Photo Challenge: #Guanahana
Cars: Hoonigan
Location: Guanajuato
Challenge: Photograph any Hoonigan at the Spaik's Mural in Guanajuato
Reward: 2 points, "Time to Hoon?" Forza LINK
The two Rivals challenges remain in place for the entire Series, so there's more opportunity to complete them this week if you haven't already.
In each case you'll need a clean laptime at the tracks indicated, using the vehicles provided to you. Although listed as Rivals event, there's no need to beat any laptimes, so take it easy to keep it clean.
Oddly, after months of consistency, there's no Forza EV event this month. Instead it's two regular Rivals events using new cars this Series.
Both are loose-surface events, so you'll need to keep control to pass. La Selva Scramble uses the Hoonigan Gymkhana 9 Focus RS RX, while River Scramble employs the Sierra Cars 700R.
Each offers four points for completion — with one point distributed to each of the four seasons in the series regardless of when in the Series you complete them.
Monthly Rivals: La Selva Scramble
Cars: Hoonigan Gymkhana 9 Focus RS RX (Provided)
Location: Atlantes de Tula, La Selva Scramble
Challenge: Post a Clean Lap
Reward: 4 points (1 added to each season)
Monthly Rivals: River Scramble
Cars: Sierra Cars 700R (Provided)
Location: La Selva, River Scramble
Challenge: Post a Clean Lap
Reward: 4 points (1 added to each season)
Series 18 Autumn Forzathon Shop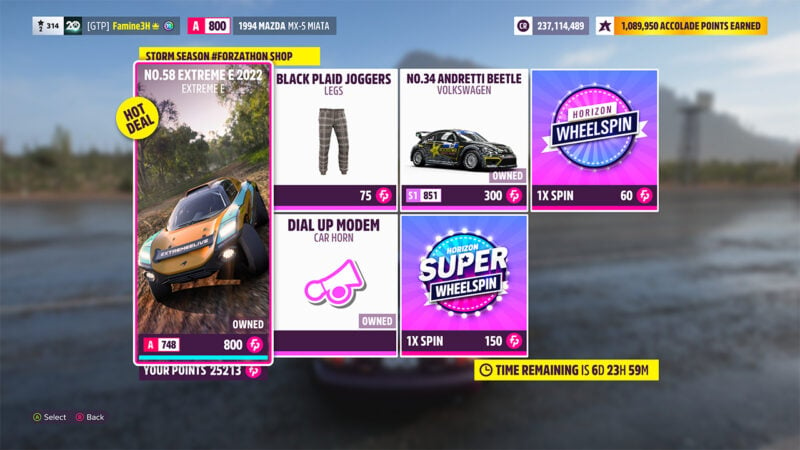 There's more offroad adventures in the Forzathon Shop this week, again looking at cars from some very different classes of the wide world of rally.
Taking center stage is the Extreme E #58 McLaren Racing, one of the ten identical Extreme E machines in the game.
Constructed by French electric race car specialist Spark for the madcap Extreme E race series, the car is actually known as the Odyssey 21.
It uses a niobium-steel alloy spaceframe, with two electric motors good for over 500hp combined and delivering all-wheel drive. That's clad in a special composite body made of flax fibers, with the vehicle as a whole intended as a flagship for sustainability.
For the first time in a while, this is a car that's not available in the Autoshow, so if you didn't add it to your collection during Series 10 it's worth the steep 800FP asking price.
Slightly less environmentally aware is the Volkswagen Beetle #34 Andretti GRC car. This is a 500hp+, AWD rally monster designed for driver Tanner Foust to win the Global Rallycross championship, built into the shell of a New Beetle. You can pay the 300FP, or pick it up in the Autoshow for 500,000cr.
Store items this week are the Dial Up Modem Horn and the Black Plaid Joggers, at 75FP each. The Wheelspin (60FP) and Super Wheelspin (150FP) remain in their usual spots.
See more articles on Forza Horizon 5 Season Change.