The Korean brands are on a roll right now. Kia is making some of the most handsome cars in its sector, sister brand Hyundai is making some quality kit (and even appearing in Marvel films) and Ssangyong remains as robust and great value as ever.
Recently Kia has been shaking the tree a bit with the awesome Stinger coupe. Hyundai doesn't manufacture an equivalent, but it has some of its own performance intent too. It's running cars in the TCR touring car series and the World Rally Championship, under its "N" brand. N is lending its name and motorsports knowledge to Hyundai's road cars now too.
This week we've been trying out its first attempt at a hot hatch, the Hyundai i30N Performance.
N?
It's Hyundai's name for its performance arm. We'll forgive you if you think it's called "N" because that's one better than "M" — especially as Hyundai hired BMW M's boss Albert Biermann to head it up — but that's not the official meaning.
Hyundai's chosen the N name to signify where it develops its performance cars. Give yourself a prize if your first thought was the Nurburgring, but it also pulls double duty with Hyundai's Namyang R&D center in Korea. Hyundai also refers to the fact the N letter looks like a chicane.
Our i30N was the first of Hyundai's N cars. It's since gone on to produce a Veloster N in North America — which we've also driven — and there's rumors of a flagship car unrelated to the rest of the Hyundai range too.
What's different from the regular i30?
This is going to be one of those situations where it's easier to list what's the same. That's most of the basic body shell and most of the interior.
Hyundai N has waved a magic wand over everything else. Of course the big changes start under the nose, where there's a two-liter turbo petrol engine. That's good for 247hp in regular guise or, as with our Performance car, 271hp. The most powerful regular i30 has a 138hp 1.4 turbo, so you're looking at nigh on twice the power in one hit.
To cope with that, Hyundai has overhauled every other mechanical component. There's a new electronically controlled suspension system, new electronic diff, additional body bracing, larger brakes (13.6-inch on the front of the Performance), and model-specific tires.
There's of course a new set of exterior pieces. The N gets a new front end with larger cooling vents, and a new splitter. You won't exactly miss the new rear spoiler either.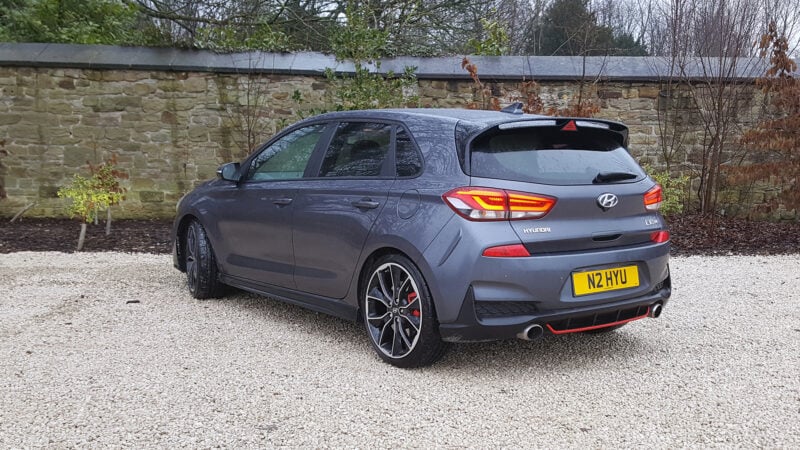 How does it drive?
That all rather depends on what buttons you've been pressing.
The i30N features eight different configurable settings for the suspension, steering, diff, throttle and exhaust, and up to five options for each. However, with everything set to Normal, it's pretty much a regular hot hatch to drive.
Generally the ride is on the tolerable side of firm, in that sort of hot hatch sweet spot where there's a bit of jiggle but you don't mind. Patchy road surfaces don't do it much justice, but otherwise it feels planted and well-damped. In the wet it's a little more vague, with the stability control working away quite feverishly. That said, it doesn't do anything that similar rivals don't when the going gets slick.
Wind it up to the sport mode with the left button — the N has two separate drive mode buttons — and it starts to unravel a little bit. Really, this is only suited to very smooth asphalt on very fast roads. The steering weights up more, which comes as a surprise since it's pretty weighty already, but the ride becomes quite punishing.
Yet sport mode is still one step away from the N's upper limits: "N" mode. You select this from the right-hand button, and chances are you will almost immediately choose any other driving mode. The ride is nothing short of alarming, to the point where I'd like to use an expletive as simply the most appropriate way to describe it. At one point I missed the clutch pedal while my foot was already resting on it, as the i30N reacted to painted lines across the road surface approaching a roundabout.
If you do lots of track days you'll probably find a lot more use from N mode, but otherwise steer clear. Instead use the N Custom mode to set all the driving characteristics to normal and the exhaust and rev-matching systems to Sport+ and you'll have a pretty excellent hot hatch.
On that note, the brakes and gearbox in the i30N Performance are about as sweet as it gets. The six-speed manual has a nicely weighted throw, and the brakes are responsive and rather effective. With the rev-matching system managing your heel-toe downshifts for you and the variable exhaust spitting out a crackle each time — which is great for a week, but might grate over time, so use this mode sparingly — it's a lot of fun.
The actual straight line performance goes without saying. As engines go it's not the most flexible; the bulk of the performance arrives in a clump in the middle, but there's a lot of it. There's also an overboost feature that releases an extra 20lbft for a few seconds, and the i30N is undeniably a quick and efficient overtaking machine.
And on the inside?
This is more of a mixed bag, for different reasons.
Unlike the extreme sportiness of the car's more savage driving modes, the cabin is generally quite restrained. A little too restrained in fact — there's not that much to distinguish it from a very well-specified i30.
On the outside, Hyundai adds a red flash to the front and rear sills to denote the N-ness, but on the inside there's not much color at all. Only the "Performance Blue" drive mode buttons and the occasional N logo — on the bottom of the wheel, sill liners, and the seat headrests — set it apart, unless you have a keen enough eye to spot the blue LED rings in the dash.
While we would like to see a few more sporty notes in the cabin, it's conversely good to note Hyundai hasn't splashed fake carbon fiber everywhere. That said, there's surely a happy medium. Our car at least had the leather, electrically adjustable sports seats. There's a manual, cloth option which saves 25lb, which is… something.
But generally, there is a lot of kit. There's a big, eight-inch LCD touchscreen which houses the navigation, parking cameras, phone connectivity options (it supports Apple CarPlay and Android Auto) and drive mode customization. You even get standard Qi wireless phone charging, which seems to be a Hyundai and Kia specialty these days — and a welcome one at that.
Who's going to buy the i30N?
It's a five-door hot hatch. Everyone. That's the beauty of hot hatches: they give a bit of what everyone wants, from a sports car down to a regular family runabout.
Unless you've got some very specific space requirements, or are a driven-wheel snob, there's something for everyone here. You'll need to make a few concessions on running costs — and we'll agree that the combined 36.2mpg figure is both not great and optimistic — but if you'll find the performance something you'll use ever, it's worth it.
Bear in mind too that this is the Performance pack version of the car. That means more power, a limited-slip diff, the active exhaust and the bigger, Pirelli-clad wheels. It's £3,000 more expensive than the regular N, but easy to justify in that context.
What would they buy instead?
The hot hatch king right now is the Honda Civic Type R. It's got more power, holds bragging rights to the N's home track and has a more usable performance mode… but will set you back nearly 10% more cash. The SEAT Leon Cupra 290 comes in at similar money to the N and is a pretty close rival.
Elsewhere there's always the Volkswagen Golf, again for much more money. If the body style isn't relevant to you, there's some decent alternatives for the price, like the Toyota GT86 and Nissan 370Z. Hyundai is itself now also making a fastback version of the i30N.
What's the conclusion?
The i30N Performance is a bit of an enigma. Leave well enough alone and it's actually a pretty nice hot hatch, and it's got some solid hooligan credentials. Start pressing buttons and it can get pretty horrible, pretty quick. N Mode is just too hardcore for its own good, although it might be a giggle on a race track.
By total contrast the interior is a bit too staid for its own good. Drop into a rival car and you'll be treated to suede, bits of red trim and contrast stitching, and adjustable LED mood lights. The N gets two blue buttons and what appears to be a brown steering wheel, but you can't complain about the toys on board.
Ultimately this is Hyundai's first ever attempt at a proper hot hatch and while it gets some bits wrong, there's a lot right too. Hopefully it'll come up with a facelift with tweaked drive mode settings and some interior flourish, because that's all that keeps it from excellence.
Verdict
Quick Facts
Power
271hp (275PS, 202kW), 260lbft (353Nm)
Layout
Front-engine, front-wheel drive
Top Speed
155mph (249km/h)
See more articles on Hyundai and Road Test Review.