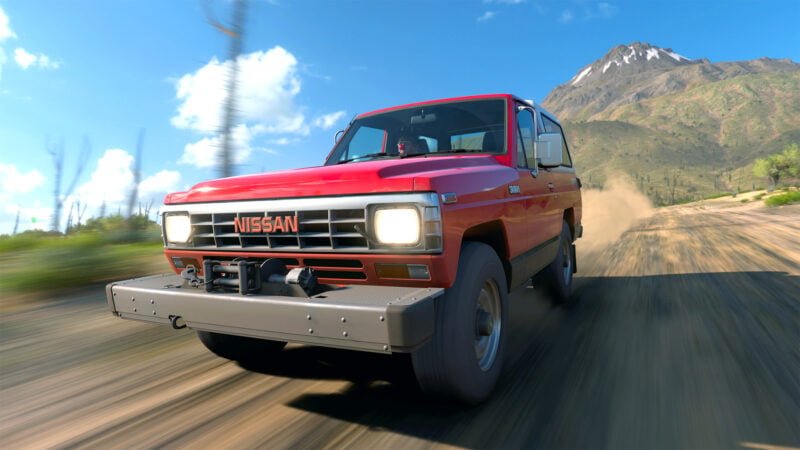 It's the final week of Forza Horizon 5's Series 18, with Spring arriving in Mexico to say farewell to the latest set of themed challenges.
Officially called "Horizon Wilds Takeover", the Series is named for the game's dirt racing hub and all about driving in the rough stuff.
That should get you used to off-roading ahead of the upcoming second expansion, Rally Adventure which arrives on March 29 — just before Series 19 starts on March 31.
It's all about driving off-road cars on off-road courses, with almost every event sending you across marked but unpaved paths on the map.
There's seven new vehicles in the list, comprising two new to the entire Forza franchise and five returning from previous titles, along with the regular Evolving World Accolade for owning all of them.
You'll also find some cosmetic changes to the map, with the Horizon Wilds outpost itself having a minor makeover but a much larger change in the return of the Horizon Stunt Park within the Horizon Stadium.
Series 18: Horizon Wilds Takeover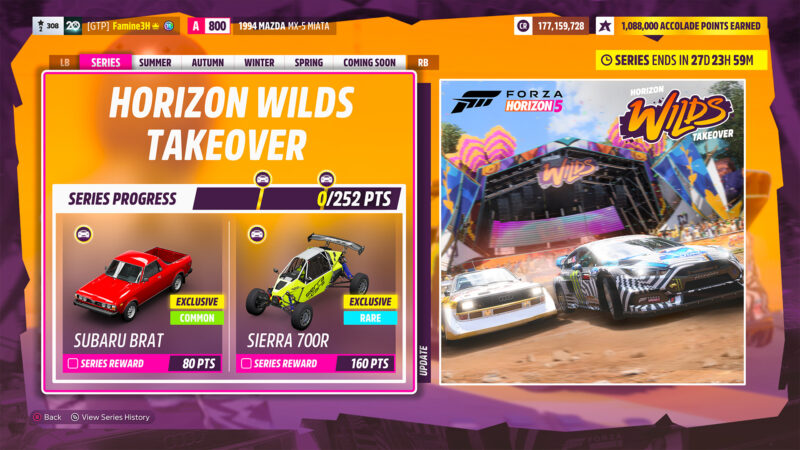 The two Series rewards are both new to the game, although one returns from previous games and the other is a slower variant of a car already in the game.
Scoring 80 points across the Series nets you the returning Subaru BRAT, a sneaky pickup truck that's technically a car.
To create the BRAT, Subaru took a two-door Leone and cut the back out of the roof to make a pickup body. In order to make out it was still a car, it fitted a pair of rear-facing plastic seats in the load bay.
As it's based on the Leone, it has the same standard all-wheel drive and the same boxer four engine — 1.6 liters on early cars, 1.8 on later models.
For 160 points you'll bag the new-to-franchise Sierra Cars 700R.
Built by Utah-based buggy manufacturer Sierra, the 700R is based on the RX3 you can already find in the game. Sierra refined the vehicle to make for a more modern car, but also enacted another more significant change under the skin.
Instead of a howling, 1.3-liter four from the Suzuki Hayabusa motorbike, the 700R is equipped with a single-cylinder quad bike engine sourced from the Yamaha Raptor 700R.
That slows things down quite a bit, from 200hp to just 45hp, but it should be easier to live with, and Sierra pitches it as a more affordable, accessible vehicle.
Series 18 Spring/Hot Season Rewards
Scoring 20 points this week will bring you the Nissan Safari Turbo, a new-to-Horizon car appearing in only its second Forza title.
Fans might recognize it as a third-generation Nissan (or even Datsun) Patrol, but it was sold in its home market as the Safari.
The Patrol/Safari is one of those solid, dependable work trucks, beloved of everyone who's owned one (always pretty well beaten-up) and capable of surviving almost anything. Indeed the model line has been used by Japan's military and was a routine choice for people heading into Australia's Outback.
It won't exactly tear up the roads of Mexico as standard, with a 110hp, 3.3-liter turbodiesel engine, but it will take quite some terrain to stop it.
That also applies to the 40-point car, which carries with it the reputation of being a Dakar Rally winner.
Although badged as a MINI and looking quite like a Countryman, the MINI X-Raid is actually a specialized vehicle constructed by German company X-Raid which has considerable experience in making rally raid cars.
This particular one was driven to victory in 2013 Dakar Rally, held in South America, by the event's most successful driver Stephane Peterhansel and co-driver Jean-Paul Cottret.
Spring will run through to 1430UTC on Thursday March 30 and conclude Series 18 along with it. Summer of Series 19, "Midnights at Horizon", will follow on immediately.
Series 18 Spring Playlist: Forzathon Events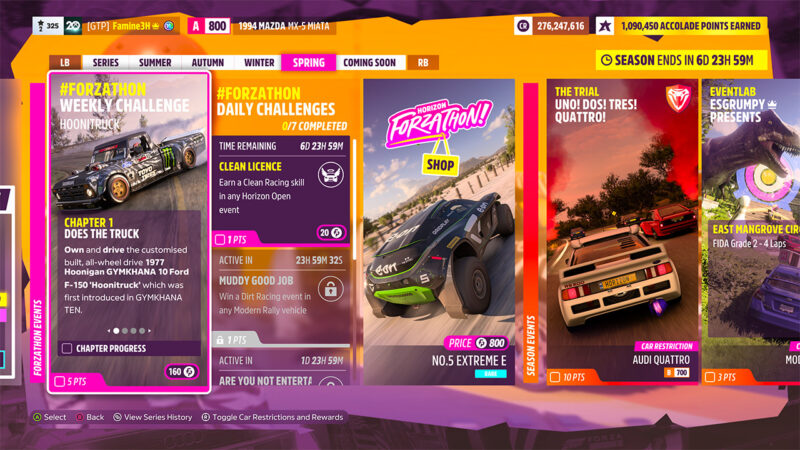 The final Weekly Challenge of the Series again looks towards Hoonigan, with the Hoonitruck F-150 from Gymkhana 10 taking the spotlight. Own and drive the car — you can win it from a Playlist EventLab race this week — to get Hoonitruck underway.
Firstly, pick up a Drift Tap skill in the truck. You'll need to get a drift going and then lightly tap a wall, building, or barrier to earn this skill — the key word being "lightly".
After that, win the Volcan Sprint Road Race — the paved road up the volcano — for the next stage. We're not sure if you can do both in one go, by performing a Drift Tap during the race, but it's a long old run up the mountain and you may not want to spend the time doing it twice if not.
Finally bank 43,000 Skill Score in the Hoonitruck, by chaining stunts together and not losing them by hitting hard things, to complete the event and earn five points and 80FP — with the Forzathon Points doubled if you own the La Casa Solariega player house near Teotihuacan.
Weekly Challenge: Hoonitruck
Car: Hoonigan Gymkhana 10 Ford F-150 Hoonitruck

Chapter 1: Own and drive the Hoonitruck
Chapter 2: Earn a Drift Tap Skill in the Hoonitruck
Chapter 3: Win the Volcan Sprint Road Race in the Hoonitruck
Chapter 4: Bank 43,000 Skill Score in the Hoonitruck

Reward: 5 points, 80FP
There's seven final Daily Challenges in the Series, coming at their usual one-a-day rate, at 1430UTC each day, with seven days to complete each (including running into the next Series if applicable) for one point and 10FP apiece.
Show you have a Clean Licence first, by earning a Clean Racing Skill in any Horizon Open event. You'll need access to online multiplayer for this — XBox Live Gold, or free on PC — and the skill requires you to drive two or more checkpoints without a heavy contact.
Do a Muddy Good Job next by winning a Dirt Racing event in any Modern Rally car. Make it a Lancer and you'll double up with a later challenge (no spoilers).
Grab a Jeep Gladiator Rubicon and hurl it a total of 305m (1000ft) to answer the question Are You Not Entertained on Saturday.
Provide a Care Package on Sunday, by sending a Gift Drop to any other player.
It's a Striking challenge to start next week. Just head into the Stadium Stunt Park (you may need to reboot the game and power cycle your console if the football pitch loads in) and smash ten bowling pins.
Prove you're a Showjumper next, by earning an Awesome Air Skill in any Showcase event. This is possible in all four Showcases, though Catch Me If You Canyon will be hardest due to the single jump intersecting the train.
Finally be an All Wheely Speedy by earning a total of six stars through any Speed Zones in any all-wheel drive vehicle.
Daily Challenges
March 23 – Clean Licence: Earn a Clean Racing Skill in any Horizon Open event
March 24 – Muddy Good Job: Win a Dirt Racing event in any Modern Rally car
March 25 – Are You Not Entertained: Jump a total of 1000ft (305m) in the Jeep Gladiator Rubicon
March 26 – Care Package: Send a Gift Drop to another player
March 27 – Striking: Smash ten bowling pins in the Stadium Stunt Park
March 28 – Showjumper: Earn an Awesome Air Skill in any Showcase event
March 29 – All Wheely Speedy: Earn a total of six stars from Speed Zones in any AWD vehicle
Series 18 Spring Playlist: Season Events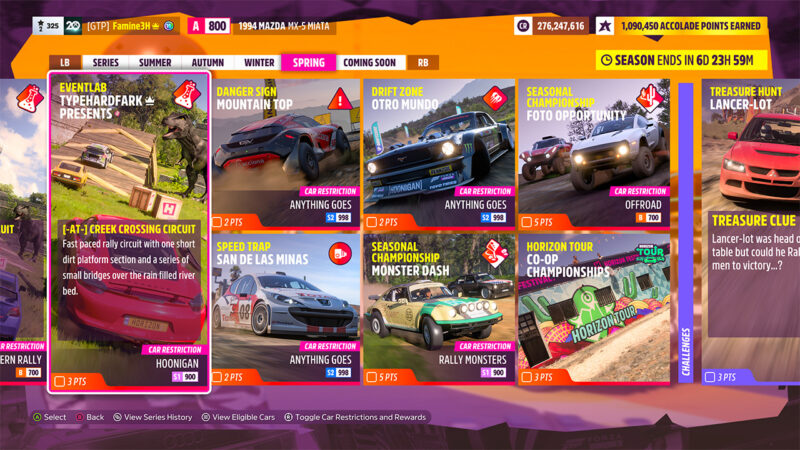 The dirt-themed action continues for one more week, with more exclusively off-road events. Again there's three PR Stunts, two EventLabs, and two Seasonal Championships to round out the Series.
It's another week of open-class PR Stunts, with S2 Class (901-998PI) limits — though you can also use lower category vehicles — and two points and a Super Wheelspin for completing each.
The cluster this time is towards the south-west, with the Mountain Top Danger Sign, the Otro Mundo Drift Zone, and the San de las Minas Speed Trap.
Mountain Top's 540m target won't be an issue if you have a straight enough, fast enough launch and stay left of center to get a decent landing spot. Similarly, Otro Mundo's 115,000pt target isn't too tricky despite the short zone if you can keep your slides chained.
However 175mph at San de las Minas is pushing it; the best technique is to come at it from the surfaced roads and try to pass through it almost perpendicularly.
The two Seasonal Championships — each running against Highly Skilled AI — are both off-road, but there's one Dirt Racing event and one Cross Country event. You'll need to top the final points table for the Cross Country event, but the Dirt Racing challenge is one race only; both win five points to your season total.
Foto Opportunity places you into B Class (601-700PI) Offroad category vehicles for the Cross Country event, offering a Local Motors Rally Fighter as a bonus prize. Monster Dash requires an S1 Class (801-900PI) Rally Monsters category car, awarding the Porsche 911 Desert Flyer for victory. Take a brave pill — the event is a one-race challenge at The Gauntlet.
Both EventLabs use off-road circuits too, and offer three points apiece. You'll need a B-Class (601-700PI) Modern Rally car for East Mangrove Circuit, a long, complex loop based on the Mangrove Scramble Course, and you'll receive the Hoonitruck for completing the laps. Creek Crossing Circuit is a shorter blast into the wilds near Emerald Circuit for S1 Class (801-900PI) Hoonigan cars, and there's a Super Wheelspin reward.
EventLab: Creek Crossing Circuit
Car: S1 Class, Hoonigan
Location: Palacio Azul, Emerald Circuit
Challenge: Finish the race
Reward: 3 points, Super Wheelspin
EventLab: East Mangrove Circuit
Car: B Class, Modern Rally
Location: Riviera Maya, Mangrove Scramble
Challenge: Finish the race
Reward: 3 points, Hoonigan F-150
Danger Sign: Mountain Top
Car: S2 Class
Location: Gran Caldera, Mountain Top Danger Sign
Challenge: 540m
Reward: 2 points, Super Wheelspin
Drift Zone: Otro Mundo
Car: S2 Class
Location: De Otro Mundo, Otro Mundo Drift Zone
Challenge: 115,000pt
Reward: 2 points, Super Wheelspin
Speed Trap: San de las Minas
Car: S2 Class
Location: Descansar Dorado, San de las Minas Speed Trap
Challenge: 175mph
Reward: 2 points, Super Wheelspin
Seasonal Championship: Foto Opportunity
Car: B Class, Offroad
Location: Hotel Mirador, Foto Final Cross Country
Challenge: Win the Championship
Reward: 5 points, Local Motors Rally Fighter
Seasonal Championship: Monster Dash
Car: S1 Class, Rally Monsters
Location: Pantano de la Selva, The Gauntlet
Challenge: Win the Championship
Reward: 5 points, Porsche 911 Desert Flyer
Hot Wheels DLC owners will be thankful of the two bonus events for extra points on this multiplayer-heavy Playlist. They're not required for 100% Playlist completion, but give a little boost towards your goals.
For the PR Stunt this week you'll be trying to hit 190mph through the Forest Flume Speed Zone in any S2 Class (901-998PI) car, for two points and a Super Wheelspin.
The three-race Seasonal Championship also requires an S2 Class (901-998PI) car, but is only open to vehicles from the UK. Win to earn a Ferrari Portofino.
Hot Wheels Speed Zone: Forest Flume
Car: S2 Class
Location: Hot Wheels Forest Falls, Forest Flume Speed Zone
Challenge: 190mph
Reward: 2 points, Super Wheelspin
Hot Wheels Seasonal Championship: Up the Tempo
Car: S2 Class, United Kingdom
Location: Hot Wheels Forest Falls, Waterslide Speed Circuit
Challenge: Win the Championship
Reward: 5 points, Ferrari Portofino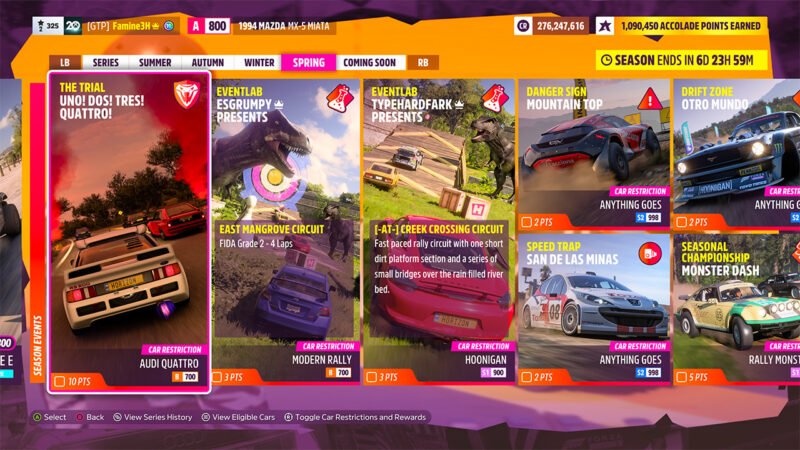 There's two multiplayer events this week, for which you'll need an Xbox Live Gold subscription — unless you play on PC — in order to access.
The Trial remains in its usual position, and consists of a best-of-three-race championship for a team of up to six humans against six "Unbeatable" AI.
Each player on each team earns 100 points for each opponent they beat, but there's no reward for beating team-mates. That means you'll need to help each other out as much as possible while hindering the 'bots.
This week it's a Street Racing event, limited to the Audi Quattro '83 with a B Class (601-700PI) limit. Watch out for not only the AI and wayward team-mates, but oncoming NPC traffic too. However it should be an easy two-race win for ten points and a Ford RS200.
Horizon Tour occupies the other spot. It's a similar event, with the same points set-up, but it's open format and the AI are turned down to Highly Skilled. One twist is the need to drive between races rather than teleporting, but there's no extra incentive for doing so or being first to reach the goal. Nor is there for completing the event, with just three points and no bonuses.
Horizon Tour: Co-Op Championships
Car: Any
Location: Horizon Tour
Challenge: Win the Championship
Reward: 3 points
The Trial: Uno! Dos! Tres! Quattro!
Car: B Class, Audi Quattro '83
Location: Guanajuato, Hilltop Descent
Challenge: Win the Championship
Reward: 10 points, Ford RS200
Series 18 Spring Playlist: Challenges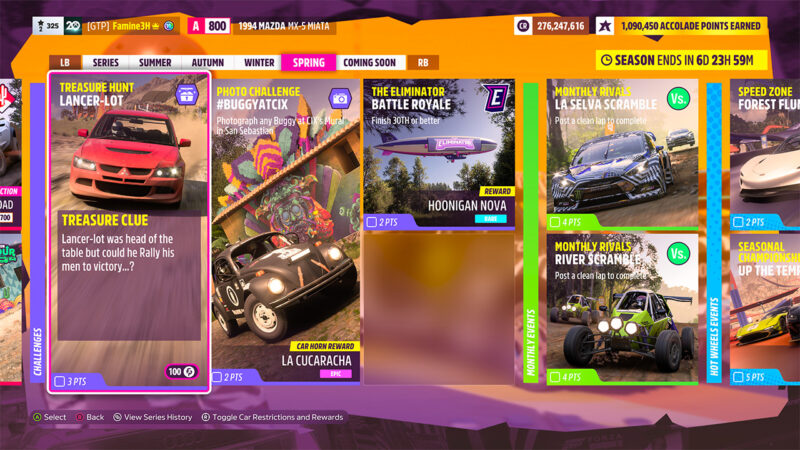 It's another three-Challenge list this week, as the regular Photo Challenge and another Treasure Hunt are joined by The Eliminator. You will need access to multiplayer — via PC or with Xbox Live Gold on console — for that last item..
For The Eliminator it's the usual challenge requirements. You'll just need to finish in the top 30 of any event — often just a case of waiting long enough — to win the two points and a Hoonigan Nova.
The Photo Challenge, #BuggyAtCIX, requires a couple of things. Firstly, pick up any (or rather either) car from the Buggy category. Then head to the tiny village of San Sebastian near the Gran Puente bridge.
Find the decorated building to the east of the village, near a junction with an unmarked road, and photograph the Buggy and the mural — by artist CIX — to earn two points and the La Cucaracha horn.
For the Treasure Hunt, Lancer-Lot, your clue is "Lancer-lot was head of the table but could he Rally his way to victory…?". That should suggest the solution: use any Mitsubishi Lancer from any of the Rally classes (Modern, Retro) to win any race. The thumbnail — and theme of the Series — suggests a Dirt Racing Series event is required and that's how we did it (in an Evo VI) but others may also qualify.
That will reveal the hint, which is a red, circular zone drawn on the map to show you where the treasure is approximately. This week it's in the middle of Valle de las Ranas, near the Eliminator. Find the chest, near the large, balancing spherical rock and between the two XP boards, and smash it to get three points and 100FP.
The Eliminator: Battle Royale
Cars: Any (provided)
Location: Valle de las Ranas, The Eliminator
Challenge: Finish 30th or better
Reward: 2 points, Hoonigan Nova
Photo Challenge: #BuggyAtCIX
Cars: Buggy
Location: San Sebastian
Challenge: Photograph any Buggy at CIX's Mural in San Sebastian
Reward: 2 points, La Cucaracha Horn
Treasure Hunt: Lancer-Lot
Cars: Mitsubishi Lancer (any)
Location: Dirt Racing Series (any)
Challenge: Win any Dirt Racing Series event in any Mitsubishi Lancer; find and smash the Treasure Chest
Reward: 3 points, 100FP
It's your final chance to complete the two Rivals challenges if you haven't done so already. Each event offers four points for completion, with one point distributed to each of the four seasons in the series regardless of when in the Series you complete them.
In each case you'll need a clean laptime at the tracks indicated, using the vehicles provided to you. Although they're Rivals events you don't need to beat any times, just keep it clean.
Both are off-road events, with no Forza EV challenge this month, and the sliding and barriers might make them tricky to complete. You'll need to get round La Selva Scramble in the Hoonigan Gymkhana 9 Focus RS RX, and River Scramble using the new Sierra Cars 700R.
Monthly Rivals: La Selva Scramble
Cars: Hoonigan Gymkhana 9 Focus RS RX (Provided)
Location: Atlantes de Tula, La Selva Scramble
Challenge: Post a Clean Lap
Reward: 4 points (1 added to each season)
Monthly Rivals: River Scramble
Cars: Sierra Cars 700R (Provided)
Location: La Selva, River Scramble
Challenge: Post a Clean Lap
Reward: 4 points (1 added to each season)
Series 18 Spring Forzathon Shop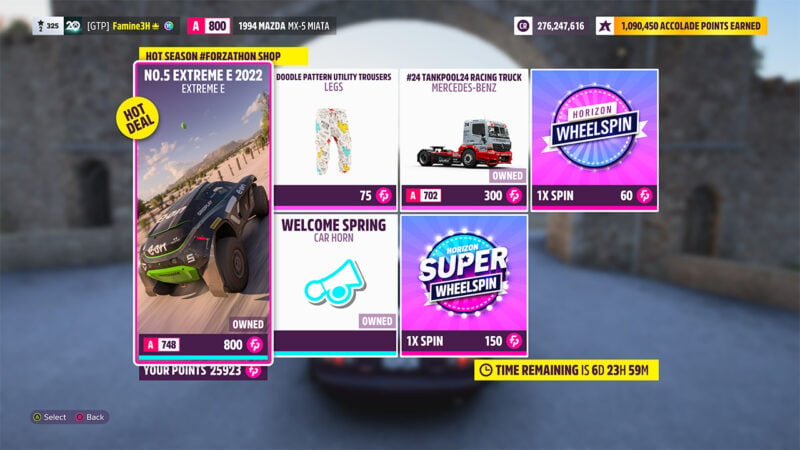 Only one of the two vehicles in the Forzathon Shop this week qualifies as a car, and even then it's an SUV you can't legally drive on the road.
That's the Extreme E #5, a car that in the real world is known as the Spark Odyssey 21. It's constructed by French electric race car specialist Spark to compete in the Extreme E championship, an off-road series that serves to highlight environmental concerns around the globe.
Spark builds the car out of a special niobium-steel alloy spaceframe, with a 500hp electric powertrain consisting of front and rear motors to give the Odyssey all-wheel drive. That's all wrapped up in a flax-based composite bodyshell.
It's designed to survive the toughest environments, so Mexico should be a breeze for it. Although the Extreme E stable in FH5 consists of ten pretty much identical cars, only one can be purchased from the Autoshow and it's not the #5 Veloce car. If you haven't already picked it up, the 800FP price is a no-brainer — although it's not the quickest car you'll spend the points on.
Neither is the other vehicle, which is the Mercedes-Benz Tankpool #24 racing truck. Built for some of the maddest circuit racing around, the race truck is one of the biggest, heaviest, and most powerful standard vehicles in the game.
However you can just spend 500,000cr to buy it from the Autoshow, so keep your 300FP in your pocket for a future, harder-to-find item.
Store items this week are the Welcome Spring Horn and the Doodle Pattern Utility Trousers, at 75FP each. The Wheelspin (60FP) and Super Wheelspin (150FP) remain in their usual spots.
See more articles on Forza Horizon 5 Season Change.