It's the second week of Forza Horizon 5's newest Series, "High Performance", with new events, cars, and challenges for players to get involved with over the next seven days.
Of course the major change for Series 20 is an overhaul to the stadium area. Previously a football pitch, and occasionally an ice rink, the stadium now hosts an oval circuit.
This permanent addition is a two-turn, short-track oval, with a new infield area if you fancy just mucking about, as well as an EventLab build marker to allow players to set up courses inside the stadium — with or without the oval itself.
There's new Evolving World Accolades linked with the oval, as well as with the new cars coming to the Playlist this month. In total there's four brand-new vehicles, available for 20 points in each of the four weeks, and you'll pick up the Accolade for collecting all four.
Series 20: High Performance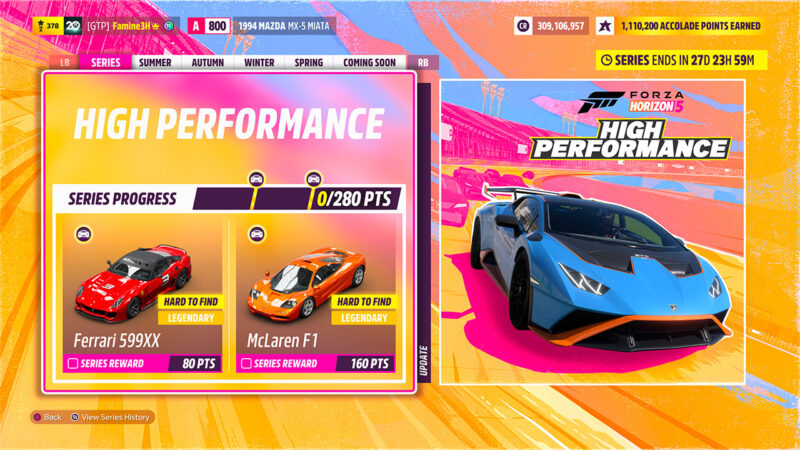 As all four new cars come in the weekly lists, there's a pair of cars we've seen previously coming up as the two Series rewards. However both fit the "high performance" brief pretty neatly and they're rare and expensive so worth collecting even if you already have one of each.
For 80 points, which you should pass this week, you'll collect the Ferrari 599XX of Forza Horizon legend: cartoonish bad guy Darius Flynt's car in the original game.
The XX is a significant development of the 599GTB, but while the GTB is a road car there's not even a hint of it on the XX. Nor is it a race car, with the XX existing only for deep-pocketed owners to take for a track-day blast — with Ferrari retaining custody of the vehicle and keeping it in ideal condition.
Alongside wild aerodynamics — assisted by a pair of fans in the car's trunk to keep it glued to the circuit — the 599XX has a complete overhaul of chassis and engine electronics. There's also a 100hp boost in power, which is up from an already potent 612hp.
For 160 points you'll pick up one of the greatest road cars ever made, which also happened to be the fastest car in the world for a decade and a Le Mans winner despite not really being made to do either.
The McLaren F1 is famous for its prodigious 230mph+ top speed, that 1995 victory at Le Mans, its 1+2 seating arrangement, the gold-lined engine bay, the butterfly doors, and its inbuilt modem for remote servicing and diagnostics. It also happens to be an excellent grand tourer and pretty light on its feet too.
McLaren only made 106 examples across all its forms, and the road car you see here accounts for not even 70 of them. Little wonder they fetch eight figures when they, rarely, change hands.
Series 20 Autumn/Storm Season Rewards
The second new car of the series is available when you cross the 20-point threshold this week, with the 2019 Porsche 935 up for grabs.
Made as a tribute to the classic 935/78 Group 5 race car — better known as "Moby Dick" in reference to its white bodywork, and long tail with a very high wing — the 935 is a "best-of" the 991 911 under the skin.
It's based on the GT3 R race car, but with the engine and gearbox from the near-700hp GT2 RS. Remarkably that means it's actually not as powerful as the 40-year older machine which could pack 850hp in qualifying trim.
The 935/78-inspired bodywork extends the car to almost 16 feet, and it sports a number of other touches that reference other Porsche racers. However unlike them it's not a race car and it's also not road legal, so all 77 examples are limited to track days or displays.
Hit 40 points and you'll pick up another car that neither hits the streets nor any racing series, in the shape of the all-electric NIO EP9.
One of the fastest cars ever to circulate the Nurburgring — at least in the more lawless days, when a slick-shod, non-road legal car could claim such a record — the EP9 is a 1,340hp EV from Chinese brand NIO and its Formula E team.
It's a bit of a change from the brand's regular selection of sedans and SUVs, and pairs a fully carbon fiber chassis with four 250kW motors — one on each wheel. NIO reportedly only made six, and none were ever sold.
Autumn will run through to 1430UTC on Thursday May 11, with Series 20 continuing for another two weeks until the same time on Thursday May 25.
Series 20 Autumn Playlist: Forzathon Events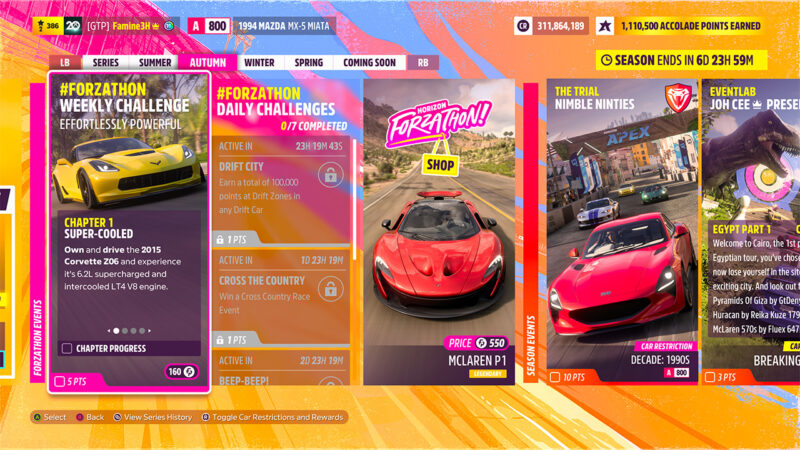 America's most famous sports car comes up in the Weekly Challenge this week; own and drive the 2015 Chevrolet Corvette Z06 to get Effortlessly Powerful underway.
You'll need to score two stars at the La Silica Speed Zone, by passing through the zone — in the north-west, near the La Cabana Player House — at 90mph or more. Follow that up by banking a total of 15,000 Skill Score (inclusive of the multiplier) by drifting, speeding, and smashing.
Finally win any Road Racing Series event to complete the challenge and earn five points and 80FP, with the Forzathon Points doubled if you own the La Casa Solariega player house near Teotihuacan.
Weekly Challenge: Effortlessly Powerful
Car: Chevrolet Corvette Z06 2015

Chapter 1: Own and drive the Corvette Z06 '15
Chapter 2: Earn two stars at La Silica Speed Zone in the Corvette Z06 '15
Chapter 3: Bank 15,000 Skill Score in the Corvette Z06 '15
Chapter 4: Win a Road Racing event in the Corvette Z06 '15

Reward: 5 points, 80FP
As usual the seven Daily Challenges land at the rate of one each day, at 1430UTC. You'll have seven days to complete each one — running into the next season if required — with one point and 10FP apiece.
It's back to the Horizon Stadium for a Circular Composition; just take a photograph at the Stadium to complete the first task for the week.
Hit Drift City by earning a total of 100,000 drift score at Drift Zones in any Drift Car.
Cross the Country next by winning any Cross Country Race event. You may be able to pair that with the Buggy Bug World Seasonal Championship if you want to be efficient.
Unleash your inner Road Runner, by beeping the horn in any Retro Supercar to complete Beep-Beep!
You'll be Hot on the Trail next, driving five miles (eight kilometers) in any Super Hot Hatch.
Take any Hypercar and rack up three stars from any Speed Traps — and the main map PR Stunt for this week's Playlist will count — to complete Hyperspeed, Go!
That just leaves Upgraded. Spend 10,000cr upgrading any Modern Supercar to complete this last challenge.
Daily Challenges
May 4 – Circular Composition: Take a photo at the Stadium
May 5 – Drift City: Earn a total of 100,000pt at Drift Zones in any Drift Car
May 6 – Cross the Country: Win a Cross Country Race event
May 7 – Beep-Beep!: Beep the horn in any Retro Supercar
May 8 – Hot on the Trail: Drive five miles in any Super Hot Hatch
May 9 – Hyperspeed, Go!: Earn three stars from speed traps in any Hypercar
May 10 – Upgraded: Spend 10,000cr upgrading any Modern Supercar
Series 20 Autumn Playlist: Season Events
It's a bumper crop of events on the solo side of the Playlist this week, with three Seasonal Championships, three PR Stunts, and two EventLabs.
Once more it's an anything-goes approach (well, almost) to the PR Stunts, which are open to any vehicle up to the top of S2 Class (901-998PI). Each offers up two points and a Super Wheelspin for completion.
There's some relatively gentle targets this week, with 20 seconds at the Malpais Trailblazer and 215mph at the temporary East Resort Speed Trap both a breeze. 180mph at the returning Green Hills Speed Zone might be more challenging though.
Seasonal Championships are three-race series running against Highly Skilled AI. You'll need to top the final points table to take your prizes, which are five points to your season total and a bonus vehicle reward.
You'll have A Rally Good Time in the Dirt Racing series event for B Class (601-700PI) Modern Rally Cars, and pick up a Porsche Panamera for victory. Meanwhile it's a Buggy Bug World in the Cross Country Series, for B Class (601-700PI) Unlimited Buggies, with a KTM X-Bow if you take the win.
That leaves the Street'd Lightning Street Racing Series event for S1 Class (801-900PI) Retro Supercars, giving you a 2013 BMW M6 as a bonus prize.
Both EventLab challenges involve a major transformation of the western coast, courtesy of a dazzling array of props. Each is worth three points for completion.
As the name suggests, Egypt Part 1 Cairo turns the beach front into the banks of the Nile. Complete the laps in any S2 Class (901-998PI) car — watch out for grabby walls and curbs — to earn the Breaking Shatter Horn. Similarly Level Speedway (Oval) does what it says and drops a banked oval course onto the beach; finish your laps, again in an S2 Class (901-998PI) car to earn a Super Wheelspin.
EventLab: Egypt Part 1 Cairo
Car: S2 Class
Location: Dunas Blancas, El Lago Blanco
Challenge: Finish the race
Reward: 3 points, Breaking Shatter Horn
EventLab: Level Speedway (Oval)
Car: S2 Class
Location: Bahia de Plano, Bahia de Plano Circuit
Challenge: Finish the race
Reward: 3 points, Super Wheelspin
Speed Trap: East Resort
Car: S2 Class
Location: Playa Tranquila, East Resort Speed Trap
Challenge: 215mph
Reward: 2 points, Super Wheelspin
Speed Zone: Green Hills
Car: S2 Class
Location: Cordillera, Green Hills Speed Zone
Challenge: 180mph
Reward: 2 points, Super Wheelspin
Trailblazer: Malpais
Car: S2 Class
Location: Baja California, Malpais Trailblazer
Challenge: 20s
Reward: 2 points, Super Wheelspin
Seasonal Championship: A Rally Good Time
Car: B Class, Modern Rally
Location: San Juan, San Juan Scramble
Challenge: Win the Championship
Reward: 5 points, Porsche Panamera
Seasonal Championship: Buggy Bug World
Car: B Class, Unlimited Buggy
Location: Hotel Mirador, Foto Final Cross Country
Challenge: Win the Championship
Reward: 5 points, KTM X-Bow
Seasonal Championship: Street'd Lightning
Car: S1 Class, Retro Supercars
Location: Gran Pantano, Bosque del Sur
Challenge: Win the Championship
Reward: 5 points, BMW M6 '13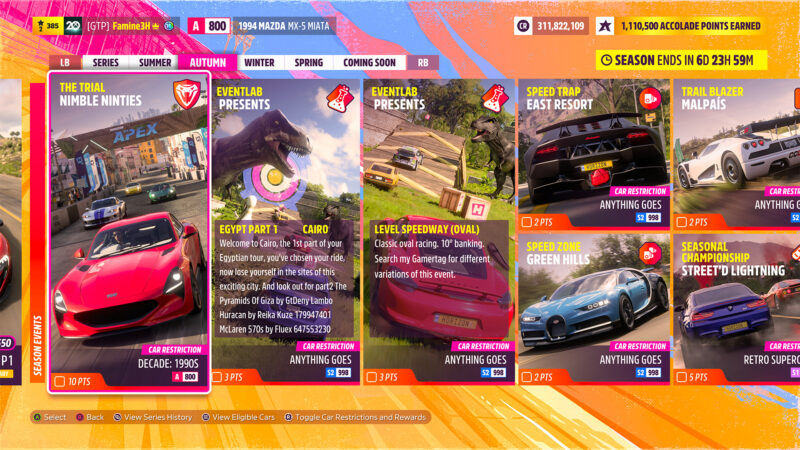 Multiplayer remains as a one-event affair this week, but you will need an Xbox Live Gold subscription — unless you play on PC — in order to access it.
Naturally that remains The Trial, which is ever-present. It's usually the hardest challenge on the playlist, with a best-of-three-race championship for up to six players against a field of six "Unbeatable" AI — although commonly the humans are the issue rather than the 'bots.
That's despite the fact you only earn points for beating opponents, not your fellow players: each player on each team earns 100 points for each opponent they beat. You'll need help each other out by not getting in each other's way and blocking the AI.
It's an A Class (701-800PI) challenge this week, for cars from the 1990s, taking place on three Road Racing Series tracks. That should mean more control than speed, and fewer unintended accidents from your team-mates…
There's ten points and a modern TVR Griffith for overall victory, which is easily possible inside two races once more — assuming semi-capable team-mates who haven't picked stock cars again…
The Trial: Nimble Nineties
Car: A Class, 1990s
Location: Guanajuato, Panoramica Sprint
Challenge: Win the Championship
Reward: 10 points, TVR Griffith
Series 20 Autumn Playlist: Challenges
We revert to two Challenges this week, consisting of the permanent Photo Challenge and a new, one-week only Collectibles event.
Safety First will see you trying to smash a new object: the Pinata Helmet. Demolish ten of them — they're dotted about the route of the Horizon Mexico Circuit at the main Festival — and you'll earn three points and an "It Is The Way" Forza LINK greeting.
The regular Photo Challenge sends you to the center of the map and the church at San Juan. You'll need to photograph the Toyota GR Supra — one of the three starter cars — to complete #SupraSonic and earn two points and a Toyota Race Suit.
Collectibles: Safety First
Cars: Any
Location: Horizon Festival
Challenge: Smash ten Pinata Helmets
Reward: 3 points, "It Is The Way" Forza LINK
Photo Challenge: #SupraSonic
Cars: Toyota GR Supra '20
Location: San Juan
Challenge: Photograph the Toyota GR Supra at San Juan
Reward: 2 points, Toyota Race Suit
The two Rivals challenges remain in place as they will do across the month. Each one awards a total of four points for completion, with one point added to each season, regardless of when you do them.
Although labeled as "Rivals" events, there's no need to beat anybody else's lap times; you just need to complete a clean lap at the tracks indicated, using the vehicles provided to you. Speed is not of the essence, so take it steady to avoid invalidating your time — particularly this month.
That's because one event is, unusually, a sprint rather than a circuit. You'll need to complete Dunas Blancas Sprint, north of the volcano, in the Huracan STO for Monthly Rivals. Forza EV takes place at the Chihuahua Circuit to the east of Guanajuato in the new Porsche Mission R.
Forza EV: Chihuahua Circuit
Cars: Porsche Mission R (Provided)
Location: Hotel Mirador, Chihuahua Circuit
Challenge: Post a Clean Lap
Reward: 4 points (1 added to each season)
Monthly Rivals: Dunas Blancas Sprint
Cars: Lamborghini Huracan STO (Provided)
Location: Gran Caldera, Dunas Blancas Sprint
Challenge: Post a Clean Lap
Reward: 4 points (1 added to each season)
Series 20 Autumn Bonus DLC Events
The two DLC packs each give two further events on the Playlist for owners. You won't need to complete them to hit 100% of the Playlist, but they're a bonus for some extra points if needed.
Both maps feature a Danger Sign PR Stunt this week, with the same format as those on the main map: an S2 Class (901-998PI) car is required, and you'll win two points and a Super Wheelspin for each.
In both cases the target is a cinch. You'll need to hit 350m in the Canyon Snap Danger Sign in Rally Adventure and 450m at the Forest Leap Danger Sign in Hot Wheels.
There's also a three-race Seasonal Championship too, worth five points apiece, in each location. Can Ya Canyon? in Hot Wheels is an event for S1 Class (801-900PI) Modern Supercars and awards a 2016 Ford Mustang for victory. Dancing in the Dirt in Rally Adventure puts you into C Class (501-600PI) Retro Rally cars, with Tan Winter Boots as a prize.
Hot Wheels Danger Sign: Forest Leap
Car: S2 Class
Location: Hot Wheels Forest Falls, Forest Leap Danger Sign
Challenge: 450m
Reward: 2 points, Super Wheelspin
Hot Wheels Seasonal Championship: Can Ya Canyon?
Car: S1 Class, Modern Supercars
Location: Hot Wheels Giant's Canyon, Canyon's Drop Hazard Sprint
Challenge: Win the Championship
Reward: 5 points, Ford Mustang '16
Rally Adventure Danger Sign: Canyon Snap
Car: S2 Class
Location: Sierra Nueva Senda de Montanana, Canyon Snap Danger Sign
Challenge: 350m
Reward: 2 points, Super Wheelspin
Rally Adventure Seasonal Championship: Dancing in the Dirt
Car: C Class, Retro Rally
Location: Sierra Nueva Pueblo Artza, Meridian
Challenge: Win the Championship
Reward: 5 points, Tan Winter Boots
Series 20 Autumn Forzathon Shop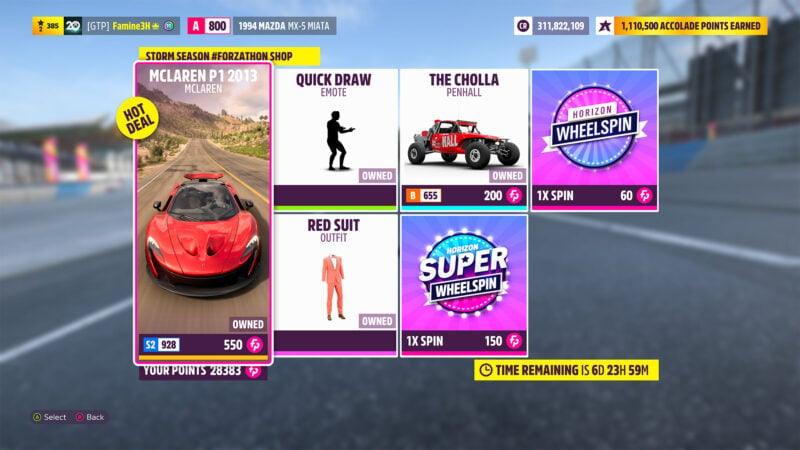 It's quite an eclectic mix of car in the Forzathon Shop this week, with an epic road car joined by something most at home well away from the highways.
McLaren's P1 is one corner of the Hybrid Hypercar Holy Trinity: three vehicles introduced at approximately the same time by three manufacturers leveraging petrol-electic hybrid powertrains to extract maximum performance.
In McLaren's case, the P1 pairs a version of the brand's 3.8-liter V8 twin-turbo to a 177hp electric motor, which can drive the car on its own for short distances at low speeds, or supplement the combustion engine for a combined 903hp.
That gives it impressive performance figures of 0-60mph in under three seconds and an electronically limited 217mph top speed. McLaren officially only made 375 cars in total, reflected in the Autoshow price of 1.35m credits. It's available this week for 550FP.
Joining the McLaren is the Penhall "The Cholla" — which, in case you were wondering, is the name of a particularly nasty type of cactus.
The vehicle itself is somewhat less spiky, as a Class 10 Baja 1000 buggy. Unlike some of the madder cars used for the event, The Cholla keeps it simple with a 200hp straight four and plenty of suspension travel.
Store items this week are the Quick Draw Emote and the Red Suit, at 75FP each. The Wheelspin (60FP) and Super Wheelspin (150FP) remain in their usual spots.
See more articles on Forza Horizon 5 Season Change.