It's the last week of the current Forza Horizon 5's Series, with Spring coming to the game and rounding out the four-week cycle of Series 20.
Officially called "High Performance", the Series has all been about going really, really fast, with some of the quickest cars available hitting up high-speed challenges.
Changes to the world have reflected that too, with Playground Games turning the usually quite empty football stadium into a short-track oval with two steeply banked turns.
This is set to be a permanent addition, and the stadium now also hosts its own build marker which allows players to create courses that start inside the arena rather than merely heading into it.
There's also a few new Evolving World Accolades for the Horizon Oval, rewarding you for both mucking about on the infield and on the track itself.
Four new-to-Forza cars are also available this month, with each coming at 20 points scored in the four weeks — so naturally we're on our last newcomer this week — and an Evolving World Accolade for collecting all four.
Series 20: High Performance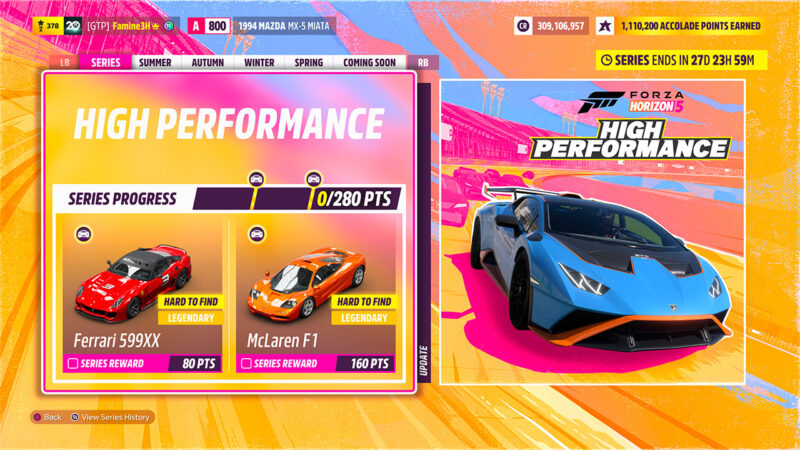 With the new cars all being season rewards, the Series prizes are vehicles we've already got in the game. However neither is available to just straightforwardly buy, so collecting them this Series is a nice chance to own them. Or own them again.
At 80 points you'll earn the Ferrari 599XX, a little oddity from Maranello with some Horizon history.
The XX doesn't technically belong anywhere. It's not a race car, so doesn't have a racing series, and the modifications over the road-going 599GTB make it illegal to use in pretty much every country that has regulations.
It's really a very expensive track day toy that Ferrari looks after for you; $1.5m and you don't even get to keep it. However it really is much wilder than the GTB, sporting another 100hp — and it wasn't exactly underpowered to begin with — as well as fancy fan-assisted aerodynamics.
Gather 160 points and you'll pick up one of the best cars ever made in the McLaren F1.
McLaren only made 106 examples, across all types including the race cars that scored a 1-3-4-5 at the 1995 24 Hours of Le Mans, and fewer than 70 were road cars like the one you can win this week.
Normally worth eight figures each in the real world when they do, rarely, come up for sale, the F1 was famously the fastest production road car in the world for almost a decade.
Series 20 Spring/Hot Season Rewards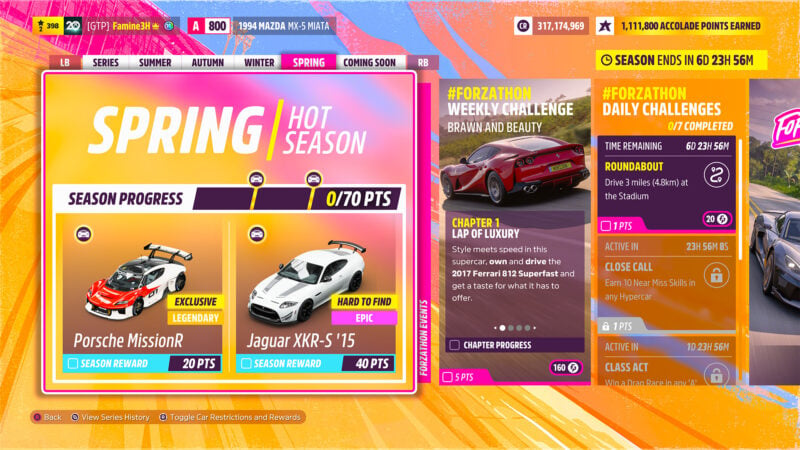 The final new car of the series comes up this week — completing the Evolving World Accolade — with the Porsche Mission R available at 20 points.
Essentially designed as a concept to preview what Porsche's future one-make series in a post-internal combustion world would look like, the Mission R is an all-electric race car.
A possible contender for a future Electric GT Championship, the Mission R is intended to be as quick as a 992 GT3 Cup car around a circuit.
It achieves this with an all-carbon fiber chassis and composite body wrapped round an asymmetrical all-wheel drive system that consists of a 429hp axle motor at the front and a 644hp unit to the rear — for a combined 1073hp.
For 40 points there's a more old-school GT car in the shape of Jaguar's XKR-S GT.
Based on the regular XKR-S, the GT is heavily reworked with everything but the already potent engine tweaked and honed.
Jaguar only made 45 examples of the car, but each has a new six-speed manual gearbox, active differential, model-specific suspension and brakes, and new aerodynamics.
Spring will run through to 1430UTC on Thursday May 25, bringing Series 20 to a close alongside it. We're yet to see what Series 21 will bring when it replaces it.
Series 20 Spring Playlist: Forzathon Events
A Ferrari which does exactly what it says on the trunk stars in the Forzathon Weekly Challenge for the final week of the Series. Own and drive the Ferrari 812 Superfast to get Brawn and Beauty underway.
You'll need to show off its speed first by maintaining 175mph or more for at least 15 seconds — an easy feat on the main highway. After that you'll need to get it out of its comfort zone by performing five Ultimate Air Skills; just get all four wheels off the floor for a jump of a couple of seconds and land safely.
Finally, take the 812 on a five-mile drive (eight kilometers) to complete the challenge and earn five points and 80FP. The Forzathon Points are doubled if you own the La Casa Solariega player house near Teotihuacan.
Weekly Challenge: Brawn and Beauty
Car: Ferrari 812 Superfast '17

Chapter 1: Own and drive the Ferrari 812 Superfast '17
Chapter 2: Maintain a speed of 175mph (281km/h) for 15 seconds in the Ferrari 812 Superfast '17
Chapter 3: Achieve five Ultimate Air Skills in the Ferrari 812 Superfast '17
Chapter 4: Drive five miles (8km) in the Ferrari 812 Superfast '17

Reward: 5 points, 80FP
The final seven Daily Challenges for the Series come along at the regular rate of one a day, at 1430UTC, with seven days to complete each one for one point and 10FP. That timer will run into next Series for the later ones too.
Your first task is to drive three miles (4.8km) at the Stadium — it doesn't need to be the oval — to complete Roundabout.
It's a Close Call next as you earn ten Near Miss Skills — for a close encounter with an NPC traffic car without touching — in any Hypercar.
After that, prove you're a Class Act by winning a Drag Race — at the Festival, Aerodrome, or Teotihuacan strips — in any A Class (701-800PI) vehicle.
Hit 100mph in the 2017 Acura NSX to show you've Accured Some Speed (not a typo…).
A Mercedes-Benz will make a Pretty Picture, so photograph one to pass the challenge.
Take the highway to the Danger Zone, earning six stars at Danger Signs in any vehicle.
Finally for the Series, play any EventLab from the Creative Hub to complete Player Made.
Daily Challenges
May 18 – Roundabout: Drive 3 miles (4.8km) at the Stadium
May 19 – Close Call: Earn 10 Near Miss Skills in any Hypercar
May 20 – Class Act: Win a Drag Race in any A Class (701-800PI) vehicle
May 21 – Accured Some Speed: Reach 100mph (160km/h) in the Acura NSX '17
May 22 – Pretty Picture: Take a photo of any Mercedes-Benz
May 23 – Danger Zone: Earn six stars at Danger Signs in any vehicle
May 24 – Player Made: Play any EventLab from the Creative Hub
Series 20 Spring Playlist: Season Events
We're back to a seven-event list on the single-player Playlist, with two EventLabs joining the two Seasonal Championships and three PR Stunts.
As we've seen recently, each of the three PR Stunts is open to all car categories, up S2 Class (901-998PI), and offers two points and a Super Wheelspin for completion.
It should be a relatively comfortable set of stunts, although the 115mph target for the temporary River Run Speed Zone is pretty tight. 180mph at the Pantano Pass Speed Trap is much easier, and 300m at the Heights of Mulege Danger Sign is only tricky if you try to go too far and don't mind your landing zone.
The Seasonal Championships are three-race series running against Highly Skilled AI. You'll need to top the final points table to take your prizes, consisting of five points to your season total and a bonus vehicle reward.
Alacrit-Rally is a Dirt Racing Series event for C Class (501-600PI) Classic Rally cars, with a 1992 Honda NSX-R as a bonus prize. It's Cross County in Easy Deutsch It, for B Class (601-700PI) cars from Germany, awarding an HSV Maloo.
The EventLabs this week feature new courses laid out on the terrain, and both are open to S2 Class (901-998PI) cars. That might be too much pace for both circuits, but particularly Canyonball Raceway, but complete the requisite number of laps to earn a Super Wheelspin or, for Origami Park Day, a 2011 Volkswagen Scirocco.
EventLab: Canyonball Raceway
Car: S2 Class
Location: Copper Canyon, Canyon Run
Challenge: Finish the race
Reward: 3 points, Super Wheelspin
EventLab: Origami Park Day
Car: S2 Class
Location: Pantano de la Selva, The Gauntlet
Challenge: Finish the race
Reward: 3 points, Volkswagen Scirocco '11
Danger Sign: Heights of Mulege
Car: S2 Class
Location: Mulege, Heights of Mulege Danger Sign
Challenge: 300m
Reward: 2 points, Super Wheelspin
Speed Trap: Pantano Pass
Car: S2 Class
Location: Riviera Maya, Pantano Pass Speed Trap
Challenge: 180mph
Reward: 2 points, Super Wheelspin
Speed Zone: River Run
Car: S2 Class
Location: Estadio Horizon, River Run Speed Zone
Challenge: 115mph
Reward: 2 points, Super Wheelspin
Seasonal Championship: Alacrit-Rally
Car: C Class, Classic Rally
Location: Guanajuato, El Pipila Scramble
Challenge: Win the Championship
Reward: 5 points, Honda NSX-R '92
Seasonal Championship: Easy Deutsch It
Car: B Class, Germany
Location: Cordillera, Las Granjas Cross Country
Challenge: Win the Championship
Reward: 5 points, HSV Maloo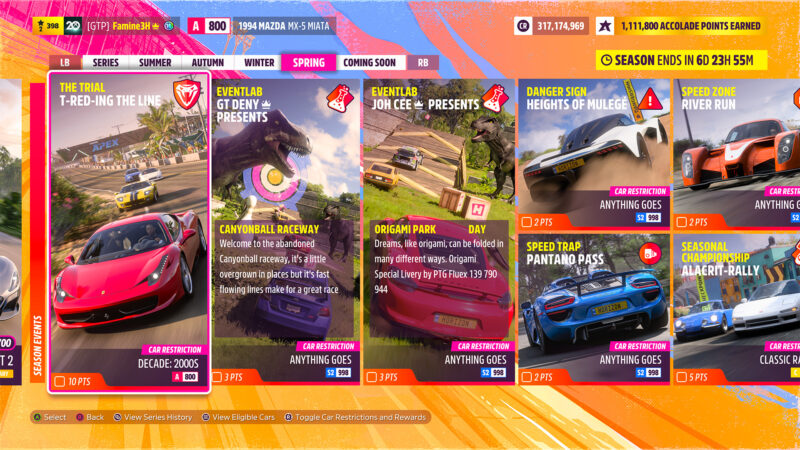 It's just a pair of multiplayer events this time, with each requiring an Xbox Live Gold subscription — unless you play on PC — in order to access them.
Naturally The Trial is one, as it seems to permanently be. It's a best-of-three-race championship for up to six players against a field of six "Unbeatable" AI — though it's usually the humans who are troublesome.
You only earn points for beating opponents, not your fellow players: each player on each team earns 100 points for each opponent they beat. That means you'll need help each other out by not getting in each other's way and blocking the AI.
Called T-Red-Ing The Line, it's a Road Racing event for A Class (701-800PI) cars from the 2000s decade, and it shouldn't be too tricky to win within two races. There's ten points and a Ferrari 458 however you win.
Horizon Tour occupies the other slot. It's a similar format, but it uses "Highly Skilled" AI and requires all three races to be run. The event also requires you to drive across terrain to get from one race to the next — so running in Rally Adventure might be better to save time — but there's no reward for doing so.
Beat the AI on aggregate and you'll earn three points.
Horizon Tour: Co-op Championships
Car: Any
Location: Horizon Tour (any)
Challenge: Win the Championship
Reward: 3 points
The Trial: T-Red-Ing The Line
Car: A Class, 2000s
Location: Palacio Azul del Oceano, Emerald Circuit
Challenge: Win the Championship
Reward: 10 points, Ferrari 458
Series 20 Spring Playlist: Challenges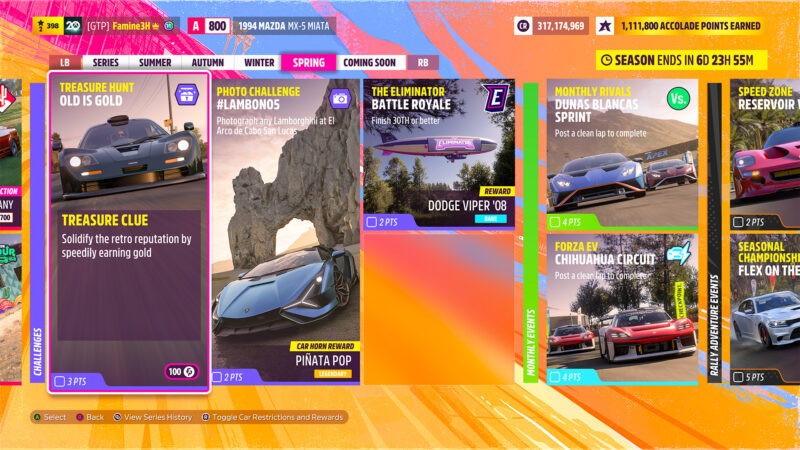 We have three final challenges, with the permanent Photo Challenge, a Treasure Hunt, and a multiplayer Eliminator. That last one will also require Xbox Live Gold or PC play to access.
As usual The Eliminator requires you to finish 30th or better — usually a case of surviving a couple of minutes — with the reward of three points and, for this week, a Dodge Viper '08.
Photo Challenge requires you to go to the far west of the map, and the natural rock arch at Cabo San Lucas. Photograph any Lamborghini while you're there to complete #LamboNo5 and earn two points and a Pinata Pop horn.
The last Treasure Hunt of the series is Old is Gold. Your clue is "Solidify the retro reputation by speedily earning gold", accompanied by the image of a McLaren F1 GTR longtail and a Speed Trap.
That fills in most of the solution — you'll need a Retro Supercar (like the F1) and a Speed Trap — but the final piece of it is missing: you'll need to accumulate a total of three stars at any Speed Traps. We did it in three one-star passes, but anything will do. You could use a Lamborghini Diablo if you want to double up with the Photo Challenge.
Complete that task and you'll reveal the treasure hint map marker, showing the approximate location of the treasure chest. It's difficult to miss this week, sitting right up against the Pyramid of the Moon at Teotihuacan. "Find" and smash it to earn 100FP and three points.
The Eliminator: Battle Royale
Cars: Any (provided)
Location: Valle de las Ranas, The Eliminator
Challenge: Finish 30th or better in The Eliminator
Reward: 3 points, Dodge Viper '08
Photo Challenge: #LamboNo5
Cars: Lamborghini (any)
Location: El Arco de Cabo San Lucas
Challenge: Photograph any Lamborghini at El Arco de Cabo San Lucas
Reward: 2 points, Pinata Pop Horn
Treasure Hunt: Old is Gold
Cars: Track Toy
Location: Speed Trap (any)
Challenge: Get one star at any Speed Trap in any Retro Supercar; find and smash the Treasure Chest
Reward: 3 points, 100FP
It's your last week of the two Rivals challenges if you haven't already completed them. Each offers a total of four points for completion — one added to each season — whenever you complete them in the Series.
Although named "Rivals" events, they're not quite the same as regular Rivals events. You don't need to beat times set by others, just drive cleanly and not have your run invalidated.
That's going to be particularly important this month as Monthly Rivals features a point-to-point sprint; you won't be able to keep plodding laps out until it's clean, only restart, so keep the Huracan STO off the hard stuff at Dunas Blancas to score the point.
Forza EV is a standard lap of the Chihuahua Circuit using the new Porsche Mission R.
Forza EV: Chihuahua Circuit
Cars: Porsche Mission R (Provided)
Location: Hotel Mirador, Chihuahua Circuit
Challenge: Post a Clean Lap
Reward: 4 points (1 added to each season)
Monthly Rivals: Dunas Blancas Sprint
Cars: Lamborghini Huracan STO (Provided)
Location: Gran Caldera, Dunas Blancas Sprint
Challenge: Post a Clean Lap
Reward: 4 points (1 added to each season)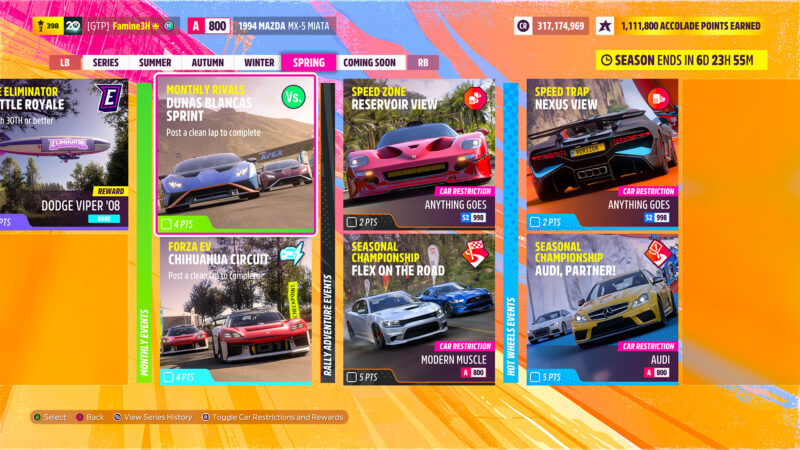 Series 20 Spring Bonus DLC Events
Each of the DLC packs provides a pair of bonus events — one PR Stunt and one Seasonal Championship apiece – giving owners of either (or both) the chance for some extra points. They're not required to hit 100% of the Playlist, but help out if anything on the main map is too tricky or a chore.
That said, the PR Stunts this week are pretty hard. Each requires any car up to S2 Class (901-998PI), and awards two points and a Super Wheelspin, as with the main map.
The Reservoir View Speed Zone in Rally Adventure requires a 95mph pass, and you're going to need a lot of grip to hit that thanks to two very sharp bends. 220mph at Nexus View in Hot Wheels is just as difficult thanks to the loop beforehand which may bottom-out very fast cars.
Each Seasonal Championship is a three-race event worth five points. Audi, Partner! in Hot Wheels requires A Class (701-800PI) Audis and awards a Mercedes C63 AMG, while Flex on the Road in Rally Adventure is for B Class (601-700PI) Modern Muscle and offers a German Engineering Hoodie.
Hot Wheels Speed Trap: Nexus View
Car: S2 Class
Location: Hot Wheels Turbo Clef, Nexus View Speed Trap
Challenge: 220mph
Reward: 2 points, Super Wheelspin
Hot Wheels Seasonal Championship: Audi, Partner!
Car: A Class, Audi
Location: Hot Wheels Ice Cauldron, Lava Loop Hazard Sprint
Challenge: Win the Championship
Reward: 5 points, Mercedes-Benz C63 AMG
Rally Adventure Speed Zone: Reservoir View
Car: S2 Class
Location: Sierra Nueva Radio Epitaph, Reservoir View Speed Zone
Challenge: 95mph
Reward: 2 points, Super Wheelspin
Rally Adventure Seasonal Championship: Flex on the Road
Car: B Class, Modern Muscle
Location: Sierra Nueva Valle de Pozas, El Bosque
Challenge: Win the Championship
Reward: 5 points, German Engineering Hoodie
Series 20 Spring Forzathon Shop
Supercars split by almost five decades appear in the Forzathon Shop this week, and we're again dealing with one of the fastest cars ever made right at the front of the store.
That's where you'll find the Rimac Concept 2, a roadworthy prototype of the Rimac Nevera which recenly set a whole new bunch of acceleration world records.
This all-electric machine is about as exotic as they get but comes from a nation not well known for its car industry — at least until Mate Rimac put Croatia on that particular map with the short production run of the Concept One.
Like its predecessor, the Concept 2 boasts four individual, in-wheel motors that combine for a staggering total power output of 1,900hp, producing bewildering acceleration times right up to its 250mph+ top speed.
The BMW M1 sits in the other slot. Despite a significant power and performance deficit though, the M1 is as cool as they come.
It was the first — and for a long time only — mid-engined car from BMW, and was the vehicle that gave birth to the entire BMW M sub-brand.
The Rimac is yours for 700FP and the BMW will cost 400FP, against an Autoshow price of 2,000,000cr and 585,000cr respectively.
Store items this week are the Thumbs Up Emote and the Watermelon Crew Socks, at 75FP each. The Wheelspin (60FP) and Super Wheelspin (150FP) remain in their usual spots.
See more articles on Forza Horizon 5 Season Change.