Forza Horizon 5's latest Season Change is now available, bringing the last week of the current Series as we prepare to wave goodbye to the Italian shenanigans.
It's the final playlist in the four-week Series, "Italian Automotive", which has unsurprisingly centered on the nation famous for its range of small cars and exotic performance models over the last 70 years.
The key feature of Series 24 is the return of four marques that didn't make the transition from Forza Horizon 4 — possibly as a result of a major motor industry merger which appears to have had effects on licences across the racing game industry.
That does now seem to be at an end, and as a result S24 has seen Abarth, Alfa Romeo, FIAT, and Lancia all come back with a total of 16 new vehicles. Half of those are available in the Autoshow for purchase at any time, with the other eight coming as rewards during the Series.
Naturally there's an Evolving World Accolade for collecting those eight vehicles, which requires no less than 40 points on each of the four seasonal playlists.
Additionally there's seven more cars in a special, paid DLC pack (not included in the Premium Edition), and this Series gives you a chance to sample one of them for free in a Monthly Rivals event. A try-before-you-buy, if you will.
Table of Contents
Series 24: Italian Automotive
Habitual players will already have picked up both of the reward cars for the Series, and as neither are new to the game it's likely they'll be duplicates. Of course neither are available through ordinary means, so it's a good way to bolster your funds through the Auction House…
At 80 points you'll collect the Lamborghini Aventador SVJ, once the fastest car in the world around the Nordschleife.
That comes courtesy of the usual measures, with more power from the V12, less weight through extensive use of composites and deletion of optional extras, and a natty adaptive aerodynamics system.
For 160 points there's the Ferrari 512TR, which was the result of Ferrari's efforts to improve one of the most famous names of the 1980s.
The Testarossa likely needs no introduction, but it did need some attention in terms of driving manners. Ferrari reworked the steering, gear change, suspension, and weight balance to make the 512TR, as well as stripping a little weight and adding quite a fair bit of power.
Series 24 Spring/Hot Season Rewards
This season's rewards are brought to you by the numbers 124 and 037…
Rustle up 20 points and you'll earn the former, in the shape of the Abarth 124 '17 — although technically it's in the shape of the ND Mazda MX-5.
That's because, in an unusual example of cross-brand sharing, the 124 was based on the MX-5. FIAT made a few changes to the front end, but more significant changes came under the hood with a 1.4-liter turbo — turned up to 170hp in the Abarth — providing some much-needed power to the platform.
Something considerably more custom-made comes at 40 points, with the Lancia 037 Stradale.
This is the roadgoing, homologation special version of the quite ludicrous Lancia 037 rally car, a Group B machine that was the last rear-wheel drive vehicle to win any rally outright.
It is slightly sanitised in road form, sporting just 200hp from its supercharged engine, but still consists of a tubular space frame chassis melded with a kevlar composite body — loosely based on the Beta Montecarlo — to provide a lightweight, high-performance machine.
Spring will continue until 1430UTC on Thursday September 14, bringing Series 24 to a close along with it. They'll be replaced by Summer of Series 25, "Horizon Creatives", which we'll find out more about soon.
Series 24 Spring Playlist: Forzathon Events
It's finally Alfa Romeo's turn in the Forzathon Weekly Challenge this week, and one of its modern offerings is the star. Own and drive the Alfa Romeo Giulia Quadrifoglio 2017 to get Four Leaf Clover underway.
Take the super saloon to any of the three drag strips — Teotihuacan (short), Horizon Festival (medium), or Aerodromo (long) — and win a race there to complete the next stage, before scoring three stars at any Speed Zones, all in one go or bit by bit.
Finally you'll need to rack up a total of 50,000pt in any Drift Zones — again, all at once (Precipice is good for this) or spread out if you wish — to complete the challenge and earn five Playlist points and 80 Forzathon Points — the last of which is doubled if you own the Casa Solariega player house.
However, while you're in the car, you might also like to take it down to the cloverleaf junction of the highway, between Horizon Street Scene and Teotihuacan for this week's Treasure Hunt…
Weekly Challenge: Four Leaf Clover
Car: Alfa Romeo Giulia Quadrifoglio '17

Chapter 1: Own and drive the Giulia Quadrifoglio '17
Chapter 2: Win a Drag Race in the Giulia Quadrifoglio '17
Chapter 3: Earn three stars at Speed Zones in the Giulia Quadrifoglio '17
Chapter 4: Earn a total of 50,000 points in Drift Zones in the Giulia Quadrifoglio '17

Reward: 5 points, 80FP
It's the final set of Italian-themed events for the Daily Challenges, with seven tasks unlocking in sequence at 1430UTC each day. You'll earn one point for completing each one, and you'll have a full seven days to do so even if that runs into Series 25 (caveat: we've not actually been brave enough to try this).
It's a High Fidelity challenge first, as you'll need to win a Dirt Race in the 1992 Lancia Delta HF Integrale.
You'll be proving you have Alpha Skill next, banking a total of 100,000 Skill Score in any Alfa Romeo. Note that this might come up accidentally while doing the Weekly Challenge above, so you might want to save that until Friday.
The little 1968 Abarth 595 SS is rather Photogenic (even if Microsoft's word filters don't like the name) so take a photograph of it to complete this challenge.
Be a Crowd Pleaser next and earn 20 Air skills — for getting all four wheels off the floor and landing again — in any Lancia. This can probably also be completed alongside the earlier Daily for the Delta.
Take any Ferrari up to a speed of 100mph or more and hold it for ten seconds to prove you're Superfast.
Maserati mixes Beauty With Performance, so take a photograph of any car from the brand to pass this challenge.
Finally, and far less Italian, smash five plant pots (you'll earn a Feat of Clay Skill for hitting the correct item) while in Guanajuato to show off your Flower Power.
Daily Challenges
September 7 – High Fidelity: Win a Dirt Race in the Lancia Delta HF Integrale '92
September 8 – Alpha Skill: Bank a total of 100,000 Skill Score in any Alfa Romeo
September 9 – Photogenic: Photograph the 1968 Abarth 595 SS
September 10 – Crowd Pleaser: Earn 20 Air skills in any Lancia
September 11 – Superfast: Maintain a speed of 100mph for ten seconds in any Ferrari
September 12 – Beauty With Performance: Take a picture of any Maserati
September 13 – Flower Power: Smash five plant pots in Guanajuato
Series 24 Spring Playlist: Season Events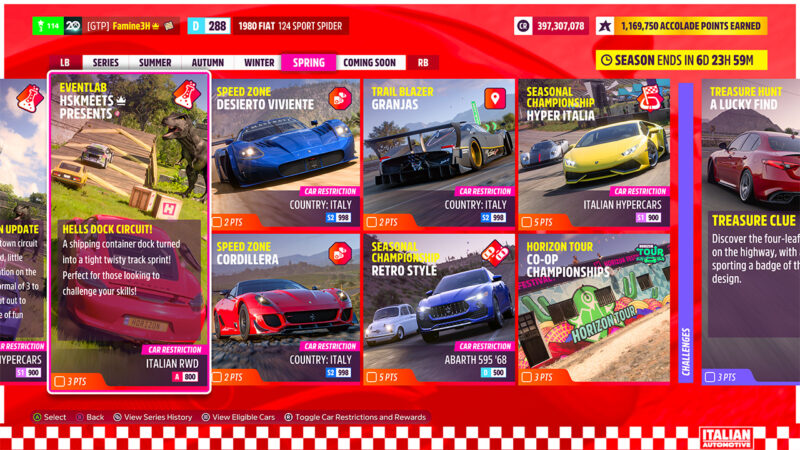 It's another seven-challenge event this week, with two five-point Seasonal Championships, three two-point PR Stunts, and two three-point EventLabs.
This week's EventLabs take place on opposite coasts, and each requires a car from Italy. Playa Azul Midtown Update is a custom city circuit created within the titular town on the east side of the map. You'll need an S1 Class (901-998PI) Hypercar for the event, which awards a Ferrari F355.
There's a Super Wheelspin on offer for Hells Dock Circuit, which requires an A Class (701-800PI) rear-wheel drive car. This is actually a point-to-point course, but it does loop round the custom-made dockyard environment twice before you reach the end.
For the PR Stunts this week we see a return to the standard format which will allow you to use one car for all — any S2 Class (901-998PI) car from Italy — and each offers the usual Super Wheelspin. All three are clustered right by the east side of the Festival site, and you're going to want significant off-road capability as all are primarily dirt or cross country events.
Again we have two of the same type too, with the Cordillera and Desierto Viviente Speed Zones. The targets are on the tricky side, at 120mph and 100mph respectively. There's also the nearby Granjas Trailblazer, with a 30-second target; it's not too tough but do keep an eye on the stream crossing near the end and use the road bridge for best results.
There's very different paces in the two Seasonal Championships, each being a three-race event against Highly Skilled AI. You'll need to top the points table at the end of the event to win the five points and bonus reward.
Hyper Italia will see you driving any S1 Class (801-900PI) Italian Hypercars in a road racing event that will award you a Lamborghini Huracan. Meanwhile you'll need a D Class (≤500PI) Abarth 595 SS '68 for Retro Style, which is a street racing series — watch out for NPC traffic! — and awards a Maserati Levante.
EventLab: Hells Dock Circuit
Car: A Class, Italy, RWD
Location: Dunas Blancas
Challenge: Finish the race
Reward: 3 points, Super Wheelspin
EventLab: Playa Azul Midtown Update
Car: S1 Class, Italy, Hypercar
Location: Playa Azul
Challenge: Finish the race
Reward: 3 points, Ferrari F355
Speed Zone: Cordillera
Car: S2 Class, Italy
Location: San Juan
Challenge: 120mph
Reward: 2 points, Super Wheelspin
Speed Zone: Desierto Viviente
Car: S2 Class, Italy
Location: Horizon Festival
Challenge: 100mph
Reward: 2 points, Super Wheelspin
Trailblazer: Granjas
Car: S2 Class, Italy
Location: San Juan
Challenge: 30s
Reward: 2 points, Super Wheelspin
Seasonal Championship: Hyper Italia
Car: S1 Class, Italy, Hypercar
Location: Estadio Horizon
Challenge: Win the Championship
Reward: 5 points, Lamborghini Huracan
Seasonal Championship: Retro Style
Car: D Class, Abarth 595 '68
Location: Club de Opalo
Challenge: Win the Championship
Reward: 5 points, Maserati Levante
The final multiplayer offering for the Series — requiring an Xbox Live subscription to access on console, or free to participate on PC — consists of two events.
For three points only, with no bonus reward, there's Horizon Tour. You can start this event in any of the three locations, directly from the playlist, and simply need a vehicle that fits into whatever event hopper you find yourself in.
It's a three-race team event that pits you and up to five other humans against a team of six "Highly Skilled" AI. Within each race you'll earn 100pt for every AI you beat but nothing (aside from a 50pt bonus for winning overall) for beating your own team-mates.
That means you'll all be better off if the fastest humans block the fastest AI to allow the slowest humans to get ahead of them, maximizing the points your team scores.
One curious twist with the Tour is that you'll also need to drive from the end point of one race to the start point of the next, rather than teleporting. There's no rewards for doing so though.
Joining it is The Trial, which is a very similar event. The three key changes here are that the AI become "Unbeatable" level, it's now only a best-of-three event, and there's no driving across the terrain between races.
This week it's a road racing series event for S1 Class (801-900PI) Modern Supercars from Italy. That might mean excessive pace into slower corners and a general lack of control from some of the humans, but it should be a relatively gentle win inside two races if even half the team are competent and don't show up in untuned vehicles.
Victory means ten points and a Ferrari 365 GTB4 for all human participants.
Horizon Tour: Co-op Championships
Car: Any
Location: Horizon Tour (any)
Challenge: Complete a Horizon Tour event
Reward: 3 points
The Trial: Rush Hour
Car: S1 Class, Italy, Modern Supercars
Location: Los Jardines
Challenge: Win the Championship
Reward: 10 points, Ferrari 365 GTB4
Series 24 Spring Playlist: Challenges
The final list of Challenges for the Series consists of three events, with Treasure Hunt remaining alongside the regular Photo Challenge, and The Eliminator returning.
You'll need access to multiplayer for the Eliminator, requiring PC play or an Xbox Live subscription, but the challenge remains in its usual format. Just finish 30th or better — commonly a matter of surviving unchallenge for two minutes — to earn two points and a "Game Over Yeaahhhhhh" Forza LINK greeting.
The Photo Challenge this week, #TrackDay, centers on the Pagani brand. Just take a photo of any car from the marque at the Horizon Festival site to earn two points and the Running Man Challenge Emote.
Finally there's the Treasure Hunt, A Lucky Find. It's a simple but complex clue this week, reading "Discover the four leaf clover on the highway, with a car sporting a badge of the same design".
That's not terribly hard to solve. You'll need to grab the Alfa Romeo Giulia Quadrifoglio '17 — the same vehicle as this week's Forzathon Weekly — and head to the cloverleaf junction on the main highway; that's the one between the Street Scene outpost and Teotihuacan.
Completing that will reveal the Hint, showing a red circle on your map around the approximate location of the chest. This week that's on the west side of Guanajuato, with the chest itself at the fountains just below the overlook road at the far west (there's also some plant pots here; enough to complete the relevant Daily Challenge). Find and smash it to earn three points and 100FP.
The Eliminator: Battle Royale
Cars: Any (provided)
Location: The Eliminator
Challenge: Finish 30th or better in The Eliminator
Reward: 2 points, "Game Over Yeaahhhhhh" Forza LINK
Photo Challenge: #TrackDay
Cars: Pagani (any)
Location: Horizon Festival
Challenge: Photograph any Pagani at the Horizon Festival
Reward: 2 points, Running Man Challenge Emote
Treasure Hunt: A Lucky Find
Cars: Alfa Romeo Giulia Quadrifoglio '17
Location: Horizon Street Scene
Challenge: Drive the Giulia Quadrifoglio to the highway cloverleaf; find and smash the Treasure Chest
Reward: 3 points, 100FP
Series 24 Spring Playlist: Monthly Events
There's one final week to complete the two Monthly Events if you haven't already done so. You'll receive a total of four points for each one, with one point added to each of the four Seasons regardless of when you complete them.
In each case you'll need to complete a clean run at the respective courses using the cars provided to you — and you can select the events directly from the Playlist. How fast you go doesn't matter, so long as you don't invalidate the run by hitting anything solid or using Rewind.
That won't be particularly easy this month, with both events providing their own challenges to cleanliness.
The Horizon Mexico Circuit event uses the exceptionally quick, paid DLC Lamborghini Essenza SCV12 track car for the lap, and there's lots of opportunity to eat barriers.
Meanwhile the Volcan Sprint challenge is both overly long — providing plenty of chances to make an error — and a point-to-point, meaning a fresh run requires a new start. Additionally the twitchy Alfa Romeo 4C is more than happy to throw you off the mountain.
Monthly Rivals: Horizon Mexico Circuit
Cars: Lamborghini Essenza SCV12 (provided)
Location: Horizon Festival
Challenge: Post a Clean Lap
Reward: 4 points (1 added to each season)
Monthly Rivals: Volcan Sprint
Cars: Alfa Romeo 4C (provided)
Location: Gran Caldera
Challenge: Post a Clean Time
Reward: 4 points (1 added to each season)
Series 24 Spring Bonus DLC Events
Players who own either of the two DLC expansion packs get a chance to earn seven additional points in each location, consisting of a two-point PR Stunt and a five-point Seasonal Championship in each. These aren't required for Playlist completion so you don't miss out if you don't have them.
Over in Hot Wheels this week, there's the Cliff Racers Seasonal Championship, for any S2 Class (901-998PI) cars, offering a Spin Emote reward. There's also the Nexus View Speed Trap — best approached from the north — for S2 Class (901-998PI) Extreme Track Toys, with a Super Wheelspin award for hitting the difficult 210mph goal.
Rally Adventure offers up a Speed Zone, at Crateres Secos, for A Class (701-800PI) cars from Italy. You'll need something good at dealing with the sand (Urus, LM002) if you want to hit the stern 72mph target and earn the Super Wheelspin. The Seasonal Championship, Peak Performance, requires A Class (701-800PI), all-wheel drive cars from Italy and gives a White Snake Helmet.
Hot Wheels Speed Trap: Nexus View
Car: S2 Class, Extreme Track Toys
Location: Hot Wheels Forest Falls
Challenge: 210mph
Reward: 2 points, Super Wheelspin
Hot Wheels Seasonal Championship: Cliff Racers
Car: S2 Class
Location: Hot Wheels Horizon Nexus
Challenge: Win the Championship
Reward: 5 points, Spin Emote
Rally Adventure Speed Zone: Crateres Secos
Car: A Class, Italy
Location: Sierra Nueva Crateres Secos
Challenge: 72mph
Reward: 2 points, Super Wheelspin
Rally Adventure Seasonal Championship: Peak Performance
Car: A Class, Italy, AWD
Location: Sierra Nueva Senda de Montanana
Challenge: Win the Championship
Reward: 5 points, White Snake Helmet
Series 24 Spring Forzathon Shop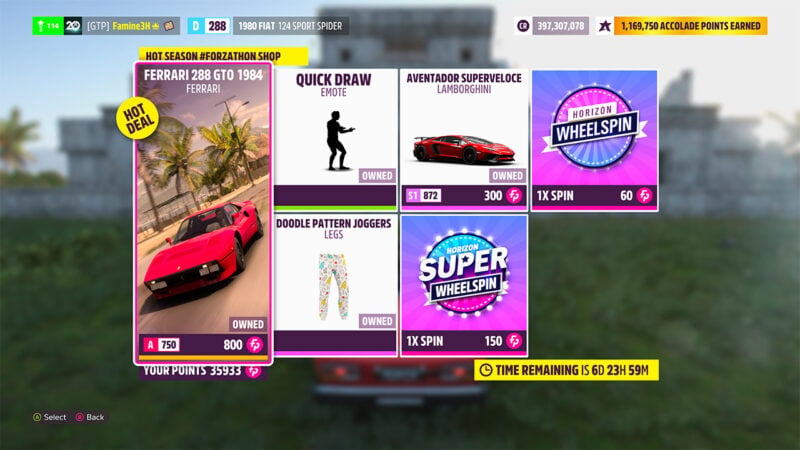 It's another week for both Lamborghini and Ferrari in the Forzathon Shop, with two of the brands' most famous names.
The feature car this week is the 1984 Ferrari GTO. Sometimes erroneously called the 288 GTO, the car was the second of three (to date) Ferraris to carry the fabled "GTO" name.
Despite the "Omologato" appellation, this GTO wasn't specifically designed as a homologation model for racing. Instead it was an attempt from Ferrari to build a considerably more over-the-top vehicle than its recent output, using lessons learned about turbocharging from its F1 exploits.
Built in limited numbers, the GTO set the groundwork for what would be one of the brand's greatest ever cars: the F40.
Alongside that is the Lamborghini Aventador Superveloce, an upgraded, more powerful and lighter version of the "regular" Aventador.
The GTO is a pretty steep 3.5m in the Autoshow, so 800FP might be a price worth paying. However the Lamborghini's 300FP seems less of a bargain compared to the 480,000cr price in the regular shop.
Other store items this week include the Quick Draw Emote and the Doodle Pattern Joggers at 75FP each. The Wheelspin (60FP) and a Super Wheelspin (150FP) occupy their regular spots.
See more articles on Forza Horizon 5 Season Change.