The final week of Forza Horizon 5's current Series is now upon us, as the next seven days brings the game to its second anniversary — and Series 27.
That of course means we're saying goodbye to Series 26 this week, and its colorful theme of "Dia de Muertos": Mexico's "Day of the Dead" festival.
One last set of Playlist events awaits then, with the final challenges for the Series and its world makeover — which sees the town of Mulege transformed into a carnival of the deceased.
You will need to head there several times even in this final week, but doing so will show off the festival's unique aesthetic.
Day or night — thanks to an after-dark light show from the drones you'll find in Rally Adventure's Sierra Nueva — there's colors everywhere, including the bright animal carvings (alebrijes) and decorated skulls (calaveritas). There's also stalls selling the festival's theme flower, the marigold, as well as piles of them around the streets.
Of course from a player point of view there's also four brand-new cars to pick up this month, along with an Evolving World Accolade for collecting them all. Four more vehicles are also available through a new paid-DLC pack.
Table of Contents
Series 26: Dia de Muertos
Although neither car on the Series rewards is new to the game, both are unobtainable in the Autoshow and well worth picking up if only to flip for big returns in the Auction House. Or you could drive them?
One of the prettiest and yet also best-sounding cars ever made pops up first, in the shape of the Ferrari 250 GT Berlinetta Lusso at 80 points.
This pairs the Pininfarina-designed body with the classic Ferrari Colombo V12 to make a truly stunning combination. It also marked the end of the famous 250 line — perhaps best known for the 250 GTO — as the 250cc-per-cylinder V12 was enlarged for the subsequent 275 and 330 models.
Another "last" Ferrari lines up at 160 points, by way of the rather appropriately named F8 Tributo.
You could probably guess, even if your Italian wasn't that great, that the car is a tribute to Ferrari's eight-cylinder engine as the brand heads down the forced induction and electrification route.
What a way to go though, with a 710hp, 3.9-liter F154 V8 placed behind the driver.
Series 26 Spring/Hot Season Rewards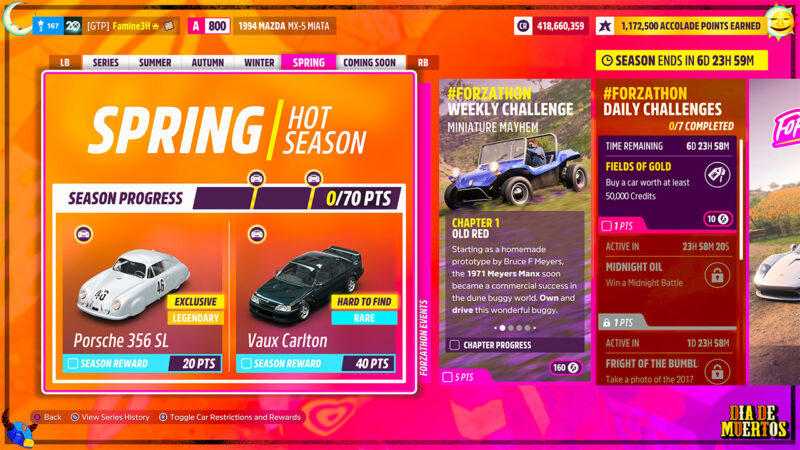 The final new car of the Series pops up this week as the 20pt reward car, as a piece of Porsche history makes its way back to Horizon.
That's the Porsche 356 SL Gmund Coupe, a lightweight, streamlined 1950s racer that actually delivered the brand its first ever Le Mans win — albeit a class win.
Remarkably it achieved that with a 1.1-liter flat four good for only 46hp, so dragging that down the Hunaudieres must have been pretty tortuous. The trade-off would have been fuel economy and corner speeds, at barely 1,400lb all-in.
Prodigious straight-line speed was a trait of this week's 40-point car, at least according to the United Kingdom's Parliament where the car featured in a discussion of just how fast poor people needed to travel.
That's because the Lotus Carlton could hit 177mph and yet barely cost £40,000 when it came out in 1990. The police couldn't keep up with it, so despite the rarity it became a common target for thieves as a getaway car.
Spring will run until 1430UTC on Thursday November 9, bringing Series 26 to an end along with it. That'll be succeeded by Summer of Series 27, "American Automotive", about which we know little for now…
Series 26 Spring Playlist: Forzathon Events
Big Red is the final hero car this month, with the original Meyers Manx taking the spotlight in the Forzathon Weekly Challenge. Own and drive the classic beach buggy to get Miniature Mayhem underway.
Take the car to its natural habitat and earn a Dirt Race win to clear the next stage, before getting even closer to home and picking up four Kangaroo Skills in Dunas Blancas. You'll earn one by chaining two Air Skills together — by leaping so all four wheels are off the ground, landing, and then doing it again immediately — which should be simple if you drive straight over the dunes.
Finally earn five stars at any Danger Signs (may as well be Desert Dunes, as it's right where you are already) to complete the challenge and earn five Playlist points with an 80 Forzathon Point bonus. That latter reward is doubled if you own the Casa Solariega player house.
Weekly Challenge: Miniature Mayhem
Car: Meyers Manx '71

Chapter 1: Own and drive the Meyers Manx '71
Chapter 2: Win a Dirt Race in the Meyers Manx '71
Chapter 3: Earn four Kangaroo Skills in Dunas Blancas using the Meyers Manx '71
Chapter 4: Earn five stars at Danger Signs in the Meyers Manx '71

Reward: 5 points, 80FP
Your final seven Daily Challenges for the Series come along at the usual rate of one each day at 1430UTC. There's seven days to complete each one, even if that runs into the next Series, and you'll earn one Playlist point for each.
Fields of Gold is up first, and it will autocomplete if you've ever purchased a car from the Autoshow worth 50,000cr or more. Nice and easy!
Burn the Midnight Oil next by winning any Midnight Battle event; these are marked with large, darker purple icons on the main map.
Taking a photograph, anywhere in the world, of the 2017 Chevrolet Camaro ZL1, will earn you the Fright of the Bumblebee.
You'll need to Alpine and Dine next, by winning two Dirt Races in the 1973 Alpine A110.
Reach for the Moon by earning ten Air Skills — for getting all four wheels off the ground and landing safely — around La Gran Caldera.
Earn four stars at any Trailblazers to complete the next challenge with a blooming awful name, FloRally.
Finally you'll need to be up Late at Night and win any Street Race to close out the Series.
Daily Challenges
November 2 – Fields of Gold: Buy a car worth at least 50,000cr
November 3 – Midnight Oil: Win a Midnight Battle
November 4 – Fright of the Bumblebee: Take a photo of the Chevrolet Camaro ZL1 '17
November 5 – Alpine and Dine: Win two Dirt Races in the Alpine A110 '73
November 6 – Reach for the Moon: Earn ten Air Skills around La Gran Caldera
November 7 – Florally: Earn four stars at Trailblazers in any Rally Monster
November 8 – Late at Night: Win a Street Race
Series 26 Spring Playlist: Season Events
It's a surprisingly compact final week with just six solo challenges available. That consists of the usual two EventLabs and three PR Stunts with just one Seasonal Championship.
This week's PR car is any B Class (601-700PI) Volkswagen, and you can use the same vehicle for all three (and the two DLC pack stunts) if you like as the targets aren't too stiff. There's a Super Wheelspin and two points available each time.
You'll need to complete the Barranco Trailblazer, down the volcano's east flank, with 22 seconds remaining, hit 100mph through the Callejon Speed Trap in Guanajuato, and earn a mere 19,000pt in the Giro Encorvado Drift Zone at the Festival. It's well worth styling that last one into a few thousand Skill Score points, for Treasure Hunt reasons…
Field Trip is your only Seasonal Championship, a three-race event against Highly Skilled AI that will require you to top the points table at the end of the championship. You'll need any D Class (≤500PI) Cult Car for the series, and there's five points and a Toyota FJ40 if you win.
Both EventLab races are worth the usual three points, with a bonus reward for completion, and feature custom courses at two major game locations.
Vulcan Raceway is a modern race track laid out on new platforms around the volcano (although on Series X the volcano's textures do not play ball), with a Vauxhall Monaro for completing the required four laps in any A Class (701-800PI) Modern Sports Car.
There's just three laps of Hells Mulege City Circuit, which consists of a resort city built on top of the titular town. You'll need a B Class Nissan (601-700PI), and there's a Super Wheelspin for completing the laps. It's also worth noting that there's no checkpoints at all here, and some obvious shortcuts if you want to get it done quickly…
EventLab: Hells Mulege City Circuit
Car: B Class, Nissan
Location: Mulege
Challenge: Finish the race
Reward: 3 points, Super Wheelspin
EventLab: Vulcan Raceway
Car: A Class, Modern Sports Car
Location: Gran Caldera
Challenge: Finish the race
Reward: 3 points, Vauxhall Monaro
Drift Zone: Giro Encorvado
Car: B Class, Volkswagen
Location: Horizon Festival
Challenge: 19,000pt
Reward: 2 points, Super Wheelspin
Speed Trap: Callejon
Car: B Class, Volkswagen
Location: Guanajuato
Challenge: 100mph
Reward: 2 points, Super Wheelspin
Trailblazer: Barranco
Car: B Class, Volkswagen
Location: Gran Caldera
Challenge: 22s
Reward: 2 points, Super Wheelspin
Seasonal Championship: Field Trip
Car: D Class, Cult Cars
Location: Dunas Blancas
Challenge: Win the Championship
Reward: 5 points, Toyota FJ40
The multiplayer events are a points-mine this week, as Horizon Tour joins The Trial. You'll need an Xbox Live subscription to access these events on console — although it's free to take part on PC.
Both are three-race series for a team of up to six humans against six AI racers, and in each case the goal is to score the best points you can as a team — with each driver on each team earning 100pt for each opponent they beat but nothing for beating a team-mate.
There's some notable differences though. In Horizon Tour the AI are merely "Highly Skilled" and thus eminently beatable. However you will need to get through all three races and, importantly, drive from the end of each race to the start of the next.
That will go unrewarded, but you'll take home a huge eight points for winning, and you can do so in any race or vehicle type that comes up in the rotation.
The Trial is a little more fearsome, with the AI turned up to "Unbeatable", but it's usually the humans that are the problem as people still fail to realise you need to help each other and hinder the AI.
It should be a relatively simple event this week with B Class (601-700PI) Retro Sports Cars required for the Street Racing event; just watch out for NPC traffic!
With power down low and grip up high it should be a comfortable win inside two races for ten points a Hoonicorn.
Horizon Tour: Co-op Championships
Car: Any
Location: Horizon Tour (any)
Challenge: Complete a Horizon Tour
Reward: 8 points
The Trial: Street Cruising
Car: B Class, Retro Sports Cars
Location: Colinas Aridas
Challenge: Win the Championship
Reward: 10 points, Hoonicorn
Series 26 Spring Playlist: Challenges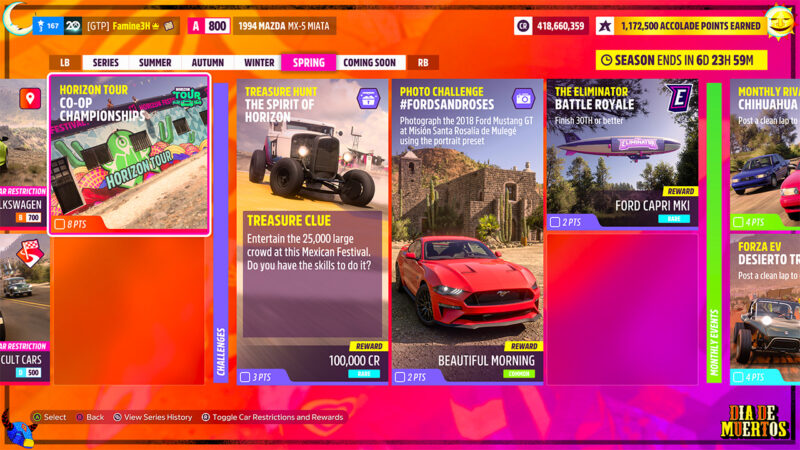 It's another three-challenges week, as The Eliminator returns alongside the Treasure Hunt and the regular Photo Challenge.
Again you'll need Xbox Live (or to play on PC) for The Eliminator, but the challenge is its usual simple task. You'll only need to survive long enough to finish 30th or better and you'll claim two points and a Ford Capri as a bonus prize.
This week's Photo Challenge, #FordsAndRoses, takes you to — where else — Mulege, and in fact the location of last week's Treasure Hunt.
You'll need to take a 2018 Ford Mustang GT to the Mission Santa Rosalia in Mulege and snap a photo of it. However this particular challenge requires the use of the "Portrait" preset in Effects Mode, so select that, grab your shot, and earn two points and a Beautiful Morning horn.
Finally there's the Treasure Hunt, which advises you to "Entertain the 25,000 large crowd at this Mexican Festival. Do you have the skills to do it?".
That's a slightly complicated way of saying you'll need to earn 25,000 Skill Score at the Horizon Mexico Festival, so hop to it — you can turn the Drift Zone PR stunt into part of the challenge — to earn the Treasure Hint map marker.
Naturally that's over Mulege again, but this time on the west side. You'll find the chest in front of a hotel building on the dirt road of the Ranchito Speed Zone — right by the southern camera. Smash it to earn three points and 100,000cr.
The Eliminator: Battle Royale
Cars: Any (provided)
Location: The Eliminator
Challenge: Finish 30th or better in The Eliminator
Reward: 2 points, Ford Capri Mk1
Photo Challenge: #FordsAndRoses
Cars: Ford Mustang GT '18
Location: Mission Santa Rosalia, Mulege
Challenge: Photograph the Mustang '18 at Mission Santa Rosalia de Mulege using the Portrait preset
Reward: 2 points, Beautiful Morning Horn
Treasure Hunt: Spirit of Horizon
Cars: Any
Location: Horizon Mexico Festival
Challenge: Earn 25,000 Skill Score at Horizon Mexico Festival; find and smash the Treasure Chest
Reward: 3 points, 100,000cr
Series 26 Spring Playlist: Monthly Events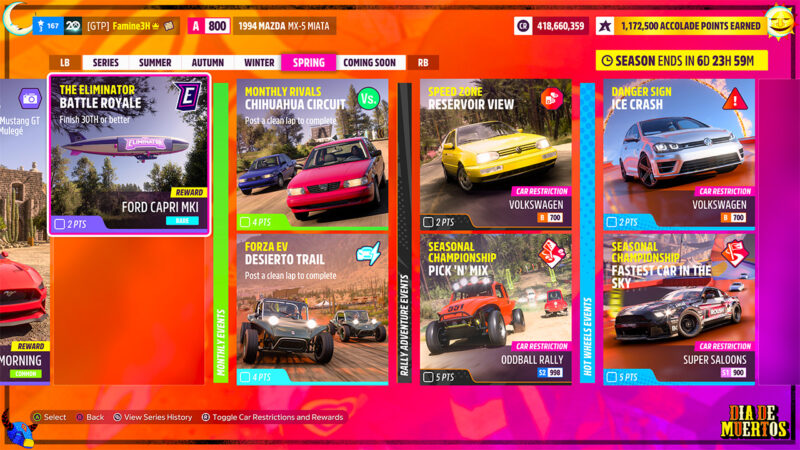 It's your final chance to complete the Monthly Events this Series, unless you have already done them of course. Each challenge awards four points to your Series total — one point per event to each season — no matter when in the Series you complete them.
Both challenge, which are similar to Rivals events, feature new-to-game vehicles this month. You don't need speed to pass though, only a clean time, so avoid hitting solid objects or — despite temptation on the point-to-point option — using the Rewind feature.
Monthly Rivals places you into the game's new Nissan Tsuru for a lap of the tight Chihuahua Circuit, while the Forza EV challenge stars the all-electric Meyers Manx 2.0 at the long, offroad Desierto Trail ribbon.
Forza EV: Desierto Trail
Cars: Meyers Manx 2.0 (provided)
Location: Colinas Aridas
Challenge: Post a Clean Lap
Reward: 4 points (1 added to each season)
Monthly Rivals: Chihuahua Circuit
Cars: Nissan Tsuru (provided)
Location: Hotel Mirador
Challenge: Post a Clean Time
Reward: 4 points (1 added to each season)
Series 26 Spring Bonus DLC Events
Players who own the DLC expansions might be happy there's 14 bonus points available this week, given the 20 points on the Playlist that require multiplayer. You don't need these for Playlist completion, but they're sure useful when that happens…
Again both PR Stunts are worth two points and a Super Wheelspin each and require the same car as those on the main map: a B Class (601-700PI) Volkswagen.
Neither challenge is too tricky, even the Reservoir View Speed Zone in Rally Adventure, which only requires a 60mph target. The Ice Crash Danger Sign is actually harder with a 241m goal, but a straight run will get it.
With two Seasonal Championships the DLCs outstrip the main map this week. Each are the usual three-race series against Highly Skilled AI, and worth five points and a bonus car for the overall win.
Fastest Car in the Sky is the Hot Wheels event, requiring S1 Class (801-900PI) Super Saloons, and with a Formula Drift Mustang on offer for victory. A custom "Oddball Rally" category features in Rally Adventure's Pick'n'Mix seasonal, requiring S2 Class (901-998PI) cars. You'll win the VW Class 5 Bug as champion.
Hot Wheels Danger Sign: Ice Crash
Car: B Class, Volkswagen
Location: Hot Wheels Ice Cauldron
Challenge: 241m
Reward: 2 points, Super Wheelspin
Hot Wheels Seasonal Championship: Fastest Car in the Sky
Car: S1 Class, Super Saloons
Location: Hot Wheels Nexus
Challenge: Win the Championship
Reward: 5 points, Formula Drift Mustang #13
Rally Adventure Speed Zone: Reservoir View
Car: B Class, Volkswagen
Location: Sierra Nueva Epitaph Radio Tower
Challenge: 60mph
Reward: 2 points, Super Wheelspin
Rally Adventure Seasonal Championship: Pick'n'Mix
Car: S2 Class, "Oddball Rally"
Location: Sierra Nueva Valle de Pozas
Challenge: Win the Championship
Reward: 5 points, Volkswagen Beetle Class 5
Series 26 Spring Forzathon Shop
American V8s of quite different schools of speed are on offer in this week's Forzathon Shop, beginning with the supercar front.
Mid-engined cars are not necessarily something that the American automotive industry has embraced — so much so that the Saleen S7, first introduced in 2000, was only the sixth such vehicle it made.
Saleen certainly nailed the brief though, with a spaceframe chassis and carbon fiber shell housing a seven-liter V8 Ford engine. That's a recipe which puts the S7 close to a 250mph top speed when equipped with a pair of turbochargers.
Sharing the same basic powerplant is the Ultra4 Bronco from RTR. This too has a seven-liter Ford V8, but this time it's strapped into a two-ton offroader designed to pummel the terrain into submission.
As we've seen across the month, the primary car — the Saleen — comes in at 1000FP to reflect the fact you cannot buy it in the Autoshow. The Bronco is a cheaper 400FP, but only costs 500,000cr in the Autoshow.
Other store items this week include the Sleepy Emote and Spaik Crew Socks at 75FP each. The Wheelspin (60FP) and a Super Wheelspin (150FP) occupy their regular spots.
See more articles on Forza Horizon 5 Season Change.