Stormy weather heads into Forza Horizon 5's Mexico this week, as the Autumn season begins on one of the country's biggest celebrations, and brings with it a new set of Playlist events.
It's the second week of Series 7, so the theme — Cinco de Mayo — continues. This sees the world redecorated in accordance with the festivities, along with new clothing items and new props to place in EventLab.
Ferrari has also taken over the playlist, as all four of the Seasons will award a car from the Prancing Horse as the first-tier completion prizes. There's also a fifth car as the first-tier Series completion prize, and a new Evolving World Accolade for collecting all five.
Series 7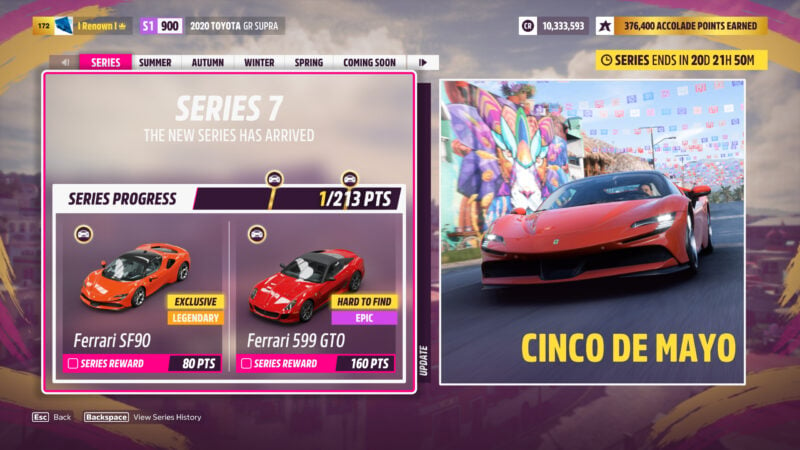 That fifth car noted above is a pretty significant moment for the Ferrari brand: its first full production electrified car.
It's called the Ferrari SF90, and it pairs that famous V8 — four liters this time round — with three separate electric motors. All-in they produce some 1,000hp.
With the two individual motors on the front wheels, the SF90 can move around as a front-wheel drive car in EV mode, at speeds of up to 84mph. The rear motor also replaces the mechanical reverse gear, saving space and complexity in the gearbox.
You should be aiming to win this Playlist Exclusive car this week, as it's available for just 80 points across the Series. With 54 points already up for grabs in Summer, it shouldn't take too long to score it this week.
Another, and similarly odd, Ferrari occupies the higher tier slot at 160 points, and will have to wait until the Winter season as a result.
The 599 GTO is essentially a roadgoing version of a track day toy version of a roadgoing car. In case that made your head spin, it's a slightly sanitized version of the 599XX, which is itself derived from the company's V12 599 GTB Fiorano grand tourer.
Although the GTO name was previously reserved for Ferrari's roadgoing race cars, applied only to the 250 GTO in 1962 and the GTO (often mis-named as the 288 GTO) in 1984, the 599 GTO isn't really in the same company, as the 599XX was never raced nor homolgated for racing.
The Autumn season will run through to 1430 UTC on Thursday, May 12, while Series 7 itself continues until the same time on Thursday, May 26.
Autumn
There's two potent V8 sporty GT cars available in Autumn, both hailing from Europe.
At 20 points this season you'll win the Ferrari California T. Originally introduced in 2008 as an entry level Ferrari (insofar as any Ferrari can be), the California was a gorgeous 2+2 with a fancy power-retracting hard top — very much the in thing to have in the mid-00s.
Ferrari introduced a heavily reworked model in 2014, but among the most significant changes was the downsizing of the engine from a 4.3-liter V8 to a turbocharged 3.9. This also came with a handy power hike of around 100hp, and the original California wasn't short of a few ponies.
The 40-point car is a more British take on the grand tourer, in the shape of Jaguar's XKR-S GT. This limited-run car took a regular, supercharged XKR-S and turned everything up just that little bit louder.
That included a special body kit, revised suspension, significantly improved brakes, and an active differential, for each of the 40 examples Jaguar made.
Both cars are actually Playlist exclusive machines this week, with the Ferrari new to the game and the Jaguar previously offered as a 25-point car in Series 3, so well worth the effort to snag.
Forzathon Events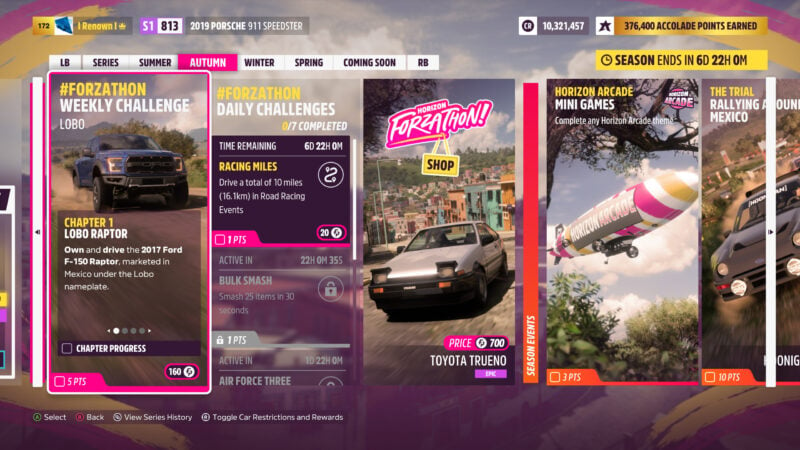 This week you'll be driving around in a performance pickup truck, as Lobo focuses on the Ford F-150 Raptor. Own and drive the enormous machine to get started.
Naturally it's more at home off the beaten track, so you'll need to win a Cross Country Racing Series event in the Raptor to progress. After that, score nine stars at any Trailblazers to head to the final stage.
You'll need to earn 500,000 skill score for this last part. It's not necessary to pick them up all at once, so head to your favorite skill score-earning spot and crank the radio up to take advantage of a Skill Song to rack up the points.
Complete that and you'll earn five points and 80FP (doubled to 160FP if you own the La Casa Solariega player house).
As usual, the Daily Challenges are all worth usual one point and 20FP (again doubled to 40FP with the same player house). There's one new challenge each day, and you'll have seven days to complete it.
For Racing Miles, you'll need to drive a total of 10 miles (or 16.1km) in any Road Racing Series events.
Bulk Smash will see you going on a rampage. You'll need to hit and smash 25 items in 30 seconds. There's a few good spots for this — the park in Guanajuato, fences and light poles at the airport, guard rails on the main highway — so just go smashing.
Saturday's Air Force Three will challenge you to score three stars at any Danger Sign. Okay, that's not that challenging.
You'll need to go to the Next Level on Sunday, by unlocking any Car Mastery. Simply spend a Skill Point on any item in any car's Car Mastery to complete this.
Next Day Delivery will send you to a Street Scene race. Win any event in a Vans & Utility category car.
Grab some sky to complete Fresh Air. Leap around in any Cross Country Series events to earn three air skills — all wheels off the floor — and pass this test.
Finally go into the Auction House and grab any car to complete Bargain Hunt.
Season Events
This week's Season Events are more of a mixture, with three PR Stunts, two Seasonal Championships, and EventLab all making up the solo offerings.
EventLab, Baja California Stage, will see you running a rather circuitous path from the Dunas Blancas down to the main Festival site via just about every dirt road in that quarter of the map. Any car will fit the bill for the challenge, and winning the race will net you 3 points and the Mini X-Raid Buggy.
Next up is the Cross Countryside Seasonal Championship putting you behind the wheel of a B Class (601-700PI) Offroad vehicle. In a fairly straightforward affair, win the championship and you'll bring home 5 points for the season and the Mexican Hat Horn Dance.
Following that is the Second Home Championship. Strap yourself behind the wheel and hit the streets in your favorite S Class (701-800PI) Nissan. Make it through all the events at the top and 5 points and the 1973 Nissan GT-R is yours for the taking.
As usual, the PR Stunts offer up two points apiece, but only two of the three give Super Wheelspins this week.
The exception is the Speed Trap, Caballo Blanco. This is set on a dirt road just west of Copper Canyon — you might be familiar with it due to the nearby Trailblazer finish point — which makes it a trickier proposition.
For the Caballo Blanco Speed Trap you'll need to hop behind the wheel of a B Class (601-700PI) Mitsubishi, dealer's choice. We managed the task with an Evo VIII MR, but anything from the Japanese manufacturer will do, provided you tune it up a little bit. A Nissan R390 is the prize for hitting the three-star 130mph target.
The El Gancho Speed Zone is also set on a dirt road, in the south-east corner of the map. There's a tricky hairpin in the middle of the short zone, and you'll need an A Class (701-800PI) Porsche of your choosing to nail the 74mph target.
That leaves the City Escape Trailblazer. Located at the heart of Guanajuato, you'll need to pick the shortest route with the fewest turns among all the buildings to hit the target time of 44 seconds in a B Class Volkswagen.
EventLab: Baja California Stage
Car: Any
Location: Dunas Blancas, Baja California Trail
Challenge: Win the Race
Reward: 3 points, Mini X-Raid Countryman
Speed Zone: El Gancho
Car: A Class, Porsche
Location: Rio de la Selva, El Gancho Speed Zone
Challenge: 74mph
Reward: 2 points, Super Wheelspin
Speed Trap: Caballo Blanco
Car: B Class, Mitsubishi
Location: Hotel Castillo Santa Cecilia, Caballo Blanco Speed Trap
Challenge: 130mph
Reward: 2 points, Nissan R390
Trailblazer: City Escape
Car: B Class, Volkswagen
Location: Guanajuato, City Escape Trailblazer
Challenge: 44s
Reward: 2 points, Super Wheelspin
Seasonal Championship: Cross-Countryside
Car: B Class, Offroad
Location: Guanajuato
Challenge: Win the Championship
Reward: 5 points, Mexican Hat Dance Horn
Seasonal Championship: Second Home
Car: S Class, Nissan
Location: Guanajuato
Challenge: Win the Championship
Reward: 5 points, Nissan GT-R '73
As usual for the online events you will need Xbox Live Gold, or to play on PC, in order to access online multiplayer.
Horizon Arcade returns this week. Enter any of the events, as marked by two pink circles on your map, in any of the five event types — Air, Chaos, Drift, Speed, and Wreckage — and complete all three stages to earn three points.
Seasonal Playground Games is also on the list this week. You'll need an A Class Jaguar to explore the temples around Ek' Balam. Simply complete the event — winning isn't necessary — to win three points and a Farid Rueda Lion Racesuit clothing item.
The Trial is in its usual position, and is commonly the hardest event on the Playlist. That's not because the AI are turned up to the maximum, as "Unbeatable" AI drivatars, but because you'll need to work as a team with up to five other players.
Each driver gains 100 points for each of the other team's drivers they beat, plus a 50-point bonus for the driver who wins. That means the driver who wins the race will score 650 points, but you need 1,250 points or more between you to be the winning team.
That means it's often more valuable to block an AI to let two or three team-mates pass it than it is to go all out trying to pass one AI that's ahead of you.
Take your favorite B class (601-700PI) Modern Rally car into the event and things should go swimmingly with a balance of speed and control. Come out on top at the end of the series and you'll take 10 points and the Hoonigan RS200 for the trouble.
Horizon Arcade: Mini Games
Car: Any
Location: Horizon Arcade (any)
Challenge: Complete any Horizon Arcade Theme
Reward: 3 points
Seasonal Playground Games
Car: A Class, Jaguar
Location: Gran Patano, Ek' Balam
Challenge: Complete the Championship
Reward: 3 points, Farid Rueda Lion Racesuit
The Trial: Aid of the Party
Car: B Class, Modern Rally
Location: Fuera Del Camino
Challenge: Win the Championship
Reward: 10 points, Hoonigan RS200
Challenges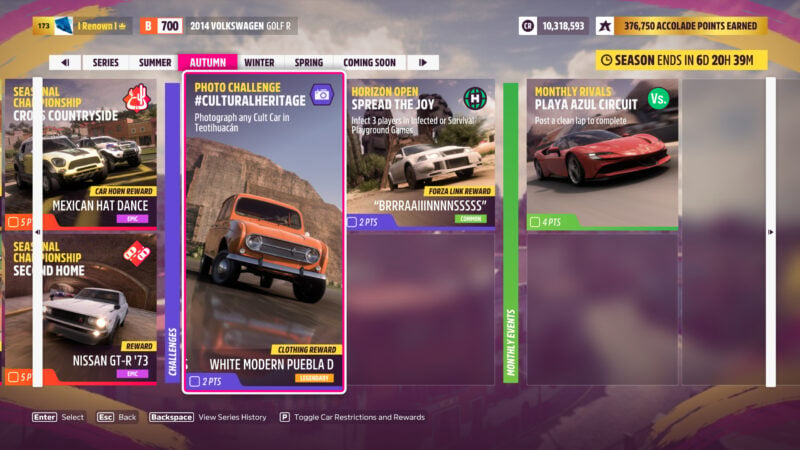 Horizon Open returns to the Challenges this week, and it requires you to go all undead and decayed.
Head into Horizon Open and select Playground Games. You'll need to infect three people during Infected/Survival games in order to pass, which will win you two points and the "BRRRAAIIINNNNSSSSS" Forza LINK message.
For the Photo Challenge this week, #CulturalHeritage, take any vehicle from the Cult Car category to the landmark pyramids at Teotihuacan. Take a photo to pass the challenge, winning two points and a White Modern Puebla Dress for your avatar.
Monthly Rivals occupies the final spot as usual. This month's challenge is to set a clean lap at the Playa Azul Circuit, on the east coast.
All you need to do is run clean — it doesn't even need to be that fast — in the Ferrari SF90 provided to you. Completing this at any time in the four-week Series is enough to pass, awarding points across each of the four seasons.
Horizon Open: Spread the Joy
Cars: Any
Location: Horizon Open Playground Games
Challenge: Infect 3 players in Infected or Survival
Reward: 2 points, BRRRAAIIINNNNSSSSS Forza LINK
Photo Challenge: #CulturalHeritage
Cars: Any Cult Car
Location: Teotihuacan
Challenge: Photograph any Cult Car in Teotihuacan
Reward: 2 points, White Modern Puebla Dress
Monthly Rivals: Emerald Circuit
Cars: Ferrari SF90 (Provided)
Location: Playa Azul, Playa Azul Circuit
Challenge: Post a Clean Lap
Reward: 4 points (1 added to each season)
Forzathon Shop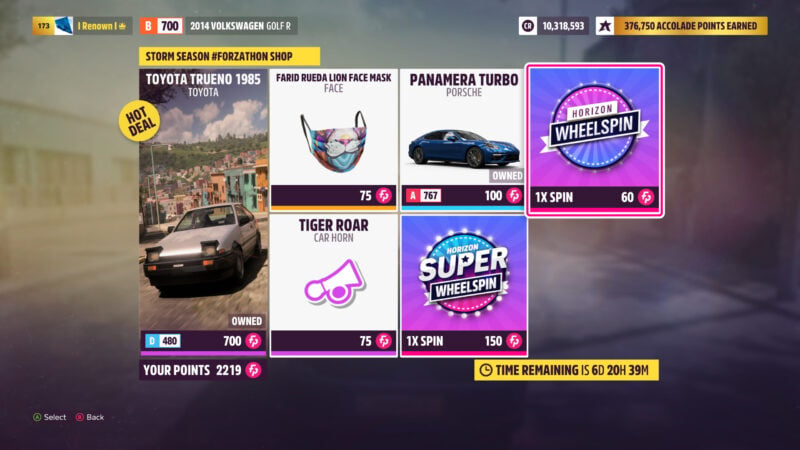 This week's Forzathon Shop includes the usual affair of new items for the season, with an eclectic mix of sports machinery.
Headlining the store, for a second time in fact, is the Toyota Sprinter Trueno. This otherwise humble liftback has become something of a legend thanks to it being a very cheap and very easy way for younger drivers in the 1990s to get hold of a front-engined, rear-wheel drive car for drifting.
The Trueno is a darling of the drift scene, made more famous still by its appearance as a hero car in drift manga Initial D. You'll also drive a modified version in the most recent Horizon Story addition, Drift Club.
Ordinarily the car isn't available to buy, so the 700FP price in the Forzathon Shop looks steep but it's a surefire way to add it to your fleet
Beside the Trueno is the 2017 Porsche Panamera Turbo for 100FP. Normally available at the Autoshow for 150,000Cr., the Panamera is a little on the heavy side for the Stuttgart brand. In fact, it's the third heaviest Porsche available behind the Taycan Turbo S and Cayenne Turbo. Unless you're looking to complete an existing Porsche collection, we'd suggest holding off and saving the points for another day.
Store items this week are the Farid Rueda Lion Face Mask and the Tiger Roar Car Horn, at 75FP each. The Wheelspin (80FP) and Super Wheelspin (300FP) are in their usual spots too.
See more articles on Forza Horizon 5 Season Change.