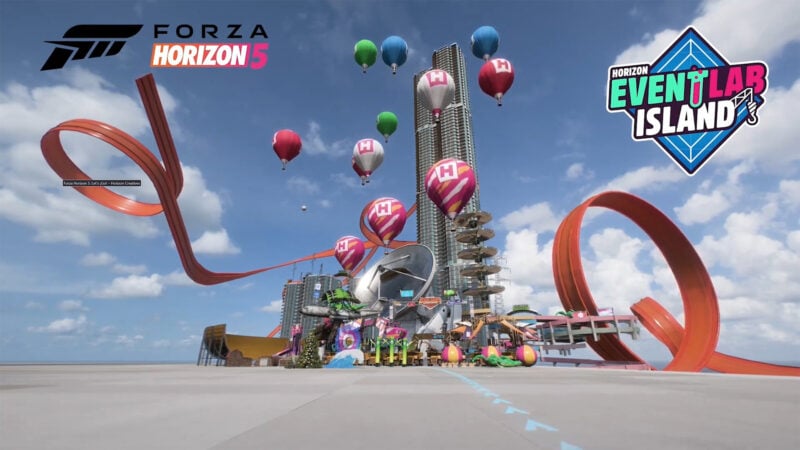 Playground Games has previewed the next update and Series for Forza Horizon 5 in its traditional "Let's Go" stream, and it's set to be an interesting one for players who use the game's EventLab environment customization tool.
When the update goes live, on Tuesday September 12, players will find a significant number of changes to the tool — enough that PG is calling it "EventLab 2.0" — as well as an entirely new environment that gives more freedom for your creations called "EventLab Island".
There's a wide range of new tools available in EventLab, which starts right with the new fast-snap nodes on many items. This allows you to quickly put together multiple props to make long, or wide, environments with no gaps.
A new Selection Mode will let players selection multiple different items at once and manipulate them as a whole using any of the movement or size tools, and duplicate or delete a group of props.
They both feed into a new "Prefabs" feature. This lets players save groupings of props to make a single "mega prop" which you can then duplicate all in one hit — even coming back later, without having to start from scratch — and even share with others. A Prefab browser will allow you to search for other players' prefabs and you'll receive in-game credits if people download yours.
As for EventLab Island, that's a brand new location which consists of a 2km x 2km — roughly 1.25 x 1.25 mile — flat concrete block just sitting in the ocean. It's bereft of any existing objects, allowing players more freedom to place things (without running into trees) and with a higher prop budget.
That means you can create whatever you want without running into issues of Horizon Mexico's terrain — with many players opting to build a slightly elevated surface to create a constant grade — and in fact you're not constrained by the block and can build out over the seas too.
New time-of-day and weather selectors allow you to build your environments in the appropriate conditions, so you don't have to test run it to see how it looks, and you can also customize the checkpoint markers in different styles and colors.
Naturally there's also a selection of new props too, and one interesting final detail that allows you to take a photograph of your completed EventLab creation to use as the cover — called a "custom flyer" — instead of the default car images.
That'll help out players browsing EventLabs too, as that has been expanded to remove the 15-event limit. Now you can continue looking through events on multiple pages of results.
Of course this is an overall quality of life change and not something specific to Series 25, but luckily there's also eight new cars to get to grips with — even if one of them has a pretty significant catch attached.
It's a pretty BMW-heavy month, and in more ways than one as a pretty heavy BMW joins the fray. That's the slightly challenging-looking BMW iX electric SUV in xDrive50 form; we're curious if it'll have the hilarious, Hans Zimmer-composed "IconicSounds" feature in the cabin view.
Another electric BMW slots in alongside it, with the i4 eDrive40 also available as a 20-point season reward car.
More traditional, gas-powered performance BMWs are also available, with the new M3 Competition and M2 coming alongside the classic 850i Coupe.
Rivian will also be making its Forza series debut with a pair of its electric vehicles. You'll be able to drive the R1S SUV and R1T pickup through winning special Playlist events — appropriately the EventLab challenges — in the Autumn and Spring seasons.
One final car will be delivered to players for free towards the end of the Series, but there's quite the hoop to jump through. That's the 2024 Chevrolet Corvette E-Ray, which you might recognise as the cover car of the upcoming Forza Motorsport — and this is also the hoop.
In order to be eligible to receive the E-Ray, you'll need to play Forza Motorsport, with the car being delivered for free to your FH5 garage from October 10. You can also receive it ahead of time, on October 5, if you have bought the Premium Edition (or Premium Add-Ons upgrade) for Forza Motorsport which comes with early access.
The update for Series 25 will arrive at around 1600 UTC on Tuesday September 12, with the new Series playlist going live at 1430 UTC on Thursday September 14. PG has also teased the subsequent season, "Dia de Muertos", which promises to bring a vehicle highly requested by the community…
See more articles on Forza Horizon 5 Game Updates.