Forza Motorsport is the eighth title in the Forza Motorsport series, and the 14th Forza game, since the launch of the original Forza Motorsport in 2005.
Developed by Turn 10 Studios — part of Xbox Studios — It will be exclusively available on the Xbox console family, on ninth-gen Series consoles only, as well as PC through Windows and Steam.
Table of Contents
Introduction
Since the launch of the original Forza Motorsport in 2005, Xbox Studios developer Turn 10 has produced a new title in the series every other year. That meant fans were anticipating Forza Motorsport 8 for a 2019 release, but the date came and went; T10 would only confirm that the next FM title was in the planning stages.
In fact it wasn't until July 2020 that the game was confirmed, under the unexpected name of "Forza Motorsport" — without a numeral identifier. This was to signify that it's a reboot of the series, and the studio has commented on a number of occasions that the game has been rebuilt "from the ground up".
Fans might have expected it to be a launch-window title for the new Xbox Series consoles — announced seven months earlier — but that too came and went without a trace of Forza Motorsport.
In fact it wasn't until mid-2022 that Microsoft announced that Forza Motorsport was planned to launch in Spring 2023, but even that later slipped. A final, defined launch date of October 10 2023 was announced in June 2023 — meaning that this game alone has had three times the development period of any other title in the series.
Like its predecessors, Forza Motorsport will be a track-focused racing game, featuring a spread of 500 cars and 20 circuit locations at launch.
Release Date
Forza Motorsport will launch on October 10 2023, with early access available from October 5 for players who buy the Premium Edition or the Premium Add-Ons bundle.
Alongside launching on Xbox Series S and Series X consoles and through Steam on PC, the game will be available from day one on Xbox Game Pass.
Game Versions
Three versions of Forza Motorsport will be available at launch: the base game ($69.99), the Deluxe Edition ($89.99), and the Premium Edition ($99.99).
The base game will consist of the game itself only, and this version is the one which is playable at no additional cost through Xbox Game Pass.
Deluxe Edition players will receive the Car Pass in addition to the game itself. This will consist of an additional 30 cars which become available at the rate of one car per week in the first seven months of the game's life — though we don't yet know what cars will be in the Car Pass.
Naturally the Premium Edition has the most additional content, along with five days' early access. It also includes the Car Pass, along with an eight-car "Race Day Car Pack", and a five-car "Welcome Pack" that also has bonus credits. A further five exclusive "Forza Edition" cars are included in the VIP Membership, which also gives a permanent 2x credits boost, VIP player card and in-game crown icon, and access to exclusive VIP rivals events.
These packs are not available for purchase individually, but can be picked up as a "Premium Add-Ons Bundle" for $39.99 — with a $4 discount through Xbox Game Pass. This would mean you could access the game for free through Game Pass and upgrade it to the Premium edition this way, although you would lose access to it if your Game Pass subscription expired.
Features
To date we haven't seen the majority of Forza Motorsport's functionality, with Turn 10 presenting small segments of the game in compact presentations based on specific parts of the gameplay.
However, what we have seen so far confirms a number of features, technologies, and the gameplay loop of the title.
Single Player Campaign: Builders Cup
The solo "career" mode is known as the Builders Cup, and it essentially consists of a series of themed races known as "Challenges" that form part of a variety of "Tours".
You'll need to complete the races within each Challenge — for example hot hatches, pony cars, or JDM legends — by modifying your car to beat the AI rivals. That will unlock further Challenges within each Tour, before a final "Reward Showcase", which we haven't yet seen in action but appears to consist of a single race or event.
It's not yet clear if the Tours themselves unlock sequentially — although beginner events in two of the Tours appear unlocked at the same time in the demo video — but we'd expect some events in each Tour to link to events in other Tours. Player level may also be used as a progress gate, but we've yet to see this.
The Builders Cup will also expand over time, with new Challenges and Tours added with vehicle and track content updates.
Practice and Challenge The Grid
Alongside the core races in the Builders Cup, each event has its own practice mode and Challenge The Grid mode. The former is in essence a free run session which allows you to find lines and tweak your driving, while CTG is more of a custom race event wherein you can set the difficulty to your liking to take part in a race before you do the real thing.
Car Leveling
Along with progressing through the Tours, players will also see progression with their cars through a new car leveling system.
In essence, each time the player drives their car they will pick up "Car XP", which appears to come from driving certain sections or corners on a track — with bonuses for doing so in a manner the game rates highly or at personal best times, through a function known as "Track Mastery".
That allows you to level up your car which rewards you with car points for purchasing tuning parts and, at the same time, makes new tuning components available to you depending on what level you are. Max out a car's level, at level 50, and you'll earn a discount on the credits needed to buy cars from the same manufacturer in the future; this will take around 2-3 hours for one vehicle.
You'll need to level up every car you own — even duplicates of cars you already own — in order to access these tuning parts and acquire the points required to buy them, as each car in the game is treated as its own individual "character".
Tuning
Forza Motorsport is set to have over 800 performance upgrades, including aerodynamic parts and wheels, and different tire compounds. What's available precisely will vary by car, as you'd expect, although you will need to level the car up — as noted above — in order to access the full range of tuning options.
There's the expected range of engine, brake, and suspension pieces available, as well as engine swaps, drivetrain swaps, and engine aspiration (natural, turbo, supercharge) swaps. Vehicle performance will once again be assessed with the Performance Index (PI) system, with cars split into different performance brackets and evaluated by a three-digit number — where the higher the number, the faster the car potentially is.
Tuning can be guided or left to individual preference. A spider-web chart will also show the effect of each part on a car's acceleration, top speed, handling, and braking.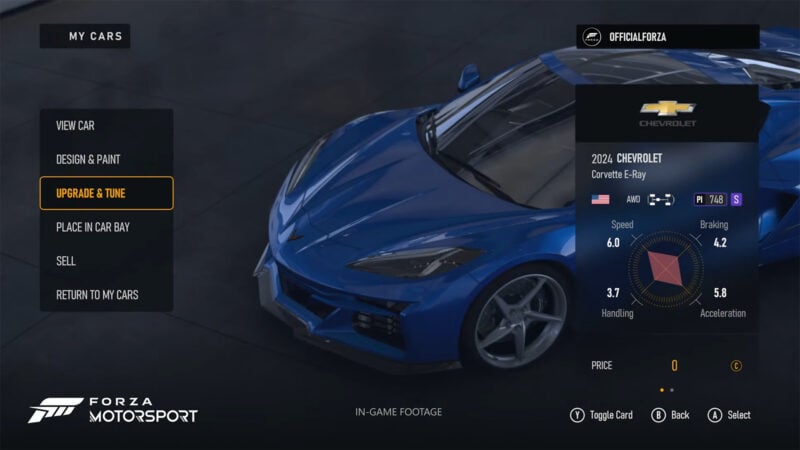 Dynamic Time of Day, Weather, and Track Surface
All of the circuits in Forza Motorsport are available with a fully dynamic simulation of time of day, weather, and the track surface itself.
This means that, alongside being able to simulate 24-hour races at any circuit, you can experience different types of weather and the effect they have on both short-term and long-term grip.
The tracks will rubber-in as they get used and cars deposit tire marks onto the surface to provide more grip, but a rain shower could wash that all away and return the circuit to a "green" state.
Track surface temperature will also affect how the cars behave, with colder temperatures at night or following a dousing with rain taking grip levels down.
New Vehicle Physics Simulation
This is something we've heard plenty of over the last few months, with the Turn 10 team mentioning the new tire and suspension physics several times.
One of the things brought up most often is the 48x improvement in tire simulation, with the tire contact patch now consisting of eight sampling locations rather than just one in previous games, and samples taken six times more often than before — 360Hz instead of 60Hz.
Tires are now also available in three grades, with soft, medium, and hard tires all offering different levels of grip and wear.
The suspension model has also been overhauled, taking into account things like dynamic force propogation — how road/tire forces transition through various vehicle components — and vehicle roll center tuning.
Machine Learning AI
Although we're yet to hear any specifics on the techniques involved, Forza Motorsport is set to include the fastest and smartest AI drivers in the series to date.
While still referred to as Drivatars, and bearing the names and car/driver customization of your friends and fellow club members, they're no longer based on the driving styles of people in your Xbox inner circle.
The new AI is said to be trained using machine learning techniques, creating drivers that are as fast as the fastest players but also fair. Turn 10 says there's no cheats, hacks, or rubber-banding involved, just fast AI that you can turn up or down to your liking.
Real-Time Ray Tracing
Since day one of Forza Motorsport, Turn 10 has stated that the game will have real-time ray tracing effects in all areas of the game — including on-track during races.
Real-time RT simulates the path of light rays as they reflect off objects and surfaces, producing more realistic lighting and shadow as well as "inter-reflection". This is where parts of a car will reflect in other parts of the car — such as being able to see the reflection of a rear wing in the trunk lid below it (and vice versa).
It's something we've seen sparingly in some footage of the game, and we're expecting to see more of it in upcoming videos.
Steering Wheel Support
Forza Motorsport will support a wide range of steering peripherals, including common items from Fanatec, HORI, Logitech, and Thrustmaster. However the list of compatible items differs if you're playing the PC version of the title.
On Xbox consoles you can use Fanatec ClubSport V1/V2/V2.5, CSL, CSL DD, and Podium DD1/DD2 devices, Logitech G920, G923, and G Pro DD wheels, and Thrustmaster T128, T248, TS-XW, TX, and TMX wheels, along with the HORI Overdrive wheel.
For PC the title supports DirectInput API, adding a much larger range of wheels that newer devices like the Thrustmaster T818, older Logitech G and Driving Force wheels, and wheels from Moza.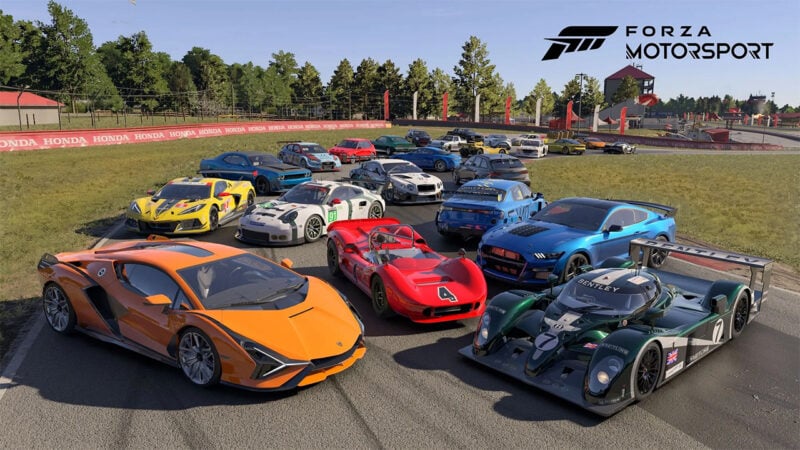 Car List
Forza Motorsport is set to launch with a stable of around 500 cars, with just over 95% of that number already announced.
The majority of the 487 vehicles revealed so far largely comprise cars seen in previous Forza Motorsport titles, and many seen in the recent Forza Horizon 5. In fact cutting out the dedicated off-road vehicles from FH5 gives you a very good idea of the list.
There's a handful of all-new vehicles too, with the most obvious being the Cadillac V-Series.R and Chevrolet Corvette E-Ray seen on the game's cover.
Thus far the car mix is pretty focused, ranging from sporting hatchbacks up to supercars, and a selection of race cars from front-wheel drive BTCC/WTCC machinery up to the top category of Le Mans racers. With the claimed focus on racing machinery and modern fast road cars, we wouldn't expect anything too weird to appear in the remaining 50 or so cars before launch.
Although Turn 10 hasn't yet revealed a specific post-launch content strategy, it has confirmed that more cars will come to the game in updates. There'll also be a selection of cars limited to the paid Car Pass, Welcome Pack, and VIP membership, which we'll flag separately on the list below:
Acura (3)
Acura Integra Type R 2001
Acura NSX 2017
Acura NSX GT3 #36 2018
Alfa Romeo (1)
Alfa Romeo Giulietta QV 2011
Alpine (2)
Alpine A110 2017
Alpine GTA Le Mans 1990
AMC (2)
AMC Javelin AMX 1970
AMC Rebel "The Machine" 1970
Apollo (1)
Apollo Intensa Emozione 2018
Ariel (1)
Aston Martin (15)
Aston Martin AMR1 #18 1989
Aston Martin DB4 GT Zagato 1960
Aston Martin DB5 1964
Aston Martin DBR1 1958
Aston Martin DBS 1967
Aston Martin DBS 2008
Aston Martin DBS Superleggera 2019
Aston Martin V8 Vantage V600 1998
Aston Martin V12 Vanquish 2001
Aston Martin V12 Vantage GT3 AMR #7 2017
Aston Martin Valhalla Concept Car 2019
Aston Martin Vanquish Zagato Coupe 2017
Aston Martin Vantage GT12 2015
Aston Martin Vulcan 2016
Aston Martin Vulcan AMR Pro 2017
Audi (25)
Audi 90 quattro IMSA GTO #4 1989
Audi quattro S1 #2 Audi Sport 1986
Audi R8 Coupe V10 plus 5.2 FSI quattro 2013
Audi R8 V10 plus 2016
Audi R8 LMS GT3 #44 2018
Audi R18 e-tron quattro Team Joest #2 2014
Audi RS e-tron GT 2021
Audi RS2 Avant 1995
Audi RS3 LMS #1 Audi Sport 2018
Audi RS3 Sedan 2020
Audi RS3 Sportback 2011
Audi RS4 2006
Audi RS4 Avant 2001
Audi RS4 Avant 2013
Audi RS4 Avant 2018
Audi RS5 Coupe 2018
Audi RS6 2003
Audi RS6 Avant 2015
Audi RS6 Avant 2021
Audi RS7 Sportback 2021
Audi S1 2015
Audi S4 2004
Audi Sport quattro 1984
Audi TT RS 2018
Audi TT RS Rotek Racing #17 2016
Austin-Healey (1)
Austin-Healey 3000 MkIII 1965
Automobili Pininfarina (1)
Automobili Pininfarina Battista 2020
Auto Union (1)
BAC (1)
Bentley (3)
Bentley Continental M-Sport #17 GT3 2014
Bentley Continental Supersports 2017
Bentley Speed 8 #7 2003
BMW (25)
BMW 2002 Turbo 1973
BMW 3.0 CSL 25 BMW Motorsport 1975
BMW 323ti Sport 2000
BMW 850CSi 1995
BMW i8 2015
BMW M1 1981
BMW M1 Procar #6 BMW Motorsport 1979
BMW M3 1991
BMW M3 1997
BMW M3 2005
BMW M3 Competition Sedan 2021
BMW M3-GTR 2002
BMW M3 GTS 2010
BMW M4 Competition Coupe 2021
BMW M4 GTS 2016
BMW M5 1988
BMW M5 2012
BMW M5 2018
BMW M6 Coupe 2013
BMW M6 GTLM #24 Team RLL 2017
BMW M8 Competition Coupe 2020
BMW M8 GTE #1 BMW M Motorsport 2018
BMW V12 LMR #15 BMW Motorsport 1999
BMW Z3 M Coupe 2002
BMW Z4 Roadster 2019
Brabham (2)
Brabham BT24 1967
Brabham BT62 2019
Bugatti (4)
Bugatti Chiron 2018
Bugatti Divo 2019
Bugatti EB110 Super Sport 1992
Bugatti Type 35 C 1926
Buick (2)
Buick Regal GNX 1987
Buick GSX 1970
Cadillac (6)
Cadillac ATS-V 2016
Cadillac CT4-V Blackwing 2022
Cadillac CT5-V Blackwing 2022
Cadillac CTS-V Sedan 2016
Cadillac V-Series.R #01 Cadillac Racing 2023
Cadillac V-Series.R #31 Whelen Engineering 2023
Caterham (1)
Caterham Superlight R500 2013
Chaparral (1)
Chevrolet (25)
Chevrolet Camaro 35th Anniversary Super Sport 2002
Chevrolet Camaro IROC-Z 1990
Chevrolet Camaro Super Sport Coupe 1969
Chevrolet Camaro Super Sport 2016
Chevrolet Camaro Z28 1970
Chevrolet Camaro ZL1 2017
Chevrolet Camaro ZL1 1LE 2018
Chevrolet Chevelle Super Sport 454 1970
Chevrolet Corvette #76 Greenwood 1976
Chevrolet Corvette Daytona Prototype #10 Konica Minolta 2015
Chevrolet Corvette Stingray 427 1967
Chevrolet Corvette C7 Stingray Coupe 2020
Chevrolet Corvette C7.R #3 Corvette Racing 2014
Chevrolet Corvette C8 E-Ray 2024
Chevrolet Corvette C8.R #3 Corvette Racing 2020
Chevrolet Corvette Z06 2002
Chevrolet Corvette Z06 2015
Chevrolet Corvette Z06 2023
Chevrolet Corvette ZR-1 1970
Chevrolet Corvette ZR-1 1995
Chevrolet Corvette ZR1 2009
Chevrolet Corvette ZR1 2019
Chevrolet Monte Carlo Super Sport 1988
Chevrolet Nova Super Sport 396 1969
Chevrolet Oreca FLM09 #55 Level 5 Motorsports 2010
Chrysler (1)
Chrysler VH Valiant Charger R/T E49 1972
Datsun (3)
Datsun 2000 Roadster 1969
Datsun 280ZX Turbo #33 1979
Datsun 510 1970
Dodge (12)
Dodge Challenger R/T 1970
Dodge Challenger SRT Demon 2018
Dodge Charger R/T 1969
Dodge Charger SRT Hellcat 2015
Dodge Coronet Super Bee 1970
Dodge Dart GT 2013
Dodge Shelby Omni GLHS 1986
Dodge Stealth R/T Turbo 1996
Dodge Viper ACR 2016
Dodge Viper GTS ACR 1999
Dodge Viper GTS-R #93 SRT Motorsports 2014
Dodge Viper SRT10 ACR 2008
Donkervoort (1)
DS Automobiles (1)
DS Citroen DS3 Racing 2011
Eagle (1)
Eagle Talon TSi Turbo 1998
Eagle-Weslake (1)
Exomotive (1)
Exomotive Exocet Sport V8 XP-5 2018
Ferrari (39)
Ferrari 166 Inter Sport 1948
Ferrari 250 GT Berlinetta Lusso 1962
Ferrari 250 GTO 1962
Ferrari 250 Testa Rossa 1957
Ferrari 250LM 1963
Ferrari 288 GTO 1984
Ferrari 312 T2 #1 Scuderia Ferrari 1976
Ferrari 330 P4 #24 Ferrari Spa 1967
Ferrari 360 Challenge Stradale 2003
Ferrari 458 Speciale 2013
Ferrari 488 Challenge #25 Corse Clienti 2017
Ferrari 488 Pista 2019
Ferrari 500 Mondial 1953
Ferrari 512 BB/LM #72 NART 1982
Ferrari 512 S 1970
Ferrari 512 TR 1992
Ferrari 575M Maranello 2002
Ferrari 599XX Evoluzione 2012
Ferrari 641 Scuderia Ferrari #1 1990
Ferrari 812 Superfast 2017
Ferrari California T 2014
Ferrari Dino 246 GT 1969
Ferrari Enzo Ferrari 2002
Ferrari F-158 F1 1964
Ferrari F12tdf 2015
Ferrari F333 SP #12 Risi Competizione 1988
Ferrari F355 Berlinetta
Ferrari F40 1987
Ferrari F40 Competizione 1989
Ferrari F50 1995
Ferrari F50 GT 1996
Ferrari F8 Tributo 2019
Ferrari FXX-K EVO 2018
Ferrari J50 2017
Ferrari LaFerrari 2013
Ferrari Monza SP2 2019
Ferrari Portofino 2018
Ferrari Roma 2020
Ferrari SF90 Stradale 2020
Ford (27)
Ford Capri Turbo #2 Zakspeed Racing 1981
Ford Escort RS1600 1973
Ford Escort RS1800 1977
Ford Escort RS Cosworth 1992
Ford Escort RS Turbo 1986
Ford Falcon FG X #17 Shell V-Power Racing Team 2017
Ford Falcon GT 1992
Ford Falcon GT F 351 2015
Ford Fiesta XR2 1981
Ford Focus RS 2003
Ford Focus RS 2017
Ford Focus ST BTCC #17 AMD Tuning 2014
Ford GT 2017
Ford GT 2005
Ford GT Le Mans #66 Ford Racing 2016
Ford GT40 Mk I 1964
Ford GT40 MkII Le Mans #2 1966
Ford Lotus Cortina 1966
Ford Mustang Boss 302 1969
Ford Mustang GT Coupe 1965
Ford Mustang IMSA GT #6 Zakspeed Roush 1982
Ford Mustang Shelby GT500 2020
Ford Riley MkXXVI Daytona Prototype #02 Chip Ganassi Racing 2015
Ford Sierra Cosworth RS500 1987
Ford SVT Cobra R 1993
Ford SVT Cobra R 2000
Ford XB Falcon GT 1973
Formula Drift (1)
Formula Drift Nissan 370Z #64 2018
Holden (5)
Holden HQ Monaro GTS 350 1973
Holden Monaro GTS 327 1968
Holden Torana A9X 1977
Holden VF Commodore #22 Walkinshaw Performance 2017
Holden VL Commodore Group A SV 1988
Honda (11)
Honda Civic #73 LA Honda World Racing 2020
Honda Civic Type R 1997
Honda Civic Type R 2004
Honda Civic Type R 2018
Honda CR-X SiR 1991
Honda NSX-R 1992
Honda NSX-R 2005
Honda Prelude Type SH 2000
Honda RA300 1967
Honda S2000 CR 2009
Honda S800 1970
HSV (2)
HSV GEN-F GTS 2014
HSV GTSR 1996
Hyundai (2)
Hyundai Veloster N 2019
Hyundai Veloster N #98 Bryan Herta Autosport 2020
Infiniti (3)
Infiniti G35 Coupe 2003
Infiniti IPL G Coupe 2012
Infiniti Q50 Eau Rouge 2014
Jaguar (11)
Jaguar D-Type 1956
Jaguar E-Type 1961
Jaguar F-Type R Coupe 2015
Jaguar XFR-S 2015
Jaguar XJ220 1993
Jaguar XJ220S TWR 1993
Jaguar XJR-5 #44 Group 44 1983
Jaguar XJR-9 #1 Jaguar Racing 1988
Jaguar XKR-S GT 2015
Jaguar MkII 3.8 1959
Jaguar Sport XJR-15 1991
Koenigsegg (2)
Koenigsegg Agera RS 2017
Koenigsegg Jesko 2020
KTM (2)
KTM X-Bow GT4 2018
KTM X-Bow R 2013
Lamborghini (16)
Lamborghini Aventador J 2012
Lamborghini Aventador SVJ 2018
Lamborghini Centenario LP 770-4 2016
Lamborghini Countach LP5000 QV 1988
Lamborghini Diablo GTR 1999
Lamborghini Diablo SV 1997
Lamborghini Espada 400 GT 1973
Lamborghini Essenza SCV12 2021
Lamborghini Gallardo LP 570-4 Superleggera 2011
Lamborghini Huracan EVO 2020
Lamborghini Huracan Performante 2018
Lamborghini Huracan STO 2020
Lamborghini Jarama S 1972
Lamborghini Miura P400 1967
Lamborghini Sian FKP 37 2019
Lamborghini Veneno 2013
Lexus (6)
Lexus GS350 F Sport 2013
Lexus IS 350 F Sport 2014
Lexus LC 500 2021
Lexus LFA 2010
Lexus RC F 2015
Lexus RC F Track Edition 2020
Lola (2)
Lola T70 MkIIIB #6 Penske Sunoco 1969
Lola T163 #10 Simoniz Special 1969
Lotus (8)
Lotus 3-Eleven 2016
Lotus 77 #5 Team Lotus 1976
Lotus Elan Sprint 1971
Lotus Emira 2023
Lotus Esprit V8 2002
Lotus Evija 2020
Lotus Evora S 2011
Lotus Type 49 1967
Lynk&Co (2)
Lynk & Co 03 #62 Cyan Racing 2020
Lynk & Co 03+ 2021
Maserati (7)
Maserati 300 S 1957
Maserati 8CTF 1939
Maserati A6GCS/53 PininFarina Berlinetta 1953
Maserati Ghibli Cup 1997
Maserati Ghibli S Q4 2014
Maserati MC12 2004
Maserati Tipo 61 Birdcage 1961
Mazda (16)
Mazda 323 GT-R 1992
Mazda 787B #55 1991
Mazda Cosmo 110S Series II 1972
Mazda Formula Mazda 2015
Mazda Lola B12/80 #70 SpeedSource 2014
Mazda MX-5 2013
Mazda MX-5 2016
Mazda MX-5 Miata 1990
Mazda MX-5 Miata 1994
Mazda RX-3 1973
Mazda RX-7 1997
Mazda RX-7 #62 Mazda Motorsport 1991
Mazda RX-7 GSL-SE 1985
Mazda RX-7 Spirit R Type-A 2002
Mazda RX-8 R3 2011
Mazda Savanna RX-7 1990
McLaren (14)
McLaren 600LT Coupe 2018
McLaren 720S Coupe 2018
McLaren 765LT 2021
McLaren F1 1993
McLaren F1 GT 1997
McLaren GT 2020
McLaren M1B #4 Bruce McLaren Motor Racing 1966
McLaren M2B 1966
McLaren M8B #4 McLaren Cars 1969
McLaren M23 #11 Team McLaren 1976
McLaren MP4/4 Honda #12 1988
McLaren P1 2013
McLaren P1 GTR 2015
McLaren Senna 2018
Mercedes-AMG (6)
Mercedes-AMG C 63 S Coupe 2016
Mercedes-AMG E 63 S 2018
Mercedes-AMG GT 4-Door Coupe 2018
Mercedes-AMG GT Black Series 2021
Mercedes-AMG GT R 2017
Mercedes-AMG ONE 2021
Mercedes-Benz (12)
Mercedes-Benz 190E 2.5-16 Evolution II 1990
Mercedes-Benz 300 SL Coupe 1954
Mercedes-Benz 300 SLR 1955
Mercedes-Benz A 45 AMG 2013
Mercedes-Benz A-Class #33 Mac Tools Ciceley Motorsport 2017
Mercedes-Benz C32 AMG 2004
Mercedes-Benz C 63 AMG Coupe Black Series 2012
Mercedes-Benz C9 #63 Sauber-Mercedes 1989
Mercedes-Benz SL 65 AMG Black Series 2009
Mercedes-Benz SLK 55 AMG 2012
Mercedes-Benz SLS AMG 2011
Mercedes-Benz W154 1939
Mercury (2)
Mercury Cougar Eliminator 1970
Mercury Cougar XR-7 #15 Whistler Radar 1990
Merkur (1)
Merkur XR4Ti #11 MAC Tools 1986
MG (3)
MG MG6 XPower 2021
MG MGA Twin-Cam 1958
MG MGB GT 1966
MINI (3)
MINI Cooper S 1965
MINI John Cooper Works GP 2012
MINI John Cooper Works GP 2021
Mitsubishi (8)
Mitsubishi Eclipse GSX 1995
Mitsubishi FTO GP Version R 1998
Mitsubishi Galant VR-4 1992
Mitsubishi GTO 1997
Mitsubishi Lancer Evolution VI GSR 1999
Mitsubishi Lancer Evolution VIII MR 2004
Mitsubishi Lancer Evolution IX MR 2006
Mitsubishi Lancer Evolution X GSR 2008
NIO (1)
Nissan (29)
Nissan 240SX SE 1993
Nissan 300ZX #33 Bob Sharp Racing 1988
Nissan 370Z Nismo 2019
Nissan Bluebird Super Silhouette #20 1984
Nissan Fairlady Z 2003
Nissan Fairlady Z 432 1969
Nissan Fairlady Z Version S Twin Turbo 1994
Nissan GT-R LM NISMO #23 2015
Nissan GT-R (R35) 2017
Nissan GT-R NISMO (R35) 2020
Nissan Pulsar GTi-R 1990
Nissan R380 II 1967
Nissan R382 #21 Nissan Racing 1969
Nissan R390 GT1 1998
Nissan R91CP #23 Nissan 1991
Nissan Sentra NISMO 2018
Nissan Silvia CLUB K's 1992
Nissan Silvia K's 1994
Nissan Silvia K's Aero 1998
Nissan Silvia Spec-R 2000
Nissan Skyline 2000GT-R 1971
Nissan Skyline GT-R V-Spec 1993
Nissan Skyline GT-R V-Spec 1997
Nissan Skyline GT-R V-Spec II 2002
Nissan Skyline GTS-R (HR31) 1987
Nissan Skyline H/T 2000GT-R 1973
Nissan Skyline Turbo Super Silhouette #11 Tomica 1984
Nissan Z 2023
Nissan ZX-Turbo #83 GTP 1985
Oldsmobile (1)
Oldsmobile Hurst/Olds 442 1969
Opel (1)
Pagani (1)
Peugeot (3)
Peugeot 205 Turbo 16 1984
Peugeot 308 GTI 2011
Peugeot 905 EVO 1C #3 Peugeot Talbot Sport 1993
Plymouth (2)
Plymouth Cuda 426 Hemi 1971
Plymouth GTX 426 Hemi 1971
Pontiac (5)
Pontiac Firebird Trans Am 1969
Pontiac Firebird Trans Am GTA 1987
Pontiac Firebird Trans Am Ram Air 2002
Pontiac Firebird Trans Am SD-455 1973
Pontiac GTO Judge 1969
Porsche (30)
Porsche 356A Speedster 1957
Porsche 718 RS 60 1960
Porsche 550A Spyder 1955
Porsche 911 GT2 1995
Porsche 911 GT2 RS 2012
Porsche 911 GT2 RS 2018
Porsche 911 GT3 2004
Porsche 911 GT3 2007
Porsche 911 GT3 2021
Porsche 911 GT3 RS 2019
Porsche 911 RSR #92 Porsche GT Team 2017
Porsche 911 RSR #91 Porsche Team Manthey 2015
Porsche 911 Carrera RS 1973
Porsche 911 GT1 Strassenversion 1997
Porsche 911 Turbo 3.3 1982
Porsche 911 Turbo S Leichtbau 1993
Porsche 914/6 1970
Porsche 917 LH #3 1970
Porsche 918 Spyder 2014
Porsche 919 Hybrid #19 Porsche Team 2015
Porsche 919 Hybrid #2 Porsche Team 2017
Porsche 924 Carrera GTS 1980
Porsche 928 GTS 1993
Porsche 944 Turbo 1989
Porsche 962C #17 Porsche AG 1987
Porsche 968 Turbo S 1993
Porsche Carrera GT 2003
Porsche Mission R 2021
Porsche Panamera Turbo 2017
Porsche Taycan Turbo S 2020
Radical (1)
RAESR (1)
Renault (7)
Renault 5 Turbo 1980
Renault 8 Gordini 1967
Renault Clio R.S. 16 Concept 2016
Renault Clio Williams 1993
Renault Megane R26.R 2008
Renault Megane R.S. 2018
Renault Sport Clio V6 2003
Rimac (2)
Rimac Concept Two 2019
Rimac Nevera 2021
Saleen (2)
Saleen S1 2018
Saleen S7 2004
Shelby (3)
Shelby Cobra 427 S/C 1965
Shelby Cobra Daytona Coupe 1965
Shelby Monaco King Cobra 1963
Subaru (8)
Subaru BRZ 2013
Subaru Impreza 22B-STi Version 1998
Subaru Impreza WRX STI 2004
Subaru Impreza WRX STi 2008
Subaru Legacy RS 1990
Subaru STI S209 2019
Subaru WRX STI 2011
Subaru WRX STI 2015
Toyota (15)
Toyota 2000GT 1969
Toyota Celica GT 1974
Toyota Celica GT-Four ST205 1994
Toyota Celica GT-Four RC ST185 1992
Toyota Celica Sport Specialty II 2003
Toyota Corolla SR5 1974
Toyota Eagle Mk III #99 All American Racers 1992
Toyota GR Supra 2020
Toyota GT-ONE TS020 #3 Toyota Motorsports 1999
Toyota MR2 GT 1995
Toyota MR2 SC 1989
Toyota Sprinter Trueno GT Apex 1985
Toyota Supra 2.0 GT 1992
Toyota Supra RZ 1998
Toyota TS040 HYBRID #8 Toyota Racing 2014
TVR (1)
Ultima (1)
Ultima Evolution Coupe 1020 2015
Vauxhall (4)
Vauxhall Astra VXR 2006
Vauxhall Astra VXR 2012
Vauxhall Corsa VXR 2016
Vauxhall Lotus Carlton 1990
Volkswagen (10)
Volkswagen Corrado VR6 1995
Volkswagen Golf R 2014
Volkswagen Golf R 2020
Volkswagen Golf R 2021
Volkswagen Golf R32 2003
Volkswagen Golf GTI 1983
Volkswagen Golf GTI 16v Mk2 1992
Volkswagen Golf GTI VR6 Mk3 1998
Volkswagen Scirocco 16v 1988
Volkswagen Scirocco S 1981
Volvo (1)
VUHL (1)
XPeng (1)
Zenvo (1)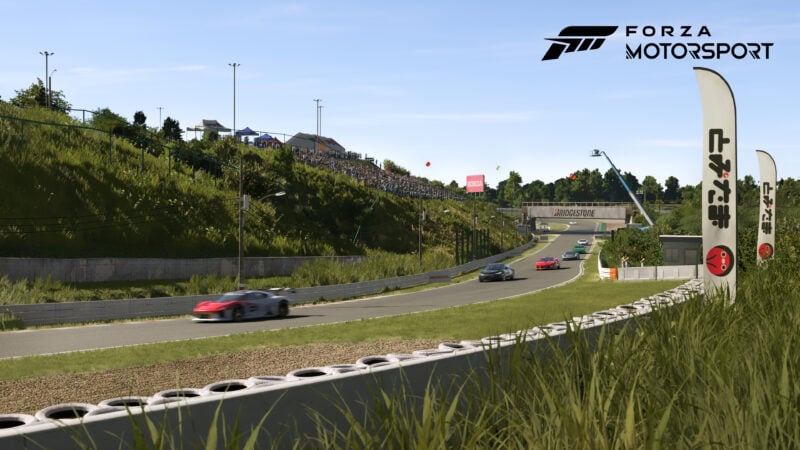 Track List
Forza Motorsport is set to launch with 20 different circuit locations, with an unknown number of configurations. That list includes five locations that have never been in the series to date.
With a month remaining before launch, T10 has confirmed all 20 of these circuit locations, consisting of 16 real-world tracks and four fictional ones — including the returning Maple Valley. All five of the new-to-series circuits are now also known: Kyalami, Mid-Ohio, and the fictional Circuit Hakone, Eaglerock Speedway, and Grand Oak Raceway.
After a much earlier tease of the circuit — curiously shown with the cars driving the wrong way — the Nurburgring location was revealed in August 2023. However this will only consist of the GP circuit at launch with the Nordschleife set to arrive later in "spring 2024". The game's own cover image looks a lot like Circuit Paul Ricard at the Village/Garlaban curve, but this hasn't been confirmed yet.
Along with the Nordschleife, other future circuit locations and layouts at courses already included are also set to be added to the game after launch, although the post-launch content strategy and timing is not yet known.
We've listed the known circuits thus far below, with the new-to-series locations flagged with the † symbol.
Real Tracks
Circuit de Barcelona-Catalunya
Circuit de Spa-Francorchamps
Homestead-Miami
Indianapolis Motor Speedway
Kyalami Grand Prix Circuit†
Le Mans – Circuit International de la Sarthe
Laguna Seca Raceway
Lime Rock Park
Mid-Ohio Sports Car Course†
Mugello Circuit
Nurburgring
Road America
Silverstone Circuit
Suzuka Circuit
Virginia International Raceway
Watkins Glen
Fictional Tracks
Circuit Hakone†
Eaglerock Speedway†
Grand Oak Raceway†
Maple Valley
Achievements
The full list of Achievements for Forza Motorsport was announced September 20, and contains 57 Achievements for a total of 1,000GS.
Express Yourself – Change your Driver Suit (5)
Built Not Bought – Complete 1 Series in Career Mode (10)
Freedom! – Complete a Quick Race in Free Play (10)
Getting Familiar – Reach Car Level 25 in any car (10)
Highlight Reel – Share a Replay (10)
In the Big Leagues – Complete your first Featured Multiplayer Event (10)
Leisure Cruise – Complete a lap at sunset at Spa Francorchamps (10)
Make it Yours – Buy your first car (10)
My First Art Show – Share one of your Designs (10)
New Rival – Post a lap time on any track in Rivals Time Attack (10)
Night Owl – Complete 50 laps at night (10)
On the House – Receive your first gift car (10)
Paparazzi – Share a Photo (10)
Race Engineer – Share one of your Tunes (10)
Rain Meister – Complete 50 laps in the rain (10)
Rain or Shine – Create and complete a race in the rain in Free Play (10)
Strategist – Change your Fuel & Tire setup for the first time (10)
Time Traveler – Win a Timed Race in Free Play (10)
Tinkerer – Make an upgrade to any car (10)
Welcome to Builders Cup – Complete the Builders Cup Intro Series (10)
Welcome to Forza – Complete your first race (10)
Amateur Rival – Beat 5 Rivals (15)
American Challenger – Complete a race in a 2023 Cadillac Cadillac Racing V-Series.R on Le Mans Full Circuit (15)
Body Builder – Apply a Wide Body conversion to any car (15)
Clean Driving – Complete a clean Qualifying lap in Featured Multiplayer (15)
Endurance Legacy – Complete a race in the 2021 Porsche 911 GT3 on Kyalami Grand Prix (15)
Free as a Bird – Complete a race in the 1973 Pontiac Firebird Trans Am SD-455 on the Eaglerock Club Circuit (15)
Heart Transplant – Swap an engine in any car (15)
Journeyman Builder – Complete 2 Tours in Career Mode (15)
Just Getting Started – Complete 1 Tour in Career Mode (15)
Pride and Joy – Reach Car Level 50 in any car (15)
Sightseeing – Compete on Hakone Club with the 2020 Toyota GR Supra (15)
Technique – Score a 9 or better on any Track Segment (15)
When in Rome… – Complete a race in the 2021 Ferrari Roma on the Mugello Full Circuit (15)
Contender – Complete 100 laps in Multiplayer (20)
Enthusiastic Rival – Beat 10 Rivals (20)
Excellence – Finish with no penalty with full Forza Race Regulations enabled (20)
Flying – Maintain a speed of 180mph or higher for 3 seconds (20)
Legendary Builder – Complete 4 Tours in Career Mode (20)
Podium Prodigy – Earn a spot on the podium in Featured Multiplayer (20)
Pole Position – Post the best Qualifying Lap Time in a Featured Multiplayer event (20)
Safety Star – Hold an S Safety Rating across 5 consecutive Featured Multiplayer events (20)
Self-Improvement – Score a perfect 10 on any Track Segment (20)
Pro Builder – Complete 3 Tours in Career Mode (25)
Running on Fumes – Finish a race with no more than one Fuel Lap left in your car (25)
Stiff Competition – Complete 10 races with AI set to the fastest difficulty (25)
Well Rounded – Change your tires during a race to use a different tire compound (25)
Aficionado – Reach Car Level 50 in 10 cars (30)
Brand Ambassador – Reach max brand discount by owning 5 level 50 cars from a manufacturer (30)
Competitor – Complete 300 laps in Multiplayer (30)
Experienced Rival – Beat 20 Rivals (30)
Influencer – Earn 10,000 credits from the community using your Design (30)
It's not the car… – Finish in top three of a series with a stock car in Builders Cup (30)
Racecraft – Gain at least 12 positions in any Multiplayer race (30)
Safety Superstar – Hold an S Safety Rating across 10 consecutive Featured Multiplayer events (30)
Setting the Standard – Earn 10,000 credits from the community using your Tune (30)
Garage Royalty – Reach Car Level 50 in 30 cars (50)
Official Videos
Official Screenshots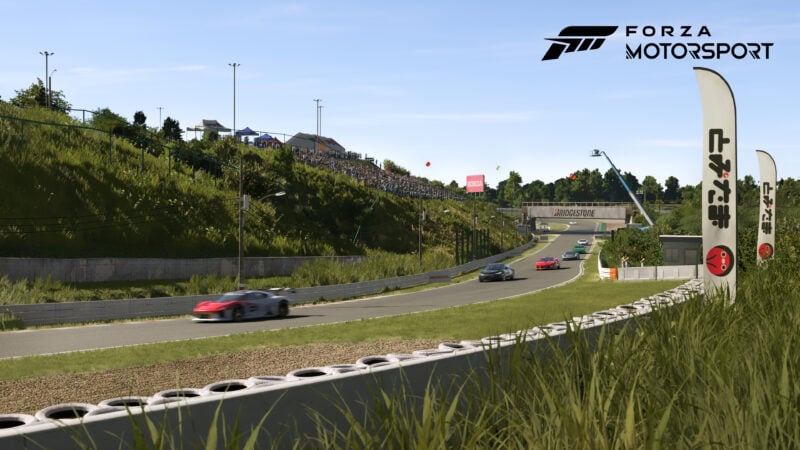 Update Log
September 20, 2023 — Achievements added
September 12, 2023 — Updated to include most recent information from Forza Monthly; car list updated
August 19, 2023 — Updated with most recent car and track lists
August 8, 2023 — Updated with most recent car and track lists
June 16, 2023 — Guide created
See more articles on Forza Motorsport.