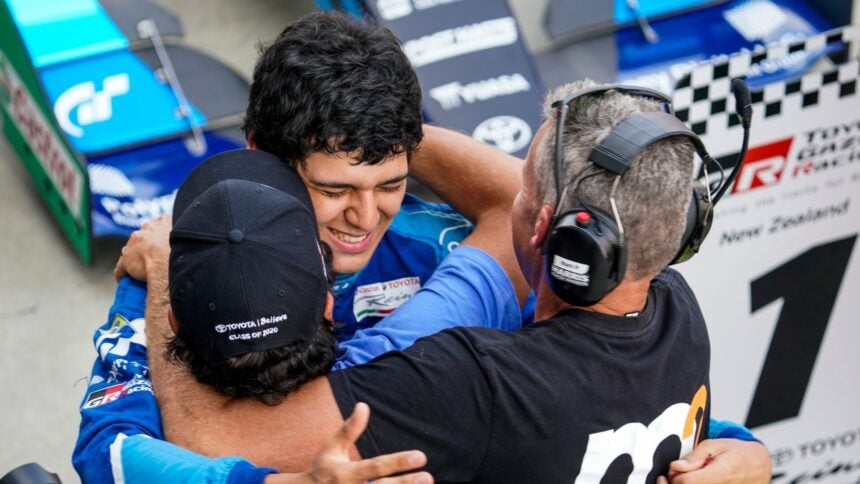 A successful weekend at Hampton Downs has seen GT Sport's 2018 world champion Igor Fraga assume the championship lead in the 2020 Toyota Racing Series.
Fraga won the first race on Saturday after starting third on the grid. He followed that success up with a pole position for the feature race on Sunday with the fastest lap of the weekend.
However, there was a reverse grid race to get out of the way first, for which Fraga would start in 6th due to Saturday's win. The Brazilian driver hadn't placed higher than 6th in either of the previous reverse grid races — which also have reduced points — but finished in 5th this time in a race won by 16-year-old Franco Colapinto. That soon became 4th, as the stewards penalized Yuki Tsunoda for a contact with Caio Collet.
Fraga made the best of the start in race three, while team-mate, defending champion, and championship leader Liam Lawson slipped back from second to third. Lawson soon regained his position from Gregoire Saucy, and a safety car caused by Emilien Denner's retirement put him onto Fraga's rear wing.
At the restart the team-mates scrapped over the race lead, but Fraga was able to answer all the questions Lawson asked as the duo pulled away from Saucy and Tsunoda behind. It didn't last long though, as the New Zealandar suddenly lost power coming out of turn two and US driver Spike Kohlbecker, unsighted, ploughed into the rear of Lawson's car leaving turn three.
After clearing up that incident, the safety car had to come out immediately. Five of the cars in the train before they'd even taken the restart had a fender bender. Angola's Rui Andrade was left pointing the wrong way with Israel's Ido Cohen nosed into his sidepod, while Axel Gnos of Switzerland also retired with front wing damage from the shunt.
That eventually caused a red flag, however race control restarted it with three laps left on the board. Fraga managed the remaining laps to take a lights-to-flag victory to claim the Denny Hulme Memorial Trophy — named in honor of New Zealand's only F1 world champion, and awarding the trophy he won at the 1974 Argentina Grand Prix. In addition, the Brazilian claimed a Grand Slam, with the fastest lap to go with his pole position.
The result puts the Brazilian into the championship lead by 17 points over Liam Lawson. There's no let-up in the TRS, as the racing action heads to Pukekohe Park Raceway next weekend.
Featured image via Twitter, @M2_Competition.
More Posts On...