Welcome to Wednesday Want. Each week, our team will pluck a car from our thousands-strong Car Suggestions forum and give it some time in the spotlight. From the weird to the wonderful, we'll be covering the full automotive spectrum. You can check out past Wednesday Want entries right here.
Almost every car on sale today starts out with a good idea. Generally, either engineering or marketing that good idea tends to temper it in execution, but you can usually see the origins in the end product.
Take something like the Nissan Cube. The good idea was "let's make a car that exactly fits the limits of Kei car regulations". The end result was challenging to look at, but memorable and rather roomy, considering.
Or look at the Toyota Prius. To many it's the Anti-car — a vehicle designed solely for maximum fuel economy gains, using electric power and aerodynamics, at the expense of fun. And looks. And handling. In fact it was similar ecological concerns that helped inspire this week's car.
Car makers, like the rest of us, have become very aware of carbon dioxide (CO2) in recent years. Its action as a greenhouse gas and the role that personal road vehicles play in its production are significant.
With this in mind, governments of the world have been agreeing on fleet CO2 averages with car manufacturers — that is, the mean CO2 rating of all the cars a manufacturer actually sells. The targets have been rather severe and the penalties worse; any manufacturer in Europe that misses the goal can face fines of €100m, or more depend on volumes.
Scroll back to 2010. The EU had just agreed to a phased 130g/km limit by 2015, and the world was just easing back out of a major financial crisis. Bankers and financiers faced public wrath like never before, and vandals were damaging expensive cars out of pure spite. It was not a good time to be a manufacturer of thirsty, ultra-premium status symbols.
Enter Aston Martin Lagonda Ltd, to give its full name. At the time, the classic British GT brand had an arsenal of six-liter, V12 weapons, with barely a single thought given to CO2. Its fleet average was very nearly three times what the agreed limit was, and by the agreed criteria was staring at both barrels of a €30m fine.
This was exactly the kind of environment for a brilliant idea — necessity is mother of invention, after all. Aston Martin decided to build a city car.
But this is well outside of Aston's experience, and the company is just not set up to manufacture cars of this type. The costs of developing a new platform alone would be an order of magnitude more than the fine, not to mention creating a low-emissions engine. So why not partner with a brand which has done all of this already?
It seemed like genius — if done right. Aston Martin chose the Toyota iQ (or Scion iQ, for North America) as the basis for its city car. At 110g/km it had the carbon dioxide rating, and it's a reliable, robust little car. Indeed Aston Martin had significant interest from existing owners who wanted a city car to drive about in tight, crowded and congestion-charged towns and not have their tires slashed or windows put in. The company was predicting volumes of 4,000 cars a year or more. A low CO2 city car, with Aston Martin's quality? What could go wrong?
Well… everything.
Firstly, Aston Martin didn't quite approach the process as one would expect. Rather than buying the car as a naked chassis — or body-in-white — or as a running, incomplete car, it bought finished iQs. And reportedly at retail price too.
Once at Gaydon, Aston stripped the insides and disposed of them. It replaced this with its own very high quality environment. You certainly couldn't argue with that part of the car, as Aston paid just as much attention to detail and used the same materials as it would with its larger cars.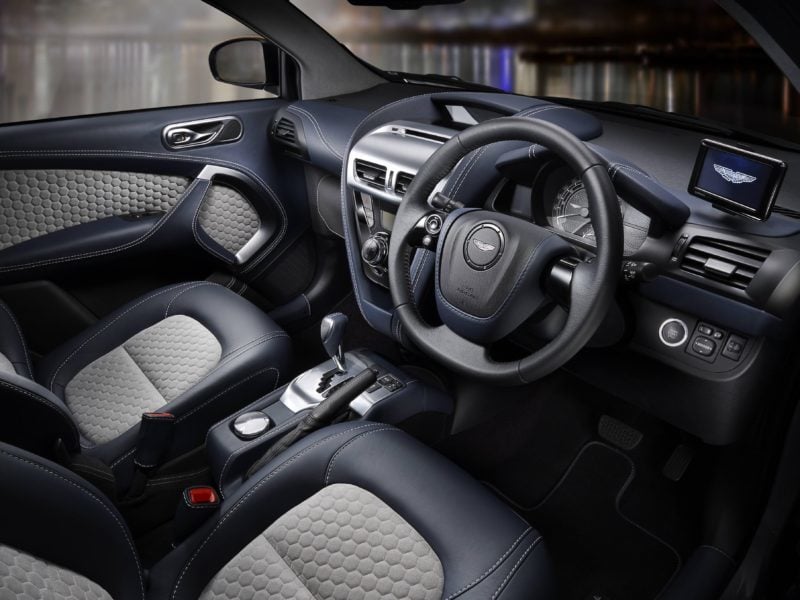 And that was about it. There was a new fascia, new wheels and bonnet vents, but otherwise the new car — the Cygnet — remained unchanged from the iQ. It even left the engine unchanged, as a 1.33-liter, 97hp, three-cylinder. This meant that the heavier Cygnet now produced 120g/km CO2.
For this, Aston Martin charged customers nearly three times the price of an iQ — £30,955 compared to £11,100.
Interest evaporated overnight, unsurprisingly. Customers wanted an Aston Martin city car, not a Toyota with a nice interior for triple the money. When the Cygnet did launch, Aston took fewer orders than it did for the £1.1m One-77 — and that only had a total production run of 77 cars.
The ultimate irony was that the Cygnet wasn't even necessary. Aston Martin's annual vehicle output was around 1,500 vehicles, so it didn't have to stick to the same rules as larger volume manufacturers. It could agree to its own CO2 reduction — and even if it didn't, it would have needed to sell 15,000 Cygnets a year to meet the targets.
Aston Martin cancelled the car in 2013, after two years on sale. It eventually produced around 600 cars, making it rarer than a Ferrari F40.
However, while it was a failure during its production, time has been kind to the car. Ultimately it is the most exclusive and prestigious city car ever made, and the limited production run has kept prices buoyant. Even with average mileage, used Cygnets are the same price as they were new. It has become the most unlikely collector's car of all time…
See more articles on Aston Martin and Wednesday Want.