The 2014 Gran Turismo Awards were held at Drai's Nightclub on the Las Vegas strip Wednesday night, where Kazunori Yamauchi announced a custom car from SEMA 2014 – the world's largest aftermarket automotive industry event – would be featured in an upcoming Gran Turismo game.
It all came down to the five remaining category finalists, and the "Best in Show" prize was ultimately awarded to the GoPro "Rampage" 1970 Camaro.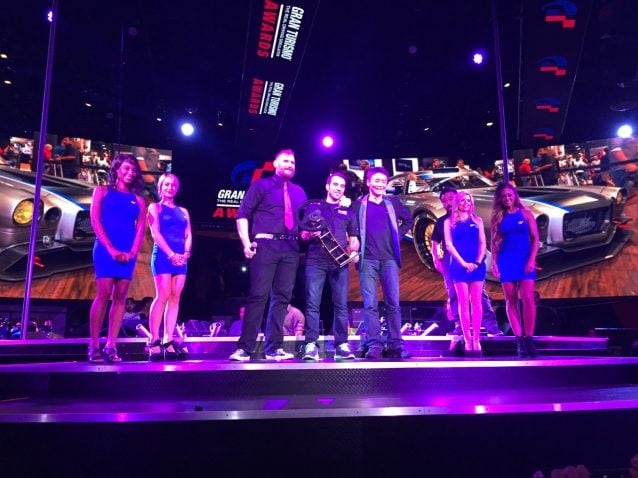 Built by Roadster Shop in Mundelein, Illinois, the builders are still keeping a lot of specs under wraps for now. Hot Rod magazine just featured the car yesterday, though, and got some more details about what makes it so special:
Besides the fenders being made of carbon fiber; the nose, hood, trunk lid, rockers and diffusers are all carbon. Power is from a 750hp LS7 with a carbon fiber Harrop crossram injection and a sideways Jerico 5-speed trans. Why sideways? Because this is so low if it was mounted conventionally it would drag on the ground. A Motec Engineering management system controls the spark and flow.

The RS custom independent front and rear suspensions are sprung by Penske adjustable cantilevered coil-overs, and an air-jack system because the car is too low for a conventional jack.
As the Best in Show winner, the car is coming to a Gran Turismo game in the future, though it's obviously not clear when we can expect it. Last year's winner, a custom '67 Chevy Nova, and the 2012 winner, David Eckert's Ford Mach 40, have yet to arrive, though GTPlanet has learned both cars have been digitally scanned and will be released in due time.
Congratulations to GoPro and the Roadster Shop team for their victory!
See more articles on Gran Turismo Awards, GT Awards, Polyphony Digital, and SEMA.