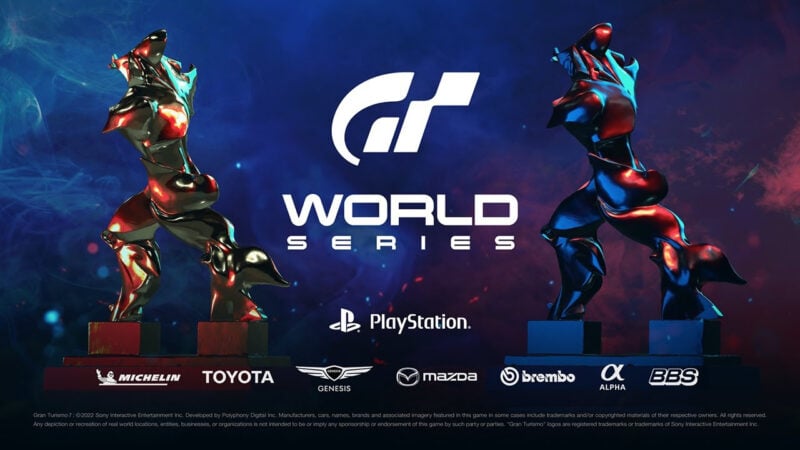 The flagship esports series for Gran Turismo, the Gran Turismo World Tour, will get underway on May 27 with a predominantly online calendar that will see new world champions crowned in November.
Having run successfully for four years on Gran Turismo Sport, the championship now moves to Gran Turismo 7, and is open to anyone with access to the game regardless of whether they play on PlayStation 4 or PlayStation 5.
As we've seen across the entire life of the championship, there's two different events running in parallel. Firstly there's an individual series, the Nations Cup, which sees drivers represent their country. There's also the more team-based Manufacturers Cup which will feature squads of players racing for their chosen brand.
For 2022 the format is very similar to that of the 2021 championship, albeit a little shorter. In total there'll be 14 online qualifying races in each of the two series, with a six-round "Season 1" and an eight round "Season 2".
Each of these will act as qualifying events for the "broadcast events", for which there'll be three individual rounds and a mid-season "Showdown", all of which allow players to score World Series points. They'll carry those into the season-ending "World Finals", and the player and brand with the most accumulated points will become champion.
World Series Round 1 will involve the top 16 drivers and top 11 manufacturers from the 2021 World Finals, plus a new entry in the Manufacturers Cup which did not previously participate.
Those players will then be joined by the top players and brands from Online Season 1 for the Showdown at the end of July, fighting to qualify for World Series Round 2 and World Series Round 3, as well as automatic World Final qualification.
Notably, the Showdown will mark a return of Gran Turismo's spectacular live events. Red Bull's Hangar-7 in Austria will be hosting the racing, and it's sure to be a welcome chance for the competitors to gather together again for the first time in nearly 18 months.
A further set of players will then join these qualifiers in the World Final, having qualified through the Online Season 2 to make up the full field for the event, which will be broadcast November 25-27 and will be another in-person event, at 2018 and 2019 Finals venue Sporting Monte Carlo in Monaco.
There are a couple of tweaks to the events this season. Crucially, and as we suspected, the FIA branding is now entirely absent. As this partnership previously saw the World Series winners receive their trophies at the FIA Prize Giving event each year, it's not clear what the ultimate prize will be this season besides the famous Boccioni sculpture.
Additionally, GT7's new "League" structure will be taken into account. Players will be assigned into a league depending on their Driver Rating at the start of each season, and only players in the GT1 League — for DR A and above — will be eligible for selection for the World Series broadcast and live events.
There's a major change for the Manufacturer Cup too, which sees Genesis becoming an official series partner. The Genesis brand makes its debut in Gran Turismo 7, with the requisite Gr.4 and Gr.3 cars based on its G70 sedan and X concept car respectively.
As Genesis joins Mazda and Toyota as official partners, all three brands have a guaranteed spot in the Manufacturer Cup in the various broadcast and live events this season, meaning there's only nine places up for grabs for the other brands.
The racing gets underway on May 27 in Manufacturers Cup and May 28 in Nations Cup, and we'll provide a full calendar and schedule when it becomes available.
See more articles on Gran Turismo World Series.