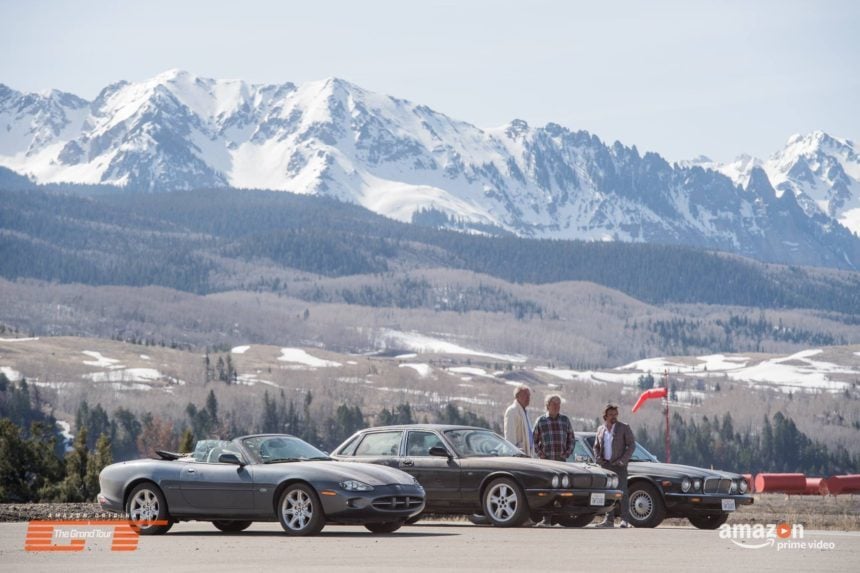 If you've been waiting for news on the second series of The Grand Tour, you're in luck. The big budget car show's official Facebook page has posted a bunch of behind-the-scenes photographs. They show glimpses of a few of the amazing features that the show hinges on.
Fans may have worried about the progress of the second series. The studio filming for series one had already started by this time last year, and that was with a mobile tent. For the second run, the giant Grand Tour safari marquee is fixed to a single location in the Cotswolds — near Clarkson's own home. Handy.
Moreover, the stars seem to have been cursed with poor fortune. Clarkson had a brush with death earlier in the year, when he contracted pneumonia while in Majorca. Hammond's mishap was more spectacular, crashing a 1,200hp concept car during a hillclimb event.
Despite falling more than 100 feet and flipping the rare — and privately owned — electric Rimac, and the car bursting into flames, he suffered no more than a broken knee. James May seems to have survived the year unscathed, thus far.
All that aside, the stills show a lot of film is already in the can.
One image seems to show the trio stuck in South Africa. They each appear to have adopted a different approach to tackling the terrain, with May in a W123 Mercedes and Clarkson using a Nissan Patrol pickup, with a creative, over-the-roof exhaust system. Hammond, meanwhile, opted for a motorbike.
Other shots have Hammond driving the incredible Ariel Nomad and a Ripsaw tank. Another snap appears to show happier times before the Rimac incident, with an Aventador and a stunning backdrop of the Swiss Alps.
There's also clues of a classic Jaguar challenge, and a breakdown. While one image shows a Series 3 XJ and an X308 XJR joined by an XJ-S, another shows the third car as an XK. Color us shocked if the XJ-S doesn't last the distance.
You can see more hints for what's coming up in this teaser clip below:
Here's a sneak peek of #TheGrandTour Season 2 coming later this year. Catch up and stream all episodes of season 1 now. http://www.primevideo.com/GTPrimeDay

Posted by The Grand Tour on Tuesday, July 11, 2017
Filming for the studio segments will take place from October 25. That means that, despite all the drama, we can probably anticipate the show matching its 2016 launch date of mid-November.
In the meantime, you can view the image gallery below and wonder exactly what it is that W. Chump and Sons have been up to for a year. We can only hope that Celebrity Brain Crash hasn't made the cut…
More Posts On...