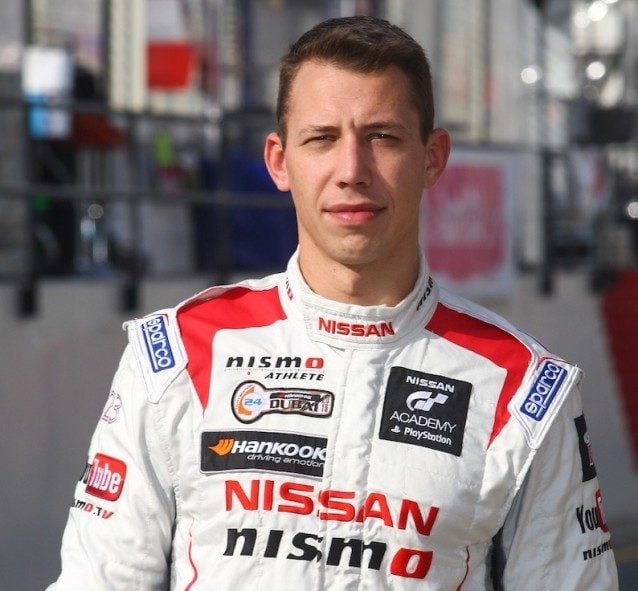 2013 GT Academy Germany champion Florian Strauss will replace Alex Buncombe in the NISMO Athlete Global Team at the 2015 Bathurst 12 Hour. Buncombe had been confirmed to drive the #35 Nissan GT-R NISMO GT3, alongside fellow NISMO Athletes Katsumasa Chiyo and Wolfgang Reip.
The birth of Buncombe's first child was originally anticipated last week. But with 'Baby Buncombe' having other ideas and now expected to arrive this week, Buncombe will miss the Bathurst 12 Hour to be with his wife and their newborn.
The late call-up for Strauss comes after he was one of the most impressive drivers in the field at the 2015 Dubai 24 Hours last month. The German was entrusted with duties as the 'pro' driver in the Nissan GT Academy Team RJN entry despite holding a racing license for just 18 months.
Leading the way for his four 2014 GT Academy winner team-mates – all competing in their first event – Strauss drove a superb race that saw the #23 Nissan GT-R NISMO GT3 finish fifth overall and second in GT3 Pro-Am category in a world class GT3 sportscar field.
Driving alongside Buncombe in the 2014 Blancpain Endurance Series, Strauss raced with distinction at daunting circuits such as Spa Franchorchamps for the Spa 24 Hours and the Nürburgring Nordschliefe for the Nürburgring 24 Hours.
Congratulations and good luck, Florian!
See more articles on Florian Strauss.