Thanks to an invite to the race day on behalf of Nissan and RJN Motorsport from Glen Gibson at Jardine International, daan and I were able to spend the day in and around the busy garage of the #35 Nissan Nismo GT-R GT3 – trying our hardest to stay out of the way. With the race over, Jann Mardenborough and RJN Motorsport team boss Bob Neville were kind enough to answer a few questions from us and Calvin de Freitas of Jardine:
Calvin: How did today go for you?
Jann: We've done really well, not made any mistakes and the car's back in one piece – treacherous conditions out there racing.
We've had one little, small issue with the engine that annoyingly managed to sort itself after coming into the pits for an unscheduled stop to check what the issue was. During my stint it felt like a little misfire issue which gradually got worse and worse towards the end of the stint and basically for the last 15 minutes of the stint I was driving without any traction control to see if that would cure it and it didn't. It was tough to drive at that point.
I handed it over to Chris, he did a few laps and the guys pulled him in again to see if they could sort the issue and find out what it was. We didn't 100% know what it was and then the issue managed to cure itself which is even more frustrating because we've lost four minutes in a pitstop under the engine cover trying to see what it was. We've dropped down about 20 places – we were up to 8th during my stint and we've finished 30th – so disappointing really but the car's got performance in the wet. We've still got a couple of small issues to sort out but hopefully we can sort them out in the races coming up.
CDF: Are you looking forward to a dry race?
JM: Yes! Any race I'm looking forward to – rain, sunshine, snow, I'd be happy to drive the car to be honest.
GTPlanet: In Blancpain there's a wide range of abilities and a bracketing system [Bronze, Silver, Gold, Platinum drivers]. Do you find there's any prejudice from other drivers with regards to your racing background, coming from gaming into racing?
JM: I'm not too sure at the moment. Right now I wouldn't really care if someone did have a prejudice against me. Definitely to begin with during the Academy driver development program for the first few races I was very wary of what other people think about me, but now it just goes over my head. I do my bit in the car and hopefully that'll put a stop to any prejudice against me.
GTP: In the British GT at the Nurburgring your performance was outstanding – your first time ever at the track and you qualified on pole and beat your best lap time every lap until you came in. Do you reckon GT5 helped yo uthere with track knowledge?
JM: Yeah definitely. The week before the Nurburgring I was on the game at home doing lots of laps in a GT500 spec Nissan GT-R with Sport Hard tyres – something a bit lairy just to get my eye in. Lots of laps around there definitely helped me put it on pole for race 1. The game definitely does help – it's quite uncanny how realistic the camber changes are as well. At the first corner there is a lot of drop-off in real life and on the game there's a lot of drop-off too.
GTP: That corner always scares me!
JM: It's nice if you can get the inside front tyre up in the air as you turn in for it and you can definitely feel that in the game as well. It's great.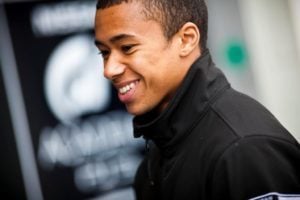 GTP: How've you been getting on with GT Academy 2012?
JM: I haven't done it! I thought to myself I was going to download it and give it a go, but then I was thinking to myself that I've done that bit of the Academy now. If you're going to do it you might as well give it 100% and I don't really have enough off-time to be sitting on there for five hours practising lap after lap to see where I stack up against other guys – I've done that bit now! I got asked at a PR event to do one of the Leaf ones and one at the Nurburgring with the R32 GT-R overtaking some other cars [3-5]. I gave it a few goes and I think I was ranked 700th or so after 20 minutes – so I'd have a long way to go if I wanted to enter it this year.
GTP: Do you spend much time with the other Academy winners?
JM:  Yeah, Lucas was at the Nurburgring racing with Kazunori and Jordan comes down every year to watch the Nurburgring 24 with his friends, so he was there that weekend with his girlfriend, so I was there with them when I wasn't racing, chatting to Kazunori about our experiences and how grateful we are to be given this opportunity through him making this game. I catch up with them a lot, talk to them a lot and online – they're my racing friends and gaming friends.
GTP: Are you planning on going to Le Mans this year to see the other guys?
JM: I was. I would have loved to have gone, but I've got a Nissan UK PR event that weekend. But I'll be listening to radiolemans and watching it on telly.
GTP: How do you find the RJN car compares to the road car?
JM: It's vastly different to be honest – there's very few similarities between the road car and the race car. The speed's there – the actual acceleration – after about 40mph in the race car because it's rear wheel drive and of course the GT-R's four wheel drive and it would definitely beat it to 60mph, but the shove – you can honestly feel the turbos come up to boost and you just fly. The noise is insane as well – the GT-R sounds great but this backfires on the overrun off-throttle. I'll be grinning to myself on an in-lap just coasting off-throttle as it's dumping loads of fuel into the exhaust and just popping. It sounds great! The brakes are amazing on the road car – I was surprised how good they are – and on the race car the rear calipers and discs are the same. That's how good the brakes are on the road car – we put them on the race car and they get up to about 900 °C and that's with all the cooling as well.
GTP: Do you have any particular dietary regimes you have to follow now? Fitness as well?
JM: Yes, last year we were up in Northampton and we had a trainer who made me and Brian fill out what we were eating every day. We had to eat at least four meals a day so we had to have small meals to build up the metabolism. No beer or anything like that! Now I'm on my own I do have a training plan I have to keep to – I go online and fill out what I've been doing at home. It's very strict but it's easy once you get into a habit of eating the proper food and getting yourself into a training regime and out running and after a while it just becomes normal.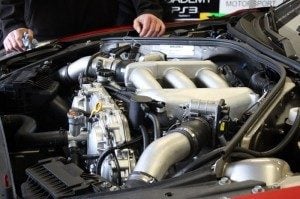 GTP: Are there any activities you're not allowed to do, like paragliding or bungee jumping?
JM: Yes, in my contract I can't ski or do anything dangerous like ride motorbikes – I don't like bikes anyway. But yes, there's certain things I can't do that are dangerous. I just like driving fast and that's my job anyway, but I can't do anything silly.
GTP: Do you get a Nissan company car?
JM: I do. I've got a Nissan Juke. With my name plastered across the side of it, GT Academy Winner 2011 on it, GT5 logos…
GTP: That must be fun when you go home…
JM: Yeah, it gets me recognised. It's nice to have a car you don't have to jump start every so often like my old car!
GTP: You've had all four GT Academy drivers come through RJN so far. How do you feel the program's gone?
Bob Neville: Well, the program is fantastic in my opinion. The competition is fun and that brings them to the fore and once we get them we work them hard and they reward us with superb driving in the end. That's what seems to be happening! Long may it continue. Lucas started it, Jordan carried it on and now Jann's following it on as well!
Again, many thanks to Jardine, RJN and Nissan for inviting us to spend the day with Jann, Alex, Chris and the team!
More Posts On...
The original comments for this post are no longer available.