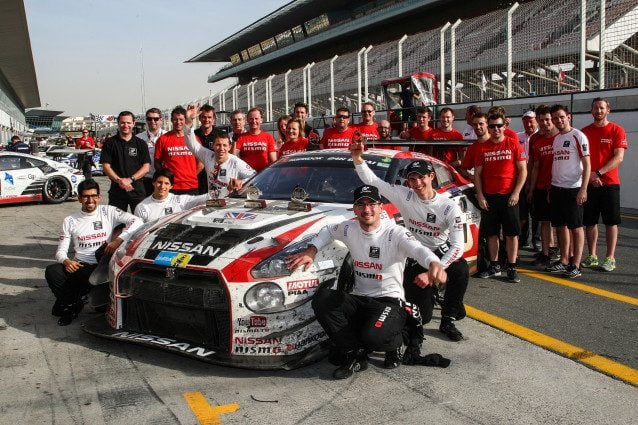 None of them had sat in a race car before August 2014, yet today they're celebrating a second-in-class finish in a GT3 car at an international 24 hour race.
Running in the top "A6" category of cars, but placed in the Amateur category for their relative lack of experience, Ahmed, Ricardo, Gaetan and Nic (joined in the middle by NISMO Athlete Florian Strauss) survived 24 hours in the desert to finish 5th overall and 2nd in class to complete a remarkable result for such an extremely young team. A couple of drive through penalties took a little shine off the event, but didn't affect the result as the team were 7 laps ahead of their nearest class competitor and 9 laps down on the class winning car – driven by GT Academy judge Rob Barff!
It was Florian who took both the start and finish with the #23, having qualified it in 14th place on Thursday. Surviving the 95 car start was a key stepping stone for success later on in the race, given Dubai's unusual minimum lap time requirements and the unique way the cars are refuelled (at an actual gas station). Gaetan and Ahmed took the car through the afternoon and evening, handing over to Ricardo and Nic who were tasked with the first night stints – proving there's some advantage to have drivers operating on Western Hemisphere time!
By the time Florian had finished his second tour in the morning, the team had built up a five lap lead over the third placed A6-Am car and, with the class leading Dragon Racing car (who also counted FIA silver and gold-ranked drivers in their entry list) too far ahead to catch, Gaetan and Ricardo were under orders to stroke the car home. This left Florian to take the last laps and the chequered flag, just behind the winning Black Falcon Mercedes SLS, for his 4th 24 hour race since he won GT Academy Germany in 2013.
It's another remarkable result for GT Academy and the now-famed Nissan Driver Development Program that four gamers can be thrust into a 24 hour race less than 4 months after swapping their controllers (or gaming wheels!) for a HANS device and grab silverware, without the protection of a known quantity professional driver – their co-driver being another gamer who did the same thing 12 months earlier.
With Gaetan, Ricardo, Ahmed and Nic joining the throng of GT Academy graduates with Dubai silverware to their name, we're looking forward to see what the 2015 motorsports season holds for the NISMO Athletes!
Images courtesy of GT Academy.
See more articles on Florian Strauss, Gaetan Paletou, Nicolas Hammann, and Ricardo Sanchez.