Nissan GT Academy Team RJN has successfully scored a podium placement at the final race of the 2016 Blancpain GT Series Endurance Cup, held at Nurburgring GP circuit last weekend. This is the first podium position for the team in the series, brought by athletes Lucas Ordonez, Alex Buncombe and Mitsunori Takaboshi in the Pro Cup class.
In spite of severe weather conditions, which consequently forced officials to cancel the first two rounds of qualifications, GT Academy Team RJN managed to score a competitive position within a single round. By setting a lap of 1'58.922 the team's #23 car succeeded in taking 11th position for the main event.
The race itself was even more promising. On the very first corner Ordonez climbed up to 8th position, further improving his placement by double to 4th over the next 10 minutes. After one hour Takaboshi joined the party by replacing Lucas during the team's first pit stop. Immediately upon finishing with the pit work, Takaboshi managed to gain one extra position by overtaking the green Huracan GT3 (#19) of GRT Grasser in the pit zone itself. 90 minutes after the race start and the team was already in 3rd.
The last hour of the race was granted to Buncombe, who eventually had to slow down the pace as a yellow flag appeared 40 minutes prior the race finish. Luckily, nothing that followed after that changed the team's position, so Buncombe managed to take the Nissan GT-R GT3 below the chequered flag in 3rd, only two seconds behind the winning Lamborghini Huracan GT3 (#16) from GRT Grasser.
Nissan GT Academy Team RJN didn't leave the Pro-Am Cup without entries either. Another GT-R (#22) driven by Romain Sarazin, Matt Simmons and Sean Walkinshaw managed to qualify 42nd (by setting a lap of 2'03.042) and eventually finish the race 31st.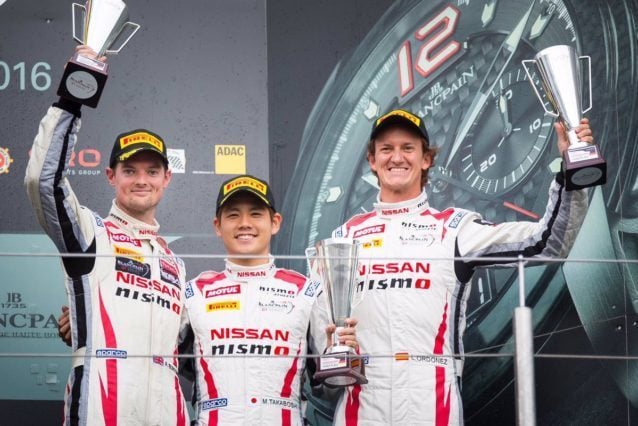 It should be noted that rankings in the 2016 24 Hours of Spa affected GT Academy's overall position in the 2016 Blancpain GT Series Endurance Cup, as that is how the calendar is scheduled. Not counting the last race — which will occur at Barcelona at the beginning of October as a part of 2016 Blancpain GT Series Sprint Cup — GT Academy Team RJN currently resides at 11th place. Make sure to check official website for more info on the series and official results for details regarding the Nurburgring event.
Keep following GTPlanet for more news on activities inside GT Academy circles.
See more articles on Alex Buncombe, Lucas Ordonez, Nismo, Nissan, and Nurburgring GP.