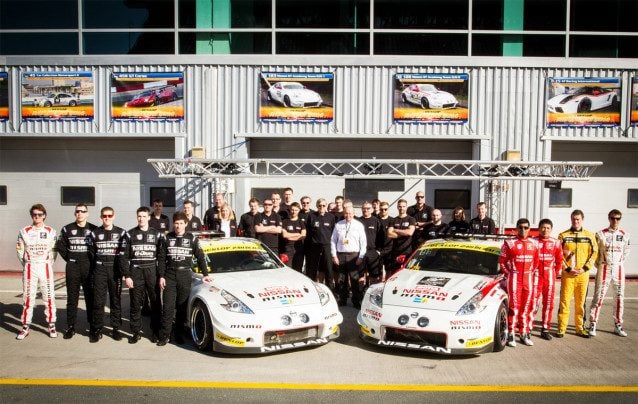 It's been the baptism of every GT Academy winner so far and the 2013 winners have got their careers off to a flyer in the 2014 Dubai 24 Hours.
In what passes for a trouble-free 24 hour race, the #123 Nismo 370Z of the very newest graduates has taken a clear class victory – by a massive 25 laps.
With Lucas Ordoñez as the elder guiding hand, 2013's regional winners – USA's Nick McMillen, Europe's Miguel Faisca (Portugal), Russia's Stanislav Aksenov and Germany's Florian Strauss – came home 25th on aggregate in the 77 car field, with 513 laps completed.
It was looking good for an RJN Motorsport class 1-2, especially with the second car being driven by ex-F1 driver Karun Chandhok, V8 Supercar driver James Moffat, ADR-Delta LMP2 ace Tor Graves and Ordoñez again, standing in for 2012 Middle East winner Salman al-Khater, alongside 2012 South Africa winner Ashley Oldfield.
The notorious desert air took its toll though, as reliability woes hit the #126. Lengthy stops  for gearbox and suspension faults throughout the race putting them 73 laps behind their teammates – but they still netted third place in class to put all the GT Academy drivers on the SP2 podium.
While GT Academy's previous results at Dubai have always been laudable, the class victory by four drivers with just 3 months of training and club circuit experience over a field packed with world champions is nothing short of phenomenal, boding well for what's sure to be another packed season of motorsports. In 2013, GT Academy drivers secured 41 podium finishes between them – proving the value of the program to sceptical independent observers. With 2014 one race down and two podium finishes already in the record books, it should be a belter.
Images courtesy of GT Academy Flickr.