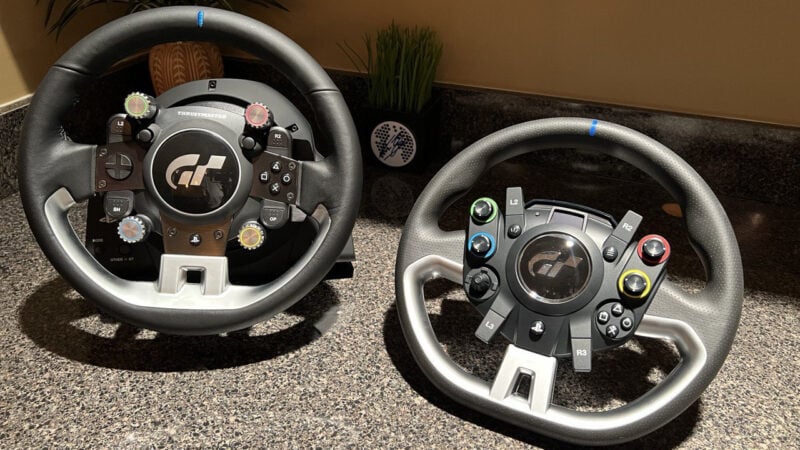 Polyphony Digital has today issued a statement regarding a major change to force feedback delivery in Gran Turismo 7 in the latest game update.
Almost as soon as the update dropped, players around the world started to post about force feedback issues, reporting their wheels suddenly feeling numb and lifeless.
However the issue only appeared to affect players using the official GT Sport and GT7 wheels — the Thrustmaster T-GT/T-GT II and Fanatec Gran Turismo DD Pro — with players using Logitech G29/G923 devices unaffected.
Polyphony Digital's statement confirms that force feedback for these two wheels and the high-end Fanatec Podium device has been dramatically turned down for a very odd reason: risk of injury.
According to the article posted on the official website, PD discovered a glitch wherein these wheels in combination with certain cars — although it's not stated which cars — could "cause excessively strong force feedback vibrations", potentially causing injury to users.
In order to address this problem in the short-term, force feedback torque for these three devices has been "greatly reduced… as a temporary emergency measure".
While PD is looking for a permanent fix, the timing of this couldn't be much worse. Gran Turismo 7's official esports tournament, the Gran Turismo World Series, begins today, and many of the top players in the world — and well-known racing game streamers — use the T-GT and GT DD Pro wheels.
That will likely result in yet more negative publicity for a title which has had a rather rocky birth, despite robust sales.
See more articles on Steering Wheels.