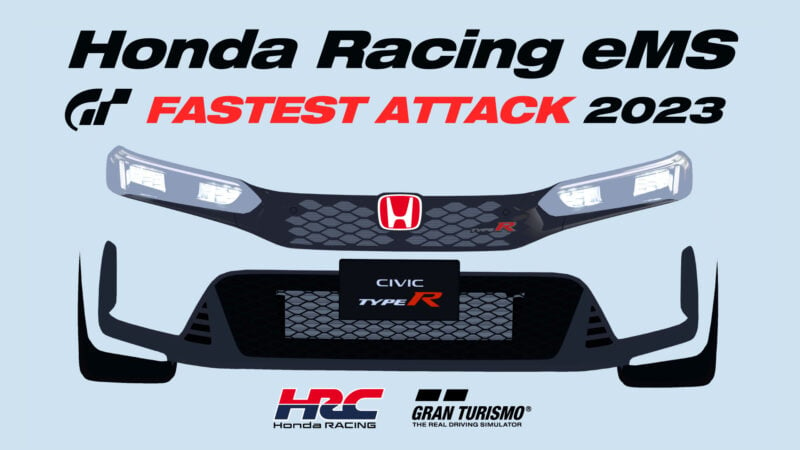 When Gran Turismo 7's next update arrives, on Thursday September 28, it will bring with it a first global esports event for the Honda brand: the Honda Racing eMS.
Honda will become the fourth automotive manufacturer to stage an esports event in Gran Turismo 7, following the Toyota Gazoo Racing GT Cup, the Japan-only Mazda Spirit Racing GT Cup, and the Porsche Esports Challenge USA – which has its live, 2023 final this coming weekend.
The event, which we're assuming is an abbreviation for "e-MotorSport", will take the form of a time attack within Gran Turismo 7's Sport Mode. It'll be a celebration of the new Honda Civic Type R, which is also part of the 1.38 update, and its record-breaking feats.
Running under the auspices of Honda Racing Corporation (HRC), there'll actually be a pair of time trials for the FL5-generation Type R, each based on one of its real-world front-wheel drive world records.
The two events take place at Suzuka and the Nurburgring Nordschleife, where the Civic holds lap records for front-wheel drive vehicles — and the records themselves are an important part of the event.
Players who enter the time trials, for which you will not need a PlayStation Plus subscription, and beat the relevant real-world record will receive a certificate — by email, to the registered address for their account — to mark the feat. For this you'll need to get the Type R, on Sports Hard tires, around Suzuka in under 2:23.120 and around the Nordschleife in 7:44.881.
It's not actually clear right now if you will be able to enter both time trials, as each is intended for a different age group for a further live event competition limited to players in Japan.
Players aged 17 and under will qualify for this through the Suzuka lap, while older players in the "Challenge" category will set their times at the Nordschleife. This may result in entry limitations for the event globally, by your PSN account's registered birth date but we will have to wait to find out if this is the case.
Each time trial is open for a month-long stretch, starting at 0600 UTC on Thursday September 28 and ending at 1459 UTC on Sunday October 29 (or 2359 on that day in Japan). The finals for the Japanese players will then take place at Honda Welcome Plaza in Aoyama, Tokyo, on Sunday December 10.
See more articles on Civic Type R and Honda.