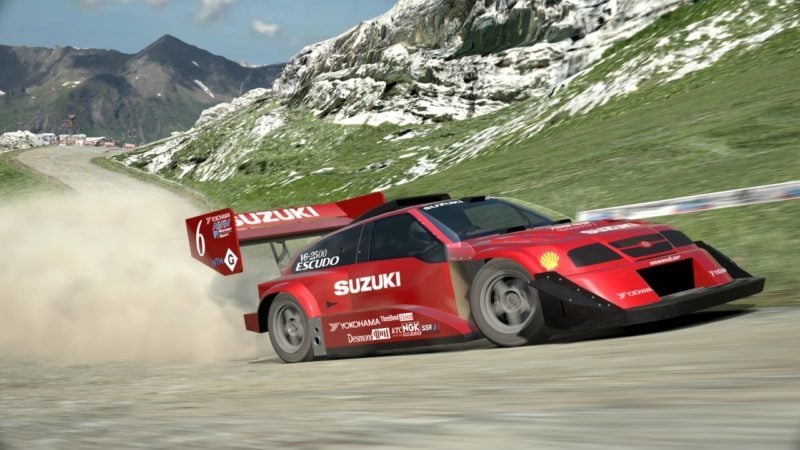 The next update for Gran Turismo 7 is coming this week, and will see one of the franchise's most iconic vehicles return to the car list for the first time in a decade.
Polypony Digital studio head Kazunori Yamauchi revealed the update on Twitter, posting on Sunday June 19 to say it would be "coming next week" — with no specific date noted.
Alongside that, Yamauchi posted what's become a tradition: a composite image of the cars coming to the update in profile but heavily shaded. That revealed that the update would be bringing three addition vehicles, which seesm to be the monthly norm for GT7.
The three cars appear to be pretty easy to identify, with the top one in particular being something of a giveaway thanks to a huge splitter, enormous rear wing, and colossal roof scoop.
It's pretty clear that it's the Suzuki Escudo Pikes Peak, a 1,000hp hillclimb car built for Nobuhiro "Monster" Tajima to take on some of the world's highest races.
Based on a Grand Vitara (or Escudo in its native Japan), the car features a turbocharged Suzuki V6 — 2.5-liter in the early model, 2.7-liter for the later car — producing close to four figures, in order to cope with the thin mountain air. That also explains the gigantic wings, meant to create downforce even at 14,000ft above sea level.
The Escudo Pikes Peak first appeared in Gran Turismo 2, being replaced with a later 1998 car — which the car for GT7 also appears to be — appearing from Gran Turismo 3 to Gran Turismo 6. It became a fan favorite not just for its ludicrous speed, but the fact it could break the game's physics with certain settings and accelerate up to 2.15 billion miles an hour…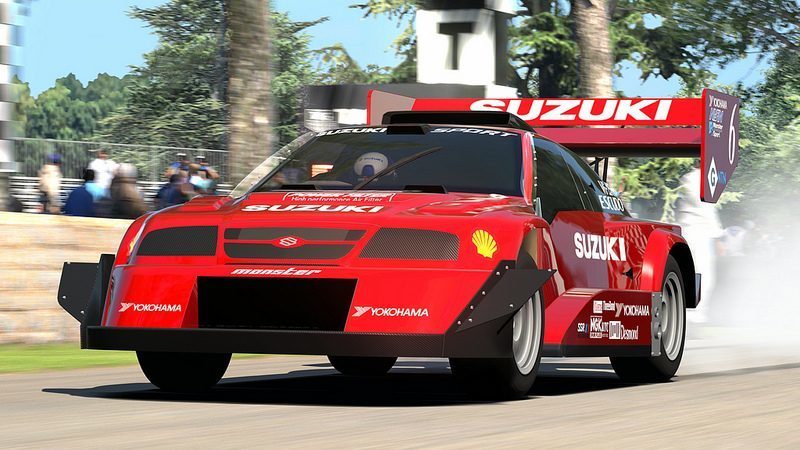 While it's going to be the obvious focus of attention, there are still two other cars in the update too. The first of these looks to be a Gr.3 version of the recent Suzuki Vision Gran Turismo.
This was a car that defied identification when Yamauchi revealed it in a previous silhouette post, but it's an entertaining machine that pairs a Hayabusa motorbike engine with electric power. The Gr.3 model is likely to add large wings and a dose more power, though it will prove difficult to balance with the rest of the class thanks to the low weight.
That leaves the third car which appears to be new to the series, and looks like a convertible-bodied version of the 1932 Ford, or Deuce Roadster. Identifying it more precisely than that is tricky, as it's an extremely popular hot rod — making it likely it's a car that Polyphony Digital encountered at SEMA in the past.
There's no indication of anything else coming to the game in the update at present, but fans will be hoping for new circuits — and new events to race on them.
Only one track has arrived in the game post-launch, and that was a very mildly rearranged version of an existing one — adding the 24h pit lane and start/finish to the Circuit de Spa-Francorchamps. A gap in the current GT World Series schedule for July 1 indicates a new circuit is possible, but not inevitable.
In addition, players are still waiting for the ability to sell cars to come to the game, flagged by Yamauchi as a "near-term" prospect back in March, while issues with open lobbies being considerably more restricted than GT Sport's version are also a high priority for many.
We'll have more on the update, particularly when players can expect it, when we receive further information — so watch this space!
See more articles on Gran Turismo 7 Game Update.