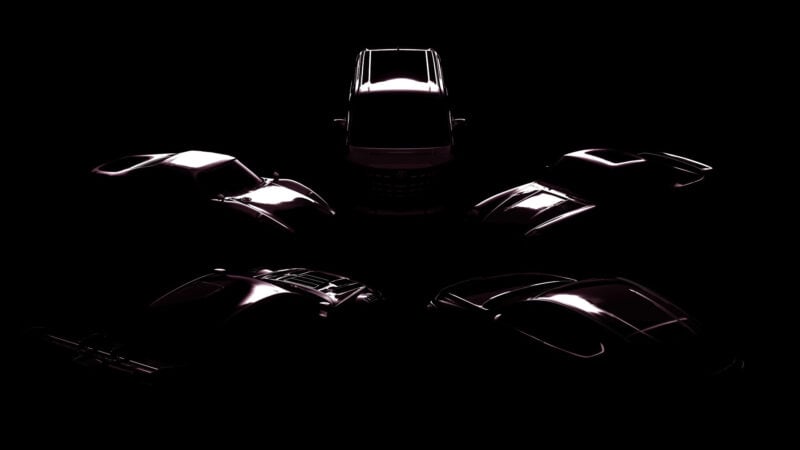 The next update for Gran Turismo 7 will arrive during the week commencing March 27, as confirmed by series creator Kazunori Yamauchi in his usual social media teaser.
Yamauchi posted the information to Twitter earlier today, not only revealing the approximate schedule for the update but hinting at its contents with a "silhouette" image showing the cars that will be included.
Unusually, the image shows five heavily shaded cars which will mean March's update has the second successive five-car pack — the largest number of cars in any single update to the game — following on from v1.29 in February:
Unlike 1.29 though, which included two variants of the ItalDesign Exeneo Vision Gran Turismo, this month's update will bring five entirely separate cars and we're pretty sure we've pinned their identities down.
There's two different Porsche supercars in the upper-left and upper-right of the image, with the classic "904" Carrera GTS and the mid-80s 959. It's not immediately clear which of several variants of either the two are, with the 959 available as a regular model or a 200mph+ "S" and the 904 available with flat-four, flat-six, and F1-derived flat-eight engines, so we'll have to wait and see.
The car in the bottom-left is particularly interesting, as it appears to be a last-generation Audi RS5 DTM (given away by "Audi Sport" on the rear wing), as raced in the 2019 and 2020 Deutsche Tourenwagen Masters championship. GT games of old majored in DTM machinery, but it's a class that's been absent from both GT Sport and GT7 thus far — GT7's returning, old-school 155 aside.
That leaves two road cars, with the Toyota Alphard minivan becoming the first MPV in GT7 and what looks like a hatchback model Mazda 3 in the bottom-right. Again, there's very many versions of the 3, and it could be anything from another diesel to sit alongside the Demio and Atenza, the novel SkyActiv X engine, or a 250hp AWD turbo hot hatch.
Of course the regular car silhouette teaser doesn't reveal any of the other contents, so the update may include other new features, changes, fixes, or indeed circuits. We are however expecting it to remove the time-limited Gran Turismo Sophy Race Together feature which is scheduled to expire on March 29.
That likely also pins the date for the update to Wednesday March 29 or Thursday March 30, but we'll have more information on that nearer the time.
See more articles on Gran Turismo 7 Game Update.