The most significant update in the 12-month life of Gran Turismo 7 is now available, with v1.29 bringing some revolutionary features and plenty of new content that includes an old friend of the series.
It's a big update, at 7.3GB on PlayStation 5 and 7.6GB on PlayStation 4, with the somewhat bulky nature reflecting a raft of major changes. There's something for everyone, although PlayStation 5 owners certainly get the better deal out of 1.29.
There's a lot to unpack, quite literally, so let's dig into the meat of it.
Gran Turismo 7 Update 1.29 New Track: Grand Valley
Out of the very many headline changes we could have picked, we're going for the return of the famous original circuit Grand Valley. The track is available in four different layouts:
Grand Valley – Highway 1
Grand Valley – Highway 1 Reverse
Grand Valley – South
Grand Valley – South Reverse
The monster race resort had been with us right from day one, first appearing in Gran Turismo as the longest track in the game (aside from Test Course). It hosted the most significant and challenging events, including the Grand Valley 300km endurance race.
Like all the other PS1/2/3 era original tracks though, Grand Valley didn't make the transition to GT Sport — other than as an icon of the East short course. Its return to GT7 makes it the fourth of the GT1 originals to return — after High Speed Ring, Trial Mountain, and Deep Forest.
However it appears Grand Valley has had a makeover, with the circuit now seemingly incorporating parts of the Big Sur Coast Highway along California 1. The layout is similar — with some major differences in topography — both for the main route and the short track.
It's also worth noting that there's a name-change too, and seemingly quite late in production. What was Grand Valley Speedway is now Grand Valley Highway-1 — and the East short course is now the South circuit.
Gran Turismo 7 Update 1.29 New Feature: GT Sophy Race Together
The update also sees the introduction of the brand-new Gran Turismo Sophy AI, a machine-learning AI that has been in development by Sony AI since 2021, with a new, limited-time "Race Together" event for PlayStation 5 users.
In essence, Sophy was designed to be as fast as possible around a particular race track, but Sony AI turned its focus from pure pace into being an ideal racing driver. By reinforcing behaviors that avoided contact and dirty driving, Sony AI created an "agent" that had World Series-winning pace and good racecraft too — as evidenced by its defeat of a team of the best Gran Turismo drivers in the world.
The "Race Together" event puts you against that AI in a series of on-track battles as either five-car races or a one-on-one. Don't worry, you won't be expected to be as good as a GT world champion; Sophy will be slowed down by having inferior machinery, but it'll be a challenge to win against what we reckon is the most human-like AI ever to appear in a racing game.
Although it's only a small feature for now — and it only runs through to March 31 — players can look forward to more GT Sophy events in the future and a possible expansion to the game as a whole.
Gran Turismo 7 Update 1.29 New Feature: PlayStation VR2
VR finally arrives in Gran Turismo in full, with v1.29 supporting the new PlayStation VR2 hardware that launches on Wednesday February 22.
Unlike Gran Turismo Sport on the first-generation PSVR, GT7 supports PSVR2 across every game mode bar the local two-player split screen. That means you can experience every facet of the single-player game and online multiplayer in full VR, at an effective 4K resolution and a reprojected 120fps.
There's also a VR Showroom feature that's exclusive to the VR headset, featuring a number of special studio scenes that allow you to walk round and get into any car (aside from the small handful of Vision GT cars without an interior, and the Toyota SF-R) in virtual reality.
Again, this is a feature limited to PlayStation 5 as the older consoles don't support the new VR2 system. You will of course also need the VR2 device itself to take advantage…
Gran Turismo 7 Update 1.29 New Cars
Five new cars make their way to everyone's game in update 1.29, majoring on classics but with a twinned pair of Vision Gran Turismo cars also making their debuts.
That's the Italdesign Exeneo Vision GT, which comes in Offroad and Street forms. The cars are physically identical as far as we can tell, with both using a remarkable V10 hybrid powertrain, but the Offroad version sports a significantly raised suspension setup and larger tires to deal with the challenges of dirt racing.
Along with the Italdesign, there's a trio of classics that consist of a road car, a race car, and a homologation special midway between the two — each qualifying as a legend of their type.
The racer is the 1965 Honda RA272. This was Honda's second ever F1 car, an evolution of the RA271 from 1964, and it brought the brand its first ever race win — courtesy of the USA's Richie Ginther at the season-ending Mexican Grand Pris.
Far more sedate is the 1970 Citroen DS21 Pallas. The facelifted version of the DS — or "Déesse" from the French word for "goddess" — is often listed among the most beautiful cars ever made, as well as one of the nicest-riding due to its hydropneumatic suspension system.
That leaves the Porsche 911 Carrera RS 2.7, one of the greatest 911s ever made. Designed specifically to homologate the car for Group 4 racing, the Carrera RS 2.7 sports a specially developed 2.7-liter version of the famous flat six along with extensive use of lightweight materials and huge, flared arches to accommodate 11-inch wide racing wheels.
Citroen DS21 Pallas 1970 – 49,600cr (Legends Cars)
Honda RA272 1965 – 2,500,000cr (Legends Cars)
Italdesign Exeneo Vision GT Offroad Mode – 1,000,000cr (New Cars)
Italdesign Exeneo Vision GT Street Mode – 1,000,000cr (New Cars)
Porsche 911 Carrera RS 2.7 – 745,000cr (Legends Cars)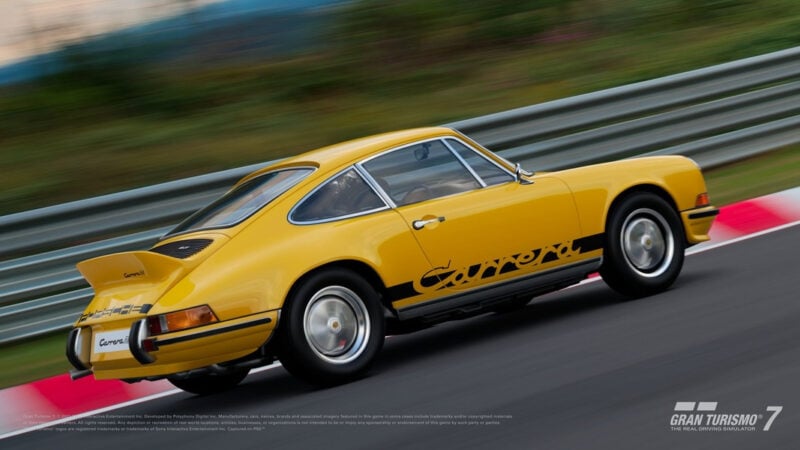 Gran Turismo 7 Update 1.29 Other Changes
There's six new races in the update, with five — American Sunday Cup 600, Gr.1 Prototype Series, Historic Sports Car Masters, Japanese Clubman Cup 550, and World Touring Car 600 — at the new Grand Valley circuit, and a new Sunday Cup Classic event at Laguna Seca. Players will need to be at an appropriate Cafe Menu book level to access each.
You'll also find two new Extra Menu Books containing car collection tasks. A Honda Motorsports book requires you to collect the new Honda RA272, the Honda S800, and the McLaren MP4/4, awarding a Honda Super Formula SF19. The Porsche 911 Carrera RS book looks less expensive, with the 901, 964, and 993 generations of the car required and a five-star roulette ticket reward.
There's some new functions in Scapes, with a new Drift Stage mode which allows you to more easily take photographs of sliding cars. This comes with a special tutorial, helping you stage the perfect drift shot. Some Scapes will also have a new ability to tilt the camera up and down, adding a little extra freedom to your images.
A selection of new car designer interactions has been added to GT Cafe, along with 13 new "Real Car" paints in the GT Auto section. Engine startup sound and vibrations have been added for DualSense users on PlayStation 5 when switching cars in the garage.
We're expecting that new engine swaps will be available, although these are usually not specifically noted. The GTPlanet community will likely uncover them all soon enough, in our dedicated Gran Turismo 7 engine swap thread.
A number of issues have also been addressed, notably a freezing bug affecting Fanatec wheel users, along with the famous "various other issues".
There'll likely be other unannounced changes, which our members will also be discovering. We'll bring you any other information as we get it!
See more articles on Gran Turismo 7 Game Update, Gran Turismo Sophy, PlayStation VR, and Vision Gran Turismo.