There's a distinct lack of something during this press briefing. It's not turbo power — ubiquitous in this day and age, especially in the hot hatch segment — nor is it a lack of enthusiasm about a product a team is clearly proud of.
No, there's almost a complete lack of numbers. And boy is it refreshing.
I'm here at Thunderhill Raceway to sample Hyundai's new Veloster N. That all-important letter pulls double-duty, standing in for both Namyang (home of Hyundai's global R&D Center) and the Nürburgring (the location of its European Test Center).
While the Veloster put in thousands of hard miles at the Nordschleife during development, you won't see Hyundai crowing about lap times. Instead, a team led by Albert Biermann — he of BMW M fame — has focused on what makes the hot hatch such an appealing proposition: sheer fun.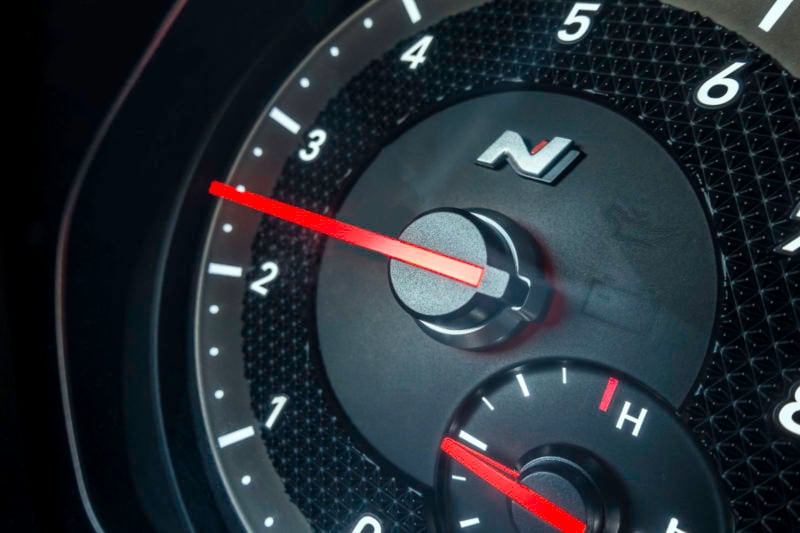 What Does that N badge bring?
I already sampled the very capable Veloster Turbo last May. It was an impressive, reasonably sporty everyday car. The N starts with the same basic package, with choice upgrades across the board.
Up first is the engine. Out goes the 1.6-liter unit for a bigger 2.0-liter. In base form, it puts out a respectable 250hp and 260lbft of torque. Move up to the Performance Pack — what I spend the day in, and the only option for Canada — and you've now got 275hp to play with (torque remains unchanged). To put it in another way, that's almost four times the original Pony's, er, pony count. Or practically double the Tiburon's, the Korean brand's first sporty car.
The Performance Pack includes other goodies too. Bigger brakes, 19-inch wheels with bespoke 235-series Pirelli P Zeroes, an active exhaust, and an electronic LSD sounds like good value for around $2k (USD) more.
All that power hits the pavement through a revised suspension, starting with reshaped steering knuckles up front. Hyundai's also fit electronically adjustable dampers with driver-selectable modes. There's a noticeable difference between the Normal mode and N, which is borderline too stiff even on the track. The body-in-white gets additional welds and other structural reinforcements for the right kind of stiff, too.
Outside, the N gets a more aggressive bodykit. It isn't all show either, as the front ducts and rear spoiler are functional (cooling the brakes and providing genuine downforce, respectively). The red highlights, seemingly an Asian performance car hallmark, help liven things up, unless you pick Racing Red. We'd of course go for the hero color, Performance Blue.
The end result is a cohesive design that splits the difference between the Golf GTI's near-anonymity, and the shouty boy racer duo of Civic Type R and Focus RS. To my eyes, it's also better than its Euro sibling the i30N. That's good, because according to the team, it's also the lowest and lightest variation of this platform.
 Okay, so how's it to drive?
Hyundai makes no bones about it: this is the sportiest car it's sold in North America. It's even invited a bunch of us to one of the most challenging race tracks in America to prove it.
Instead of just jumping straight onto Thunderhill though, I get to know the N along a reasonably wiggly stretch of road outside the track. First impressions are excellent: it's a cinch to get comfortable behind the wheel, while the clutch is as friendly as the mere mortal Veloster Turbo's. The six-speed manual is a joy to row too, with short, positive throws between the cogs.
While the lesser models offer a DCT, the manual is currently the only option on the N. Hyundai says a DCT is coming, but not to expect it for a few years.
That said, there's still a small level of assistance with the stick. Hyundai's included rev-matching, but if Albert Biermann says it's good enough for him, I'm not going to argue. Your ears will thank him and the team anyway, since every downshift is accompanied by a fusillade of crackles from that active exhaust in N Mode, like the war cry of Hyundai's own WRC car.
On the road, the Veloster emits one of the naughtiest exhaust notes I've heard outside anything with an Italian badge. I check and confirm Hyundai hasn't wedged an angry bear somewhere underneath the trunk floor. Nonetheless, if you suffer from arkoudaphobia, you can turn off the grizzly note via the N button, letting the Veloster swim through city centers without drawing too much attention.
There's little traffic out here though, and I let the N settle into its own comfortable gait. As it turns out, without even breaking a sweat, that means well over the posted limits. The Veloster gathers up speed like a wave, but instead of a relentless wall of water you simply ride, it always feels under your control.
The steering is quick and weighty without being darty. There's a consistent level of feedback, quickly earning your trust that it's an accurate representation of what the pair of Pirellis are dealing with at ground zero. Grip levels are very high: far more than you'll be able to fully explore on public roads, so it's a good thing we've got track time later.
It feels neutral, and impressively well-damped. In fact, it almost feels Germanic in the way it breathes with the road. The Veloster is still a relatively light car in its class, and in the regular suspension setting, it's soft enough to feel limber without losing that sense of alertness found in the hardcore N setting.
There's a real sense of character baked into the Veloster N. Peeling the layers back one by one reveals a seriously talented partner, but it's clear there's more still than what the road can safely provide. Back to the track, then.
Welcome to the Thunderhill
Before taming the 15 corners of the track proper, I start with a bit of autocross. We're all chasing professional hot shoe Michael Lewis' low-39-second time. I met Lewis the night before: he's a soft-spoken native Californian as modest as he is fast. It's little wonder he and teammate Mark Wilkins just won the team championship for Hyundai in the Pirelli World Challenge TCR class.
The on-site engineers recommend N custom mode, so that the suspension can be in its softer setting. It works, with the Veloster biting into the tight corners with conviction. I'm told the left-right kink on the first straight can be taken flat, but I run out of bravery before the Veloster runs out of grip. The best I can muster is still three seconds off Lewis' pace. My racing career is not off to a promising start.
Thunderhill awaits. It's not for the faint-hearted: it bucks and dips for most of its 3-mile length, providing off-camber corners and blind crests — sometimes even at the same time. We bypass The Cyclone, but this is still a wild rollercoaster of a track.
And the Veloster N eats it up. It never feels like it doesn't want to be there, nor does it feel unsafe. The grip from the Pirellis is unreal, but helpfully they do get vocal pretty easily when approaching their limits. This makes it easy to suss out corner speeds, which are frankly astonishing for a $30k road-going hatchback.
Hyundai's quite confident in the package, judging by the hands-off nature of the hot laps. There's no handler in the car with me: it's just four cars on track at a time, with a pro giving us a guided sighting lap before letting us loose. No passing, and keep 10 car lengths between you. Other than flag explanations, that's it.
It's here that N Mode comes into its own, the firm suspension setting keeping everything tied to the road. The Veloster corners flat and neutral, while the tail will adopt just the faintest hint of an angle if you lift on corner entry, tucking the nose in towards the apex, allowing you to get back on the gas that much sooner. The elastic, always-on nature of the four-pot means most of the track can be dispatched in third, only needing fourth (and briefly on the front straight, fifth) for triple-digit zones.
Lapping Thunderhill is addictive, and thankfully, there's no limit. I go back out for another four-lap stint and again, the Veloster is all too happy to hunt down apexes. Hyundai's "N Grin Control System" name for the driver mode system may sound like marketing speak, but I know what's plastered on my face when I pull the helmet off.
What other toys does the Veloster come with?
The Veloster N is a bit like a Corvette C6. Stay with me on this one.
Chevy's previous-gen icon punched well above its price point. To match cars costing thousands more in terms of performance, it meant sacrificing somewhere else. Like the interior.
That's not to say the inside of a Veloster N is a bad place to be. It's perfectly fine, but outside of the blue seatbelts and the steering wheel, it's not too far removed from the cooking Turbo models. That means an 8-inch touch screen, Bluetooth, multiple USB slots, as well as Android Auto and Apple CarPlay.
There's an eight-speaker Infinity sound system, but I'll be honest: I pretty much forgot about music once I was in the car. There's no leather seating option, but the cloth driver's seat is six-way adjustable, and more than capable of holding you in one place during a track day…
The interior features a lot of plastic, but considering the amount of work Hyundai has put in under the skin, that seems like a fair trade-off.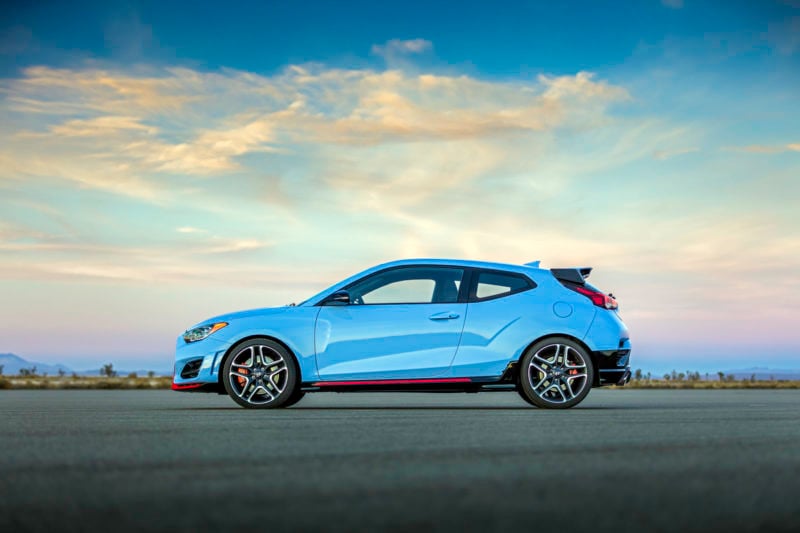 Who'll buy a Veloster?
People who recognize a good performance deal when they see one, and don't have hangups about the badge on the nose.
Hyundai's pricing the Veloster N very aggressively. It will list closer to the GTI, but packs performance more in the Type R realm. Being a hot hatch, it will likely be pulling double duty as an everyday car plus a thrill machine.
The team has planned ahead for this. Proper cooling was important during development, to ensure the car doesn't jump into limp-home mode a few laps into a track day. Biermann and his crew also tested the car with much stickier rubber than the P Zeros in case it would wreak havoc on the suspension (it didn't).
To keep costs down, the brakes aren't from Brembo, but instead the bigger Kia Optima.
As a testament to all of this, the Velosters all performed without issue at the track during our day there. That's with a bunch of journalists constantly cranking them around for multiple laps in the warm California air. The brakes did get a little grumbly during my hot laps, but the pedal feel never suffered, nor did the stopping power.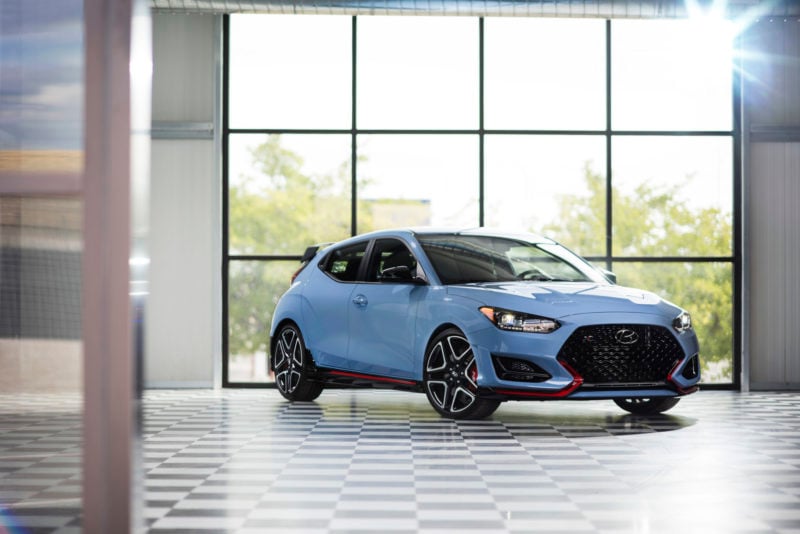 What else will tempt them?
As I mentioned above, the Veloster N lands in a sweet spot against the Golf and Civic ranges. It's cheaper than the R-badged cars, but much closer to their performance than the GTI and Si.
The Golf R rings in at nearly 10 grand more than the N. If potential buyers are truly tempted by all-paw performance, there's also the Focus RS (which went out of production in April, and is even more expensive) and the Subaru WRX STI.
We can't really discuss the $30,000 performance market without at least mentioning the Mustang either. An optioned-out Ecoboost would be close to the list price of the Veloster N, or there's the allure of a 460hp V8 for a few grand more. The Camaro offers a similar proposition as well.
What's the conclusion?
This could've been a lot different. The Veloster N is Hyundai's very first serious hot hatch in North America. It would've been forgiven had it created a "better luck next time" debut.
But it hasn't. The Veloster N has genuine performance cred, with carefully thought-out improvements over the regular car. Its found a gap in the market and has utterly nailed the requirements. That it all comes in for under $30 grand (or $35k north of the border) makes it a performance bargain.
The established segment leaders from VW and Honda should be worried. And this is only the beginning: If the Veloster N is what Biermann & Co are capable of with an existing hatch platform, we can't wait to see what the team does with the recently green-lit N halo model.
Verdict:
Hyundai Veloster N
A proper hot hatch that does everything well. Hyundai's debuted right in the top of the class.
Learn more about
how our rating system works
.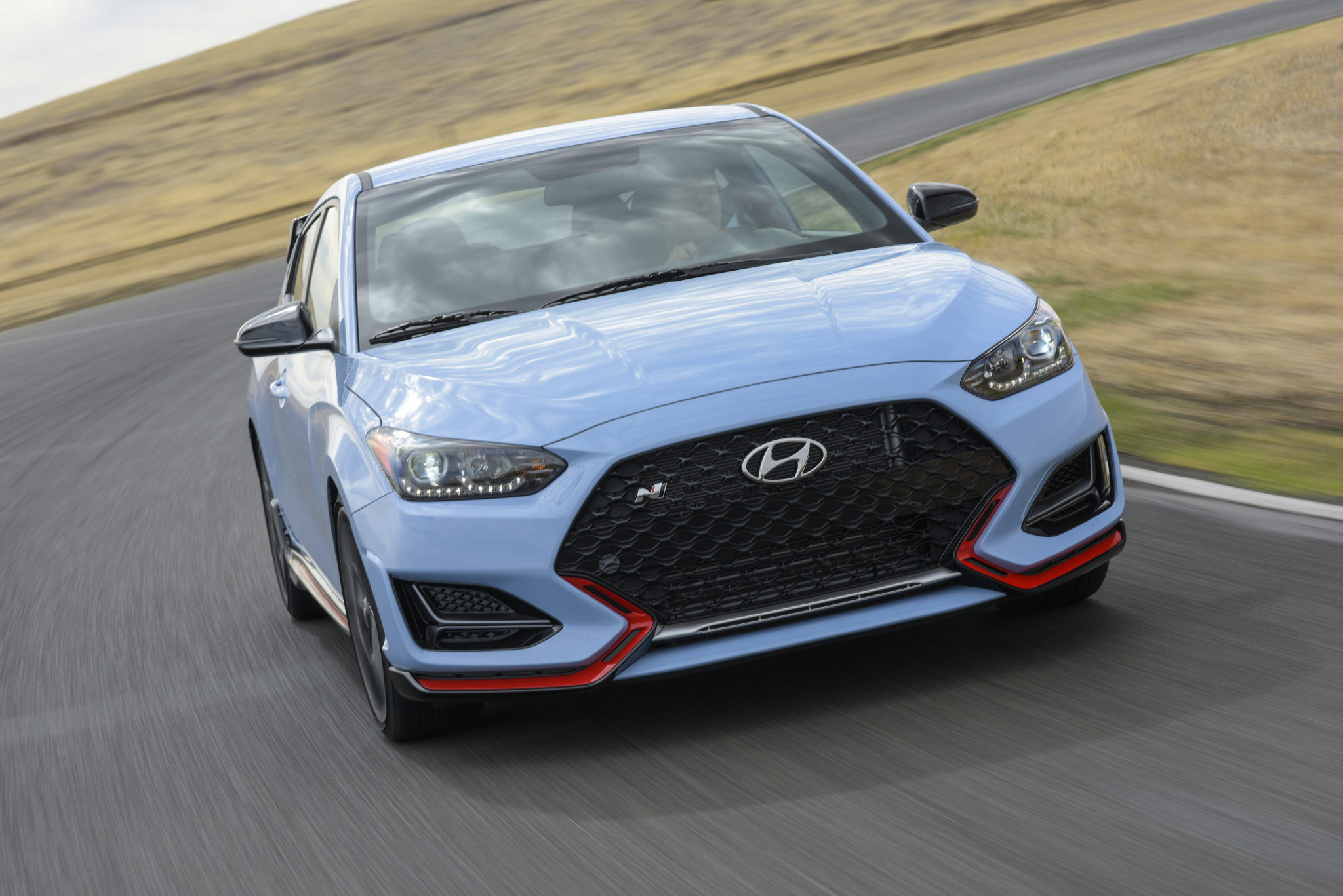 Quick Facts
Engine
2.0-liter, I4 turbo
Power
275hp (279PS, 205kW), 260lbft (353Nm)
Weight
3,036–3,117lb (1,377–1,414kg)
Layout
Front-engine, front-wheel drive
0-60mph
< 5.5 seconds (est)
Price As Tested
< $30,000 (est)
See more articles on First Drives, Hyundai, and Hyundai Veloster.
More on Car Reviews