Jaguar will be using this weekend's Goodwood Festival of Speed to unveil its most powerful production road car ever.
The Jaguar XE SV Project 8 will be a hand-built, limited production model that combines the company's smallest four-door sedan with its biggest engine. With 592 hp available from the supercharged 5-liter V8, it's quite some engine too.
The Special Vehicle Operations (SVO) team of Jaguar Land Rover will build Project 8, from its new £20m base in Coventry. It is making just 300 examples, and you'll need nearly £150,000 to secure one.
Project 8 continues the work SVO put into the Project 7 car, based on Jaguar's F-Type. This too was revealed at the Goodwood Festival of Speed, back in 2014, and was the quickest and most powerful production Jaguar to date. Project 7 toted the same supercharged 5-liter V8, but with a mere 567 hp, and SVO made just 250 cars.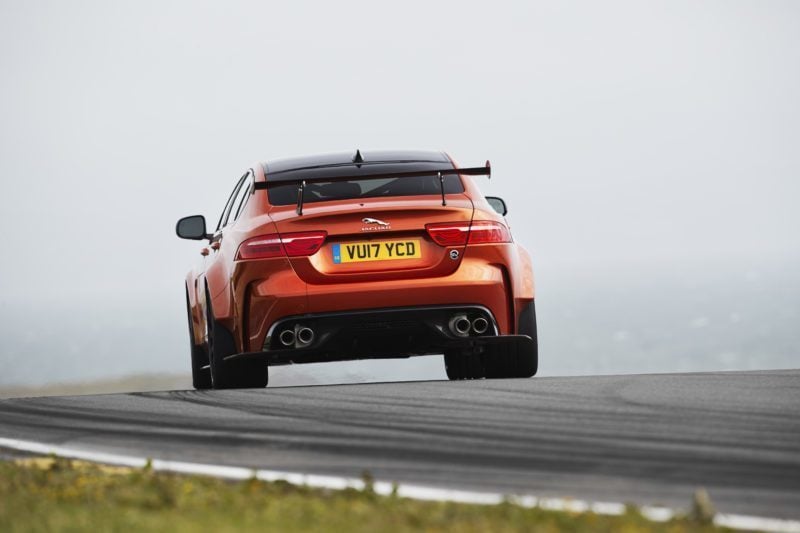 The new car is equipped with a titanium variable active exhaust and Jaguar's all-wheel drive system. The result is a four-door Jaguar that will hit 60mph in 3.3 seconds.
Motorsport-derived aerodynamics help Project 8 hit 200mph, 25 years after the XJ220 became the brand's first 200mph car. Carbon-fiber bodywork, including the front and rear bumpers, an adjustable front splitter and rear wing, a flat floor and a rear diffuser all help the car hit this milestone figure.
SVO's work isn't finished there. Project 8 also sports continuously variable dampers, carbon ceramic brakes and silicon nitride ceramic wheel bearings. This latter feature is a technology usually found in Formula 1 and an industry first for a road car.
Two specifications will be available at launch, with a standard four-seat model complemented by a two-seat Track Pack variant. SVO replaces the magnesium-framed sports seats with carbon-fiber racing seats and four-point safety harnesses.
A dedicated track mode ensures that all the car's control systems are in circuit specification. All Project 8 models feature an eight-speed automatic and – unusually for a British production car – left-hand drive.
Eight body colors are available, although Project 8 owners can personalize their cars with myriad alternative choices and decal packs. Prices start at £149,995.
Jaguar will give the XE SV Project 8 its debut on Thursday 29 June at Goodwood, with a dynamic debut on the hill climb the following day.
See more articles on Jaguar.