All-Japan Formula 3 Championship is a small open-wheel series that takes place at various landmark circuits all over Japan. Each weekend drivers are required to tackle two rounds per course (for total of 16 rounds) if they want to claim the title at the end of season. Well known 2011 GT Academy graduate Jann Mardenborough is one of the drivers currently taking part in this interesting event.
Although race held last week at Okayama brought Jann modest points due to unplanned pit entry on the fifth round, Jann made a quick comeback by winning 1st place on the following round, simultaneously scoring his first victory from pole in the series.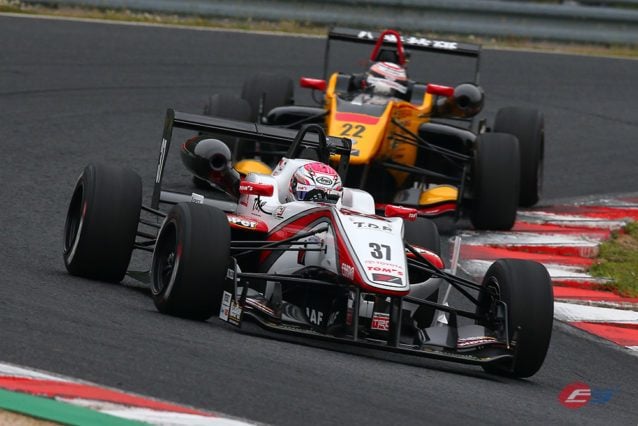 Setting a fast lap of 1'21.171, Jann secured pole position on the fifth round's qualifier. Unfortunately, the success didn't last in the actual race. On lap 7, the rear light came off Jann's #22 car, forcing him to visit the pits and lose precious seconds mending the problem. After completing the 18-lap race, Jann settled for 8th position. On the plus side, his teammates Katsumasa Chiyo (#23) and Mitsunori Takaboshi (#21) finished the race 3rd and 4th, respectively, saving some of B-Max's team points.
Qualification for the sixth round went well for Jann; he took another pole position by setting a fast lap of 1'20.990. This time the success continued as Jann finished the race 1st, over 25 seconds in lead. Despite tricky, changing weather conditions, Jann remained at the front, taking the overall race win from pole position. According to official race report, Jann recalls:
'The team prepared an incredible car for me, and all I needed to do was enjoy racing!'
Jann's host team B-Max is still tied up with team TOM'S, a situation we also reported on the previous race at Fuji Speedway. The next race will return to Suzuka Circuit on 11-12th of June. Be sure to check official website for further information and details on the race.
More Posts On...
The original comments for this post are no longer available.