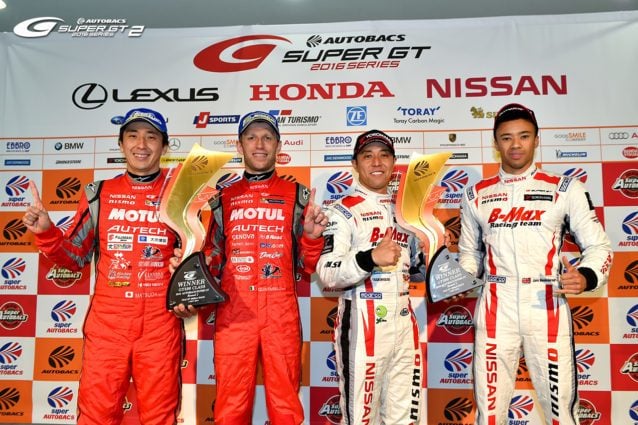 It is never too late to share the latest developments in motorsport circles involving GT Academy graduates. Today's spotlight is reserved for 2011 GT Academy graduate Jann Mardenborough, who recently won his first GT300 race in the second round of the 2016 Super GT season.
Round 2 was held at Fuji Speedway, a track familiar to Gran Turismo players. Drivers had to travel over 500 kilometres before the checkered flag would conclude this enduring festival. Together with his teammate Kazuki Hoshino, Jann Mardenborough took to the wheel of the #3 B-MAX NDDP Nissan GT-R machine, one of many GT300 class vehicles. Although they initially qualified 5th, consistent determination in the actual race eventually paid off, placing Jann's car at the head of GT300 grid after total of 102 laps.
Nissan had plenty of reasons to empty a champagne or two, as another of the manufacturer's entries (the #1 MOTUL AUTECH NISMO GT-R, driven by Tsugio Matsuda and Ronnie Quintarelli) placed 1st in GT500 class and 1st overall.
Jann didn't stop there, as he later proved himself in another race at Fuji Speedway, with another podium finish in an open-wheel machine racing challenge.
Jann previously announced he would be participating in the All-Japan Formula 3 Championship, with B-Max team again at his side. Mardenborough wasted no time finding results; Jann's #22 NDDP F3 car occupied 2nd place in the first round of the second race, being beaten by his teammate Daiki Sasaki (# 21 NDDP F3) by less than a single second. Following completion of the second round, Jann ranked 4th. According to the official report, Jann experienced very close race with his teammate.
As a result of Jann's impressive ranking during the season opener at Suzuka (first and second round completed with 2nd and 3rd place, respectively), his team is currently tied up with team Tom's. Since the series has barely started, there is no doubt an exciting season will continue to unfold for the gifted 24-year old.
See more articles on Formula 3, Fuji Speedway, and Jann Mardenborough.