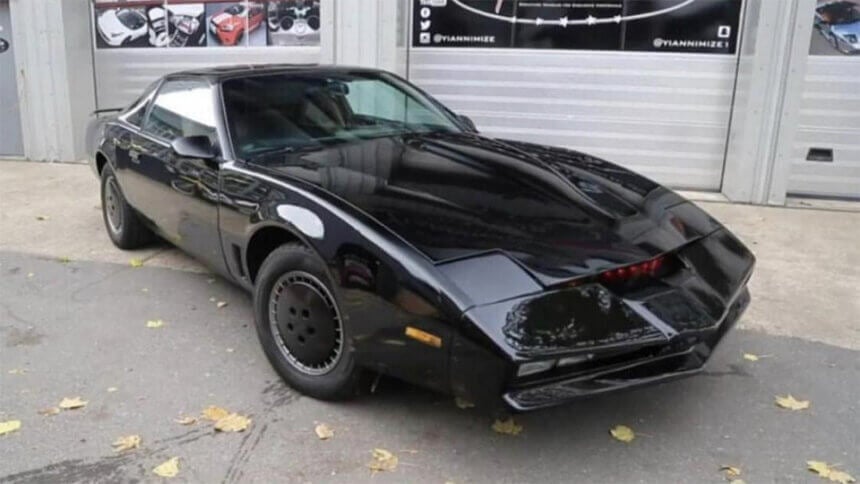 KITT might be the most famous Pontiac ever made — it's certainly GTPlanet readers' favorite ever television car — and now you have the chance to own it. We're not talking about any old KITT either, but David Hasselhoff's own personal car.
If you're not familiar with the Knight Industries Two Thousand (or "KITT") was one of the two leading stars of hit 80s TV series Knight Rider. An early example of advanced autonomous vehicles, KITT was essentially a supercomputer built into an almost indestructible version of the remnants of LAPD cop Michael Long's Pontiac Firebird Trans Am. Long, rechristened as Michael Knight and played by Hasselhoff, partnered with his car to fight injustice across America. Or at least the western bits of it.
The car, voiced uncredited by St. Elsewhere actor William Daniels, had several extraordinary abilities. A lot of the time these abilities were introduced early in an episode and then came in handy later on, but commonly KITT and Knight relied on prodigious speed and the "turbo boost" jumping capabilities. This meant that not a lot of the 20 or so Trans Ams survived filming intact.
In fact it got worse for the cars once the series wrapped. As Universal Television had bought the majority of cars salvaged from a train derailment, they couldn't be sold on and were crushed. Reportedly only five original production cars survived, and they don't come up all that often.
With that in mind, it's actually unclear as to whether this KITT is among those five survivors. It's part of an auction of Hasselhoff-related memorabilia — which includes a 12-foot statue of himself as "Big Dave" from The Spongebob Squarepants Movie in 2004 — endorsed by The Hoff himself:
Bidding is open now in the Hoff auction, everything goes! Go to https://t.co/i9vRAc2aeM#DavidHasselhoff #TheHoff #TheHoffAuction #Auction #LiveAuction #Bidding #LiveAuctioneers #DiligentEstateSales #SpongeBob #KnightRider #MichaelKnight #KITT #Baywatch #MitchBuchannon pic.twitter.com/DK5OI0cW2Z

— David Hasselhoff (@DavidHasselhoff) January 2, 2021
The auction listing describes the car as "David's Personal KITT Knight Rider Car", however it's actually the second time in seven years that Hasselhoff has sent his "personal KITT" to auction. The previous example was a fan-made replica that the creator, Jennifer Catano, gifted to Hasselhoff. That car sold for $153,600 in 2014, while the current auction is already up to $975,000.
Whether an original series car or not, the vehicle is as close to KITT spec (minus the weaponry and turbo boost) as you can get. The best part is that Hasselhoff himself will deliver the car to you if you win the auction.
There's plenty of other Hasselhoff-themed items in the sale too, including clothing, records, and various signed trinkets. If the $1m KITT is too expensive, there's also a $500 KITT pedal car available.
The auction, from Diligent Auction Services, runs through to January 23.
More Posts On...