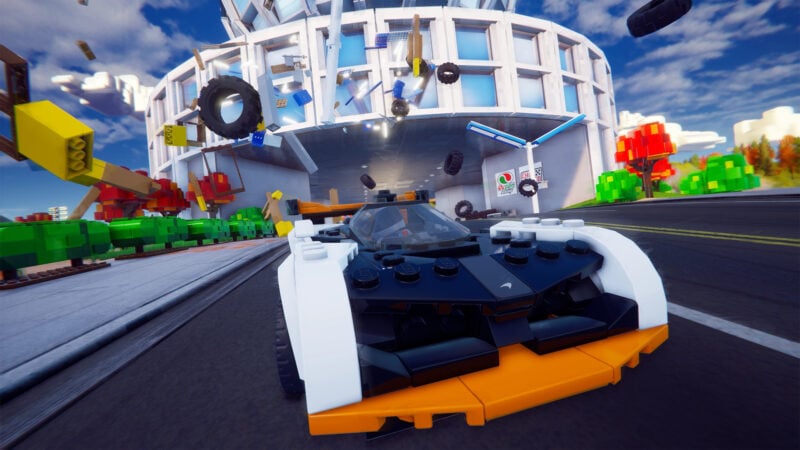 If anyone had a 2023 bingo card that had "2K launches an open world racing game based on LEGO" on it, they should go buy a lottery ticket because this is one nobody saw coming until it was announced in March.
The publisher isn't exactly known for racing titles — 2013's 2K Drive an exception — but the people behind developer Visual Concepts have a history in racing games, so this spiritual successor to LEGO Racers had us intrigued.
We've been playing a PS5 copy of the title, sent by 2K for us to test out, and it launches across Nintendo Switch, PC (via Epic and Steam), PlayStation 4/5, and Xbox One/Series on Friday May 19.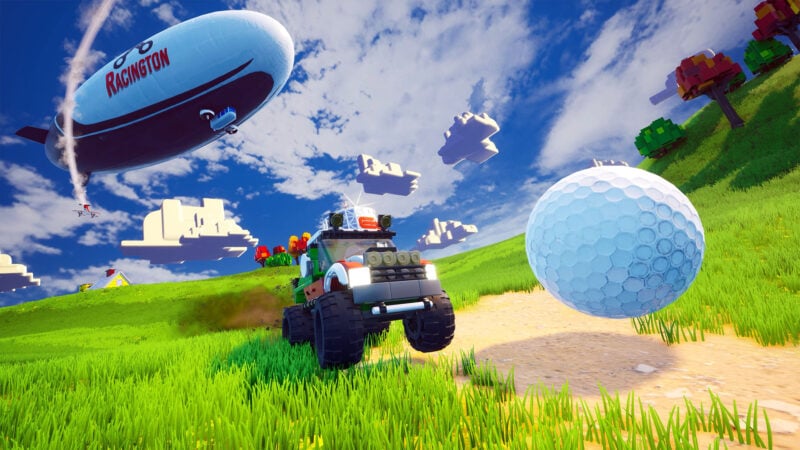 LEGO 2K Drive: Review
Once again we find ourselves reviewing a title that we can't fairly force into our existing review structure, as there's some categories where there's no reasonable way to score it.
There's also one glaring detail that doesn't fit in anywhere, so we're going to break up the review to cover vital ground (as with last year's F1 Manager 22).
You also won't find an objective score, but we'll give a summary of our experiences at the end.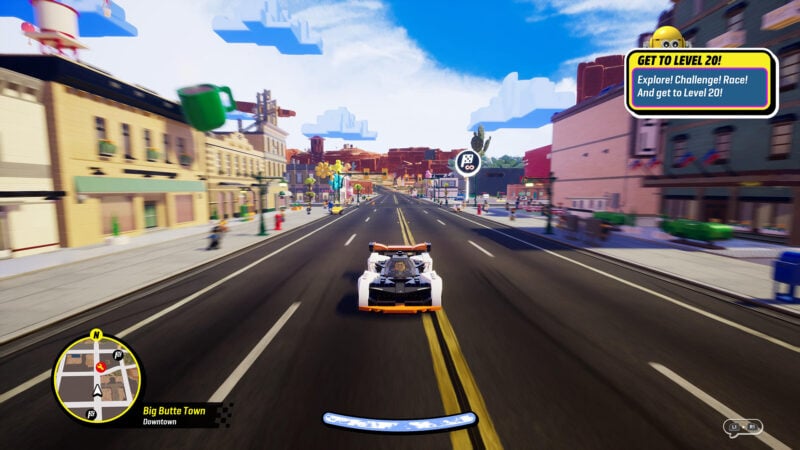 LEGO 2K Drive: Overview
What you get with LEGO 2K Drive is pretty simple to explain: it's a karting-type, "open-world", arcade racing game which features four distinct biomes to explore, with challenges, races, collectibles, and a story within each one. Complete all the story chapters and you qualify for the big race at the end against the bad guy.
It's all covered with the typical LEGO game humor, both self-deprecating and fourth-wall breaking, as the various characters within voice their observations on various tropes (which is itself a trope). You're guided through everything by your mentor, Clutch Racington, and a robot companion called Super Terrific Utility Drone (or STUD).
While that might sound irritating, this is a game that is unashamedly child-oriented but also there's so much going on all at once. You're going to need all the help you can get; actually you're going to need more, as there's some parts where it's not clear what you need to do — especially when it comes to car stats and perks.
Where the game really shines is the creator section, and where it really doesn't is in the microtransactions. Sadly there's an overlap between the two as well…
LEGO 2K Drive: Driving
In terms of how the game drives, it's very definitely as we said: a karting-type arcade racer. That doesn't mean a lack of nuance though, as Visual Concepts covered during our interview.
Rather than being a full karting title though, where the vehicles drive in a very similar way — maybe with different speed, handling, and acceleration stats, although that's part of this game too but applies more to the player than their vehicle — there's a surprising amount of detail involved.
How your car drives very much depends on its construction. In essence, where you put the bulk of the weight matters. To take it to extremes, a car with a tiny chassis and what's essentially a 16-block tall anvil on top will always be at risk of toppling over in turns. If it takes damage and some of those blocks fall off, the handling improves — unless you repair it by smashing up destructibles and using their blocks.
There's also the various surface types, with road and off-road driving, and water. A car made for paved surfaces struggles on dirt but comes alive on the road, and water is pretty tricky unless you have a boat (or can make an Amphicar maybe?). Your vehicle will automatically transform to the appropriate type from your three-vehicle loadout, although you can turn this off and switch manually too.
They're fun aspects on an otherwise as-you'd-expect karter. Everything appears to be rear-wheel drive (we drove a six-wheel moon buggy; both the rear axles had drive), and there's the usual drift mechanism — powersliding, using the brake and accelerator at the same time — as well as a novel quick-turn feature and a jump function, all of which increase the boost meter on your car.
Of course there's also a whole load of powerups — mainly LEGO-themed — in the races. You'll find the usual missiles, smart missiles, shields, and mines, along with the thing-that-slows-you-down (spider webs), a warp, and a paint gun we can't quite work out the purpose of but it looks fun. A defensive "ghost" powerup that renders you intangible (except to scenery) is also available.
LEGO 2K Drive: Multiplayer
As well as the story mode and single player, there's solid multiplayer offerings — though ahead of launch and with this being an account we use for game testing, there's a limit to how much we could experience.
Probably most importantly that includes a local two-player split-screen, for some sibling or adult/child shenanigans. That's not only routine head-to-head racing but you can complete the story mode in co-op style too.
Online multiplayer includes a "play with friends" feature, which allows up to six people to party up and race around the map in a "shared world" mode, or just race off in single races or cup events.
Naturally there's also a global multiplayer mode. Ahead of launch that's not hugely populated, but we had no trouble finding servers — again, single races or cup events — with 2K staff, creators, and outlets who've either not published their reviews yet or are still having fun with it. Everything seemed stable enough too, though we'd expect nothing less with only eight players at most.
Multiplayer modes are also fully crossplay-enabled, so you'll be racing against players on all four different product ecosystems. It should be rarely quiet…
LEGO 2K Drive: Garage
This is pretty much going to be the part of the game for which most players will buy it. You have, in essence, an infinite amount of cars available to you, as the Garage will allow you to build anything — up to a size limit that appears to be around 20 studs wide, 30 studs long, and 12 studs tall — from a range of over 1,000 brick types.
While not comprehensive (more on this in a minute), there's a sufficiently wide selection of LEGO bricks that covers all the essentials, and more you can win through the story mode, that you can make close to anything. Each block can be manipulated for orientation in exactly the same way it could if it were in your hands.
Bricks can also be individually colored, or you can select multiple bricks you've already placed and re-color them, with flat, metallic, and glowing paints, and have neat "flair" effects applied under certain circumstances. You can, for example, make clear red bricks glow red when you brake.
There's a whole load of tutorials for this, and while it looks very daunting at first it's pretty easy to pick up much of it — and thankfully there's an Undo function.
That means you could just freehand build a madcap creation, or you could build a real-world LEGO vehicle in the game by following the set's instructions (and LEGO hosts an online resource for finding them). We haven't tried yet, but you could in principle build LEGO Speed Champions models that aren't included in the game…
If having free rein on an endless box of bricks wasn't quite enough, you can also modify the pre-built cars you have in your garage — won through the various missions, and add-on packs including the upcoming seasons. There's also the ability to see how they're built with an Instructions mode — so you could pick up the bricks you need (again, LEGO offers this service) and build it in the real world.
LEGO 2K Drive: Economy & Microtransactions
2K has a bit of a reputation for monetization, and LEGO 2K Drive is not an exception. We've seen worse, but in a game which will have a very young key audience it's hard not to be disappointed with this.
Off the bat we'll say that it's not exactly pushed on you and you need to have a linked 2K account with parental permissions to even access the microtransactions (or play online multiplayer) but it is pretty wide-ranging and the game's internal economy appears pretty mean.
You can find the math in our forum, but in essence the in-game "Brickbux" are pretty hard to come by and a significant grind as the prize values plummet after a first win. They also don't buy much — we've been playing for hours and have enough to buy two of the unique regular cars (or one "Super Awesome" car) in the game store "Unkie's Emporium" — fronted by an affable monkey, to soften the blow.
That encourages the purchase of "coins", for real money, which you then exchange for the currency. The more you buy and the more you exchange, the more Brickbux you get, but best-case it works out to $3.46 for a regular car.
Worse, these cars are exclusive to the store and often have unique "perks": abilities you can apply to your profile with some wacky effects. The store also refreshes, seemingly on a weekly rotation, with featured items as well as the permanent offering.
And there's more. As well as holding these cars and perks hostage, the store also stocks unique "minifigs", stickers, and some bricks and flair parts. While mostly decorative, that might mean you can't build the car you want to build because you're missing pieces you have to buy.
That will continue to the game's seasons, which will come with the same items, including brick packs, as free and premium rewards — although thankfully the seasons only have timed starts, so you can play through them whenever.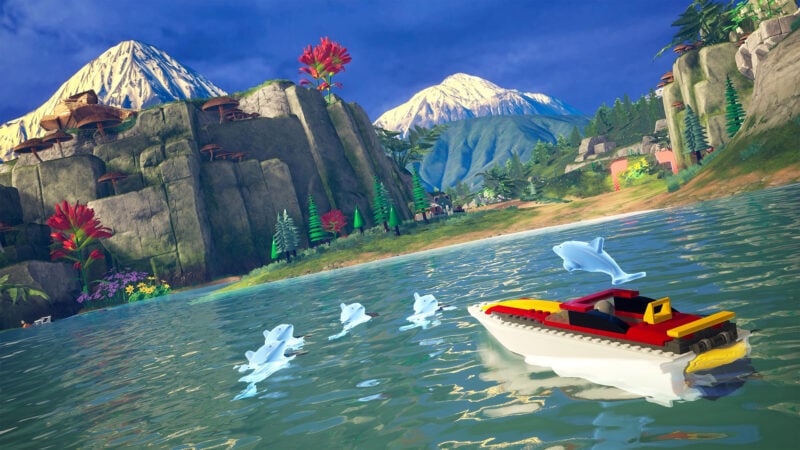 LEGO 2K Drive: Summary
Considering 2K doesn't do driving games, it's come up with a pretty good one.
There's just enough about the driving mechanics to represent a decently fresh take on the genre, along with the open-world nature. It might occasionally seem like the maps are a bit too open (and there's a few irksome physical barriers that prevent straight-lining), but there's quite a lot packed in there which you'll discover in exploring, and fast travel points liberally dotted about.
With the kid-oriented nature of such a title, the microtransactions are very irksome — we can see a lot of parents appearing in local newspapers pointing at credit card bills — and it's disappointing to see the car-building feature limited by having buyable bricks.
Its true killer feature though is the Garage. You are never going to stop building virtual LEGO machines, and the real/virtual crossover potential is vast; if you have a favorite real LEGO set, you can make it in the game (and better, thanks to the flairs), and vice versa.
That alone will consume hours of your life and is probably worth the entry fee alone. Now, if there was a track builder too…
See more articles on Lego.