The Lister Knobbly is one of the most famous race cars in British motorsports. Now over 60 years later, it's due to make a return according to a tweet by Lister's owner Lawrence Whittaker.
NEW LISTER KNOBBLY – and yes, we will build it! @ListerCars pic.twitter.com/ZuwN94gE9d

— Lawrence Whittaker (@ListerLawrence) March 14, 2019
Also called the Knobbly, the new car is a modern take on the original. With swollen wheel arches and lowcut windscreen, it fits the bill perfectly too. It also sports details like a side exhaust and chopped doors to pay homage to its predecessor.
Unfortunately, that's all we really know about the Knobbly. However, we can make a couple of educated guesses based on Lister's partnerships and history.
Presumably, a Jaguar engine will sit at the heart of the Knobbly just like the original. It should pack more of a punch than the original though. Back in 1958, the Knobbly ran a 3.8-liter inline-six good for around 350hp. This modern version will probably sport the supercharged 5.0-liter V8 that's used in the 200mph LFP SUV.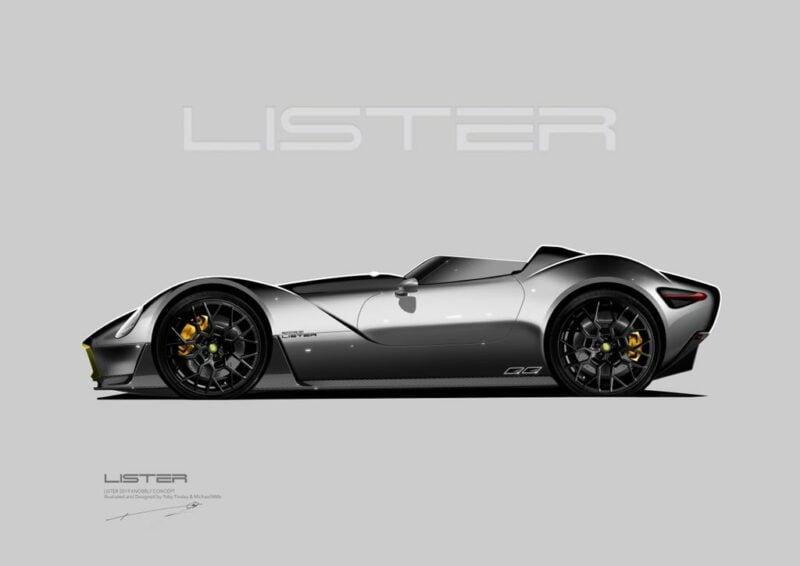 This means at least 670hp, but chances are it could get even more than that. Couple that with a body made from lightweight materials like carbon fiber and it's sure to be a rocket ship.
As for other parts like brakes, suspension, and gearbox, they will probably come from Jaguar as well. Lister will, undoubtedly, work its magic on these parts though.
Whittaker did confirm in his tweet that Lister is planning to build the car too. Although last February the company mentioned it was working on the next generation Storm. We're still waiting to hear about that, so don't look for the Knobbly to make an appearance any time soon.
Hopefully, Lister manages to get this project off the ground. A modern take on a speedster is something that's rather interesting and when done right, looks rather stunning. Just look at the Ferrari Monza for another excellent example.
We will let you know more about the Knobbly as Lister makes information available.
More Posts On...