Lotus has been teasing us for a little while, but has today revealed its new hypercar, Evija.
The brand, from Norfolk, UK, unveiled the car's name at the Goodwood Festival of Speed earlier in the month. Lotus says the name, pronounced 'ev-eye-a', means 'the first in existence' (although doesn't suggest a language of origin), and of course the first two letters reference the car's powertrain.
We're talking about quite some powertrain too. The Evija will be nothing less than the most powerful production car in the world when Lotus starts building them next year.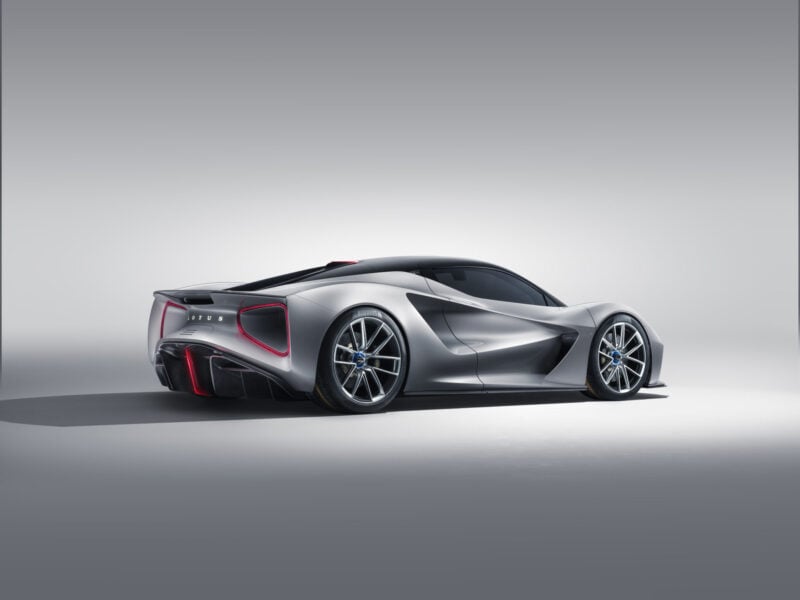 How powerful? Lotus has the Evija pegged at 2,000PS — that's 1,972hp in proper money, or 1,471kW — with a very healthy 1,700Nm (1,253lbft) of torque to back that up. Four individual motors deliver this, with a 70kWh battery pack providing the juice. Williams developed the system in conjunction with Lotus.
Lotus packs all of that into a carbon fiber monocoque which it says weighs just 290lb. The car as a whole is a mite heavier, at 3,775lb (of which the battery accounts for 1,350lb), but even so the Evija weighs less than some of its rivals. That is, after all, the Lotus philosophy.
The power and weight lead to some quite remarkable acceleration figures. Lotus states a 0-60mph time of under three seconds — which is pretty much par for the course these days — but the figures above that are as eyebrow-raising. Evija will gain another 60mph on top of the first in a similar time, with a third under four seconds later. That's 0-186mph in less than ten seconds.
Alongside being the world's most powerful car, Lotus claims the battery pack is the fastest charging system in the world. That's a claim that'll take a little time to test as although the car is capable of charging from 800kW rapid chargers, there's no commercial systems available to try it. When they do come on-stream, Lotus says you'll be able to fully charge the car in nine minutes.
With existing 350kW rapid chargers, Lotus claims a more relaxed 18-minute charge time, with 80% available inside 12 minutes. The charging port, a CCS2-type socket, is hidden beneath a flap at the back of the car, below the Lotus logo.
Evija's design is dominated by two enormous Venturi tunnels through the car's rear quarters. These serve not only to channel air through the body for stability and drag reduction but — in a nod to Lotus founder Colin Chapman's habit of making parts fill multiple functions — the car's tail lights.
Each tunnel has an LED strip which serve as rear marker lights, brake lights and indicators (the reverse light is in the 'T' of 'Lotus', naturally), which Lotus says gives the rear an afterburner effect.
The front lights are, in a world first, laser units for both dipped and main beam. Elsewhere at the front, there's a three-section, bi-plane splitter. Along with the aerodynamic effects, this provides cooling air to the mid-mounted battery pack, while the outer sections channel air to cool the two front motors.
In order to make the Evija workable as a road car and a track car, Lotus has developed a new in-board suspension system in collaboration with Multimatic. This features three adaptive spool-valve dampers on each axle, with a corner damper for each side and a third damping the heave action.
There's five driving modes available, which also adjust the car's performance features as appropriate, with the Track setting as the most extreme. You can also set the car for maximum range, currently around 250 miles.
The wheels — 20-inch at the front and 21-inch at the rear — are magnesium, using Pirelli Trofeo R tires. Naturally the brake system uses carbon ceramic discs, with forged aluminum AP Racing calipers.
Evija's cabin features even more carbon fiber, both as a design feature and for weight. The car sports a pair of carbon fiber shell seats, with Alcantara-trimmed pads in all the right places. There's electric adjustment on the seats and steering column.
You'll find a thoroughly modern digital display ahead of you, with a floating center console for important controls. All Evijas feature standard climate control, infotainment (although you'll note the lack of a second screen), and connectivity features like Android Auto and Apple CarPlay.
There's further online features too. You'll be able to check on your Evija with an appropriate app, and turn on the air-conditioning to prepare the cabin for your arrival.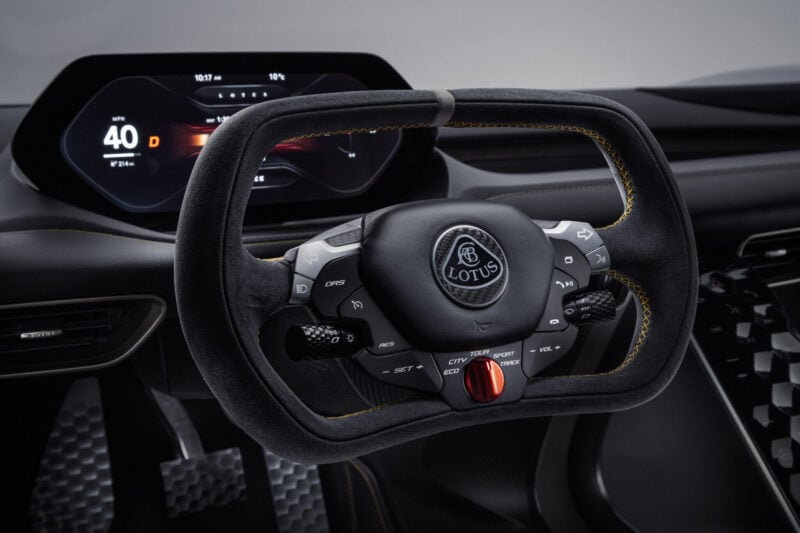 Lotus will also give Evija owners the chance to specify their car to their own choice. That doesn't just include paint colors, interior trims and the like; Lotus says it can embed metal elements directly into the carbon fiber shell — making them flush with the body — and there's no limit on the design possibilities. They'll also have access to motorsport opportunities, including VIP track days.
As appropriate to the car's development name, Type 130, Lotus will only build a maximum of 130 examples. Each comes in at £1.7m ($2.1m) plus local taxes, and you can secure a build slot with a £250,000 ($310,000) deposit.
If this is a little rich for your blood, think back to the car's name. Lotus plans this as a mere amuse-bouche to what's to come from its ownership by Zhejiang Geely. Evija previews styling and technology that will filter through the rest of the range as the marque updates, replaces, and introduces new models in due course.
See more articles on Lotus and Lotus Evija.